PERPADUAN HUKUM ISLAM DAN HUKUM ADAT (Upaya Merumuskan Hukum Islam Berkepribadian Indonesia)
Moh Zahid

Jurusan Syari'ah STAIN Pamekasan
Abstract views:
243
,
PDF downloads:
125
Keywords:
pembaruan hukum, hukum Islam, dan hukum adat
Abstract
Perubahan sosial sebagai akibat modernisasi menuntut terjadinya pembaruan hukum. Hukum Islam yang pada dasarnya bersifat universal dan fleksibel cenderung akomodatif terhadp hukum adat selama tidak bertentangan dengan dalil yang aksiomatik (qath'îy). Perpaduan antara hukum Islam dan hukum Adat diharapkan mampu melahirkan ketentuan hukum Islam yang mengakar pada budaya lokal. Namun dalam sejarah keindonesian terjadi tarik-menarik otoritas hukum Islam dan hukum Adat. Pada tataran inilah diperlukan kesepakatan (ijtihâd jamâ`i) guna merumuskan kaidah hukum yang diperlukan. Artikel ini berupaya mengupas kemungkinan terwujudnya rumusan hukum Islam yang berkepribadian Indonesia.
Downloads
Download data is not yet available.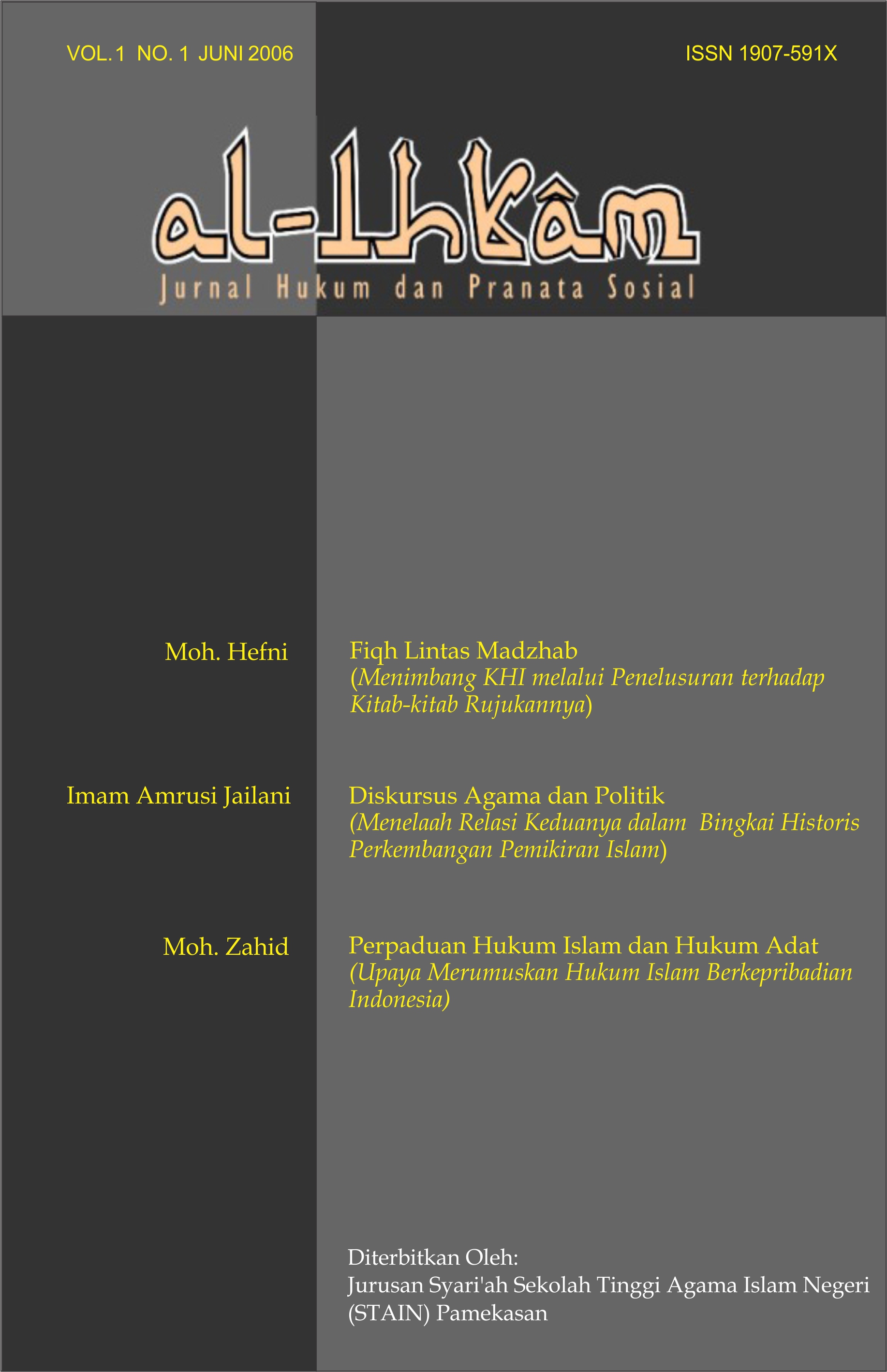 Publishing your paper with Al Ihkam (Jurnal Hukum & Pranata Sosial/Journal of Law & Social Studies) means that the author or authors retain the copyright in the paper. Al Ihkam granted an exclusive non commercial reuse license by the author(s), but the author(s) are able to put the paper onto a website, distribute it to colleagues, give it to students, use it in your thesis etc, so long as the use is not directed at commercial advantage or toward private monetary gain. The author(s) can reuse the figures and tables and other information contained in their paper published by Al Ihkam in future papers or work without having to ask anyone for permission, provided that the figures, tables or other information that is included in the new paper or work properly references the published paper as the source of the figures, tables or other information, and the new paper or work is not direct at private monetary gain or commercial advantage.
Al Ihkam journal (Journal of Law & Social Studies) provides immediate open access to its content on the principle that making research freely available to the public supports a greater global exchange of knowledge. This journal is licensed under a Creative Commons Attribution-NonCommercial 4.0 International License.This license lets others remix, tweak, and build upon your work non-commercially, and although their new works must also acknowledge & be non-commercial, they don't have to license their derivative works on the same terms.

Al Ihkam journal Open Access articles are distributed under this Creative Commons Attribution-Noncommercial 4.0 International License (CC BY-NC). Articles can be read and shared for noncommercial purposes under the following conditions:
BY: Attribution must be given to the original source (Attribution)
NC: Works may not be used for commercial purposes (Noncommercial)