Menerjemah Teks Ambigu Dalam Al-Qur'ân (Sebuah Upaya Memahami Konsep Ambiguitas dalam Istinbâth Hukum)
Iswah Adriana

STAIN Pamekasan
Abstract views:
428
,
PDF (Bahasa Indonesia) downloads:
147
Keywords:
ambiguitas, homonim, polisemi, tarjamah tafsiriyah, tarjamah ma'nawiyah, istinbâth hukum
Abstract
Bahasa Arab dan al-Qur'ân merupakan dua pokok kajian yang tidak bisa terpisahkan. Jika kita mengaji teks-teks Al-Qur'ân, mau tidak mau kita akan juga berhadapan dengan bahasa Arab sebagai bahasa al-Qur'ân. Bahasa Arab dengan berbagai macam keunikan yang menjadi ciri khasnya merupakan sAllâh satu faktor kemu'jizatan al-Qur'ân. Bentuk-bentuk mufradat yang memiliki variasi makna, uslûb, dan gaya bahasanya yang berbeda dibandingkan dengan seluruh bahasa yang ada di dunia merupakan keistimewaan tersendiri yang dimilikinya. Sebagai kitab suci bagi umat Muslim, tak pelak al-Qur'ân selalu menjadi bahan kajian bagi umatnya, dalam mana dilakukan dengan cara mentransfer bahasa Arab ke dalam beragam bahasa lainnya dengan berbagai macam metode. Dalam kaitan ini, seorang penerjemah akan berhadapan dengan berbagai macam keunikan yang dimiliki bahasa Arab, di antaranya banyaknya teks-teks yang 'bersayap'atau dalam kajian semantik disebut dengan teks-teks yang ambigu. Karenanya, pemahaman yang komprehensif tentang konsep ambiguitas merupakan modal utama dalam menerjemah teks-teks al-Qur'ân sebagai dasar  dalam melakukan istinbâth hukum.
Downloads
Download data is not yet available.
References
'Umar, Ahmad Mukhtar. 'Ilm al-Dilâlâh. Kuwait: Maktabah Dâr al-'Arubah li al-Nasyr wa al-Tauzi'
Arsyad, Azhar. Bahasa Arab dan Metode Pengajarannya: Beberapa Pokok Pikiran. Yogyakarta: Pustaka Pelajar, 2004
Burdah, Ibnu. Menjadi Penerjemah: Metode dan Wawasan Menerjemah Teks Arab. Yogyakarta: Tiara Wacana, 2004
Chaer, Abdul. Linguistik Umum. Jakarta: PT Rineka Cipta, 2003
Chafe, Wallace L. Meaning and the Structure of Language. Chicago and London: The University of Chicago Press, 1970
Crystal, David. A Dictionary of Linguistics and Phonetics. Basil: Blackwell, 1997
Departemen Agama RI., Al-Qur'aan dan Terjemahnya. Jakarta: PT. Bumi Restu, 1976/1977
Hilâl, Abd al-Ghaffar Hamîd. al-'Arabiyyah: Khashâishuhâ wa Simmatuhâ. Kairo: Khuququ al-Thaba' wa al-Natsr, 1995
Kem, Soekemi. Semantics: A Work Book. Surabaya: UNESA University Press, 2000
Khaydar, Farid 'Awdh. 'Ilm al-Dilâlah: Dirâsah Nadhriyyah wa Tathbâqiyya.h(Kairo: Maktabah al-Nahdhah al-Mishriyyah, 1999
Kridalaksana, Harimurti. Kamus Linguistik (Jakarta: PT Gramedia Pustaka Utama, 2001)
Maliki, Sayyid Muhammad Alwi al-. Keistimewaan-Keistimewaan Al-Qur'an. Yogyakarta: Mitra Pusaka, 2001
Ma'ruf, Nayif Mahmûd. Khashâish Arabiyah wa Tharâiq Tadrisihâ. Beirut: Dâr al Nafâis, 1985
Mubarok, Muhammad al-. Fiqh al-Lughah wa Khashâish al-'Arabiyah (Beirut: Dâr al Fikr, 1960)
Muhammad, Husein. Islam Agama Ramah Perempuan: Pembelaan Kiai Pesantren. Yogyakarta: LkiS, 2004
Pateda, Mansoer. Linguistik Terapan. Flores: Nusa Indah, 1991
---------. Semantik Leksikal. Jakarta: Rineka Cipta, 2001
Shihab, Quraish. Mukjizat Alqur'an: Ditinjau dari Aspek Kebahasaan, Isyarat Ilmiah, dan Pemberitaan Gaib. Bandung: Mizan, 2001
Subhan, Zaitunah. Rekonstruksi Pemahaman Jender Dalam Islam. Jakarta: el-Kahfi, 2002
Wâfî, 'Alî Abd al-Wahid. Fiqh al- Lughah. Mesir: Lajnah al-Bayân al-Arabi, 1957
Wahid, Marzuki. "Mendaulatkan Seksualitas Perempuan", Swara Rahima, N0. 5 Th. II (Juli 2002)
Zaenuddin, Radliyah et.al., Metodologi dan Strategi Alternatif Pembelajaran Bahasa Arab. Yogyakarta: Pustaka Rihlah Group, 2005
Zarkazî, Badr al-Dîn Muhammad bin 'Abd Allâh al-, al-Burhân fî 'Ulûm al-Qur'ân. Beirut: Dâr al-Ma'rifat li al-Thibâ'ah wa al-Nasyr, 1992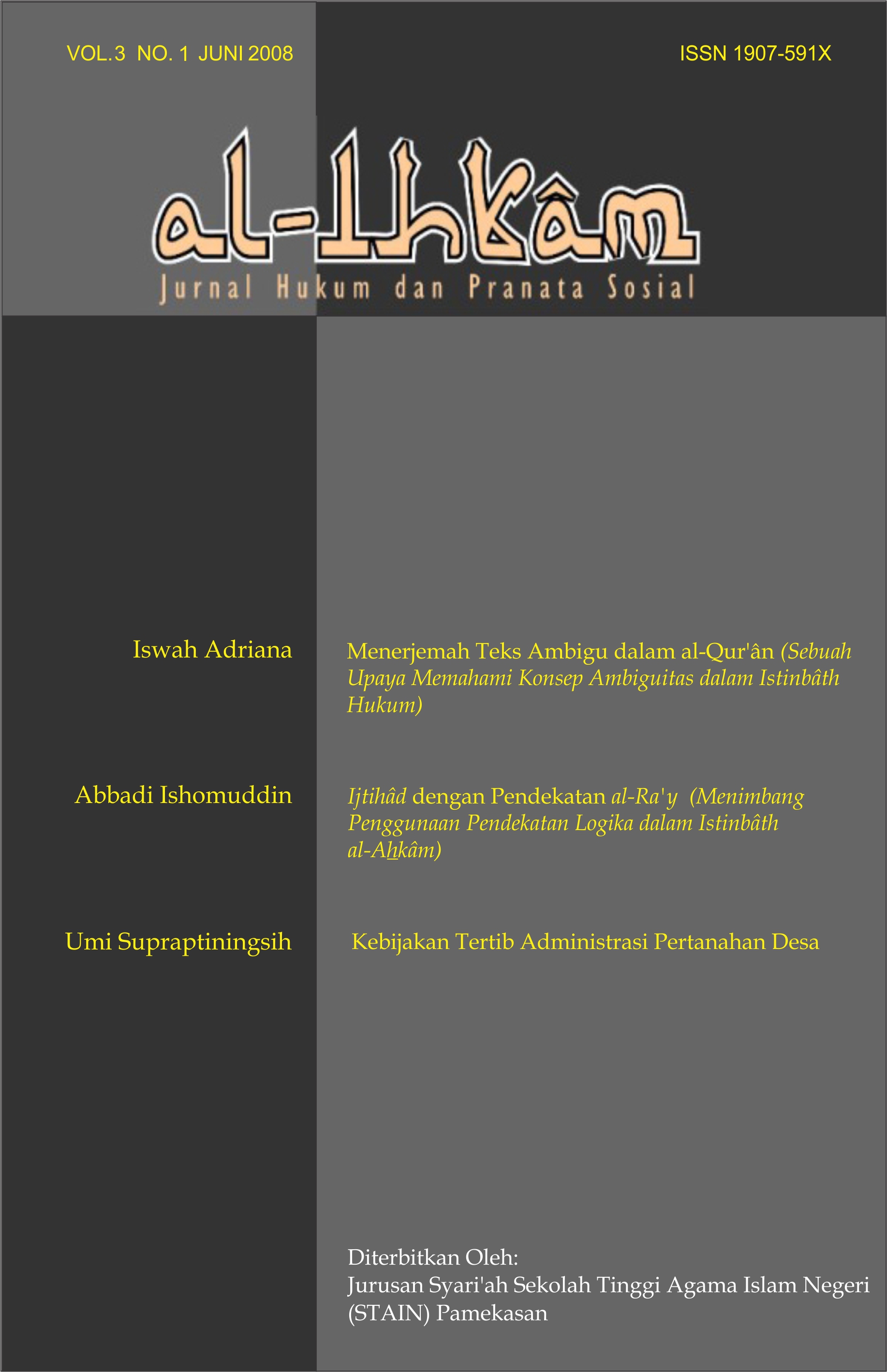 Publishing your paper with Al Ihkam (Jurnal Hukum & Pranata Sosial/Journal of Law & Social Studies) means that the author or authors retain the copyright in the paper. Al Ihkam granted an exclusive non commercial reuse license by the author(s), but the author(s) are able to put the paper onto a website, distribute it to colleagues, give it to students, use it in your thesis etc, so long as the use is not directed at commercial advantage or toward private monetary gain. The author(s) can reuse the figures and tables and other information contained in their paper published by Al Ihkam in future papers or work without having to ask anyone for permission, provided that the figures, tables or other information that is included in the new paper or work properly references the published paper as the source of the figures, tables or other information, and the new paper or work is not direct at private monetary gain or commercial advantage.
Al Ihkam journal (Journal of Law & Social Studies) provides immediate open access to its content on the principle that making research freely available to the public supports a greater global exchange of knowledge. This journal is licensed under a Creative Commons Attribution-ShareAlike 4.0 International License.This license lets others remix, tweak, and build upon your work non-commercially, and although their new works must also acknowledge & be non-commercial, they don't have to license their derivative works on the same terms.

Al Ihkam journal Open Access articles are distributed under this Creative Commons Attribution-ShareAlike 4.0 International License (CC BY-SA). Articles can be read and shared for noncommercial purposes under the following conditions:
BY: Attribution must be given to the original source (Attribution)
NC: Works may not be used for commercial purposes (Noncommercial)