REKONTEKSTUALISASI PEMAKNAAN JIHÂD DALAM PERSPEKTIF HUKUM ISLÂM
Taufiqurrahman Taufiqurrahman

STAIN Pamekasan
Abstract views:
47
,
PDF downloads:
72
Keywords:
jihâd, mujâhadah, perang, kontekstualisasi
Abstract
Resonansi istilah maupun seruan jihâd sungguh terasa lebih "menggetarkan" nurani kaum Muslim, terlebih  bagi pemeluk agama lain, daripada penggunaan kosakata lainnya yang bermakna serupa. Apalagi, jika istilah atau seruan itu diiringi dengan pekik-suara Allâhu Akbar!!! tiga kali, seolah-olah genderang perang-suci agama baru saja ditabuh dan pasukan mulai dikomando menuju the killing field. Tidak jarang, teriakan keras Allâhu Akbar pun diserupakan dengan kesiapan ber-jihâd, dalam arti berperang secara fisik melawan orang-orang yang "mempertontonkan" perilaku munkar, batil, kâfir, dan dhalim dalam segala bentuk, level, maupun konteksnya sesuai dengan klaim-persepsif kebenaran sepihak pada golongan tertentu. Dalam realitasnya, para pelaku aksi-aksi kekerasan seringkali menggunakan istilah jihâd sebagai dasar-pembenar atas tindakan yang beraneka motif. Persoalannya, apakah jihâd itu "berwajah" tunggal? Berlaku untuk semua konteks? Identik dengan kekerasan atau peperangan? Atau masih adakah ruang tersisa untuk memaknakannya kembali menurut ragam konteksnya sebagai perspektif baru yang mencerahkan dan membebaskan umat dari belenggu yang bernuansa kengerian
Downloads
Download data is not yet available.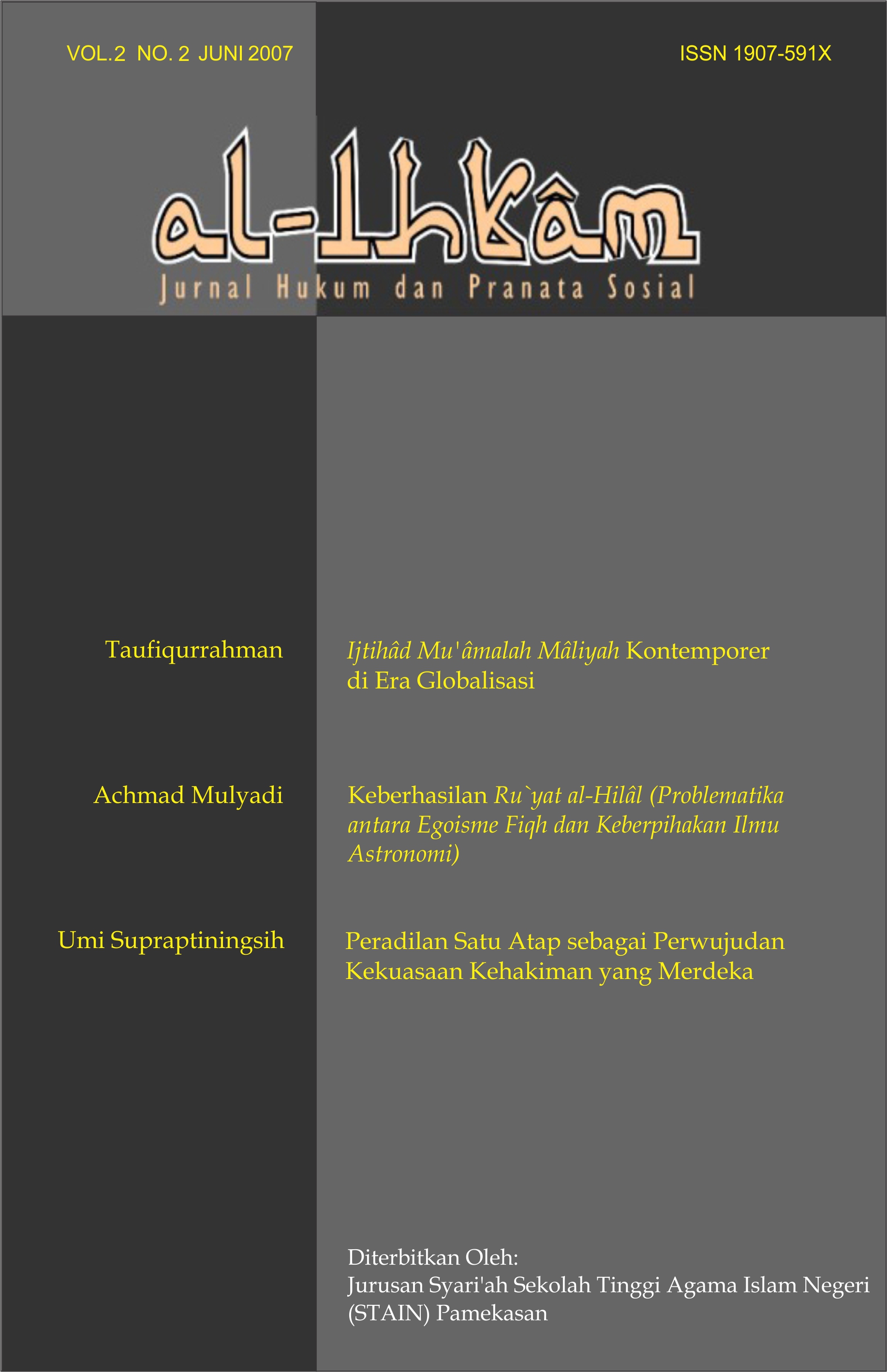 Publishing your paper with Al Ihkam (Jurnal Hukum & Pranata Sosial/Journal of Law & Social Studies) means that the author or authors retain the copyright in the paper. Al Ihkam granted an exclusive non commercial reuse license by the author(s), but the author(s) are able to put the paper onto a website, distribute it to colleagues, give it to students, use it in your thesis etc, so long as the use is not directed at commercial advantage or toward private monetary gain. The author(s) can reuse the figures and tables and other information contained in their paper published by Al Ihkam in future papers or work without having to ask anyone for permission, provided that the figures, tables or other information that is included in the new paper or work properly references the published paper as the source of the figures, tables or other information, and the new paper or work is not direct at private monetary gain or commercial advantage.
Al Ihkam journal (Journal of Law & Social Studies) provides immediate open access to its content on the principle that making research freely available to the public supports a greater global exchange of knowledge. This journal is licensed under a Creative Commons Attribution-NonCommercial 4.0 International License.This license lets others remix, tweak, and build upon your work non-commercially, and although their new works must also acknowledge & be non-commercial, they don't have to license their derivative works on the same terms.

Al Ihkam journal Open Access articles are distributed under this Creative Commons Attribution-Noncommercial 4.0 International License (CC BY-NC). Articles can be read and shared for noncommercial purposes under the following conditions:
BY: Attribution must be given to the original source (Attribution)
NC: Works may not be used for commercial purposes (Noncommercial)