State Marriage and Civil Marriage: The Role of State Policy on Interreligious Marriage in Central Java
Anthin Lathifah

Faculty of Shari'a and Law, State Islamic University Walisongo
Abstract views:
484
,
PDF downloads:
260
Keywords:
interreligious marriage, civil marriage, state policy, civil rights, stakeholders
Abstract
This article discusses interreligious marriage in Central Java, especially in Surakarta, Semarang City and Jepara; places where the policies of stakeholders on judicial system, the role of demographic officials and religious leaders heavily influence each other. The policies of the State Court as an institution authorized to determine interreligious marriage vary from one to another area. For example, the Surakarta State Court receives the petition and establishes interreligious marriage, in contrast to the State Court in Semarang and Jepara which deny the petition of interreligious marriage. It is influenced by several things, namely the understanding of the regulation of marriage laws in Indonesia as well as religious understanding and role of its religious leaders. In the context of state and civil society relations, interreligious couples whose petitions are rejected consider it unfair; even those whose petition is accepted also deem it unfair since they regard their marriage as a civil marriage only, not desired by the state.
Artikel ini membahas tentang perkawinan beda agama di Jawa Twngah, khususnya di Surakarta, Kota Semarang dan Kabupaten Jepara, tempat-tempat dimana kebijakan para pemangku kepentingan tentang sistem peradilan, peran pejabat demografik dan pemimpin agama saling mempengaruhi satu sama lain. Kebijakan Pengadilan Negeri sebagai lembaga yang berwenang menentukan perkawinan beda agama bervariasi dari satu daerah dengan daerah yang lain. Pengadilan Negeri Surakarta menerima petisi dan menetapkan perkawinan beda agama, berbeda dengan Pengadilan Negeri Kota Semarang dan Kabupaten Jepara yang menolak permohonan perkawinan beda agama. Perbedaan kebijakan tersebut dipengaruhi oleh beberapa hal, yaitu pemahaman tentang peraturan perundang-undangan perkawinan di Indonesia, pemahaman agama  dan peran para pemimpin agama. Dalam konteks hubungan negara dan masyarakat sipil, pasangan antara agama yang permohonannya ditolak menganggapnya tidak adil; bahkan mereka yang permohonannya diterima juga menganggap itu tidak adil karena mereka menganggap merkawinannya hanyalah perkawinan sipil, yang tidak diinginkan oleh negara.
Downloads
Download data is not yet available.
References
Al-Munawar, Said Agil Husin, Fiqh Hubungan Antar Agama, Jakarta: Ciputat Press, 2005.
Anwar, Adang Yesmil, Pembaruan Hukum Pidana; Reformasi Hukum, Jakarta: Grasindo, 2008.
Asmin, Status Perkawinan Antar Agama. Jakarta: PT. Dian Rakyat, 1986.
Baso, Ahmad dan Ahmad Nurcholis (Eds.) Pernikahan Beda Agama: Kesaksian, Argumen Keagamaan dan Analisis Kbijakan, Komnas HAM dan ICRP, 2005.
Birkland, Thomas A., Introduction to the Policy Procces; Theory, Concepts and Models of Public Policy Making, New York: M.E. Sharpe. Inc, cet.3, 2011.
Cammack, Mark, Legal Aspect of Muslim-Non Muslim Marriage in Indonesia, in Gavin Willis et.al (Ed.) Muslim-Non Muslim Marriage: Political and Cultural Contestation in Southeast Asia, Singapore: Iseas Publishing, 2009.
Dery, David, Problem Definition in Policy Analiysis, Kansas: University Press of Kansas, 1984.
Foucoult, Michael, Society Must be Defended, New York: Martin Press, 2003.
Hardawiryana, S.J, R., Dokumentasi dan Penerangan KWI, Jakarta: Obor, 1993.
Koshy, Ninan, Religious Freedom in Changing World, Geneva: WCC Publication, 1992.
Latif, Yudi, Negara Paripurna: Historisitas, Rasionalitas dan Aktualitas Pancasila, Jakarta: PT. Gramedia Pustaka Utama, 2012.
Liddle, R. William, Soeharto's Indonesia; Personal Rule and Political Institutions, dalam Pacific Affairs, Vol. 58, No. 1 (Spring, 1985).
Lukito, Ratno, Hukum Sakral dan Hukum Sekuler: Studi tentang Konflik dan Resolusi dalam Hukum di Indonesia, Jakarta: Pustaka Alvabet, 2008.
Mahfudh MD, Moh. Pergulatan Politik dan Hukum di Indonesia, Jogyakarta: Gama Media, 1999.
Mahfudh MD, Moh., Membangun Politik Hukum, Menegakkan Konstitusi, Jakarta: Rajawali Press, 2011.
Nasution, Khoiruddin, Status Wanita di Asia Tenggara: Studi terhadap Perundang-undangan Perkawinan Muslim Kontemporer di Indonesia dan Malaysia, Jakarta: INIS, 2002.
Rawls, John, A Theory of Justice, The Theory of Justice, United States of America: Harvard University Press, 2003.
Sirry, Mun'im A. (Ed.) Fikih Lintas Agama; Membangun Masyarakat Inklusif-Pluralis, Jakarta: Paramadina, 2004.
Subekti, R, Ringkasan tentang Hukum Keluarga dan Hukum Waris, Jakarta: PT. Intermasa, 1990.
Wahid, Marzuki dan Rumadi, Fiqh Madzhab Negara Kritik atas Politik Hukum Islam di Indonesia, Yogyakarta: LKiS, 2001.
Constitutional Court of Republic of Indonesia, Undang-Undang Dasar Negara Republik Indonesia tahun 1945 dan Undang-Undang Republik Indonesia Nomor 24 Tahun 2003 tentang Mahkamah Konstitusi sebagaimana telah diubah dengan Undang-Undang Nomor 8 Tahun 2011 tentang Perubahan atas Undang-undang Nomor 24 Tahun 2003 tentang Mahkamah Konstitusi, Jakarta: Sekretariat Jenderal dan Kepaniteraan Mahkamah Konstitusi Republik Indonesia, 2011.
Law No. 1 of 1974 on Marriage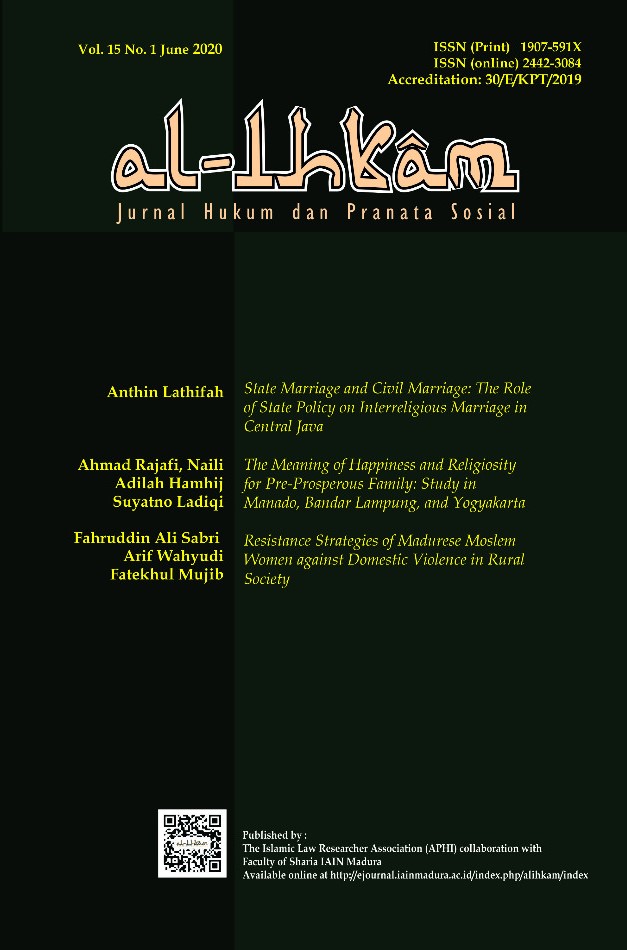 Publishing your paper with Al Ihkam (Jurnal Hukum & Pranata Sosial/Journal of Law & Social Studies) means that the author or authors retain the copyright in the paper. Al Ihkam granted an exclusive non commercial reuse license by the author(s), but the author(s) are able to put the paper onto a website, distribute it to colleagues, give it to students, use it in your thesis etc, so long as the use is not directed at commercial advantage or toward private monetary gain. The author(s) can reuse the figures and tables and other information contained in their paper published by Al Ihkam in future papers or work without having to ask anyone for permission, provided that the figures, tables or other information that is included in the new paper or work properly references the published paper as the source of the figures, tables or other information, and the new paper or work is not direct at private monetary gain or commercial advantage.
Al Ihkam journal (Journal of Law & Social Studies) provides immediate open access to its content on the principle that making research freely available to the public supports a greater global exchange of knowledge. This journal is licensed under a Creative Commons Attribution-ShareAlike 4.0 International License.This license lets others remix, tweak, and build upon your work non-commercially, and although their new works must also acknowledge & be non-commercial, they don't have to license their derivative works on the same terms.

Al Ihkam journal Open Access articles are distributed under this Creative Commons Attribution-ShareAlike 4.0 International License (CC BY-SA). Articles can be read and shared for noncommercial purposes under the following conditions:
BY: Attribution must be given to the original source (Attribution)
NC: Works may not be used for commercial purposes (Noncommercial)