BETWEEN THE CRITICISM OF HADÎTS AND HADÎTS PROBATIVENESS
Idri -

A Lecturer and Chief of State Islamic Higher Education (STAIN) Pamekasan, Jl. Raya Panglegur Km. 04 Pamekasan,
Abstract views:
52
,
PDF downloads:
88
Abstract
Setiap Muslim percaya bahwa al-Qur'ân secara wurûd bersifat qath'î,
karena ia dikumpulkan dan ditulis pada masa Nabi serta
ditransmisikan secara mutawâtir. Namun tidak demikian dengan
Hadîts. Ia tidak semuanya ditulis pada masa Nabi. Karenanya, para
ulamâ' berupaya mengkaji Hadîts berikut rantai transmisinya untuk
menentukan validitas (ke-shahîh-an) sebuah Hadîts melalui kritik
transmisi Hadîts. Artikel ini akan menyoroti persoalan tersebut,
sehingga akan memberikan pemahaman tentang makna dan syaratsyarat
kritik Hadîts serta hubungan antara kritik Hadîts dengan
validitas dan pengujiannya. Validitas Hadîts tidak hanya bergantung
pada Hadîts itu sendiri, tetapi ditentukan melalui investigasi historis
dan pendekatan metodologis. Dalam kaitan ini, kemampuan personal
dan kualitas intelektual para perawi Hadîts memiliki peran signifikan
dalam menentukan apakah sebuah Hadîts itu diterima atau tidak.
Untuk itu, ktirik Hadîts tidak hanya bertujuan untuk menilai dan
mengetahui validitas sebuah Hadîts dan profesionalitas perawinya,
tetapi juga untuk mengakomodasi kebergunaannya sebagai sumber
hukum Islam kedua.
Downloads
Download data is not yet available.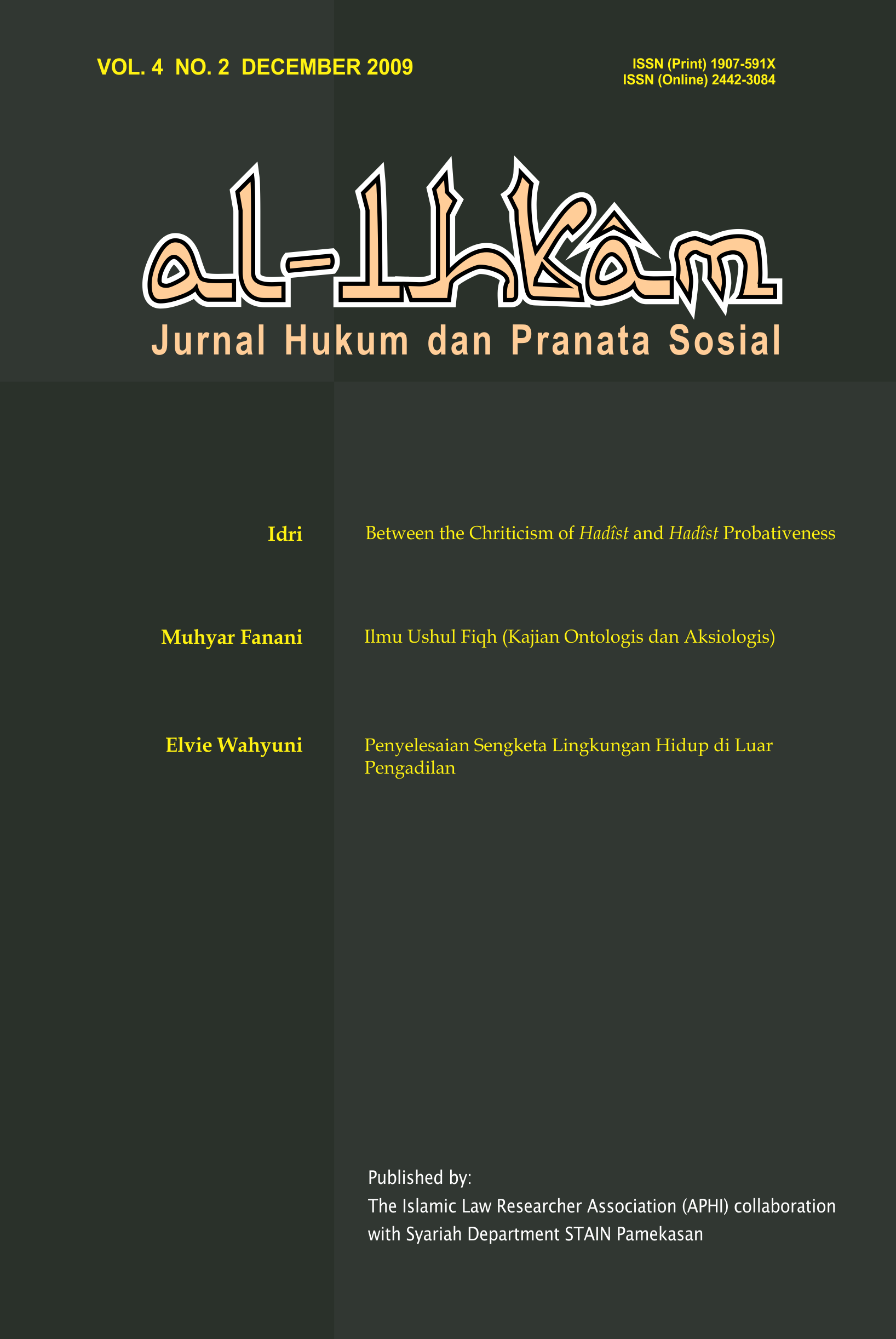 Publishing your paper with Al Ihkam (Jurnal Hukum & Pranata Sosial/Journal of Law & Social Studies) means that the author or authors retain the copyright in the paper. Al Ihkam granted an exclusive non commercial reuse license by the author(s), but the author(s) are able to put the paper onto a website, distribute it to colleagues, give it to students, use it in your thesis etc, so long as the use is not directed at commercial advantage or toward private monetary gain. The author(s) can reuse the figures and tables and other information contained in their paper published by Al Ihkam in future papers or work without having to ask anyone for permission, provided that the figures, tables or other information that is included in the new paper or work properly references the published paper as the source of the figures, tables or other information, and the new paper or work is not direct at private monetary gain or commercial advantage.
Al Ihkam journal (Journal of Law & Social Studies) provides immediate open access to its content on the principle that making research freely available to the public supports a greater global exchange of knowledge. This journal is licensed under a Creative Commons Attribution-ShareAlike 4.0 International License.This license lets others remix, tweak, and build upon your work non-commercially, and although their new works must also acknowledge & be non-commercial, they don't have to license their derivative works on the same terms.

Al Ihkam journal Open Access articles are distributed under this Creative Commons Attribution-ShareAlike 4.0 International License (CC BY-SA). Articles can be read and shared for noncommercial purposes under the following conditions:
BY: Attribution must be given to the original source (Attribution)
NC: Works may not be used for commercial purposes (Noncommercial)