HADÎTS DLA'ÎF DAN KEHUJJAHANNYA (Telaah terhadap Kontroversi Penerapan Ulama' sebagai Sumber Hukum)
Abdul Rokhim

Dosen Jurusan Syari'ah STAIN Jember, Jl. Jumat No. 94 Mangil Jember
Abstract views:
230
,
PDF downloads:
4434
Abstract
Hadits is the second argumentation (hujjah) source after al-
Qur'ân. However, there are many hadits refused becoming as an
argumentation. According to the perspective of a Hadîts whether
it is accepted or refused, it has three stages, namely shahîh,
hasan, and dla'îf This article focuses on the discussion of Hadîts
dla'îf, its argumentation and also its telling. In this relationship,
there are three arguments of ulama' Hadîts related to the
argument of Hadîts dla'îf . Firtsly, the argument states that Hadîts
dla'îf cannot be applied absolutely. Secondly, Hadîts dla'îf can be
applied absolutely. Thirdly, Hadîts dla'îf can be used in fadla'il alamah.
In its telling, ulama hadits reminded people who told
dla'if Hadîts without sanad not to tell by redacting which
showed full stability that it was a Hadîts.
Downloads
Download data is not yet available.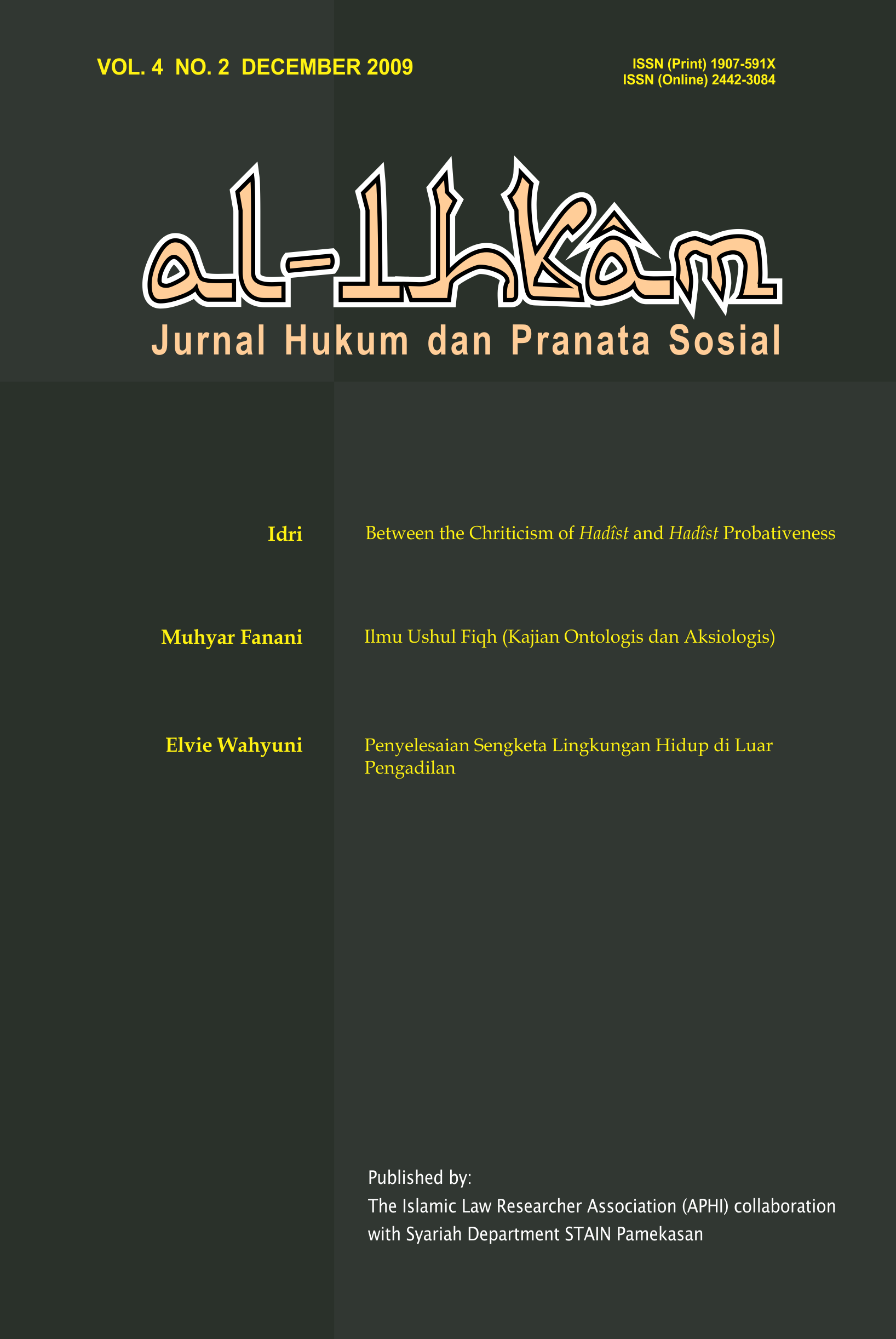 Publishing your paper with Al Ihkam (Jurnal Hukum & Pranata Sosial/Journal of Law & Social Studies) means that the author or authors retain the copyright in the paper. Al Ihkam granted an exclusive non commercial reuse license by the author(s), but the author(s) are able to put the paper onto a website, distribute it to colleagues, give it to students, use it in your thesis etc, so long as the use is not directed at commercial advantage or toward private monetary gain. The author(s) can reuse the figures and tables and other information contained in their paper published by Al Ihkam in future papers or work without having to ask anyone for permission, provided that the figures, tables or other information that is included in the new paper or work properly references the published paper as the source of the figures, tables or other information, and the new paper or work is not direct at private monetary gain or commercial advantage.
Al Ihkam journal (Journal of Law & Social Studies) provides immediate open access to its content on the principle that making research freely available to the public supports a greater global exchange of knowledge. This journal is licensed under a Creative Commons Attribution-ShareAlike 4.0 International License.This license lets others remix, tweak, and build upon your work non-commercially, and although their new works must also acknowledge & be non-commercial, they don't have to license their derivative works on the same terms.

Al Ihkam journal Open Access articles are distributed under this Creative Commons Attribution-ShareAlike 4.0 International License (CC BY-SA). Articles can be read and shared for noncommercial purposes under the following conditions:
BY: Attribution must be given to the original source (Attribution)
NC: Works may not be used for commercial purposes (Noncommercial)