The Meaning of Happiness and Religiosity for Pre-Prosperous Family: Study in Manado, Bandar Lampung, and Yogyakarta
Ahmad Rajafi

IAIN Manado Dr. S.H. Sarundajang Kawasan Ringroad Street I, Manado City, Indonesia

http://orcid.org/0000-0002-8945-0299

Naili Adilah Hamhij

IAIN Manado Dr. S.H. Sarundajang Kawasan Ringroad Street I, Manado City, Indonesia

Suyatno Ladiqi

Universiti Sultan Zainal Abidin Terengganu, Malaysia
Abstract views:
218
,
PDF downloads:
196
Keywords:
Happy, Religious, Family, Poor
Abstract
The results of this research (2017) want to explain the correlation between happiness and religiosity for poor families. The locus of this research is in the city of Manado, North Sulawesi Province, Bandar Lampung City, Lampung Province, and Yogyakarta City in Yogyakarta Special Region Province. This research is important because there is an assumption in the community that even poor people who are religious are certainly not happy. This assumption is further answered in this study, where there is a positive and significant relationship between happiness and religiosity in poor families in Yogyakarta, but not for Manado and Bandar Lampung. The highest level of happiness is in the city of Yogyakarta and the highest level of religiosity is in the city of Manado. This difference occurs because the concept of happiness for religious poor families in Manado, Yogyakarta and Bandar Lampung has different point of view and has the unique itself.
Downloads
Download data is not yet available.
References
Bandar Lampung, BPS. "Garis Kemiskinan 2010-2014." Badan Pusat Statistik Kota Bandar Lampung. Garis Kemiskinan Kota Bandar Lampung 2010-2013 (blog), 6 Desember 2019. https://bandarlampungkota.bps.go.id/statictable/2015/12/08/16/garis-kemiskinan-kota-bandar-lampung-2010-2013.html.
Compton, W.C. Introduction to Positive Psikologi. USA: Malloy Incorporated, 2005.
Herusatoto, B. Simbolisme Jawa. Yogyakarta: Ombak Yogyakarta, 2008.
Hidayat, Syarif Imam. "Kemiskinan dalam Perspektif Masyarakat Desa Tertinggal yang Religius." Disertasi, Universitas Brawijaya, 2011.
Irhan, Mohammad. "Etos Kerja dalam Perspektif Islam." Jurnal Substansia 14, no. 1 (April 2012).
Nasikun. Isu dan Kebijakan Penanggulangan Kemiskinan. Diktat Mata Kuliah. Yogyakarta: Program Magister Administrasi Publik Universitas Gadjah Mada, 2001.
Seligman, Martin E.P. Authentic Happiness: Using the New Positive Psychology to Realize Your Potential for Lasting Fulfillment. New York: Atria Paperback, 2013.
Shihab, Muhammad Quraish. Wawasan Alqur'an: Tafsir Maudhu'i atas Berbagai Persoalan Umat. 14 ed. Bandung: Mizan, 1996.
Sugiyono. Metode Penelitian Kombinasi (Mixed Methods). Bandung: CV. Alfabeta, 2011.
Sulut, BPS. "Garis Kemiskinan di Kota Manado, 2004-2015." Badan Pusat Statistik Kota Manado (blog), 18 Agustus 2017. https://manadokota.bps.go.id/statictable/2017/08/18/202/garis-kemiskinan-di-kota-manado-2004-2016.
Yogyakarta, BPS. "Tabel Kemiskinan Kota Yogyakarta," 6 Desember 2019. https://jogjakota.bps.go.id/dynamictable/2019/01/08/32/tabel-kemiskinan-kota-yogyakarta.html.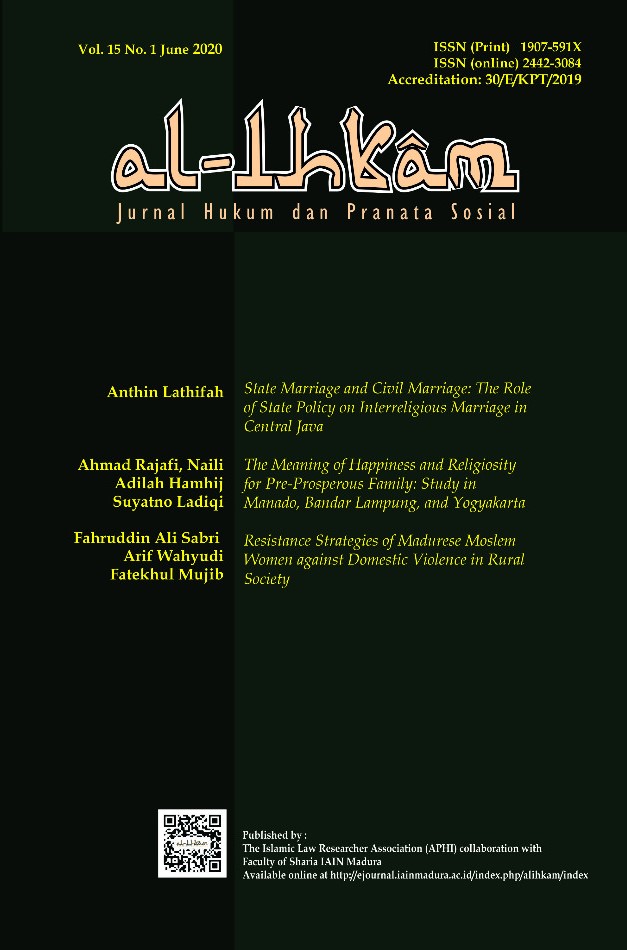 Publishing your paper with Al Ihkam (Jurnal Hukum & Pranata Sosial/Journal of Law & Social Studies) means that the author or authors retain the copyright in the paper. Al Ihkam granted an exclusive non commercial reuse license by the author(s), but the author(s) are able to put the paper onto a website, distribute it to colleagues, give it to students, use it in your thesis etc, so long as the use is not directed at commercial advantage or toward private monetary gain. The author(s) can reuse the figures and tables and other information contained in their paper published by Al Ihkam in future papers or work without having to ask anyone for permission, provided that the figures, tables or other information that is included in the new paper or work properly references the published paper as the source of the figures, tables or other information, and the new paper or work is not direct at private monetary gain or commercial advantage.
Al Ihkam journal (Journal of Law & Social Studies) provides immediate open access to its content on the principle that making research freely available to the public supports a greater global exchange of knowledge. This journal is licensed under a Creative Commons Attribution-ShareAlike 4.0 International License.This license lets others remix, tweak, and build upon your work non-commercially, and although their new works must also acknowledge & be non-commercial, they don't have to license their derivative works on the same terms.

Al Ihkam journal Open Access articles are distributed under this Creative Commons Attribution-ShareAlike 4.0 International License (CC BY-SA). Articles can be read and shared for noncommercial purposes under the following conditions:
BY: Attribution must be given to the original source (Attribution)
NC: Works may not be used for commercial purposes (Noncommercial)