The Development of Fiqh Munakahat in Madurese Islamic Universities and Its Relation to Gender Equality and Divorce Prevention
Maimun Maimun

Faculty of Shariah IAIN Madura Jl. Raya Panglegur km. 4 Pamekasan 69371

Ainul Haq Nawawi

Faculty of Tarbiyah IAIN Madura Jl. Raya Panglegur km. 4 Pamekasan 69371

Abdul Haq Syawqi

Faculty of Shariah IAIN Madura Jl. Raya Panglegur km. 4 Pamekasan 69371
Abstract views:
123
,
PDF downloads:
124
Keywords:
Fiqh Munakahat, Madurese Islamic universities, Gender Equality, Divorce Prevention
Abstract
Abstract:
Explanation of Law 1/1974, number 4 point e, obviously accentuates the principle of complicating divorce process such as requirement to have specific reasons and obligation to perform divorce in front of the court trial. The second is in line with article 115 of KHI (Kompilasi Hukum Islam; Islamic Compilation Book). These show how divorce requires prevention from both persons and institutions, including Islamic universities. Islamic universities have both academic and social responsibilities to prevent divorce due to their strategic duties and function in community development and empowerment, specifically for spreading knowledge, technology and artwork. This research aims to identify how far Madurese Islamic universities perform their roles and function by designing fiqh munakahat materials for its students as prospective husbands and wives. It focuses on whether the materials get developed and are compatible with gender equality and divorce prevention efforts. Using qualitative approach particularly its phenomenological type, this study took place in several Madurese Islamic universities. It revealed that the latest development of fiqh munakahat materials are still more about normative study from classical fiqh literature that it has no relevance to either gender equality spirit or  divorce prevention effort.
Abstrak:
(Penjelasan UU Nomor I/1974, angka 4 huruf e, jelas menekankan prinsip untuk mempersukar perceraian dengan mewajibkan alasan-alasan tertentu serta mengharuskan proses perceraian dilakukan di depan siding pengadilan. Point kedua tersebut juga senada dengan KHI Pasal 115. Ini membuktikan bahwa perceraian harus dicegah oleh siapapun, baik perorangan ataupun instansi, termasukPerguruan Tinggi Islam. Perguruan Tinggi Islam memiliki tanggung jawab akademik dan social karena tugas dan fungsinya yang strategis dalam pengembangan dan pemberdayaan masyarakat, terutama dalam penyebaran pengetahuan, teknologi dan seni. Untuk mengetahui sejauh mana Perguruan Tinggi Islam di Madura menjalankan peran dan fungsinya tersebut, penelitian ini menelusuri kajian fiqh munakahat sebagai bahan konsumsi bagi calon-calon suami dan istri, khususnya apakah materi-materi tersebut sudah berkembang dan sesuai dengan wacana kesetaraan gender dan upaya pencegahan perceraian. Menggunakan pendekatan kualitatif berjenis fenomenologis, penelitian ini mengambil setting di beberapa Perguruan Tinggi Islam di Madura. Hasil penelitian menunjukkan bahwa perkembangan terbaru kajian fiqh munakahat masih didominasi kajian normative dari sumber fiqh klasik sehingga belum relevan dengan semangat kesetaraan gender maupun pencegahan perceraian).
Downloads
Download data is not yet available.
References
Al-Jazīrī, `Abd al-Raḥman. Al-Fiqh 'Ala Al-Madhāhib Al-Arba'ah. 4th ed. Beirut: Dar al-Kutub al-Ilmiah, 2003.
Arifin, Imron, ed. Penelitian Kualitatif Dalam Ilmu-Ilmu Social Dan Keagamaan. Malang: Kalimas Sahada, 1997.
Arikunto, Suharsimi. Prosedur Penelitian, Suatu Pendekatan Praktik. Jakarta: Rineka Cipta, 2002.
Decree of Minister of Riset, Technology, and Higher Education in Republic of Indonesia number 2 in 2016 about the amandement of ministerial decree number 26 in 2015 about lecturer's registration in Higher Educational Institute subsection 1 (2016).
Gazali, Rafi'ah. "Tradisi Keilmuan Islam Di Perguruan Tinggi Umum Suatu Tinjauan Di Bidang Hukum Islam Dan Pranata Sosial." Ijtimaiyya 6, no. 1 Pebruary (2013).
Haq, Ainul. "The Lecturer of Munākaḥah Fiqh in Islamic Religion and Education Department of Tarbiyah Faculty IAIN Madura, Direct Interview on March 22nd 2018." n.d.
Harian Terbit. "Talaq Divorces." Mei 29th, 2015.
Ishomuddin. Spektrum Pendidikan Islam. Malang: UMM Press, 1996.
Jalil, Abdul. "The Lecturer of Munākaḥah Fiqh in the Act of Islamic Family Department Syari'ah Faculty of IAIN Madura, Direct Interview on April 3rd 2018." n.d.
Jasmadi, Chomsin S Widodo and. Panduan Menyusun Bahan Ajar Berbasis Kompetensi. Jakarta: PT Elex Media Kompetindo, 2008.
Jayus, Muhammad. "Menggagas Arah Baru Studi Hukum Islam Di Indonesia." Al-'Adalah XI, no. 02 July (2013).
Lestari, Ika. Pengembangan Bahan Ajar Berbasis Kompetensi. Padang: Akademi Permata, 2013.
Liputan6.com. "Divorce Cases." 17th November, 2016. https://www.liputan6.com/news/read/2654870/224-ribu-istri-di-indonesia-ceraikan-suaminya-selama-2016.
Majid, Abdul. Strategi Pembelajaran. Bandung: Remaja Rosdakarya, 2013.
Masyhuri. "The Lecturer of The Act of Marriage Subject Islamic Religion and Education Department of INSTIKA Guluk-Guluk Sumenep, Direct Interview on March 24th 2018." n.d.
Mawardi, Ahmad Farid. "The Lecturer of Munākaḥah Fiqh in Islamic Religion Faculty of UIM Pamekasan, Direct Interview, May 3rd 2018." n.d.
Moleong, Lexy J. Metode Penelitian Kualitatif. Bandung: Remaja Rosdakarya, 2005.
Mudlofir, Ali. Aplikasi Pengembangan Kurikulum Tingkat Satuan Pendidikan Dan Bahan Ajar Dalam Pendidikan Agama Islam. Jakarta: Rajawali Press, 2011.
Mudzhar, M. Atho. "Kajian Ilmu-Ilmu Syariáh Di Perguruan Tinggi: Sudahkah Merespon Tuntutan Masyarakat?" Asy-Syir'ah Jurnal Ilmu Syari'ah Dan Hukum 46, no. 02 July-December (2016).
Muhammad Ibn Ali al-Hanafi al-Haskafy. Al-Durr Al-Mukhtar. 3rd ed. Beirut: Dar al-Kutub al-Ilmiyyah, n.d.
Nashiruddin, Muh. "Fikih Moderat Dan Visi Keilmuan Syari'ah Di Era Global (Konsep Dan Implementasinya Pada Fakultas Syari'ah IAIN Surakarta." Jurnal Hukum Diktum 14, no. 01 July (2014).
Radar Madura. "Talaq Divorce." May 2th, 2015.
Sanusi. "Konsep Pembelajaran Fiqh Dalam Perspektif Kesehatan Reproduksi." Edukasia: Jurnal Penelitian Pendidikan Islam 10, no. 02 Agustus (2015).
Suleman, Sofyan & Zulkarnain. Fikih Feminis Menghadirkan Teks Tandingan. Yogyakarta: Pustaka Pelajar, 2014.
Suryabrata, Sumadi. Metodologi Penelitian. Jakarta: Rajawali Press, 1992.
Taylor, Robert Bogdan dan Steven. Dasar-Dasar Penelitian Kualitatif, Terj. A. Khozen Afandi. Surabaya: Usaha Nasional, 1993.
Thoha, Maimun And Muhammad. "Fenomena Cerai Gugat Dan Wacana Kesetaraan Gender (Studi Alasan Di Balik Trend Kasus Cerai Gugat Di Pengadilan Agama Kabupaten Sampang Dan Pamekasan Madura)." Pamekasan, 2017.
Zuhdi, Masyfuk. Masail Al-Diniyah Al-Ijtimaiyah. Jakarta: Gunung Agung, 1993.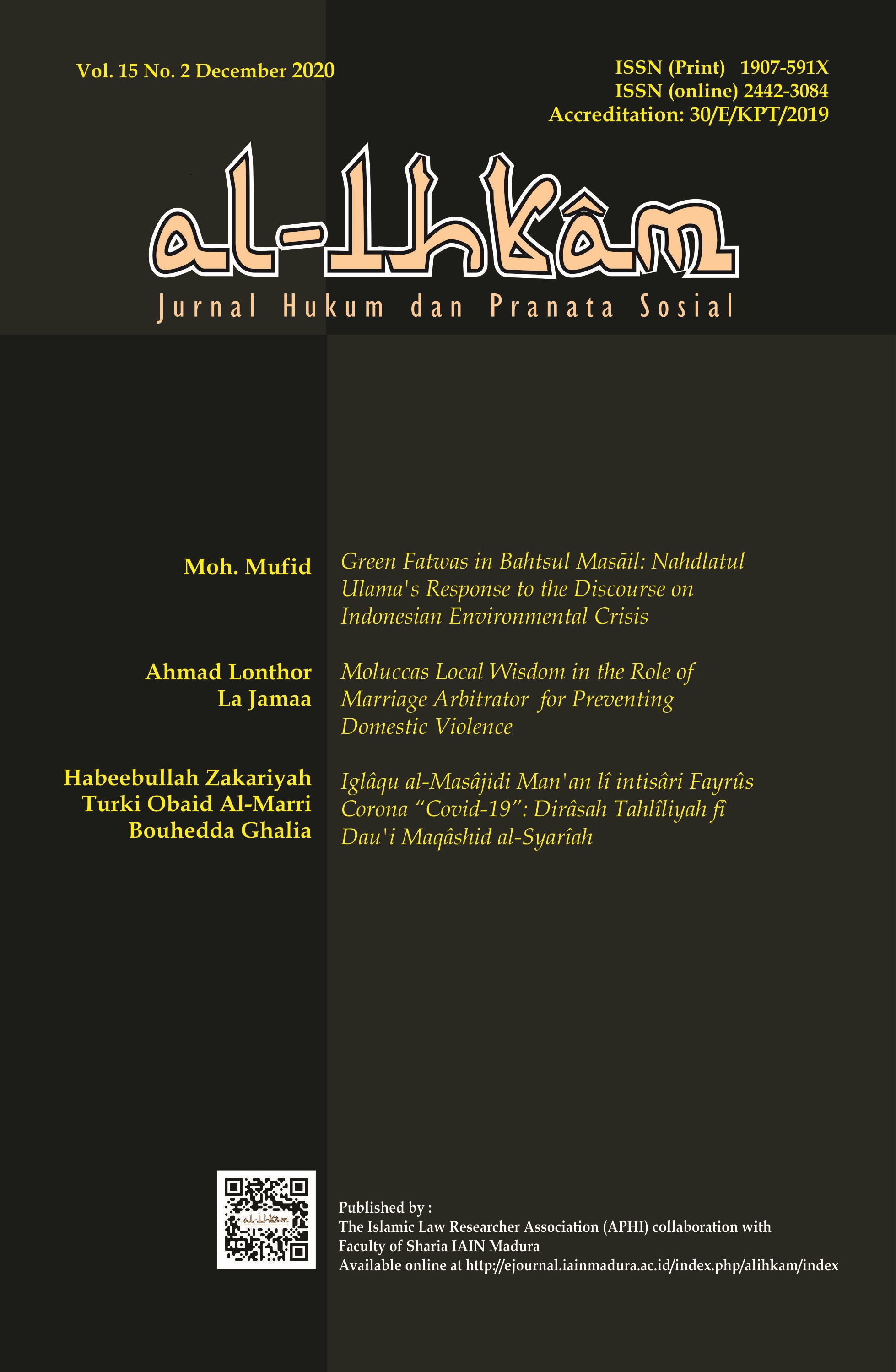 Publishing your paper with Al Ihkam (Jurnal Hukum & Pranata Sosial/Journal of Law & Social Studies) means that the author or authors retain the copyright in the paper. Al Ihkam granted an exclusive non commercial reuse license by the author(s), but the author(s) are able to put the paper onto a website, distribute it to colleagues, give it to students, use it in your thesis etc, so long as the use is not directed at commercial advantage or toward private monetary gain. The author(s) can reuse the figures and tables and other information contained in their paper published by Al Ihkam in future papers or work without having to ask anyone for permission, provided that the figures, tables or other information that is included in the new paper or work properly references the published paper as the source of the figures, tables or other information, and the new paper or work is not direct at private monetary gain or commercial advantage.
Al Ihkam journal (Journal of Law & Social Studies) provides immediate open access to its content on the principle that making research freely available to the public supports a greater global exchange of knowledge. This journal is licensed under a Creative Commons Attribution-NonCommercial 4.0 International License.This license lets others remix, tweak, and build upon your work non-commercially, and although their new works must also acknowledge & be non-commercial, they don't have to license their derivative works on the same terms.

Al Ihkam journal Open Access articles are distributed under this Creative Commons Attribution-Noncommercial 4.0 International License (CC BY-NC). Articles can be read and shared for noncommercial purposes under the following conditions:
BY: Attribution must be given to the original source (Attribution)
NC: Works may not be used for commercial purposes (Noncommercial)