REKONSTRUKSI MAQÂSHID AL-SYARÎ'AH (Sebuah Gagasan Hasan Hanafi tentang Revitalisasi Turâts)
Abstract views:
510
,
PDF downloads:
503
Abstract
Abstrak:
Dalam pergulatan wacana keagamaan kontemporer, isu maqâshid al-syarî'ah banyak dihembuskan oleh kalangan liberal sebagai sebuah simbol perlawanan atas kian teguhnya keberpihakan pada dominasi fiqih klasik yang dalam banyak hal telah gagal melampaui jamannya. Salah seorang pemikir kontemporer yang mengusung program rekonstruksi kebudayaan yang membebaskan adalah Hasan Hanafi. Ia ingin mereformasi pemikiran Islam dengan melakukan revitalisasi terhadap turâts (tradisi) klasik dan mere-konstruksinya sehingga tidak usang dan menjadi ramah terhadap kondisi kontemporer. Di bidang hukum Islam, Hanafi melakukan rekonstruksi atas maqâshid al-syarî'ah melalui reformasi linguistik. Hasilnya, hifzh al-nafs dimaknai sebagai menjaga kelestarian umat dari ancaman yang  datang baik dari dalam negeri ataupun luar negeri, hifzh al-'aql diaritikan menggalakkan rasioanalitas, pendidikan, dan memerangi kebodohan, hifzh al-dîn dimaknai sebagai memberi kebebasan beragama kepada pemeluk agama untuk meyakini dan melaksanan ajaran agamanya, hifzh al-'irdl berarti menjaga harga diri umat dan negara baik dari  penjajahan maupun tekanan pihak luar, dan kelima hifzh al-mâl adalah melindungi sumber daya alam negara dan memanfaatkannya demi kepentingan rakyat. Implementasi maqâshid al-syarî'ah tersebut menjadi kewajiban negara.
Kata Kunci:
Hasan Hanafi, maqâshid al-syarî'ah, turâts, rekonstruksi, negara
Downloads
Download data is not yet available.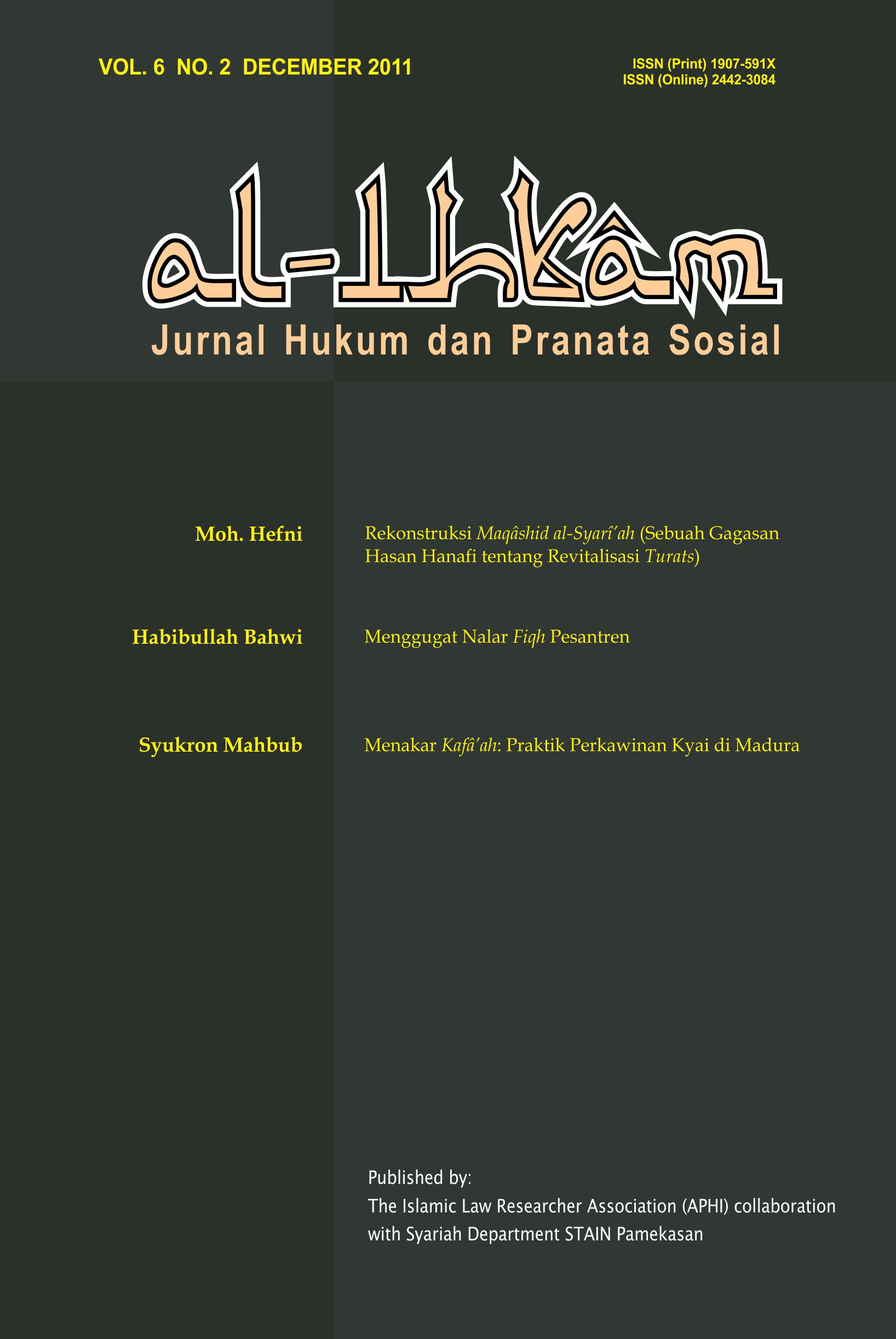 Publishing your paper with Al Ihkam (Jurnal Hukum & Pranata Sosial/Journal of Law & Social Studies) means that the author or authors retain the copyright in the paper. Al Ihkam granted an exclusive non commercial reuse license by the author(s), but the author(s) are able to put the paper onto a website, distribute it to colleagues, give it to students, use it in your thesis etc, so long as the use is not directed at commercial advantage or toward private monetary gain. The author(s) can reuse the figures and tables and other information contained in their paper published by Al Ihkam in future papers or work without having to ask anyone for permission, provided that the figures, tables or other information that is included in the new paper or work properly references the published paper as the source of the figures, tables or other information, and the new paper or work is not direct at private monetary gain or commercial advantage.
Al Ihkam journal (Journal of Law & Social Studies) provides immediate open access to its content on the principle that making research freely available to the public supports a greater global exchange of knowledge. This journal is licensed under a Creative Commons Attribution-ShareAlike 4.0 International License.This license lets others remix, tweak, and build upon your work non-commercially, and although their new works must also acknowledge & be non-commercial, they don't have to license their derivative works on the same terms.

Al Ihkam journal Open Access articles are distributed under this Creative Commons Attribution-ShareAlike 4.0 International License (CC BY-SA). Articles can be read and shared for noncommercial purposes under the following conditions:
BY: Attribution must be given to the original source (Attribution)
NC: Works may not be used for commercial purposes (Noncommercial)