MANAKAR KAFÂ`AH DALAM PRAKTIK PERKAWINAN KYAI DI MADURA
Syukron Mahbub Syukron Mahbub
Abstract views:
114
,
PDF downloads:
123
Abstract
Abstrak:
Kajian ini difokuskan pada persoalan, secara garis besar, bagaimana pandangan kyai tentang kafâ`ah dan praktiknya dalam perkawinan. Kajian ini menggunakan pendekatan kualitatif karena subjek yang diteliti memerlukan pengamatan secara utuh dan menyeluruh tentang kondisi yang sebenarnya. Data dalam  kajian ini diperoleh melalui observasi partisipan, dan wawancara mendalam. Kajian ini menghasilkan temuan bahwa kyai melakukan perkawinan antar keluarga dekat dan kerabat yang berasal dari keluarga kyai juga. Mereka menghindari terjadinya perkawinan dengan kerabat lain yang berasal dari keluarga non kyai. Dalam kaitannya dengan sikap perkawinan kyai ini, ditemukan dua tipe kyai yang berbeda yaitu: Pertama, tipe  kyai fanatik keturunan; kedua, tipe kyai fleksibel dalam memberikan keputusan. Kyai fanatik keturunan menjadikan faktor keturunan sebagai alasan pertama dan utama dalam memilih pendamping hidup bagi anak-anaknya. dalam mengambil langkah tindakannya kyai fanatik keturunan ini setidaknya dipengaruhi oleh dua hal. Pertama, adanya wasiat nenek moyang yang diikuti oleh generasi berikutnya. Kedua, adanya usaha untuk menjaga kemurnian keturunan. Sedangkan kyai fleksibel tidak begitu  fanatik terhadap keturunan dalam mengambil keputusan. Dalam masalah kafâ'ah, selain faktor keturunan, mereka juga mempertimbangkan faktor yang lain, seperti faktor kekayaan, nilai agama yang kuat serta kecakapan ilmu pengetahuan.
Abstract:
This study was designed to examine the view of kyai toward kafâ`ah and its practice in marriage. Qualitative approach has been used to collect intact and whole data from the subject by using the instruments of participatory observation and in-depth interview. It was found that kyai performs a marriage with the close family members and among relatives. They avoid a marriage with a family of different lineage particularly non-kyai family.  From the perspective of this marriage attitude, it could be catagorized two types of kyai. Firstly, is a kyai which is offspring fanatic, and secondly, a kyai which is flexible in giving decision. The former is influenced by two factors---firstly, ancestor will and second, the attempts to keep the family chasity. The later is not adhering strictly to the family genuinity. Kafâ`ah also takes a consideration on other factors such as opulence, the firm religious values, and knowledge proficiency.
Kata-kata Kunci:
Kyai, kafâ`ah, Madura, dan perkawinan
Downloads
Download data is not yet available.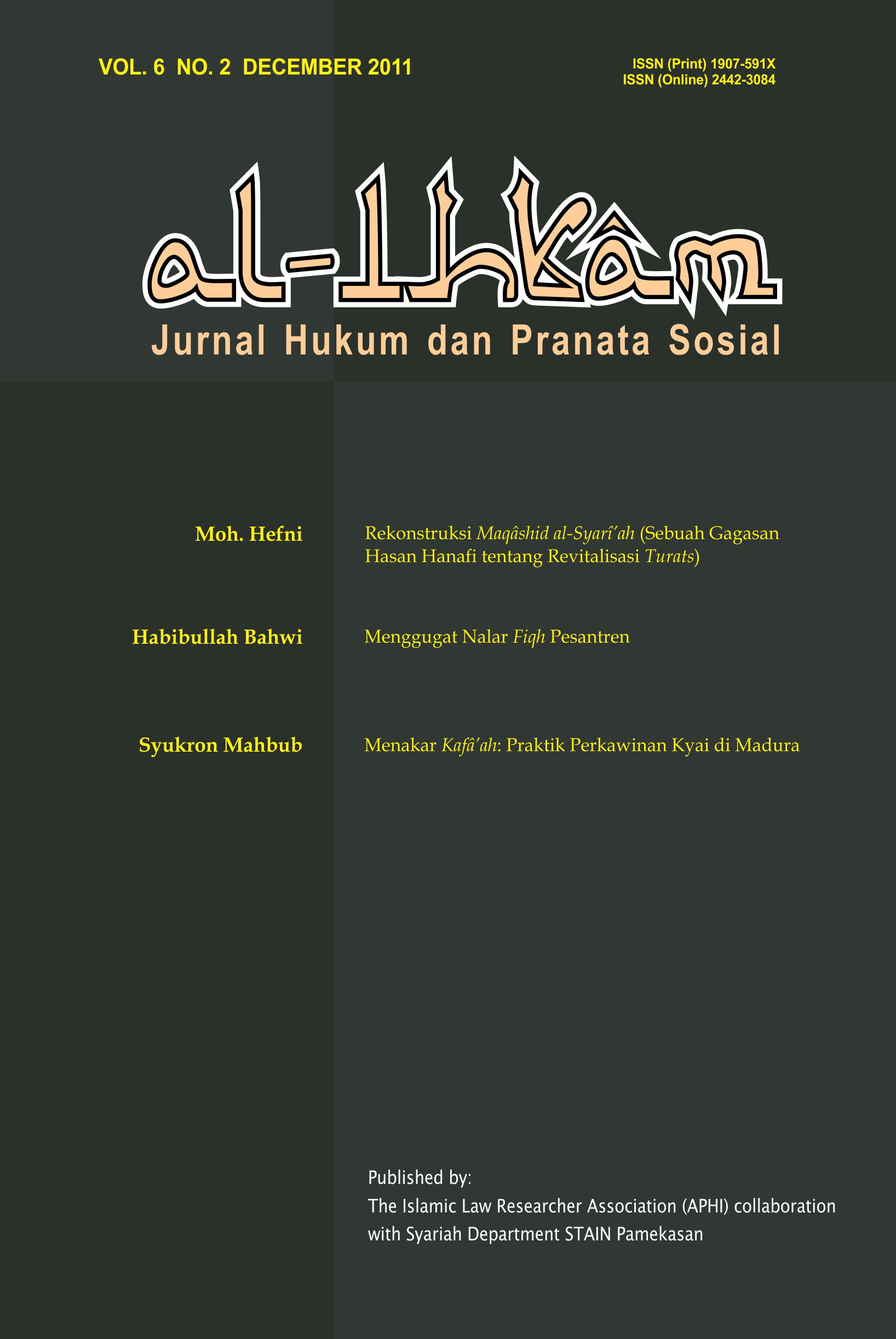 Publishing your paper with Al Ihkam (Jurnal Hukum & Pranata Sosial/Journal of Law & Social Studies) means that the author or authors retain the copyright in the paper. Al Ihkam granted an exclusive non commercial reuse license by the author(s), but the author(s) are able to put the paper onto a website, distribute it to colleagues, give it to students, use it in your thesis etc, so long as the use is not directed at commercial advantage or toward private monetary gain. The author(s) can reuse the figures and tables and other information contained in their paper published by Al Ihkam in future papers or work without having to ask anyone for permission, provided that the figures, tables or other information that is included in the new paper or work properly references the published paper as the source of the figures, tables or other information, and the new paper or work is not direct at private monetary gain or commercial advantage.
Al Ihkam journal (Journal of Law & Social Studies) provides immediate open access to its content on the principle that making research freely available to the public supports a greater global exchange of knowledge. This journal is licensed under a Creative Commons Attribution-ShareAlike 4.0 International License.This license lets others remix, tweak, and build upon your work non-commercially, and although their new works must also acknowledge & be non-commercial, they don't have to license their derivative works on the same terms.

Al Ihkam journal Open Access articles are distributed under this Creative Commons Attribution-ShareAlike 4.0 International License (CC BY-SA). Articles can be read and shared for noncommercial purposes under the following conditions:
BY: Attribution must be given to the original source (Attribution)
NC: Works may not be used for commercial purposes (Noncommercial)