MENGURAI PETA KITAB-KITAB HADITS (Kajian Referensi atas Kitab-kitab Hadits)
Arif Wahyudi

Jurusan Syariah STAIN Pamekasan, Jl Raya Panglegur Km. 04 Pamekasan
Abstract views:
1221
,
pdf downloads:
834
Abstract
Karya di bidang hadits sangat kaya, baik dari segi kuantitas,
ragam kajian maupun metodologi penyusunannya. Dengan
karya yang demikian banyak, tentu tidak mudah untuk
mengkaji dan mengenal seluruhnya. Faktor ini membuat
sebagian pengkaji ilmu keislaman kurang tepat dalam
bereferensi terhadap kitab-kitab hadits. Oleh karena itu, perlu
terdapat kajian mengenai ragam dan karakteristik kitab-kitab
hadits untuk memudahkan melacak maupun mereferensi
pada setiap hadits yang diambil. Tulisan ini tidak mencakup
seluruh kitab hadits, namun memfokuskan pada beberapa
macam kitab hadits, seperti kitab-kitab induk hadits, kitabkitab
syarh, kitab-kitab penghimpunan dan kitab-kitab rijal.
Kitab induk hadits merupakan kitab yang ditulis mukharrij
hadits dengan sanad bersambung sampai ke nabi tanpa
mengutip dari kitab-kitab ulama yang lain. Kepada kitab-kitab
inilah setiap penukilan hadits dirujuk. Kitab-kitab syarh hadits
merupakan penjelasan terhadap kitab-kitab induk tertentu
mengenai makna matn hadits maupun tentang sanad-nya.
Kitab penghimpunan merupakan kumpulan hadits-hadits dari
berbagai kitab induk hadits sesuai dengan tema yang
diinginkan penulis kitabnya. Kitab-kitab inilah yang sering
disalahartikan sebagai kitab induk hadits. Adapun kitab rijâl
al-hadîts membicarakan mengenai para periwayat hadits,
ditujukan untuk menilai validitas hadits dari sisi sanad, baik
ketersambungannya, atau cacat tidaknya seorang rawî.
Downloads
Download data is not yet available.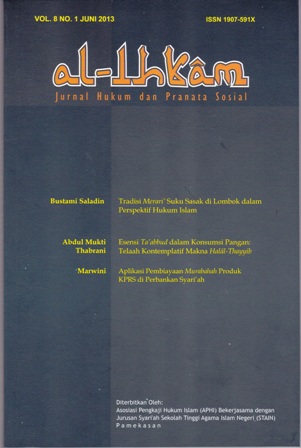 Publishing your paper with Al Ihkam (Jurnal Hukum & Pranata Sosial/Journal of Law & Social Studies) means that the author or authors retain the copyright in the paper. Al Ihkam granted an exclusive non commercial reuse license by the author(s), but the author(s) are able to put the paper onto a website, distribute it to colleagues, give it to students, use it in your thesis etc, so long as the use is not directed at commercial advantage or toward private monetary gain. The author(s) can reuse the figures and tables and other information contained in their paper published by Al Ihkam in future papers or work without having to ask anyone for permission, provided that the figures, tables or other information that is included in the new paper or work properly references the published paper as the source of the figures, tables or other information, and the new paper or work is not direct at private monetary gain or commercial advantage.
Al Ihkam journal (Journal of Law & Social Studies) provides immediate open access to its content on the principle that making research freely available to the public supports a greater global exchange of knowledge. This journal is licensed under a Creative Commons Attribution-ShareAlike 4.0 International License.This license lets others remix, tweak, and build upon your work non-commercially, and although their new works must also acknowledge & be non-commercial, they don't have to license their derivative works on the same terms.

Al Ihkam journal Open Access articles are distributed under this Creative Commons Attribution-ShareAlike 4.0 International License (CC BY-SA). Articles can be read and shared for noncommercial purposes under the following conditions:
BY: Attribution must be given to the original source (Attribution)
NC: Works may not be used for commercial purposes (Noncommercial)