WAKAF UANG (Sebuah Alternatif dalam Upaya Menyejahterakan Masyarakat)
Fahruddin Ali Sabri

(Jurusan Syari'ah STAIN Pamekasan, jln. Pahlawan KM. 04 Pamekasan
Abstract views:
316
,
pdf downloads:
304
Abstract
Kemiskinan dan kesenjangan sosial di Indonesia merupakan
persoalan krusial yang kronis dan sulit untuk dipecahkan.
Kemiskinan dan kesenjangan sosial cukup mengemuka di
sebuah negara yang kaya dengan sumber daya alam yang
melimpah. Lebih buruk lagi, negara yang diklaim miskin dan
berpenduduk terbesar kelima dunia, ternyata dihuni mayoritas
umat Muslim. Salah satu solusi alternatif dalam mengatasi
persoalan kemiskinan dan kesenjangan sosial adalah dengan
mengembangkan wakaf. Wakaf merupakan salah satu lembaga
hukum yang berasal dari hukum Islam. Wakaf dilakukan oleh
umat Muslim dalam rangka melaksanakan ibadah untuk
Allah. Pelaksanaan wakaf harus memenuhi rukun dan
syaratnya wakaf. Rukun wakaf ada empat yaitu adanya wakîf,
harta yang akan diwakafkan, tempat di mana benda akan
diwakafkan dan akad. Benda wakaf berdasarkan hukum Islam
meliputi semua harta yang dimiliki oleh wakîf. Salah satu dari
macam wakaf yang beberapa tahun belakangan ini dikenal
oleh umat Muslim adalah wakaf uang. Wakaf uang akan dapat
menjadi instrument ekonomi penting untuk menyelesaikan
persoalan kemiskinan dan kesenjangan, sehingga masyarakat
akan sejahtera.
Downloads
Download data is not yet available.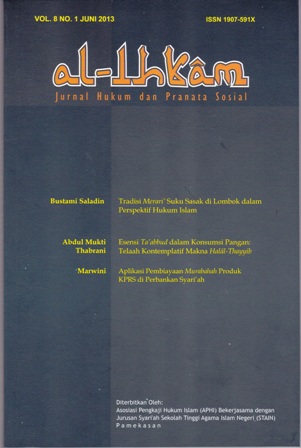 Publishing your paper with Al Ihkam (Jurnal Hukum & Pranata Sosial/Journal of Law & Social Studies) means that the author or authors retain the copyright in the paper. Al Ihkam granted an exclusive non commercial reuse license by the author(s), but the author(s) are able to put the paper onto a website, distribute it to colleagues, give it to students, use it in your thesis etc, so long as the use is not directed at commercial advantage or toward private monetary gain. The author(s) can reuse the figures and tables and other information contained in their paper published by Al Ihkam in future papers or work without having to ask anyone for permission, provided that the figures, tables or other information that is included in the new paper or work properly references the published paper as the source of the figures, tables or other information, and the new paper or work is not direct at private monetary gain or commercial advantage.
Al Ihkam journal (Journal of Law & Social Studies) provides immediate open access to its content on the principle that making research freely available to the public supports a greater global exchange of knowledge. This journal is licensed under a Creative Commons Attribution-ShareAlike 4.0 International License.This license lets others remix, tweak, and build upon your work non-commercially, and although their new works must also acknowledge & be non-commercial, they don't have to license their derivative works on the same terms.

Al Ihkam journal Open Access articles are distributed under this Creative Commons Attribution-ShareAlike 4.0 International License (CC BY-SA). Articles can be read and shared for noncommercial purposes under the following conditions:
BY: Attribution must be given to the original source (Attribution)
NC: Works may not be used for commercial purposes (Noncommercial)