ESENSI TA'ABBUD DALAM KONSUMSI PANGAN (Telaah Kontemplatif atas Makna Halâl-Thayyib)
Abdul Mukti Thabrani

Jurusan Syari'ah STAIN Pamekasan, jln. Pahlawan KM. 04 Pamekasan
Abstract views:
396
,
pdf downloads:
2697
Abstract
Tujuan awal penciptaan manusia adalah beribadah kepada
Allah swt. secara bertanggung jawab. Amalan wajib dan
sunnah dilaksanakan demi menyempurnakan hal ini.
Makan dan minum, atau konsumsi sebagai kebutuhan
hidup, merupakan salah satu faktor penyumbang terpenting
dalam memberikan justifikasi terhadap diterima atau
ditolaknya suatu pekerjaan, dikaitkan dengan halalharamnya.
Tulisan ini berupaya mendeskripsikan konsep
halâl-thayyib dalam perspektif makna esensi ibadah sebagai
tanggung jawab kita, serta pandangan ulama dan
implementasinya dalam konteks global, dan tentu saja,
implikasinya bagi kesempurnaan nilai ibadah. Halal dan
haram memang sudah diketahui melalui nash atau teks yang
jelas dari al-Qur`an dan Sunnah. Namun, thayyib lebih
menjurus kepada kaidah pengendalian teknis, aplikasi, dan
pengurusan serta proteksi hal-hal yang berkaitan dengan
makanan dan minuman yang dihalalkan. Makanan menjadi
haram, jika unsur-unsur thayyib ini diabaikan.
Downloads
Download data is not yet available.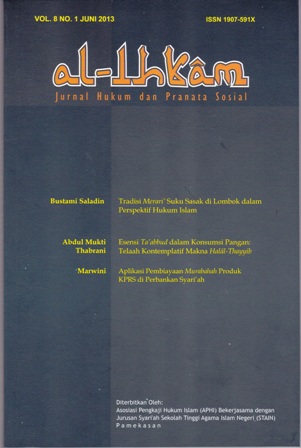 Publishing your paper with Al Ihkam (Jurnal Hukum & Pranata Sosial/Journal of Law & Social Studies) means that the author or authors retain the copyright in the paper. Al Ihkam granted an exclusive non commercial reuse license by the author(s), but the author(s) are able to put the paper onto a website, distribute it to colleagues, give it to students, use it in your thesis etc, so long as the use is not directed at commercial advantage or toward private monetary gain. The author(s) can reuse the figures and tables and other information contained in their paper published by Al Ihkam in future papers or work without having to ask anyone for permission, provided that the figures, tables or other information that is included in the new paper or work properly references the published paper as the source of the figures, tables or other information, and the new paper or work is not direct at private monetary gain or commercial advantage.
Al Ihkam journal (Journal of Law & Social Studies) provides immediate open access to its content on the principle that making research freely available to the public supports a greater global exchange of knowledge. This journal is licensed under a Creative Commons Attribution-ShareAlike 4.0 International License.This license lets others remix, tweak, and build upon your work non-commercially, and although their new works must also acknowledge & be non-commercial, they don't have to license their derivative works on the same terms.

Al Ihkam journal Open Access articles are distributed under this Creative Commons Attribution-ShareAlike 4.0 International License (CC BY-SA). Articles can be read and shared for noncommercial purposes under the following conditions:
BY: Attribution must be given to the original source (Attribution)
NC: Works may not be used for commercial purposes (Noncommercial)