PELUANG DAN TANTANGAN PENGEMBANGAN EKONOMI SYARÎ'AH DI PERGURUAN TINGGI
Masyhudi Muqorobin

Program Studi Ilmu Ekonomi dan Studi Pembangunan, Universitas Muhammadiyah Yogyakarta
Abstract views:
136
,
pdf downloads:
133
Abstract
Perkembangan ekonomi syarî'ah, juga disebut ekonomi Islam,
saat ini memberikan harapan yang cukup menjanjikan. Hal ini
tidak saja terjadi di Indonesia melainkan di hampir seluruh
belahan dunia, baik di Timur maupun di Barat. Ekonomi Islam
sebagai bidang ilmu juga telah diajarkan di universitasuniversitas
Eropa dan Amerika. Di Indonesia jumlah perguruan
tinggi penyelengara ilmu ekonomi, yang dari sekitar 145
perguruan tinggi, belum ada 10 program studi ilmu Ekonomi
yang menyelenggarakan program ekonomi Islam/syarî'ah.
Perguruan tinggi menjadi tempat yang amat strategis salam
pengembangan ilmu ekonomi syarî'ah serta penyiapan SDM di
bidang tersebut, utamanya mulai dari program undergraduate
(S1) sebagai starting point. Pengembangan kurikulum didesain
dengan muatan ilmu ekonomi Islam secara penuh, sehingga
hampir semua mata kuliah yang diajarkan memiliki muatan
bagi pengembangan ekonomi Islam. Integrasi nilai-nilai Islam
ke dalam setiap mata kuliah merupakan sebuah kemestian
yang tidak dapat ditunda dalam pengembangan ilmu ekonomi
Islam serta sistem ekonomi yang akan dihasilkannya, tanpa
memperdebatkan perlu tidaknya pemakaian label "Islam" atau
'syarî'ah" ke dalam jenis mata kuliah yang bersangkutan.
Program ini dapat dilakukan melalui dua pendekatan disiplin,
yaitu pendekatan disiplin Ilmu Ekonomi (Economics dominance)
dan pendekatan disiplin Ilmu Agama (Syarî'ah dominance).
Downloads
Download data is not yet available.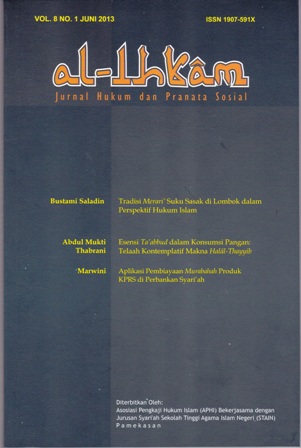 Publishing your paper with Al Ihkam (Jurnal Hukum & Pranata Sosial/Journal of Law & Social Studies) means that the author or authors retain the copyright in the paper. Al Ihkam granted an exclusive non commercial reuse license by the author(s), but the author(s) are able to put the paper onto a website, distribute it to colleagues, give it to students, use it in your thesis etc, so long as the use is not directed at commercial advantage or toward private monetary gain. The author(s) can reuse the figures and tables and other information contained in their paper published by Al Ihkam in future papers or work without having to ask anyone for permission, provided that the figures, tables or other information that is included in the new paper or work properly references the published paper as the source of the figures, tables or other information, and the new paper or work is not direct at private monetary gain or commercial advantage.
Al Ihkam journal (Journal of Law & Social Studies) provides immediate open access to its content on the principle that making research freely available to the public supports a greater global exchange of knowledge. This journal is licensed under a Creative Commons Attribution-ShareAlike 4.0 International License.This license lets others remix, tweak, and build upon your work non-commercially, and although their new works must also acknowledge & be non-commercial, they don't have to license their derivative works on the same terms.

Al Ihkam journal Open Access articles are distributed under this Creative Commons Attribution-ShareAlike 4.0 International License (CC BY-SA). Articles can be read and shared for noncommercial purposes under the following conditions:
BY: Attribution must be given to the original source (Attribution)
NC: Works may not be used for commercial purposes (Noncommercial)