KONTROVERSI HADITS-HADITS MENANGISI MAYAT DALAM PERSPEKTIF MUKHTALIF HADITS
Arif Wahyudi

Jurusan Syariah STAIN Pamekasan, Jl Raya Panglegur km. 04 Pamekasan
Abstract views:
559
,
PDF downloads:
581
Abstract
Pertentangan antara hadits-hadits tentang menangisi mayit seringkali berdampak langsung kepada masyarakat akar rumput, sehingga sekedar menitikkan air mata karena keluarganya meninggal akan membuat yang lain menghardik dengan alasan bahwa si mayit akan disiksa di dalam kubur ketika ada yang menangis atau si mayit akan menjadi hantu. Pertentangan dalam masalah ini akan coba penulis kaji dan selesaikan dengan metode Mukhtalif Hadits. Ilmu Mukhtalif Hadits merupakan ilmu yang membahas pertentangan hadits dengan hadits lain, dengan al-Qur'an, logika dan fakta, baik pertentangannya secara zhahir atau hakiki. Hal ini senada dengan cakupan pembahasan kitab-kitab tentang mukhtalif hadits, diantaranya Ta`wîl Mukhtalif al-Hadîts karya Abî Muhammad Abdullah ibn Muslim Qutaibah (213-276 H). Secara esensi, pertentangan antara satu hadits dengan yang lain hanyalah pada zhahirnya dan tidak bersifat hakiki, mengingat keseluruhannya bersumber dari Allah swt.
Downloads
Download data is not yet available.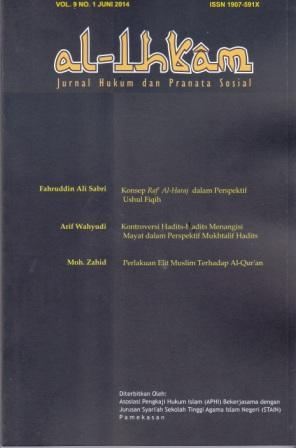 Publishing your paper with Al Ihkam (Jurnal Hukum & Pranata Sosial/Journal of Law & Social Studies) means that the author or authors retain the copyright in the paper. Al Ihkam granted an exclusive non commercial reuse license by the author(s), but the author(s) are able to put the paper onto a website, distribute it to colleagues, give it to students, use it in your thesis etc, so long as the use is not directed at commercial advantage or toward private monetary gain. The author(s) can reuse the figures and tables and other information contained in their paper published by Al Ihkam in future papers or work without having to ask anyone for permission, provided that the figures, tables or other information that is included in the new paper or work properly references the published paper as the source of the figures, tables or other information, and the new paper or work is not direct at private monetary gain or commercial advantage.
Al Ihkam journal (Journal of Law & Social Studies) provides immediate open access to its content on the principle that making research freely available to the public supports a greater global exchange of knowledge. This journal is licensed under a Creative Commons Attribution-ShareAlike 4.0 International License.This license lets others remix, tweak, and build upon your work non-commercially, and although their new works must also acknowledge & be non-commercial, they don't have to license their derivative works on the same terms.

Al Ihkam journal Open Access articles are distributed under this Creative Commons Attribution-ShareAlike 4.0 International License (CC BY-SA). Articles can be read and shared for noncommercial purposes under the following conditions:
BY: Attribution must be given to the original source (Attribution)
NC: Works may not be used for commercial purposes (Noncommercial)