Green Fatwas in Bahtsul Masāil: Nahdlatul Ulama's Response to the Discourse on the Environmental Crisis in Indonesia
Moh. Mufid

UIN Sunan Kalijaga Yogyakarta, Jl Lakda Adisucipto Yogyakarta Indonesia
Abstract views:
423
,
PDF downloads:
275
Keywords:
Green-Fatwas, Bahtsūl Masāil, Hifz al-Bi'ah
Abstract
Abstract
This article aims to discuss environmental issues in the Nahdlatul Ulama (NU) tradition as a response to the phenomenon of the environmental crisis in Indonesia. This article answers the question of what is the social context that underlies the birth of the fatwas with ecological nuances among Nahdlatul Ulama? and how is the contribution of Nahdlatul Ulama in realizing eco-literacy among Nahdliyin? The results of the study indicate that the emergence of ecological fatwas or green fatwas was based on the concern of the Nahdlatul Ulama Executive Board as the largest Islamic organization in Indonesia who realized that the phenomenon of the environmental crisis in Indonesia was increasingly concerning. The idea to respond to this environmental crisis phenomenon has occurred since the 29th NU Congress in Cipasung, Tasikmalaya, West Java. The contribution of the Nahdlatul Ulama (NU) through the Bahtsul Masail Institute in realizing an environmentally conscious society (eco-literacy) is by formulating ecological nuances from a fiqh perspective as a guide for Nahdliyin in interacting with its environment in a friendly and sustainable manner. In this context, Nahdliyin residents are obliged to fight for the values of environmental preservation (jihād bi'iyah) as a manifestation of the ethical-ecological responsibility of the khalīfah on earth.
 (Artikel ini bertujuan mendiskusikan respon Nahdlatul Ulama (NU) terhadap fenomena krisis lingkungan di Indonesia. Ia membidik konteks sosial yang melatari lahirnya fatwa-fatwa bernuansa ekologis di kalangan Nahdlatul Ulama serta konstribusinya dalam mewujudkan eco-literacy di kalangan Nahdliyin. Hasil kajian menunjukkan bahwa lahirnya fatwa-fatwa ekologis atau green fatwas dilatari keprihatinan Pengurus Besar Nahdlatul Ulama yang menyadari bahwa fenomena krisis lingkungan di Indonesia semakin memprihatinkan. Gagasan untuk merespon terhadap fenomena krisis lingkungan ini telah muncul sejak Muktamar NU ke-29 di Cipasung, Tasikmalaya, Jawa Barat. Konstribusi Nahdlatul Ulama (NU) melalui forum Bahtsul Masail dalam mewujudkan masyarakat yang sadar lingkungan (eco-literacy) adalah dengan merumuskan fatwa-fatwa bernuansa ekologis dalam perspektif fiqh sebagai panduan bagi Nahdliyin dalam berinteraksi dengan lingkungannya secara ramah dan berkelanjutan. Dalam konteks ini, warga Nahdliyin diwajibkan memperjuangkan nilai-nilai pelestarian lingkungan hidup (jihād bi'iyah) sebagai manifestasi tanggungjawab etis-ekologis khalīfah di bumi)
Downloads
Download data is not yet available.
References
Ahmad, Implementasi Ijtihad Tahqiq al-Manat dalam Fatwa Lajnah Bahtsul Masail Nahdhatul Ulama dan Majelis Tarjih dan Tajdid Muhammadiyah (Studi Analisis Komparatif Fatwa Ekonomi) (Disertasi Doktor, UIN Alauddin Makassar, 2017).
Ahmad, Nik Nazli Nik dan Dewan Mahboob Hossain. "Climate Change and Global Warming Discourses and Disclosures in the Corporate Annual Reports: A Study on the Malaysian Companies," Procedia-Social and Behavioral Sciences 172 (2015).
Asmuni, Jamal Ma'mus. Mengembangkan Fikih Sosial KH. MA. Sahal Mahfudh (Jakarta: Quanta, 2015).
Barton, Greg. Biografi Abdurrahaman Wahid Edisi Baru (Yogyakarta: IRCiSOD, 2019).
Cabral, Reniel B.; et al. (April 2018). "Rapid and lasting gains from solving illegal fishing". Nature Ecology & Evolution. 2: 650–658.
Capra, Fritjof The Web of Life: A New Understanding of Living Systems (London: Flaminggo, 1997).
Fealy, Greg. Ijtihad Politik Ulama: Sejarah NU 1952-1967 (Yogyakarta: LKiS, 2003).
Hamad, Norah bin. Foundations for Sustainable Development: Harmonizing Islam, Nature and Law, (July 2017) (SJD Dissertation, Elisabeth Haub School of Law at Pace University). http://digitalcommons.pace.edu/lawdissertations/20/. Diakses 20 Oktober 2020.
Harun al-Rasyid, Fikih Korupsi: Analisis Politik Uang di Indonesia dalam perspektif Maqasid al-Syariah (Jakarta: Kencana, 2016).
Hasil Bahtsul Masail Lembaga Bahtsul Masail PBNU Nomor: 06 Tahun 2020 tentang Kebijakan Ekspor Benih Lobster. Lihat, https://www.mongabay.co.id/wp-content/uploads/2020/08/Hasil-BM-ttg-Kebijakan-Ekspor-Benih-Lobster-Final.pdf diakses 20 Sepetember 2020.
Ka'bah, Rifyal. Keputusan Lajnah Tarjih Muhammadiyah dan Lajnah Bahtsul Masail NU sebagai Keputusan Ijtihad Jamai di Indonesia (Disertasi Doktor, Universitas Indonesia, 1998).
Keputusan Komisi Bahtsul Masail Diniyah Waqi'iyah Muktamar Nahdlatul Ulama XXXII 2010. Lihat, https://www.academia.edu/42099304/Hasil_Keputusan_Muktamar_Ke_32_NAHDLATUL_ULAMA_di_Makassar_22_28_Maret_2010.
Keputusan Muktamar Nahdlatul Ulama ke-29 di Cipasung Tasikmalaya Pada Tanggal 1 Rajab 1415 H. / 4 Desember 1994 M. https://www.laduni.id/post/read/63122/keputusan-muktamar-nahdlatul-ulama-ke-29-cipasung-tasikmalaya-4-desember-1994-m.html diakses, 20 September 2020.
Lakpesdam Jakarta, Kritik Nalar Fiqih NU: Tranformasi Paradigma Bahtsul Masail (Jakarta: Lakpesdam, 2002).
Marzuki Wahid (ed.), Fikih Energi Terbarukan: Pandangan dan Respons Islam atas Pembangkit Listrik Tenaga Surya (PLTS), (Jakarta-Yogyakarta: Kemala Konsorsium Energi Mandiri Lestari, 2017), 5. https://www.researchgate.net/publication/323254703_Fikih_Energi_Terbarukan_-_Pandangan_Dan_Respons_Islam_Atas_Pembangkit_Listrik_Tenaga_Surya_PLTS diakses (30/06/2020).
Moh. Mufid, "Fikih Konservasi Laut: Relevansi Fiqh al-Biah di Wilayah Pesisir Lamongan, Manahij: Jurnal Kajian Hukum Islam, Vol. XII No. 1 Juni (2018).
Moh. Thariquddin, Pengelolaan Zakat Produktif Perspektif Maqasid al-Syariah Ibn Asyur (Malang: UIN-Maliki Press, 2015).
Muhtadi, Asep Saiful. Komunikasi Politik Nahdlatul Ulama: Pergulatan Politik Radikal dan Akomodatif (Jakarta: LP3ES, 2008).
Noor, Munawar. "Kebijakan Pembangunan Kependudukan dan Bonus Demografi", dalam Serat Acitya; Jurnal Ilmiah UNTAG Semarang, (tth).
Pujiono, Perilaku Ekonomi Warga NU Kabupaten Pasuruan dalam Perspektif Hukum Islam 9Studi Penerapan Putusan Bahtsul Masail) (Disertasi Doktor, IAIN Sunan Ampel, 2010).
Ridwan, Paradigma Politik NU (Yogyakarta, Pustaka Pelajar, 2004).
Rumadi, Kata Pengantar Pricipal Directur Konsorsium Kemala dalam Fikih Energi Terbarukan (Jakarta: Lakpesdam PBNU, 2017), ix.
Siraj, Said Agil. "Islam dan Penanggulanagan Bahaya Sampah Plastik" dalam Pengantar Fiqih Penangulangan Sampah Plastik (Jakarta: Lembaga Bahtsul Masail PBNU dan Lembaga Penanggulangan Bencana dan Perubahan Iklim, tth), vii.
Sonny A Keraf, Filsafat Lingkungan Hidup: Alam sebagai Sebuah Sistem Kehidupan (Yogyakarta: Kanisius, 2014),
Sutrisno, Nalar Fiqh Gus Mus (Yogyakarta, Pustaka Pelajar, 2010).
Taufiq, Thiyas Tono. "Lingkungan dan Kearifan Lokal masyarakat Muslim-Kristen Pesisir banyutowo, Living Islam, Vol. I, No. 2 (November 2018).
Tim Lembaga Bahtsul Masail dan Lembaga Penanggulangan Bencana dan Perubahan Iklim, Fiqih Penanggulangan Sampah Plastik, (ttp: LBM dan LPBI, t.th), 17. https://drive.google.com/file/d/1nybueYMH8W_TE0O_pVrxcP3eVGKhnt0O/view diakses (30/06/2020)
Walhi, Tinjauan Lingkungan Hidup 2020: Menabur Investasi menuai Krisis Multidimensi (Jakarta: Walhi, 2010), 12. https://www.walhi.or.id/wp-content/uploads/Laporan%20Tahunan/Outlook%202020.pdf
Zada, Khamami dan A. Fawaid Sjadzali (ed), Nahdlatul Ulama: Dinamika Ideologi dan Politik Kebangsaan (Jakarta: Kompas Media Nusantaram 2010).
Zahro, Ahmad. Lajnah Bahtsul Masail NU 1926-1999: Telaah Kritis terhadap Keputusan Hukum Fiqh (Disertasi Doktor, UIN Sunan Kalijaga, 2001).
Zainab al-Alwanī, al-Usarah fi Maqasid al-Syariah: Qirāah fi Qadāyā al-Zawāj wa al-Talāq fi Amrika (USA: The International Institute of islamic Thought, 2013).
Zulfa, Vania, Milson Max, Iskar Hukum, Irfan Ilyas, "Isu-Isu Kritis Lingkungan dan Perspektif Global, Journal Green Growth dan Manajemen Lingkungan, Vol.5 No.1 (Juli 2016).
Website
https://www.kompas.com/tren/read/2020/07/25/110500065/pro-kontra-kebijakan-ekspor-benih-lobster-di-era-edhy-prabowo-?page=all diakses 25 September 2020.
https://economy.okezone.com/read/2019/10/07/320/2113824/selama-menjabat-menteri-susi-tenggelamkan-berapa-kapal diakses 20 September 2020.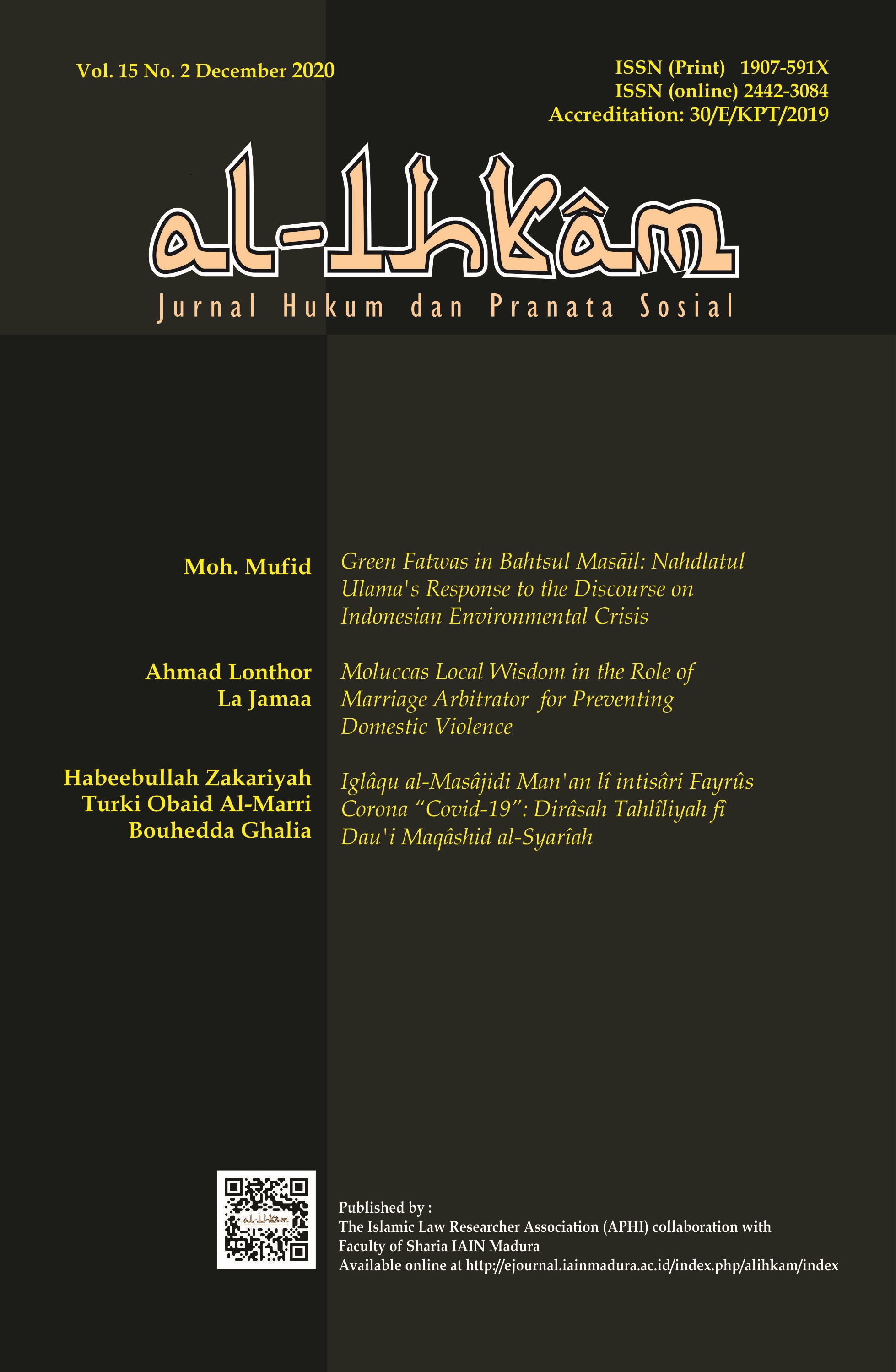 Publishing your paper with Al Ihkam (Jurnal Hukum & Pranata Sosial/Journal of Law & Social Studies) means that the author or authors retain the copyright in the paper. Al Ihkam granted an exclusive non commercial reuse license by the author(s), but the author(s) are able to put the paper onto a website, distribute it to colleagues, give it to students, use it in your thesis etc, so long as the use is not directed at commercial advantage or toward private monetary gain. The author(s) can reuse the figures and tables and other information contained in their paper published by Al Ihkam in future papers or work without having to ask anyone for permission, provided that the figures, tables or other information that is included in the new paper or work properly references the published paper as the source of the figures, tables or other information, and the new paper or work is not direct at private monetary gain or commercial advantage.
Al Ihkam journal (Journal of Law & Social Studies) provides immediate open access to its content on the principle that making research freely available to the public supports a greater global exchange of knowledge. This journal is licensed under a Creative Commons Attribution-ShareAlike 4.0 International License.This license lets others remix, tweak, and build upon your work non-commercially, and although their new works must also acknowledge & be non-commercial, they don't have to license their derivative works on the same terms.

Al Ihkam journal Open Access articles are distributed under this Creative Commons Attribution-ShareAlike 4.0 International License (CC BY-SA). Articles can be read and shared for noncommercial purposes under the following conditions:
BY: Attribution must be given to the original source (Attribution)
NC: Works may not be used for commercial purposes (Noncommercial)