Critical Review of Domestic Violence as Reason for Divorce (Comparison of Divorce Laws in Indonesia, Malaysia and the Maldives)
Martina Purna Nisa

Antasari State Islamic University
Abstract views:
659
,
pdf downloads:
433
Keywords:
Domestic Violence, Divorce Law, Family Law, Muslim Country
Abstract
The phenomenon of domestic violence is on the rise every year and often puts a marriage into divorce. Divorce on the grounds of domestic violence frequently appears in the courtroom of Religious Courts in Indonesia as stipulated in Article 19 letter d PP No. 9 of 1975. It affirms that one party committing cruelty or severe persecution that endangers another party can be the legal reason for divorce. And then what about other Muslim countries? This research is library research with a descriptive-analytical method using a juridical normative approach. It found that domestic violence is accommodated as one of the reasons for divorce in family law in Indonesia, Malaysia (Negeri Sembilan, Persekutuan Pulau Pinang, Selangor dan Johor), and the Maldives. However, there are differences in granting the right for filing a divorce because of domestic violence. Divorce law in Indonesia and Malaysia enables both husband and wife to file for divorce because of domestic violence while Maldives law only enables the wife to do so.
Fenomena kekerasan dalam rumah tangga selalu meningkat setiap tahunnya dan seringkali menjadi sebab perceraian. Perceraian karena kekerasan dalam rumah tangga sering muncul di ruang sidang pengadilan agama di Indonesia. Ini  sebagaimana diatur dalam Pasal 19 huruf d PP No. 9 Tahun 1975 bahwa salah satu pihak yang melakukan kekejaman atau penganiayaan berat yang membahayakan pihak lain dapat menjadi alasan hukum terjadinya perceraian. Lalu bagaimana dengan di negara-negara Muslim lainnya? Penelitian ini termasuk dalam penelitian pustaka (library research) yang bersifat deskriptif analitis dengan pendekatan normatif yuridis. Dalam penelitian ini diperoleh temuan bahwa kekerasan dalam rumah tangga diakomodir sebagai alasan perceraian dalam hukum keluarga di Indonesia, Malaysia (Negeri sembilan, Persekutuan Pulau Pinang, Selangor dan Johor), maupun Maladewa. Hanya saja, terdapat perbedaan dalam hak mengajukan perceraian karena kekerasan dalam rumah tangga. Hukum perceraian di Indonesia dan Malaysia membolehkan kedua belah pihak untuk mengajukan perceraian karena kekerasan dalam rumah tangga, sementara hukum Maladewa hanya memungkinkan pihak istri.
Downloads
Download data is not yet available.
References
"Dasar-Dasar HAM Tertuang Dalam Deklarasi Kemerdekaan Amerika Serikat (Declaration of Independence of USA) Dan Dalam UUD 1945 Republik Indonesia, Seperti Terdapat Pada Pasal 27 Ayat 1, Pasal 28, Pasal 29 Ayat 2, Pasal 30 Ayat 1, Dan Pasal 31 Ayat 1. HAM Se," n.d.
"Deklarasi Tentang Penghapusan Kekerasan Terhadap Perempuan. Diproklamasikan Oleh Majelis Umum Perserikatan Bangsa-Bangsa - Pdf Download Gratis," Pasal 1 H. 12, Accessed November 15, 2020. (2020).
Dirdjosisworo, Soedjono. Sinopsis Kriminologi Indonesia, Cet. 1. Bandung: Mandar Maju, 1994.
Eekelaar, John. Family Security and Family Breakdown. Penguin, 1971.
Fyzee, Asaf A. A., and Tahir Mahmood. Outlines of Muhammadan Law, Fifth Edition. Oxford, New York: Oxford University Press, 2009.
Haidar, Mohammad Ali. "'Ketentuan Perceraian Di Indonesia Dan Maladewa,.'" Skripsi Program Studi Hukum Keluarga Universitas Islam Negeri Syarif Hidayatullah Jakarta, 2020.
Humm, Maggie. The Dictionary of Feminist Theory, Published in 1990 in Columbus Ohio) by Ohio. State University Press (Columbus (Ohio): Ohio state university press, 1990.
Jabyn, Marium. ""Transformations in Shari'ah Family Law in the Republic of Maldives"." Jindal Global Law Review 7, no. 1 (2016): 61.
Kementerian Pemberdayaan Perempuan. Kekerasan Terhadap Perempuan-KDRT. Jakarta, 2002.
Kersti Yllö and M. Gabriela Torres, Eds., Marital Rape: Consent, Marriage, and Social Change in Global Context, Interpersonal Violence Series (Oxford ; New York: Oxford University Press, 2016), 23. Lihat Juga Stark, Evan. 2007. Coercive Control: How Men E, n.d.
"Maldives - Family Act," 2020. 000 (Act No. 4/2000).," accessed August 22, 2020,%0Ahttp://www.ilo.org/dyn/natlex/natlex4.detail?p_lang=&p_isn=85773&p_classification=01.03.%0A.
Nasution. "Hukum Perdata (Keluarga) Islam Indonesia Dan Perbandingan Hukum Perkawinan Di Dunia Muslim: Studi Sejarah, Metode Pembaruan Dan Materi & Status Perempuan Dalam Hukum Perkawinan/Keluarga Islam," no. 7 (n.d.).
Nasution, Khoiruddin. ""Menjamin Hak Perempuan Dengan Taklik Talak Dan Perjanjian Perkawinan." Unisia 31, no. 70 (2008). https://doi.org/335,https://doi.org/10.20885/unisia.vol31.iss70.art3.
Samadani, Adil. Kompetensi Pengadilan Agama Terhadap Tindak Kekerasan Dalam Rumah Tangga, Pertama. Yogyakarta: Graha Ilmu, 2013.
Saraswati, Rika. Perempuan Dan Penyelesaian Kekerasan Dalam Rumah Tangga, II. Bandung: PT Citra Aditya Bakti, 2009.
Stark, Barbara. International Family Law: An Introduction. Burlington, VT: Ashgate, 2005.
Suadi, Amran. Peranan Pengadilan Agama Dalam Perspektif Pembaruan Hukum Islam Di Bidang Penghapusan Kekerasan Dalam Rumah Tangga," T.T., n.d.
Wisham, Ismail, and Aishath Muneeza. ""Harmonization of Civil Law and Shariah in a Small Island Nation." The Republic of Maldives Case Study, n.d., 32.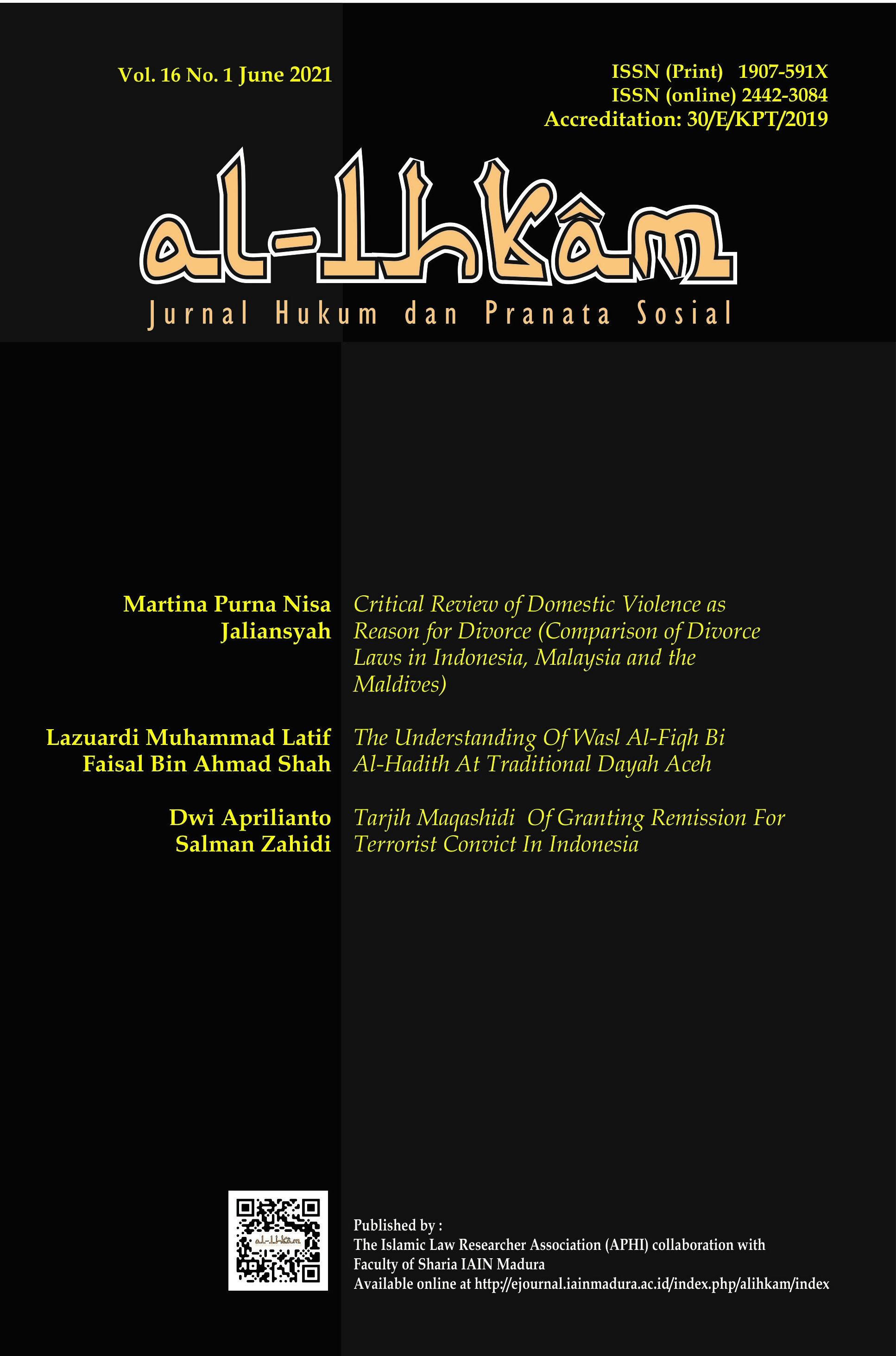 Publishing your paper with Al Ihkam (Jurnal Hukum & Pranata Sosial/Journal of Law & Social Studies) means that the author or authors retain the copyright in the paper. Al Ihkam granted an exclusive non commercial reuse license by the author(s), but the author(s) are able to put the paper onto a website, distribute it to colleagues, give it to students, use it in your thesis etc, so long as the use is not directed at commercial advantage or toward private monetary gain. The author(s) can reuse the figures and tables and other information contained in their paper published by Al Ihkam in future papers or work without having to ask anyone for permission, provided that the figures, tables or other information that is included in the new paper or work properly references the published paper as the source of the figures, tables or other information, and the new paper or work is not direct at private monetary gain or commercial advantage.
Al Ihkam journal (Journal of Law & Social Studies) provides immediate open access to its content on the principle that making research freely available to the public supports a greater global exchange of knowledge. This journal is licensed under a Creative Commons Attribution-NonCommercial 4.0 International License.This license lets others remix, tweak, and build upon your work non-commercially, and although their new works must also acknowledge & be non-commercial, they don't have to license their derivative works on the same terms.

Al Ihkam journal Open Access articles are distributed under this Creative Commons Attribution-Noncommercial 4.0 International License (CC BY-NC). Articles can be read and shared for noncommercial purposes under the following conditions:
BY: Attribution must be given to the original source (Attribution)
NC: Works may not be used for commercial purposes (Noncommercial)