Classification of Women in The Class Concept of Dowry: A Study of Berger and Luckmann's Social Construction
Ahmad Arif Masdar Hilmy

UIN Sunan Ampel Surabaya

Ria Cahyaning Utami

UIN Sunan Ampel Surabaya
Abstract views:
221
,
pdf downloads:
144
Keywords:
Dowry; Community Marriage; Social Construction
Abstract
The determination of the dowry in the marriage of the people of Karangsono Village was originally based on the rules of Islamic law, namely by using the principles of convenience, lightness, and simplicity. However, people's lives that are never stagnant make them always interact with each other, thus forming a new concept of dowry determination in the community. The purpose of this article is to determine the description and implementation of the concept of the dowry class in the community marriage of Karangsono Village and to review it using the perspective of the social construction theory. This field research used a qualitative descriptive method and data analysis used Berger and Luckmann's social construction theory. Data were collected through document study, interviews, and observations. This research resulted in conclusions: (1) The concept of the dowry class in the community marriage of Karangsono Village is based on the classification of the prospective bride, which is seen from the status of a virgin or widow, her beauty, and age. The higher the quality of the woman, the higher the dowry she can get, (2) The determination of the dowry in Karangsono Village has undergone a social construction based on three simultaneous processes. The externalization process is illustrated through adaptation to religious texts and life being experienced. The process of objectivation here gives birth to new meanings, which are manifested in the actions of the wider community so that they become objective facts. The process of internalization is illustrated by the affirmation in the consciousness experienced subjectively.
(Penentuan mahar dalam perkawinan masyarakat Desa Karangsono mulanya didasarkan pada aturan hukum Islam, yakni dengan menggunakan asas kemudahan, keringanan dan kesederhanaan. Namun kehidupan masyarakat yang tidak pernah stagnan, membuat mereka selalu berinteraksi satu sama lain, Tujuan artikel ini ialah untuk mengetahui deskripsi dan implementasi konsep kelas mahar dalam perkawinan masyarakat Desa Karangsono, serta ditinjau menggunakan perspektif teori konstruksi sosial. Penelitian lapangan ini menggunakan metode deskriptif kualitatif dan analisis datanya menggunakan teori konstruksi sosial Berger dan Luckmann. Pengambilan data dilakukan melalui studi dokumen, wawancara dan observasi. Penelitian ini menghasilkan beberapa kesimpulan: (1) Konsep kelas mahar dalam perkawinan masyarakat Desa Karangsono ialah berdasarkan klasifikasi yang dimiliki calon pengantin perempuan, yakni dilihat dari status perawan atau janda, paras kecantikan dan usianya. Semakin tinggi kualitas yang dimiliki perempuan, maka semakin tinggi pula mahar yang bisa didapatkannya, (2) Penentuan mahar di Desa Karangsono telah mengalami konstruksi sosial berdasarkan tiga proses simultan. Proses eksternalisasi tergambar melalui adaptasi dengan teks-teks keagamaan dan kehidupan yang sedang dialami. Proses objektivasi disini melahirkan pemaknaan baru, yang termanifestasikan ke dalam tindakan-tindakan masyarakat luas sehingga menjadi kenyataan objektif dan biasa dilakukan dalam kehidupan sehari-hari. Proses internalisasi tergambar oleh penegasan dalam kesadaran yang dialami secara subjektif dan pentransferan akan pengetahuan tentang makna-makna objektif)
Downloads
Download data is not yet available.
References
Ali, Moh. "Perkawinan Tanpa Menunggu Berakhirnya Idah bagi Perempuan yang Bercerai di Bawah Tangan Perspektif Konstruksi Sosial (Studi Kasus di Desa Landak, Kecamatan Tanah Merah, Kabupaten Bangkalan, Madura)". Tesis--Universitas Islam Negeri Maulana Malik Ibrahim, Malang, 2017.
Abbas, Ilham., Marten Bunga, Salmawati, Nurson Petta Puji dan Hardianto Djanggih, "Hak Penguasaan Istri Terhadap Mahar Sompa Perkawinan adat Bugis Makassar", Kanun Jurnal Ilmu Hukum, Vol. 20, No. 2, (August 2018).
Ahammad, Syed Sahid, "A Critical Analysis of Dower (Mahr) in Islam", IOSR Journal of Humanities and Social Science, Vol. 21, Issue 7, Ver. V, (July 2016).
Alfida,Rida., Saiful Usman, dan Ruslan, "Penetapan Mahar Perempuan di Desa Kampung Paya, Kecamatan Kluet Utara, Kabupaten Aceh Selatan", Jurnal Ilmiah Mahasiswa Pendidikan Kewarganegaraan Unsyiah, Vol. 1, No. 1, (Agustus 2016).
Badan Pusat Statistik (BPS) Kabupaten Pasuruan. Kabupaten Pasuruan dalam Angka 2019. Pasuruan: BPS Kabupaten Pasuruan, 2019).
Berger, Peter L. dan Thomas Luckman. Tafsir Sosial atas Kenyataan: Risalah tentang Sosiologi Pengetahuan. Jakarta: LP3ES, 2018.
Berger, Peter L. Langit Suci: Agama Sebagai Realitas Sosial, diterjemahkan oleh Hartono. Jakarta: LP3ES, 1991.
Bungin, Burhan. Konstruksi Sosial Media Massa: Kekuatan Pengaruh Media Massa, Iklan Televisi dan Keputusan Konsumen serta Kritik terhadap Peter L. Berger dan Thomas Luckman. Jakarta: Kencana, 2008.
Departemen Agama RI. Al-Qur'an dan Terjemahnya. Bandung: Diponegoro, 2006.
FR, Interview, Pasuruan, 14 Desember 2019.
FT, Interview, Pasuruan, 10 Desember 2019.
Ghazali, Abd. Rahman. Fiqih Munakahat. Jakarta: Kencana, 2006.
Halomoan, Putra. "Penetapan Mahar terhadap Kelangsungan Pernikahan ditinjau Menurut Hukum Islam", JURIS, Vol. 14, No. 02, (Desember, 2015).
Haryanto, Sindung. Spektrum Teori Sosial dari Klasik hingga Postmodern. Yogyakarta: Ar-Ruzz Media, 2012.
IM, Interview, Pasuruan, 12 Desember 2019.
Irawan, Ibnu. dan Jayusman, "Mahar Hafalan Al-Qur'an Perspektif Hukum Islam", Jurnal Palita, Vol. 4, No. 2, (Oktober 2019).
Jamaluddin, Arif. Hadis Hukum Keluarga. Surabaya: UINSA Press, 2014.
Kamal, Mushtafa. Fiqih Islam. Yogyakarta: Citra Karsa Mandiri, 2002.
Kohar, Abd. "Kedudukan dan Hikmah Mahar dalam Perkawinan", Jurnal Asas, Vol. 8, No. 2, (Juni, 2016).
ND, Interview, Pasuruan, 14 Desember 2019.
Nuruddin, Amiur dan Azhari Akmal Tarigan. Hukum Perdata Islam di Indonesia. Jakarta: Kencana Prenada Media Group, 2016.
Poloma, Margareth M. Sosiologi Kontemporer, diterjemahkan oleh Tim Penerjemah Yasogama. Jakarta: PT. RajaGrafindo Persada, 2007.
Ramadhan, Dian. dan Farah Ihza Fauzia Balqis, "Pandangan Mazhab Hanafi dan Maliki Terhadap Jumlah Kadar Mahar Pada Akad Nikah", Jawi, Vol. 3, No. 1, (2020).
RD dan MR, Interview, Pasuruan, 10 Desember 2019.
Sabri, Fahruddin Ali., Arif Wahyudi and Fatekhul Mujib, "Resistance Strategies of Madurese Moslem Women against Domestic Violence in Rural Society", Jurnal Al-Ihkam, Vol. 15, No. 1, (2020).
SF, Wawancara, Pasuruan, 25 September 2019.
Shomad, Abd. Hukum Islam: Penormaan Prinsip Syariah dalam Hukum Indonesia. Jakarta: Kencana Prenada Media Group, 2012.
SM, Interview, Pasuruan, 10 Desember 2019.
Soekanto, Soerjono. Sosiologi Suatu Pengantar. Jakarta: PT. RajaGrafindo Persada, 2005.
Sunarto, Kamanto. Pengantar Sosiologi. Jakarta: Lembaga Penerbit Fakultas Ekonomi Universitas Indonesia, 2004.
Syarifuddin, Amir. Hukum Perkawinan Islam di Indonesia: Antara Fikih Munakahat dan Undang-Undang Perkawinan. Jakarta: Kencana Prenada Media Group, 2009.
TA, Interview, Pasuruan, 14 Desember 2019.
Wirawan, Ida Bagus. Teori-Teori Sosial dalam Tiga Paradigma. Jakarta: Prenadamedia Group, 2015.
Yanggo, Huzaimah Tahido. Problematika Hukum Islam Kontemporer. Jakarta: Pustaka Firdaus, 1996.
ZA, Interview, Pasuruan, 14 Desember 2019.
Zuḥaily (al), Wahbah. Mausū'ah al-Fiqh wa al-Qaḍāyā al-Mu'āṣirah. Damaskus: Dār al-Fikr, 2013.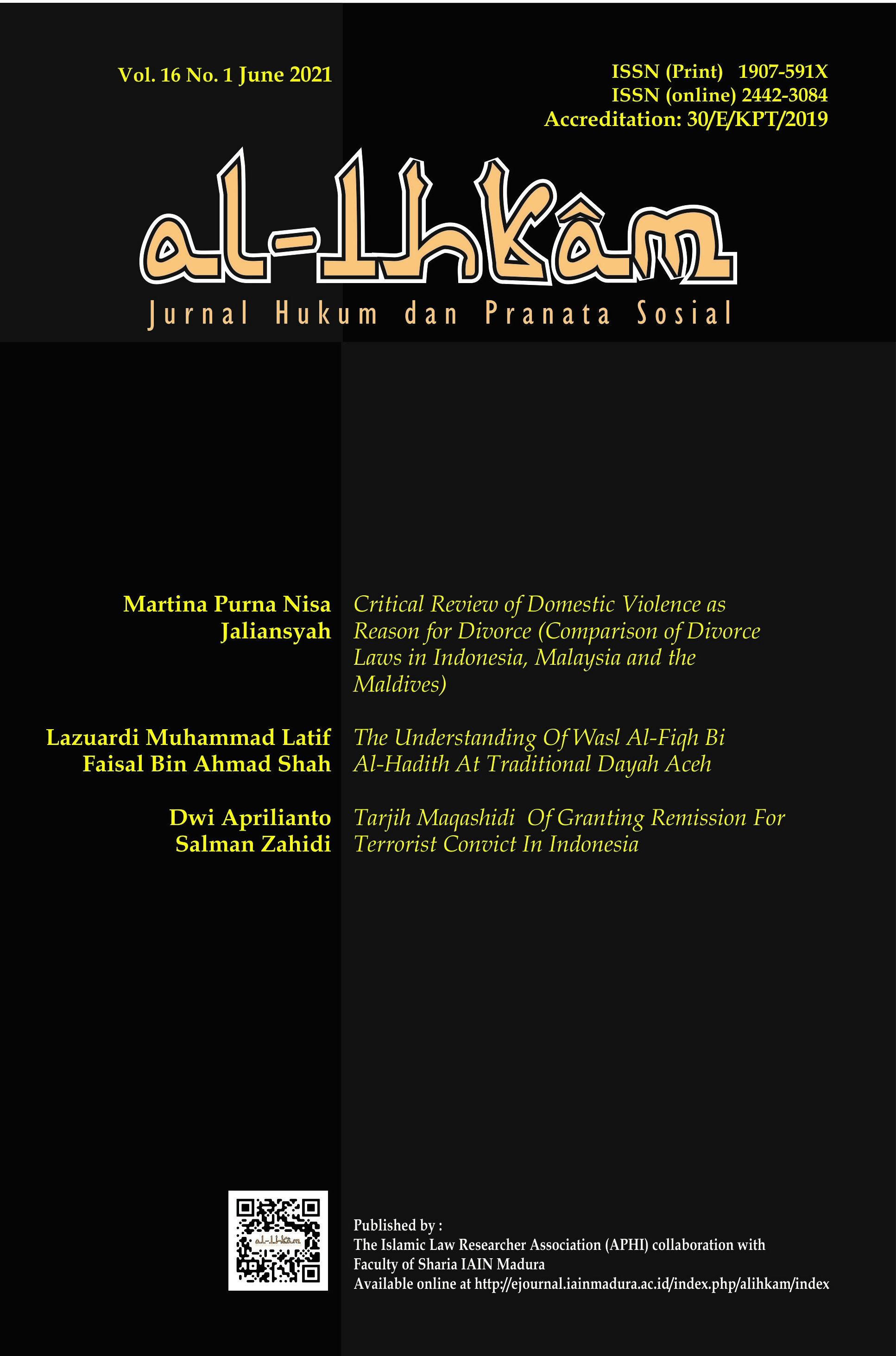 Publishing your paper with Al Ihkam (Jurnal Hukum & Pranata Sosial/Journal of Law & Social Studies) means that the author or authors retain the copyright in the paper. Al Ihkam granted an exclusive non commercial reuse license by the author(s), but the author(s) are able to put the paper onto a website, distribute it to colleagues, give it to students, use it in your thesis etc, so long as the use is not directed at commercial advantage or toward private monetary gain. The author(s) can reuse the figures and tables and other information contained in their paper published by Al Ihkam in future papers or work without having to ask anyone for permission, provided that the figures, tables or other information that is included in the new paper or work properly references the published paper as the source of the figures, tables or other information, and the new paper or work is not direct at private monetary gain or commercial advantage.
Al Ihkam journal (Journal of Law & Social Studies) provides immediate open access to its content on the principle that making research freely available to the public supports a greater global exchange of knowledge. This journal is licensed under a Creative Commons Attribution-NonCommercial 4.0 International License.This license lets others remix, tweak, and build upon your work non-commercially, and although their new works must also acknowledge & be non-commercial, they don't have to license their derivative works on the same terms.

Al Ihkam journal Open Access articles are distributed under this Creative Commons Attribution-Noncommercial 4.0 International License (CC BY-NC). Articles can be read and shared for noncommercial purposes under the following conditions:
BY: Attribution must be given to the original source (Attribution)
NC: Works may not be used for commercial purposes (Noncommercial)