Self-Esteem and Fixed Price in Islamic Law (A Critical Study of the Pesuke Tradition among the Nobles of the Sasak Tribe of Lombok)
Zaenudin Mansyur

FS UIN Mataram
Abstract views:
513
,
PDF downloads:
131
Keywords:
Self-esteem, Dead price, Pesuke, Sasak aristocratic
Abstract
The Sasak aristocracy in Lombok is still very passionate about carrying out the pesuke tradition. Although, the pesuke practice did not infrequently cause various conflicts between the prospective bride and groom's families. For instance, when the prospective bride's family sets the pesuke value that is too high, which can burden the groom's family. In contrast, religion forbids us to burden and encourages us to work together, help, and ease each other to create a happy and prosperous family in the world to the hereafter. Therefore, this study aims to examine how the perspective of Islamic law on the concept of self-esteem and fixed price in the pesuke tradition. The results showed that the motivation of the Sasak aristocratic community in setting a high pesuke value so that the public still respected their communal identity. In addition, another reason in determining the fantastic value of pesuke is to make it a fixed price in a marriage with melaik, meruput, or merugul systems. Therefore, the groom's family must pay this Pesuke as a ransom to restore the bride's family's dignity. Meanwhile, according to Islamic law, the pesuke tradition as a form of maintaining self-respect and fixed price should be a tolerable case for the creation of a peaceful and prosperous marriage because of the emergence of mutual willingness and pleasure between the two parties, by the essence of pesuke, namely mutual desire. 
Downloads
Download data is not yet available.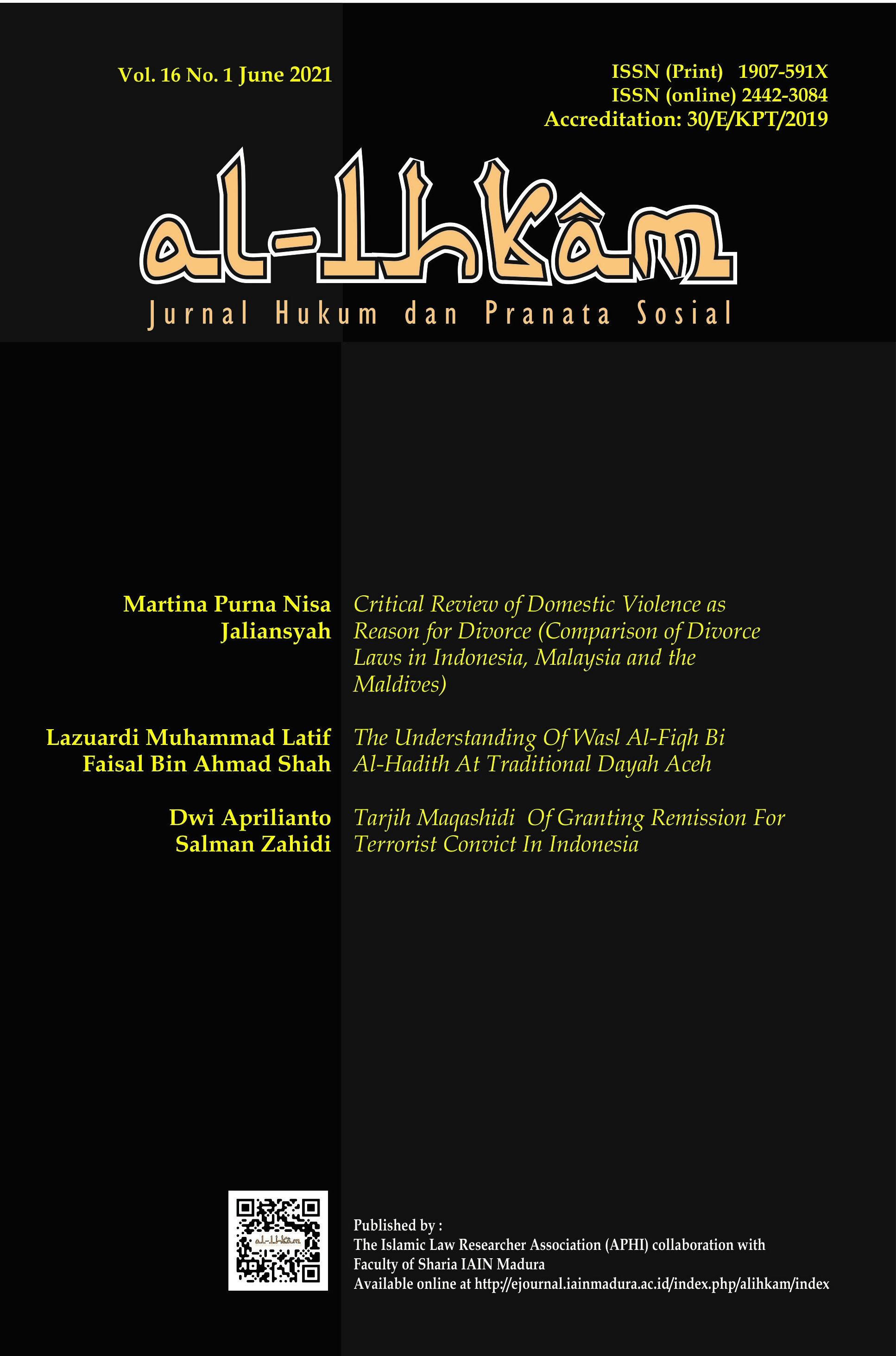 Publishing your paper with Al Ihkam (Jurnal Hukum & Pranata Sosial/Journal of Law & Social Studies) means that the author or authors retain the copyright in the paper. Al Ihkam granted an exclusive non commercial reuse license by the author(s), but the author(s) are able to put the paper onto a website, distribute it to colleagues, give it to students, use it in your thesis etc, so long as the use is not directed at commercial advantage or toward private monetary gain. The author(s) can reuse the figures and tables and other information contained in their paper published by Al Ihkam in future papers or work without having to ask anyone for permission, provided that the figures, tables or other information that is included in the new paper or work properly references the published paper as the source of the figures, tables or other information, and the new paper or work is not direct at private monetary gain or commercial advantage.
Al Ihkam journal (Journal of Law & Social Studies) provides immediate open access to its content on the principle that making research freely available to the public supports a greater global exchange of knowledge. This journal is licensed under a Creative Commons Attribution-NonCommercial 4.0 International License.This license lets others remix, tweak, and build upon your work non-commercially, and although their new works must also acknowledge & be non-commercial, they don't have to license their derivative works on the same terms.

Al Ihkam journal Open Access articles are distributed under this Creative Commons Attribution-Noncommercial 4.0 International License (CC BY-NC). Articles can be read and shared for noncommercial purposes under the following conditions:
BY: Attribution must be given to the original source (Attribution)
NC: Works may not be used for commercial purposes (Noncommercial)