Access To Justice of Citizenship Rights for Stateless Indonesian Migrant Workers' Children In Sarawak, Malaysia
Yayan Sopyan

Universitas Islam Negeri Syarif Hidayatullah Jakarta
Abstract views:
143
,
PDF downloads:
93
Keywords:
Stateless children, Migrant workers, Malaysia, Access to Justice
Abstract
As one of the countries that ratified the United Nations Convention on the Rights of the Child in 1990 which was subsequently promulgated into the Child Protection Act, Indonesia is still unsuccessful in protecting children. This mainly occurs in the context of protection illegal migrant workers' children who were born in the country where their parents work. In Sarawak, Malaysia, for instance, there are 43,445 stateless children. This study aims to portray the stateless children in Sarawak, Malaysia, and the efforts of the Indonesian government to protect their right to access justice. This research is normative-qualitative with observations and in-depth interviews with consultant general staff and Indonesian volunteers In Sarawak as one of the main research methods. The results of this study indicate that stateless condition makes it possible for the children to get other rights, such as education. Meanwhile, the Indonesian government has already made regulations and efforts to provide access to basic human rights for children of stateless migrant workers, including itsbat nikah abroad to legalize unregistered marriage among workers. However, it has not been fully successful because the problems are so complex that it needs to involve several parties, especially the Malaysian government, and plantation owners as employers of the migrant workers. Likewise, harder and more coordinated efforts are also needed to fulfill their citizenship right. (Sebagai salah satu negara yang meratifikasi Konvensi PBB tentang Hak Anak pada 1990 dan kemudian dikristalkan menjadi Undang-undang Perlidungan Anak, Indonesia ternyata belum sepenuhnya berhasil melindungi hak-hak anak. Ini utamanya berlaku dalam konteks perlindungan terhadap anak para buruh migran yang lahir dan tinggal di negara tempat orang tuanya bekerja. Di Sarawak, Malaysia, ada 43.445 anak-anak tanpa kewarganegaraan. Penelitian ini bertujuan memotret kondisi anak buruh migran ilegal tanpa kewarganegaraan di Serawak, Malaysia, serta menjelaskan upaya pemerintah Indonesia untuk melindungi hak-hak mereka. Penelitian ini bersifat normatif-kualitatif dengan observasi dan wawancara mendalam kepada pegawai Konsulat Jenderal dan relawan Indonesia sebagai salah satu metode penggalian data utamanya. Hasil dari penelitian ini menunjukkan bahwa status tanpa kewarganegaraan menghalangi anak-anak tersebut mengakses hak-haknya yang lain, semisal pendidikan. Sementara itu, pemerintah Indonesia sudah memiliki beberapa aturan tertulis dan berupaya memberikan akses keadilan bagi anak para buruh migran tersebut, termasuk melalui program itsbat nikah di luar negeri. Namun demikian, situasi belum sepenuhnya terkendali karena permasalahan yang begitu kompleks dan mengharuskan keterlibatan banyak pihak, utamanya pemerintah Malaysia dan para pemilik perkebunan. Perlu juga dilakukan upaya yang lebih keras dan terkordinasi agar hak-hak tersebut dapat terpenuhi.)
Downloads
Download data is not yet available.
References
https://kemlu.go.id/johorbahru/id/news/3834/41-pasangan-wni-ikuti-sidang-isbat-nikah-di-wisma-indonesia-kjri-johor-bahru 41 Pasangan WNI Ikuti Sidang Isbat Nikah di Wisma Indonesia KJRI Johor Bahru." Diakses 20 Desember 2021.'41 Pasangan WNI Ikuti Sidang Isbat Nikah Di Wisma Indonesia KJRI Johor Bahru'
Ali, A. M. D., and H Yusof, '). Quality and Qualitative Studies: The Case of Validity, Reliability, and Generalizability. Issues in Social and Environmental Accounting', Journal ICSEARD, 5.1 (2011), 25–26
Allerton, Catherine, Statelessness and the Lives of the Children of Migrants in Sabah (Malaysia, 2014)
Allerton, Cetherine, 'Statelessness and the Lives of the Children of Migrants in Sabah, East Malaysia.', Tilburg Law Review: Journal of International and European Law, 19.1–2 (2014), 26–34
Ambary, Yusron, Head of the Consular Function of the Indonesian Embassy in Kuala Lumpur, Head of the Consular Function of the Indonesian Embassy in Kuala Lumpur, 2020
Arief, Supriyadi A, 'Unraveling Dual Citizenship in Indonesia in the Perspective of Human Rights and the Welfare State', Sasi Journal, 26.42020, 527–39
Asshiddiqie, Jimly, Pengantar Ilmu Hukum Tata Negara Jilid Ll (Jakarta: Konsitusi Pers, 2006)
BNP2TKI, Data on Placement and Protection of Indonesian Migrant Workers, 2020
Directorate of Information System of Human RIght Republic Indonesia, 'Convention on The Right of The Child', p. 10
Disca Betty Viviansari and Zendy Wulan Ayu Widhi Prameswari, 'State Responsibility for the Right to Education of Indonesian Migrant Workers in Malaysia', Journal of Human Rights, Volume 10 (2019)
Eddyono, Sri Wiyanti, Research Report : The Profile of Trafficking in Persons in The Border Area of Kalimantan, Studies of The Districts of Sanggau, Sambas, Kapuas Hulu and Nunukan, ed. by Counter-Trafficking Unit IOM Indonesia (Jakarta: International Organization for Migration (IOM) Indonesia, 2020)
Erdianti, Ratri Novita, and Sholahudin M. Fatih, 'Mewujudkan Desa Layak Anak Sebagai Nentuk Perlindungan Hukum Terhadap Anak Di Indonesia', Jurnal Justitia Junral Hukum, 3.2 (2019)
Ertanto, Hasril, Access to Justice Index in Indonesia 2019 (Jakarta: Civil Society Consortium for Access to Justice Index, 2020)
Faizin, Alfan, Alfitra, and Ali Mansur, 'Legalizing Unofficial Marriage For Indonesian Migrant Workers In Malaysia', Jurnal Cita Hukum, 7.1 (2020)
Fleet, Julian, Permanent Observer to the United Nations in Geneva, In Anticipation of the 40th Session of the United Nations Human Rights Council in Geneva, 2019
Francioni, Fransesco, 'Acces to Justice, Denial Of Justice and International Investment Law', The European Journal of International Law, 20.3 (2020)
Gultom, Maidin, Perlindungan Hukum Terhadap Anak Dalam Sistem Peradilan Pidana Anak Di Indonesi (Bandung: Refika Aditama, 2008)
Harefa, Beni harmoni, Kapita Selekta Perlindungan Hukum Bagi Anak (Yogyakarta: Deepublish, 2012)
Harkons, Benjamin, and Meri Ahlberg, Access to Justice for Migrant Worker Ins South-East Asia (Bangkok: ILO, 2017)
Hidayat, 'Protection of Indonesian Workers Rights in Taiwan And Malaysia in Human Rights Perspective', Jurnal HAM, 8.2 (2017), 106
Kemala, Vinna Dinda, and Enny Kusdarini, 'Legal Protection of Indonesian Migrant Workers (TKI) Overseas (Case Study of BP3TKI North Sumatera Province)', Fiat Justisia: Jurnal Ilmu Hukum, 14.1 (2020), 25
'Keturunan WNI Tanpa Kewarganegaraan: "Saya Dipukul Oleh Bapak, Lari Dan Merantau Ke Malaysia" - BBC News Indonesia'
Mahkamah Agung, Annual Report of Central Religious Court Central Jakarta, 2012
Massey, Douglas S., Joaquin Arango, Graeme Hugo, Ali Kouaoci, Adela Pellegrino, and J. Edward Taylor, Theories of International Migration: A Review and Appraisal. Population and Development Review, 1993
Nasution, Bahder Johan, 'A Philosophical Study of the Concept of Justice from Classical Thought to Modern Thought', Journal of Yustisia, 3.2 (2014)
'Pelayanan Jemput Bola KJRI Kuching Di Bintulu, Sarawak'
Prasetyo, Dimas Teguh, Tarma, and Vera Utami Gede Putri, ', Aku Masih Cinta Indonesia : Study of Nationalism in Family Character Education on Children of Indonesian Migrant Workers in Malaysia', Journal of Family Welfare and Education, 7.1 (2020)
President of Republic Indonesia, Article 24 of the Law on Foreign Relations (Indonesia, 2018)
Rawls, John, A Theory of Justice (United State of America: Twentieth Printing, 1971)
Republik Indonesia, Naskah Akademik RUU Tentang Pengesahan Asean Convention Againts Trafficking in Persons, Especially Women and Children (Konvensi Asean Menentang Perdagangan Orang Terutama Perempuan Dan Anak-Anak (Jakarta: Kementerian Hukum dan Hak Asasi Manusia, 2016)
———, Peraturan Presiden No. 90 Tahun 2019 Tentang Badan Pelindungan Pekerja Migran Indonesia, 2019
Situmorang, Victor M., and Cormentyna Sitanggang, Aspects of Civil Registry Law in Indonesia (Jakarta: Sinar Grafika, 2006)
Soekanto, Soejono, and Sri Mamudji, Penelitian Hukum Noermatif, Suatu Tinjauan Singkat (Jakarta: Raja Grafindo Perdana, 2001)
Soetoprawiro, Koerniatmanto, Hukum Kewarganegaraan Dan Keimigrasian Indonesia, Second Edition (Jakarta: PT. Gramedia Pustaka Utama, 1996)
Sugeha, Yunanci Putri, 'Children's Right to Obtain Citizenship from Mixed Marriages', Jurnal Lex Et Societatis, 26.4 (2020), 527–39
Sutianto, Feby Dwi, 400.000 WNI Di Sarawak, Legal Atau Ilegal?, 2018
Tieken, Shaila, 'Ketiadaan Kewarganegaraan Pada Anak-Anak Rohingya Sebagai Bentuk Kekerasan Struktural Berbasis Etnis: Studi Kasus Anak-Anak Pengungsi Rohingya Di Community Housing Wisma YPAP Medan', Jurnal Kriminologi Indonesia, 9.1 (2013)
Viviansari, Disca Betty, and Zendy Wulan Ayu Widhi Prameswari, 'State Responsibilities of Rights to Education for Indonesian Migrant Worker's Children in Malaysia', Jurnal HAM, 10.2 (2019), 182
Wahyudi, Ridwan, 'Illegal Journey: The Indonesian Undocumented Migrant Workers to Malaysia.', Populasi, 25.2 (2017), 24
Yayan Sopyan, 'The Access to Justice for Indonesian Migrant Workers (In Malaysia, Saudi Arabia and Hongkong)', International Journal of Advanced Science and Technology, 29 No (2020), 95–108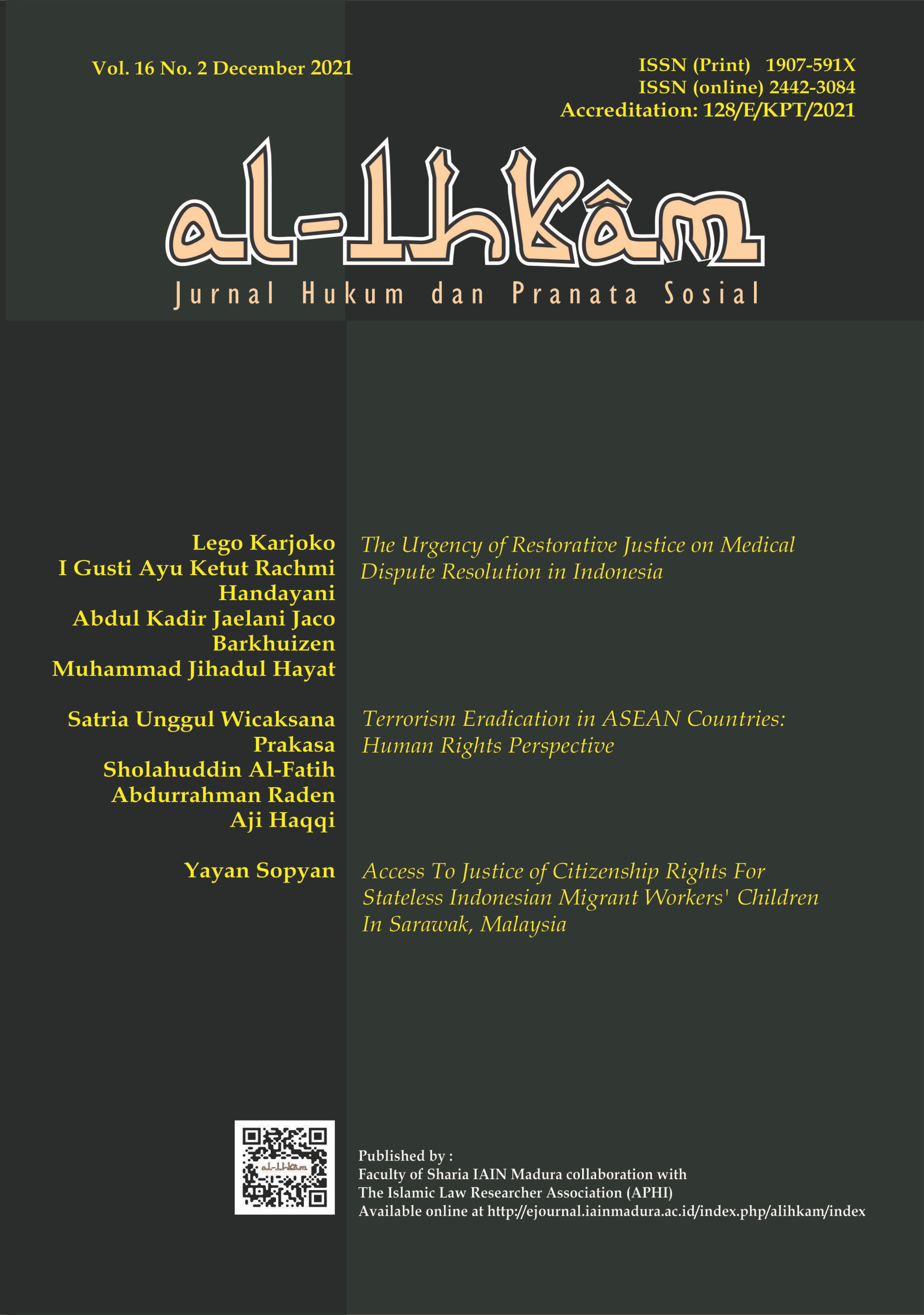 Publishing your paper with Al Ihkam (Jurnal Hukum & Pranata Sosial/Journal of Law & Social Studies) means that the author or authors retain the copyright in the paper. Al Ihkam granted an exclusive non commercial reuse license by the author(s), but the author(s) are able to put the paper onto a website, distribute it to colleagues, give it to students, use it in your thesis etc, so long as the use is not directed at commercial advantage or toward private monetary gain. The author(s) can reuse the figures and tables and other information contained in their paper published by Al Ihkam in future papers or work without having to ask anyone for permission, provided that the figures, tables or other information that is included in the new paper or work properly references the published paper as the source of the figures, tables or other information, and the new paper or work is not direct at private monetary gain or commercial advantage.
Al Ihkam journal (Journal of Law & Social Studies) provides immediate open access to its content on the principle that making research freely available to the public supports a greater global exchange of knowledge. This journal is licensed under a Creative Commons Attribution-NonCommercial 4.0 International License.This license lets others remix, tweak, and build upon your work non-commercially, and although their new works must also acknowledge & be non-commercial, they don't have to license their derivative works on the same terms.

Al Ihkam journal Open Access articles are distributed under this Creative Commons Attribution-Noncommercial 4.0 International License (CC BY-NC). Articles can be read and shared for noncommercial purposes under the following conditions:
BY: Attribution must be given to the original source (Attribution)
NC: Works may not be used for commercial purposes (Noncommercial)