Al-Wasaţiyah al-Intiqâiyah al-Taqlîdiyah: Dirâsat Haula Harakâti wa Afkâri Kiâi Hâjî Hâsyim Asy'arî fî Fiqh al-Siyâsah al-Ijtimâ'iyah bi Indûnîsiâ
Mohammad Hasan

Institut Agama Islam Negeri Madura
Abstract views:
135
,
PDF downloads:
84
Keywords:
moderate, eclectic, traditionalism, Movement, Fiqh al-Siyâsah al-Ijtimâ'iyah
Abstract
This article explores moderate and eclectic traditionalism beyond Kiai Haji Muhammad Hashim Ash'ari's contribution in the shariah and Islamic jurisprudence of social politic (Fiqh al-Siyâsah al-Ijtimâ'iyah) in Indonesia. It is conceptual research referring to some of his works as well as discussion about his thought among Islamic scholars. Based on definition of moderation from the Qur'an, hadith, and some scholars' opinion, Hashim can be best categorized as Islamic traditionalist figure who enforced both moderation and eclecticism. However, he maintained distinctive features compared to both traditionalist and modernist Islamic figures. It is mainly clear from both his thought and movement which rely on the Ahlus Sunnah wal Jama'ah in theology, four fiqh school leaders (Hanafiyah, Malikiyah, Syafi'iyah dan Hambaliyah), and thariqah sufiyah mu'tabarah. Additionally, he showed appreciation and promoted for adaptation to both local and foreign idea that later inspired distinctive religiosity in Indonesia. This particularly applies in the concept of relation between Islamic law and nationalism, jihad, political fiqh and governmental system in Islam.
تستكشف هذه الورقة الوسطية التقليدية والانتقائية التي ساهمها كياهي حاجي محمد هاشم الأشعري في الشريعة الإسلامية وفقه السياسة الاجتماعية. إنه بحث مفاهيمي يشير إلى بعض أعماله وكذلك مناقشة حول أفكاره كعلماء المسلمين. بناءً على تعريف الوسطية من القرآن والحديث وبعض آراء العلماء، يمكن تصنيف هاشم بشكل أفضل على أنه الشخصية الإسلامية التقليدية التي فرضت الوسطية والانتقائية. ومع ذلك، فقد حافظ على سمات مميزة مقارنة بكل من الشخصيات الإسلامية التقليدية والحداثية. يتضح بشكل أساسي من فكره وحركته اللذين يعتمدان على أهل السنة والجماعة في العقيدة، قادة المذاهب الفقهية الأربعة (حنفية، المالكية، الشافعية والحبلية) والطريقة الصوفية المعتبرة. بالإضافة إلى ذلك، أظهر التقدير والترويج للتكيف مع الأفكار المحلية والأجنبية التي ألهمت لاحقًا التدين المميز في إندونيسيا. وهذا ينطبق بشكل خاص على مفهوم العلاقة بين الشريعة الإسلامية والوطنية والجهاد وفقه السياسية والنظام الحكومي في الإسلام.
Downloads
Download data is not yet available.
References
'Abd al-Baqi, Muhammad Fu'ad. Al-Mu'Jam Al-Mufahras Li Alfaz Al-Qur'an Al-Karim. Kairo: Dar al-Hadith, 1364.
Abdussami, Humaidy, and Ridlwan Fakla. Biografi 5 Rais 'Am Nahdlatul Ulama. Yogyakarta: LTN & Pustaka Pelajar, 2005.
Al-'Ati, Sha'ban 'Abd. Al-Mu'jam Al-Wasit. Kairo: Majma' al-Lughah al-'Arabiyah, 2004.
Al-'Imadi, Abu al-Su'ud. "Irshadu Al-'Aql Al-Salim Ila Mazaya Al-Kitab Al-Karim," 2015, 123.
Al-Asfahani, Al-Raghib. Al-Mufradat Fi Gharibi Al-Qur'an. Damaskus: Dar al-Qalam, 2009.
Al-Bukhâri. Al-Jâmi' Al-Shahîh. Kairo, Mesir: Dâr al-Sya'b, 1987.
Al-Jaza'iri, Abu Bakr Jabir. Aysar Al-Tafasir Li Kalam Al-'Ali Al-Kabir. Jeddah: Racem Advertising, 1990.
al-Jazari, Majd al-Din Abu alSa'adat al-Mubarak Muhammad ibn al-Athir. Jami' Al-Usul Fi Ahadith Al-Rasul, 1969.
Al-Masyhur, Abdurrahaman. Bughyatu Al-Mustarsyidin. Tarim: Markaz al-Nur li Dirasat wa Abhast, 2009.
Amin, Syamsul Munir. Ilmu Tasawuf. Jakarta: Amzah, 2014.
Anam, Chairul. Pertumbuhan Dan Perkembangan Nahdlatul Ulama. Solo: Jatayu, 1985.
Ash'ari, Muhammad Hashim. "Al-Tibyan Fi Al-Nahy 'an Muqata'ah Al-Arham Wa Al-Aqarib Wa Al-Ikhwan Wa Yalihi Al-Qanun Al-Asasi Li Jam'iyati Nahdlati Al-Ulama, Wa Risalat Al-Mawa'id." In Irshad Al-Sari Fi Jam' Musannafat Al-Shaykh Hashim Ash'Ari. Jombang: Maktabah al-Turath al-Islami, 2007.
———. "Risalah Ahl Al-Sunnah Wa Al-Jama'Ah." In Irshad Al-Sari Fi Jam'i Musannafat Al-Shaykh Hashim Ash'Ari. Jombang: Maktabah al-Turath al-Islami, 2007.
Asy'ari, Hasyim. Al-Qanun Al-Asasi: Risalah Ahlus Sunnah Wal Jama'ah. Jember: Darus Sholah, 2006.
Ath-Thayyib, Ahmad. Jihad Melawan Teror: Meluruskan Kesalahpahaman Tentang Khilāfah, Hākimiyah, Jahiliyah Dan Ekstremitas. Jakarta: Lentera Hati, 2016.
Bruinessen, Martin Van. Kitab Kuning, Pesantren, Dan Tarekat: Tradisi-Tradisi Islam Di Indonesia. Bandung: Mizan, 1995.
Dhofir, Zamakhsyari. Tradisi Pesantren Studi Pandangan Hidup Kyai Dan Visinya Mengenai Masa Depan Indonesia. Jakarta: Pustaka LP3ES, 2011.
El-Guyanie, Gugun. Resolusi Jihad Paling Syar'i. Yogyakarta: Pustaka Pesantren, 2010.
Fadl, Khaled Abou El. Selamatkan Islam Dari Muslim Puritan. Jakarta: Serambi, 2006.
Hamid, Abdul. "Dakwah Dalam Perspektif Paradigma Tradisionalisme Dan Reformisme." Kordinat XV, no. 1 (2016): 93.
Harisudin, Muhammad Noor. "Islām Wa Fiqh Nusantara: Al-Tanāfus 'alá Al-Huwīyah Wa 'Alāqat Al-Sultah Wa Al-Ramz Al-Dīnī Li Jam'īyah Nahdlatul Ulama." Studia Islamika 24, no. 3 (2017): 503–54. https://doi.org/10.15408/sdi.v24i3.4324.
Hayati, Nilda. "KONSEP KHILAFAH ISLᾹMIYYAH HIZBUT TAHRIR INDONESIA: Kajian Living Al-Qur'an Perspektif Komunikasi." Epistemé: Jurnal Pengembangan Ilmu Keislaman 12, no. 1 (2017): 169–200. https://doi.org/10.21274/epis.2017.12.1.169-200.
Hilmy, Masdar. "Genealogi Dan Pengaruh Ideologi Jihadisme Negara Islam Iraq Dan Suriah (NIIS) Di Indonesia." Teosofi: Jurnal Tasawuf Dan Pemikiran Islam 4, no. 2 (2014): 414.
Ibnu 'Ashur, Muhammad al-Tahir. Al-Tahrir Wa Al-Tanwir. Tunis: al-Dar al-Tunisiyah, 1984.
Ibnu Manzur. Lisanu Al-'Arab. Dar al-Ma'. Kairo, 1994.
Irawan, Aguk. Penakluk Badai: Novel Biografi KH. Hasyim Asy'ari. Surabaya: Khalista, 2010.
Ismail, Faisal. "The Nahdlatul Ulama: Its Early History and Contribution to the Establishment of Indonesian State." Journal of Indonesian Islam 5, no. 2 (2011): 247–82. https://doi.org/10.15642/JIIS.2011.5.2.247-282.
Jalil, Abdul, and Muhammad Taufiq. "Al-Ȃtsȃr Al-Mutarattibah 'Ȃla PERPPU (Lawȃih Al-Hukûmiyyah Al-Badaliyyah) Min Al-Munazhzhamȃt Al-Mujtama'Iyyah Raqm 2 Li 'Ȃm 2017 Dlidda Wujûd Hizb Al-Tahrîr Indûnîsiyȃ Min Manzhûr Saddi Al-Dzarî'Ah." AL-IHKAM: Jurnal Hukum & Pranata Sosial 14, no. 1 (2019): 144. https://doi.org/10.19105/al-ihkam.v14i1.1982.
Khuluq, Lathiful. "K.H. Hasyim Asy'ari's Contribution to Indonesian Independence." Studia Islamika 5, no. 1 (2014). https://doi.org/10.15408/sdi.v5i1.760.
———. "Kyai Haji Hasyim Asy'ari's Religious Thought and Political Activities (1871-1947)." McGill University, 1997. http://www.ebp.aaykpn.ac.id/kitab/kitab2_ke_nu_an/KYAI HAJI HASWM ASY%27ARI%27S.pdf.
Khuluq, Latiful. Fajar Kebangunan Ulama: Biografi KH. Hasyim Asy'ari. Yogyakarta: LKiS, 2000.
Mas'ud, Abdurrahman. Intelektual Pesantren: Perhelatan Agama Dan Tradisi. Yogyakarta: LKiS, 2004.
Misrawi, Zuhairi. Hadratussyaikh Hasyim Asy'ari: Moderasi, Keumatan, Dan Kebangsaan. Jakarta: Kompas, 2010.
Muhammad, Herry. Tokoh-Tokoh Islam Yang Berpengaruh Abad 20. Jakarta: Gema Insani, 2006.
Mukani. Biografi Dan Nasihat Hadratussyaikh KH. M. Hasyim Asy'ari. Jombang: Pustaka Tebuireng, 2015.
Nasir, M. Ridlwan. Mencari Tipologi Format Pendidikan Ideal Pondok Pesantren Di Tengah Arus Perubahan. Yogyakarta: Pustaka Pelajar, 2010.
Nasution, Harun. Teologi Islam: Aliran-Aliran, Sejarah Analisa Perkembangan. Jakarta: UI Press, 2008.
Ni'am, Syamsun. "Pesantren: The Miniature of Moderate Islam in Indonesia." Indonesian Journal of Islam and Muslim Societies 5, no. 1 (2015): 111–34. https://doi.org/10.18326/ijims.v5i1.111-134.
Nur, Afrizal, and Lubis Mukhlis. "Konsep Wasathiyah Dalam Al-Quran (Studi Komparatif Antara Tafsir Al-Tahrîr Wa at-Tanwîr Dan Aisar at-Tafâsîr)." An-Nur 4, no. 2 (2015): 205–25.
Rozi, Syafuan. "Nasionalisme, Demokratisasi, Dan Sentimen Primodialiisme Di Indonesia," 2010, 89–104.
Salem, Ahmed, and Muhammad Taufiq. "Manâfidu Al-Muharramât Ilâ Muntijâti Al-Halâl: "Dirâsah Tahlîliyah Fî Dhaw'i Ma'âyir Majma' Al-Fiqh Al-Islâmî Al-Dawlî Wa Al-Ma'âyir Al-Mâlayziah"." AL-IHKAM: Jurnal Hukum & Pranata Sosial 16, no. 1 (June 27, 2021): 230–50. https://doi.org/10.19105/AL-LHKAM.V16I1.3050.
Siradj, Said Aqil. Ahlussunnah Wal Jama'ah: Sebuah Kritik Historis. Jakarta: Pustaka Cendekia Muda, 2008.
Sofwan, Alwi, and Muslich Miftach. Ahlusunah Wal-Jama'ah Nahdlatul Ulama. Semarang: Pustaka al-Alawiyah, 1993.
Solikhin, Mat. "GERAKAN PEMIKIRAN DAN PERAN TIGA ULAMA NU (K.H. HASYIM ASY'ARI, K.H.R. ASNAWI KUDUS, K. H. WAHHAB HASBULLAH) DALAM MENEGAKKAN AHL Al-SUNNAH WAL-JAMA'AH ANNAHDLIYAH DI JAWA TAHUN 1926 – 1971." Jurnal THEOLOGIA 27, no. 2 (2016): 331–64. https://doi.org/10.21580/teo.2016.27.2.1071.
Supriadi. Ulama Pendiri Dan Penggerak Intelektual NU. Tebuireng: Pustaka Tebuireng, 2005.
Syoedja, Haji Muhammad. "Cerita Tentang Haji Ahmad Dahlan: Catatan Haji Muhammad Syoedja," n.d. http://mpi.muhammadiyah.or.id/muhfile/mpi/download/Cerita tentang KHA Dahlan -catatan_HM_Syoedjak.pd.
Taufiq, Muhammad. "A Critique against the Perspective of Al-Thufy on the Contradiction of Maslahat and the Holy Text." Millati: Journal of Islamic Studies and Humanities 5, no. 2 (2020): 121–28. https://doi.org/10.18326/mlt.v5i2.121-128.
———. "Nahdlatul Ulama ' s Fatwas on Politics in Indonesian : A Maqashid Evaluative Study" 2005, no. 2 (2021): 1–2.
Taufiq, Muhammad, Akhmadul Faruq, and Ibnu Khaldun. "Implementation of 'The Madina Charter' in a Democratic Country : Indonesia as a Model." In Proceedings of the 6TH International Prophetic Heritage Conference (SWAN 2018) Istanbul, Turkey, 523. Istanbul: SWAN, 2018.
Zuhri, Achmad Muhibbin. Pemikiran KH. M. Hasyim Asy'ari Tentang Ahl Al-Sunnah Wa Al-Jama'ah. Surabaya: Khalista, 2010.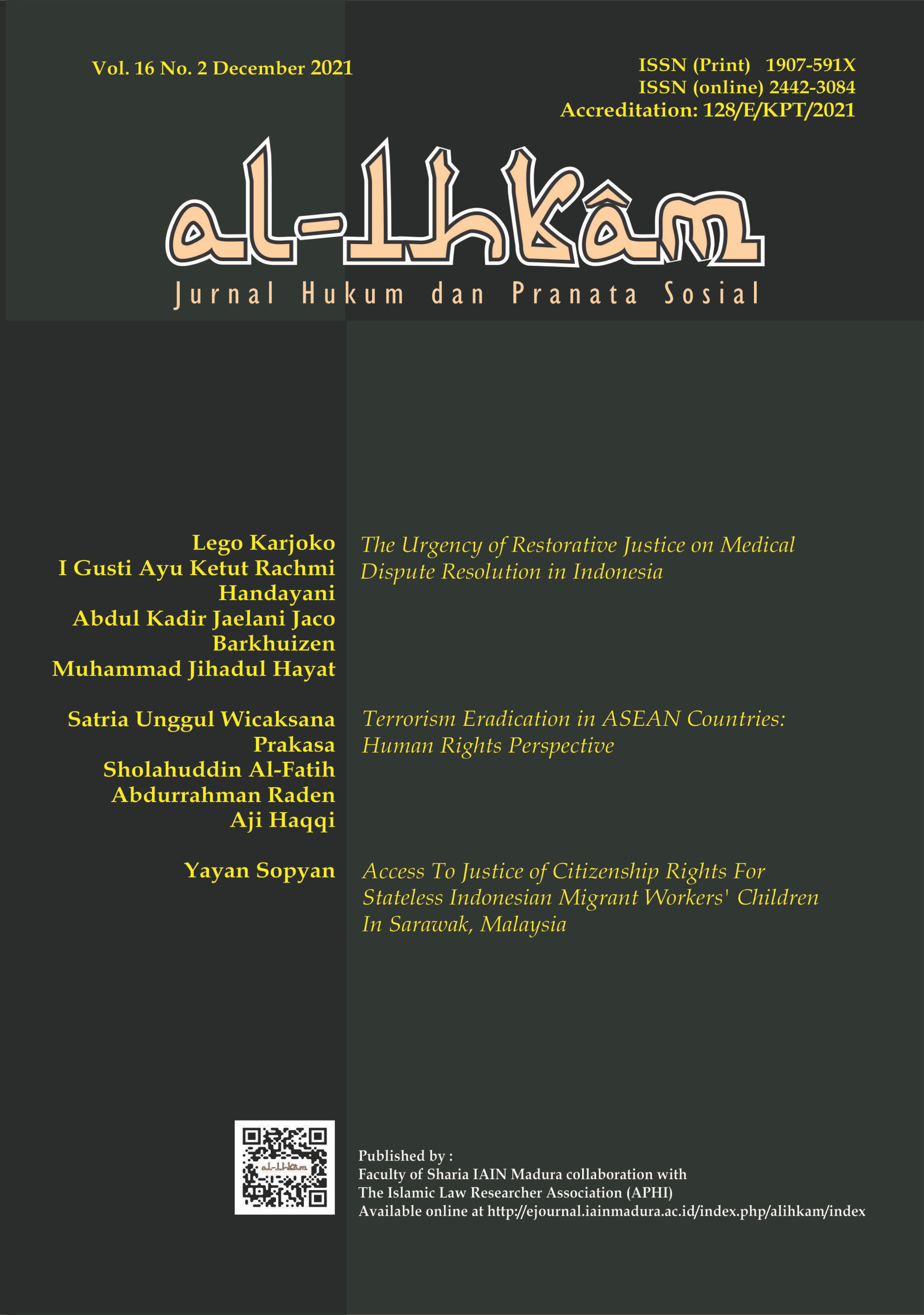 Publishing your paper with Al Ihkam (Jurnal Hukum & Pranata Sosial/Journal of Law & Social Studies) means that the author or authors retain the copyright in the paper. Al Ihkam granted an exclusive non commercial reuse license by the author(s), but the author(s) are able to put the paper onto a website, distribute it to colleagues, give it to students, use it in your thesis etc, so long as the use is not directed at commercial advantage or toward private monetary gain. The author(s) can reuse the figures and tables and other information contained in their paper published by Al Ihkam in future papers or work without having to ask anyone for permission, provided that the figures, tables or other information that is included in the new paper or work properly references the published paper as the source of the figures, tables or other information, and the new paper or work is not direct at private monetary gain or commercial advantage.
Al Ihkam journal (Journal of Law & Social Studies) provides immediate open access to its content on the principle that making research freely available to the public supports a greater global exchange of knowledge. This journal is licensed under a Creative Commons Attribution-NonCommercial 4.0 International License.This license lets others remix, tweak, and build upon your work non-commercially, and although their new works must also acknowledge & be non-commercial, they don't have to license their derivative works on the same terms.

Al Ihkam journal Open Access articles are distributed under this Creative Commons Attribution-Noncommercial 4.0 International License (CC BY-NC). Articles can be read and shared for noncommercial purposes under the following conditions:
BY: Attribution must be given to the original source (Attribution)
NC: Works may not be used for commercial purposes (Noncommercial)