Shahadah 'Ilmy; Integrating Fiqh and Astronomy Paradigm in Determining The Arrival of Lunar Months in Indonesia
Muh. Arif Royyani

Universitas Islam Negeri Walisongo Semarang

Abdul Mufid

Sekolah Tinggi Agama Islam Khozinatul Ulum Blora

M. Ihtirozun Ni'am

Universitas Islam Negeri Walisongo Semarang

Alfian Qodri Azizi

Universitas Islam Negeri Walisongo Semarang

Achmad Azis Abidin

Universitas Islam Negeri Walisongo Semarang
Abstract views:
337
,
PDF downloads:
87
Keywords:
Integration, Astronomy, Fiqh, Shahadah al-'Ilmi
Abstract
Formulating the fixed methodology for determining the beginning of Ramadan month and Islamic Feast in Indonesia is still ongoing. This article attempts to offer an integration between sharia and scientific views through 1) the concept of shahadah (witnessing) in the paradigm of fiqh and astronomy, and 2) the integration of those paradigms in determining the beginning of lunar months, particularly Ramadan and Syawal. This study uses qualitative methods in gaining the data then analyzes it using the approach of Miles & Huberman on interdisciplinary study. The findings of this research are as follows: 1) the concept of shahadah in the paradigm of fiqh is based on religious vows and factual evidence, while the astronomical paradigm perceives it from the certainty of external factors (weather, climate, environment, etc.). 2) Integration of those two paradigms results in better methods. It can turn the shahadah into the quality of qat'i (fixed) while the astronomic perspective gains more legitimacy. The integration is therefore called shahadah-'ilmi which potentially integrates the criteria of crescent visibility (imkan al-rukyah) in Indonesia to minimize the common occurrence on differences in determining those days. (Penetapan awal bulan Ramadhan dan Hari Raya di Indonesia masih terus dirumuskan metodologinya. Artikel ini menawarkan integrasi antara sudut pandang syari'ah dan saintifik melalui kajian atas 1) konsep syahadah dalam paradigma fiqh dan astronomi, 2) integrasi paradigma fiqh dan astronomi dalam menetapkan awal bulan Islam, utamanya Ramadhan dan Syawal. Penelitian ini menggali data dengan metode kualitatif kemudian menganalisisnya dengan pendekatan Miles & Huberman tentang kajian interdisipliner. Temuan penelitian ini adalah sebagai berikut: 1) Konsep shahadah dalam paradigma fiqh adalah penglihatan yang disertai dengan sumpah dan bukti faktual, sementara dalam paradigma astronomi, shahadah didasarkan pada kepastian ukuran dari faktor–faktor eksternal meliputi cuaca, iklim dan lingkungan. 2) Integrasi dua paradigma tersebut menghasilkan metode yang lebih baik dalam penentuan awal Ramadhan dan Syawal. Shahadah dalam sudut pandang fiqh berubah menjadi qath'i (pasti), sementara hasil persaksian astronomi semakin memperoleh legitimasi. Integrasi kedua paradigma melahirkan konsep shahadah-'ilmi yang dapat digunakan untuk menentukan tampaknya hilal (rukyah hilal) awal Ramadhan dan Syawal di Indonesia sehingga perbedaan yang kerap terjadi dalam menentukan dua awal bulan tersebut dapat diminalisir.)
Downloads
Download data is not yet available.
References
Ahmed, Ahmed Kamil, Abdul Halim, and Abdul Aziz. "Young Moon Visibility Criterion Based on Crescent Illumination and Sky Brightness Contrast Model." Middle-East Journal of Scientific Research 21, no. 9 (2014): 1–4. https://doi.org/10.5829/idosi.mejsr.2014.21.09.21740.
Al-Asqalānī, Ibn Hajar. Fathul Bārī, Terj. Amiruddin. Jakarta: Pustaka Azzam, 2014.
Al-Haitami, Ibnu Hajar. Ithāfu Ahli Al-Islām Bi Khusūsiyyāt Al-Shiyām. Cet.1. Madinah: Maktabah Thoyyibah, 1990.
Amri, R. "UPAYA PENYATUAN KALENDER ISLAM DI INDONESIA (Studi Atas Pemikiran Thomas Djamaluddin)," no. 3 (2012): 1–23.
Anwar, Syamsul. "Metode Usul Fikih Untuk Kontekstualisasi Pemahaman Hadis-Hadis Rukyat." Tarjih: Jurnal Tarjih Dan Pengembangan Pemikiran Islam 11, no. 1 (2013): 113–30.
As-Subki. Kitab Al-'Alam Al-Mansyur Fi Isbat Asy-Syuhur. Mesir: Mathba'ah Kurdistan al-'Ilmiyyah, 1911.
Asadurrahman. Kebijakan Pemerintah Indonesia Tentang Hisab Dan Rukyat. Jakarta, 2013.
Aziz, Abdul Halim Abdul dan Ahmed, Ahmed Kamil. "A Unified Islamic Calendar Proposal for the World." Middle-East Journal of Scientific Research 22 (1) (2014): 115–20.
Bakosurtanal. "Rapat Koordinasi Penyusunan Rencana Aksi Nasional Informasi Geospasial," 2015.
BMKG. "Data Prakiraan Cuaca Terbuka," 2021.
Darden, Lindley, and Nancy Maull. "Interfield Theories." Philosophy of Science 44, no. 1 (1977).
Dasuqy, Ahmad. Hāshiyah Al-Dāsuqy 'ala Al-Sharh Al-Kabīr. Juz V. Beirut: Dar al-Kutub Ilmiah, 1996.
Djamaluddin, Thomas. Hisab Rukyat Dan Perbedaannya. Jakarta: Depag RI, 2004.
———. "Menggagas Fiqih Astronomi." Kaki Langit, Bandung, 2005.
Fadholi, Ahmad. "Akseptabilitas Draf Kriteria Baru Penentuan Kalender Hijriah Menurut Ahli Falak Di Indonesia." Edugama: Jurnal Kependidikan Dan Sosial Keagamaan 5, Nomer 1 (2019): 101–14.
Fauzi, Niki Alma Febriana. "Syamsul Anwar Dan Pemikirannya Dalam Bidang Hisab-Rukyat." Al-Marshad: Jurnal Astronomi Islam Dan Ilmu-Ilmu Berkaitan 1, no. 1 (2017): 104–33.
Hidayat, Taufiq. "Developing Information System on Lunar Crescent Observations." ITB Journal of Science 42 A (1) (2010): 67–80.
Islam, Badan Hisab & Ru'yah. Almanak Hisab Ru'yah. Jakarta: Proyek Pembinaan Badan Peradilan Agama Islam, 1981.
Nawawi, Mohd Saiful Anwar Mohd. "Application of Scientific Approach to Determine Lunar Crescent's Visibility." Middle-East Journal of Scientific Research 12 (1) (2012): 96–100.
Nidham. Al-Fatawa Al-Hindiyyah Fi Mażhabi Al-Imām Al-A'dham Abī Hanīfah Al-Nu'man. Beirut: Darul Fikir, 1991.
Nihayaturrohmah. "Hukum Sumpah Bagi Orang Yang Melihat Hilal Kurang Dari Dua Derajat." El-Wasathiya: Jurnal Studi Agama 1, no. 1 (2013): 112–36.
Odeh, Mohammad. "New Criterion for Lunar Crescent Visibility." Journal Experimental Astronomy 18 (2004): 39–64.
Qasim, Nizar Mahmud. Al-Ma'āyīr Al-Fiqhiyyah Wal Falakiyyah Fī I'dad at-Taqāwim Al-Hijriyyah. Beirut: Dārul Basyāir al-Islāmiyyah, 2009.
Rahman, Fathor, Pujiono, and Siti Muslifah. "PENENTUAN AWAL BULAN KAMARIAH UNTUK IBADAH (Sebuah Pendekatan Terpadu)" 12, no. 2 (2020): 107–38. https://doi.org/http://doi.org/10.21093/fj.v12i2.2264.
Sakirman, Sakirman. "MENELISIK METODOLOGI HISAB-RUKYAT DI INDONESIA." HUNAFA: Jurnal Studia Islamika 8, no. 2 (2011): 341. https://doi.org/10.24239/jsi.v8i2.368.341-362.
Shariff, Nur Nafhatun Md Shariff, Dkk. "The Impact of Light Pollution on Islamic New Moon (Hilal) Observation." International Journal of Sustainable Lighting 19 (2017): 10–14.
Siregar, khairil Ikhsan, and Sari Nurulita. Ulumul Hadis Kompilasi. Jakarta: LPP Press Universitas Negeri Jakarta, 2015.
Wahidi, Ahmad, Noer Yasin, and Ali Kadarisman. "THE BEGINNING OF ISLAMIC MONTHS DETERMINATION IN INDONESIA AND MALAYSIA: Procedure and Social Condition." ULUL ALBAB Jurnal Studi Islam 20, no. 2 (2019): 322–45. https://doi.org/10.18860/ua.v20i2.5913.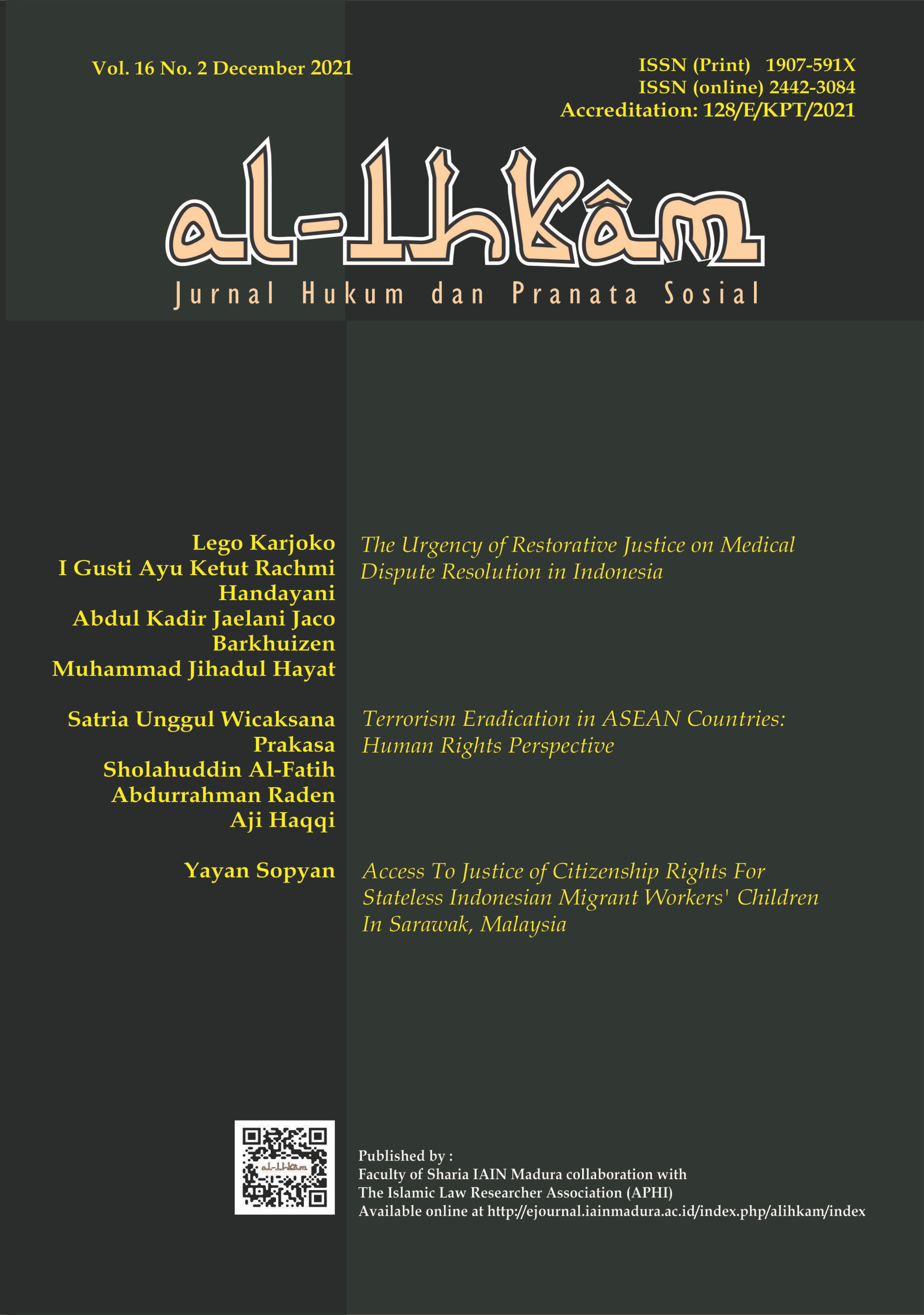 Publishing your paper with Al Ihkam (Jurnal Hukum & Pranata Sosial/Journal of Law & Social Studies) means that the author or authors retain the copyright in the paper. Al Ihkam granted an exclusive non commercial reuse license by the author(s), but the author(s) are able to put the paper onto a website, distribute it to colleagues, give it to students, use it in your thesis etc, so long as the use is not directed at commercial advantage or toward private monetary gain. The author(s) can reuse the figures and tables and other information contained in their paper published by Al Ihkam in future papers or work without having to ask anyone for permission, provided that the figures, tables or other information that is included in the new paper or work properly references the published paper as the source of the figures, tables or other information, and the new paper or work is not direct at private monetary gain or commercial advantage.
Al Ihkam journal (Journal of Law & Social Studies) provides immediate open access to its content on the principle that making research freely available to the public supports a greater global exchange of knowledge. This journal is licensed under a Creative Commons Attribution-NonCommercial 4.0 International License.This license lets others remix, tweak, and build upon your work non-commercially, and although their new works must also acknowledge & be non-commercial, they don't have to license their derivative works on the same terms.

Al Ihkam journal Open Access articles are distributed under this Creative Commons Attribution-Noncommercial 4.0 International License (CC BY-NC). Articles can be read and shared for noncommercial purposes under the following conditions:
BY: Attribution must be given to the original source (Attribution)
NC: Works may not be used for commercial purposes (Noncommercial)