The Digitalized Zakat Management System in Malaysia and the Way Forward
Muhammad Ikhlas Rosele

Universiti Malaya

Abdul Muneem

Universiti Malaya

Noor Naemah Binti Abdul Rahman

Universiti Malaya

Abdul Karim Ali

Universiti Malaya
Abstract views:
1048
,
PDF downloads:
1005
Keywords:
Zakat; Digitalization; Management; Aṣnāf; Financial Technologies
Abstract
The development of technology and innovation has a significant influence on the current financial markets. Introducing new business models and transferring from traditional markets to the digital markets through those technologies are some ways of digital transformation. Zakat system has been a great part of Islamic economics and the financial system which has to embrace digitalization to be compatible with the current digital era. This research aims to address the current status of digitalization about the zakat management system in Malaysia and to explore the necessary improvement in embracing the digitalization by the zakat institutions. The research adopts a qualitative research approach where it collects the data from various sources such as books, journals, conference papers, and other relevant websites. To analyze the data, the research employs a descriptive and exploratory research technique. This study finds that despite having websites by the zakat institutions in Malaysia, the zakat system has a lack of data set of aṣnāf and proper data for the collected and distributed funds. Digital transformation is needed to observe the check and balance of the zakat funds' collection and distribution. In addition, human development through zakat funds needs to embrace more development through digitalization. Moreover, the zakat institutions are encouraged to advance their readiness and understanding of technologies and innovation to embrace digital assets and their zakat-ability.
Downloads
Download data is not yet available.
References
Abd. Wahab, Norazlina, and Abdul Rahim Abdul Rahman. "Efficiency of Zakat Institutions and Its Determinants." In Access to Finance and Human Development – Essays on Zakah, Awqaf and Microfinance, edited by Hatem A. El-Karanshawy, Azmi Omar, Tariqullah Khan, Salman Syed Ali, Hylmun Izhar, Wijdan Tariq, Karim Ginena and Bahnaz Al-Quradaghi, 33-42. Doha, Qatar: Bloomsbury Qatar Foundation, 2015.
———. "A Framework to Analyse the Efficiency and Governance of Zakat Institutions." Journal of Islamic Accounting and Business Research 2, no. 1 (2011): 43-62. https://doi.org/10.1108/17590811111129508
Abdullah, Muhammad, and Abdul Quddus Suhaib. "The Impact of Zakat on Social Life of Muslim Society." Pakistan Journal of Islamic Research 8, no. 1 (2011): 85-91.
Abdulquadri, Abdulazeez, Emmanuel Mogaji, Tai Anh Kieu, and Nguyen Phong Nguyen. "Digital Transformation in Financial Services Provision: A Nigerian Perspective to the Adoption of Chatbot." Journal of Enterprising Communities: People and Places in the Global Economy 15, no. 2 (2021): 258-281. https://doi.org/10.1108/JEC-06-2020-0126
Abidin, Shamharir, Ram Al Jaffri Saad, and Nikmal Muzal Mohd Muhaiyuddin. "Evaluating Corporate Reporting on the Internet: The Case of Zakat Institutions in Malaysia." Jurnal Pengurusan 42 (2014): 19 - 29.
Abu Bakar, Mahyuddin, and Abdullah Abdul Ghani. "Towards Achieving the Quality of Life in the Management of Zakat Distribution to the Rightful Recipients (the Poor and Needy)." International Journal of Business and Social Science 2, no. 4 (2011): 237-245.
Abū Ghuddah, ʿAbd Sattār "Al-Nuqūd Al-Raqmiyyah Al-Ruʾyah Al-Sharʿiyyah Wa Al-ʾāthār Al-Iqtiṣādiyyah." In Muʾtamar al-Dūḥah al-Rābiʿ Lil Māl al-Islāmī. Dūḥah, Qaṭar 2018.
Adam, Faraz. "Do We Pay Zakat on Cryptocurrencies?" National Zakat Foundation https://nzf.org.uk/knowledge/zakat-on-cryptocurrencies/.
———. "The Shariah Factor in Cryptocurrencies and Tokens." Shariyah Review Bureau https://shariyah.com/wp-content/uploads/2019/05/The-Shariah-factors-in-Cryptocurrencies-and-Tokens.pdf.
Ahmad, Raja Adzrin Raja, Ahmad Marzuki Amiruddin Othman, and Muhammad Sufiyudin Salleh. "Assessing the Satisfaction Level of Zakat Recipients Towards Zakat Management." Procedia Economics and Finance 31 (2015): 140-151. https://doi.org/10.1016/s2212-5671(15)01141-7
Akmal, Ik Balyanda, M Shabri Abd Majid, and Eddy Gunawan. "Does Zakat Matter for Human Development? An Empirical Evidence from Indonesia." Regional Science Inquiry 12, no. 2 (2020): 195-208.
Al-Mamun, Abdullah, and Ahasanul Haque. "Perception of Muslim Consumers Towards Tax Deduction through Zakat in Malaysia: An Empirical Investigation on Muslims in Malaysia." In the First International Conference on Shari'ah Oriented Public Policy in Islamic Economic System (ICOSOPP 2015), Banda Aceh, Indonesia, 2015.
Al-Qarahdāghī, ʿAlī Muḥyī al-Dīn. "Bitkoin Laisa Muḥarraman Bi Dhātih." Mawqiʿ faḍīlah al-shayekh ʿAlī Muḥyī al-Dīn Al-Qarahdāghī, https://alqaradaghi.com/10425/.
Al Haq, M. Ashraf, and Norazlina Binti Abd. Wahab. "Effective Zakat Distribution: Highlighting Few Issues and Gaps in Kedah, Malaysia." Al-Iqtishad: Journal of Islamic Economics 9, no. 2 (2017): 259-288. https://doi.org/10.15408/aiq.v9i2.4002
Ali, Mohd Asri Mohd, MDAB Khamar Tazilah, Adib Izzat Bin Shamsudin, FRB Faisal Shukri, NMFAB Nik Adelin, and WMSB Zainol Zaman. "Factors That Influence the Zakat Collection Funds: A Case in Kuantan." South East Asia Journal of Contemporary Business, Economics and Law 13, no. 1 (2017): 30-37.
Aspers, Patrik, and Ugo Corte. "What Is Qualitative in Qualitative Research." Qualitative sociology 42, no. 2 (2019): 139-160. https://doi.org/10.1007/s11133-019-9413-7
Babbie, Earl. The Basics of Social Research. 4th ed. California: Thomson Wadsworth, 2008.
Bakar, Mohd Daud. "Cryptocurrency: An Holistic and Contemporary Syariah Analysis (Part V)." Coin.my https://coin.my/op-ed/cryptocurrency-an-holistic-and-contemporary-syariah-analysis-part-v/.
Berman, Saul J. "Digital Transformation: Opportunities to Create New Business Models." Strategy & Leadership 40, no. 2 (2012): 16-24. https://doi.org/10.1108/10878571211209314
Cuesta, Carmen, Macarena Ruesta, David Tuesta, and Pablo Urbiola. "The Digital Transformation of the Banking Industry." BBVA research, https://www.bbvaresearch.com/en/publicaciones/the-digital-transformation-of-the-banking-industry/.
Elsayed, Ebtehal Atta, and Yuserrie Zainuddin. "Zakat Information Technology System Design, Zakat Culture, and Zakat Performance – Conceptual Model." International Journal of Advanced Science and Technology 29, no. 9s (2020): 1816-1825.
Embong, Mohd Rodzi, Roshaiza Taha, and Mohd Nazli Mohd Nor. "Role of Zakat to Eradicate Poverty in Malaysia." Jurnal Pengurusan 39 (2013): 141 - 150.
Hudaefi, Fahmi Ali. "How Does Islamic Fintech Promote the Sdgs? Qualitative Evidence from Indonesia." Qualitative Research in Financial Markets 12, no. 4 (2020): 353-366. https://doi.org/10.1108/QRFM-05-2019-0058
Jaapar, Asmah Mohd, and Nur Husnina Kamarulzaman. "The Efficiency of Zakat Collection and Zakat Distribution of Islamic Religious Council Perak (Maipk) Malaysia." In 4th International Conference of Zakat (ICONZ). Surabaya, Indonesia 2020.
Jabatan Wakaf Zakat dan Haji (JAWHAR). "Statistik Agihan Zakat Mengikut Negeri (Zakat Dsitribution Statistics by State)." Portal Pengurusan Maklumat Zakat dan Baitulmal Malaysia, https://baitulmal.jawhar.gov.my/zkt_agihan_stat.php.
———. "Statistik Kutipan Zakat Seluruh Malaysia (Zakat Collection Statistics for the Whole of Malaysia)." Portal Pengurusan Maklumat Zakat dan Baitulmal Malaysia, https://baitulmal.jawhar.gov.my/zkt_statistik_stat.php.
Li, Rong, Sufang Li, Di Yuan, and Huiming Zhu. "Investor Attention and Cryptocurrency: Evidence from Wavelet-Based Quantile Granger Causality Analysis." Research in International Business and Finance 56 (101389) (2021): 1-29. https://doi.org/10.1016/j.ribaf.2021.101389
Lubis, Muharman, Arif Ridho Lubis, and Ahmad Almaarif. "Comparison of the Approach in the Zakat Management System." In the Journal of Physics: Conference Series, 2019.
Lubis, Muharman, Nurul Ibtisam Yaacob, Yusoff Omar, and Abdurrahman A Dahlan. "Enhancement of Zakat Distribution Management System: Case Study in Malaysia." In International Management Conference 2011. Terengganu, Malaysia, 2011.
Mavlutova, Inese, and Tatjana Volkova. "Digital Transformation of Financial Sector and Challengies for Competencies Development." In the 7th International Conference on Modeling, Development and Strategic Management of Economic System (MDSMES 2019), Ivano-Frankivsk, Ukraine, 2019.
Meegan, Andrew, Shaen Corbet, Charles Larkin, and Brian Lucey. "Does Cryptocurrency Pricing Response to Regulatory Intervention Depend on Underlying Blockchain Architecture?". Journal of International Financial Markets, Institutions and Money 70 (101280) (2021): 1-23. https://doi.org/10.1016/j.intfin.2020.101280
Meerangani, Khairul Azhar "The Effectiveness of Zakat in Developing Muslims in Malaysia." Insaniyat: Journal of Islam and Humanities 3, no. 2 (2019): 127-138. https://doi.org/10.15408/insaniyat.v3i2.11315
Migdad, Abdalrahman. "Managing Zakat through Institutions: Case of Malaysia." International Journal of Islamic Economics and Finance Studies 5, no. 3 (2019): 28-44. https://doi.org/10.25272/ijisef.519228
Nadzri, Farah Aida Ahmad, Rashidah Abd Rahman, and Normah Omar. "Zakat and Poverty Alleviation: Roles of Zakat Institutions in Malaysia." International Journal of Arts and Commerce 1, no. 7 (2012): 61-72.
Rahman, Azman Ab, Mohammad Haji Alias, and Syed Mohd Najib Syed Omar. "Zakat Institution in Malaysia: Problems and Issues." Global Journal of Al Thaqafah 2, no. 1 (2012): 35-41.
Ramli, Raudha Md, Sanep Ahmad, Hairunnizam Wahid, and Farra Munna Harun. "Understanding Asnaf Attitude: Malaysia's Experience in Quest for an Effective Zakat Distribution Programme." In the International Zakat Conference, Bogor, Indonesia 2011.
Rauniyar, Kanchan, Komal Rauniyar, and Deependra Kumar Sah. "Role of Fintech and Innovations for Improvising Digital Financial Inclusion." International Journal of Innovative Science and Research Technology 6, no. 5 (2021): 1419-1424.
Razimi, Mohd Shahril Ahmad, Abd Rahim Romle, and Muhammad Farid Muhamad Erdris. "Zakat Management in Malaysia: A Review." American-Eurasian Journal of Scientific Research 11, no. 6 (2016): 453-457.
Saad, Norma, and Naziruddin Abdullah. "Is Zakat Capable of Alleviating Poverty? An Analysis on the Distribution of Zakat Fund in Malaysia." Journal of Islamic Economics, Banking and Finance 10, no. 1 (2014): 69-95.
Saad, Ram Al Jaffri, Muhammad Syahir Abdul Wahab, and Md Hairi Md Hussain. "Perceived Service Quality of Zakat Institution among Muslim Businessmen in Malaysia." In the 3rd International Conference on Applied Science and Technology (ICAST'18), Penang, Malaysia, 2018.
The Sage Encyclopedia of Qualitative Research Methods. Edited by Lisa M. Given. Sage publications, 2008.
Salleh, Marhanum Che Mohd, and Muhamad Abdul Matin Chowdhury. "Technology Adoption among Zakat Institutions in Malaysia." In the 4th International Conference of Zakat (ICONZ), Surabaya, Indonesia, 2020.
Saunders, Mark, Philip Lewis, and Adrian Thornhill. Research Methods for Business Students. 7th ed. Harlow: Pearson Education Limited, 2016.
Shah, Raja Norhanani Raja Norabidin, and Rusni Hassan. "Zakāh Collection and Distribution Framework in Federal Territory of Kuala Lumpur: A Study on Selected Islamic Banking Institutions." International Journal Of Management and Applied Research 4, no. 1 (2017): 3-16. https://doi.org/10.18646/2056.41.17-002
Shakirah, Anis. "The Need to Adopt Technology in Zakat Administration." Global Sadaqah, https://www.globalsadaqah.com/blog/technology-zakat-administration/.
Shariff, Anita Md., Wan Noor Hazlina Wan Jusoh, Norudin Mansor, and Kamaruzaman Jusoff. "A Robust Zakah System Towards a Progressive Socio-Economic Development in Malaysia." Middle-East Journal of Scientific Research 7, no. 4 (2011): 550-554.
Suhaib, Abdul Quddus "Contribution of Zakat in the Social Development of Pakistan." Pakistan Journal of Social Sciences (PJSS) 29, no. 2 (2009): 313-334.
Suprayitno, Eko, Mohamed Aslam, and Azhar Harun. "Zakat and Sdgs: Impact Zakat on Human Development in the Five States of Malaysia." International Journal of Zakat 2, no. 1 (2017): 61-69. https://doi.org/10.37706/ijaz.v2i1.15
Taha, Roshaiza, Mohd Nazli Mohd Nor, Mohd Rodzi Embong, and Muhammad Faris Zulkifli. "Zakat Fund in Malaysia: Where Does It All Go?". Management & Accounting Review (MAR) 16, no. 1 (2017): 137-166.
Taha, Roshaiza, Muhammad Faris Zulkifli, Mohd Rodzi Embong, and Muhd Nazli Mohd Nor. "Zakat Distribution in the East Coast: Recipients' View." Pertanika Journal Of Social Science And Humanities 25, no. S (2017): 255 - 266.
Tuan Mahmood, Tengku Mohd Azizuddin, Noormariana Mohd Din, Abdullah Al Mamun, and Mohamed Dahlan Ibrahim. "Issues and Challenges of Zakat Institutions Achieving Maqasid Syariah in Malaysia." AZKA International Journal of Zakat & Social Finance 2, no. 1 (2021): 119-137. https://doi.org/10.51377/azjaf.vol2no1.46
Urbach, Nils, and Maximilian Röglinger. "Introduction to Digitalization Cases: How Organizations Rethink Their Business for the Digital Age." In Digitalization Cases, edited by Nils Urbach and Maximilian Röglinger, 1-12. Cham, Switzerland: Springer, 2019.
Wahid, Hairunnizam, Radiah Abdul Kader, and Sanep Ahmad. "Localization of Zakat Distribution, Religiosity, Quality of Life and Attitude Change (Perceptions of Zakat Recipients in Malaysia)." In the 13th Malaysia Indonesia Conference on Economics, Management and Accounting (MIICEMA), Palembang, Indonesia, 2012.
Walliman, Nicholas. Research Methods: The Basics. New York: Routledge, 2011.
Yaakub, Nur Asiah, Natasha Mazna Ramli, Nurul Aini Mohamed, and Izlawanie Muhammad. "Application of Online Payment at Pusat Zakat Negeri Sembilan." Jurnal ILMI 7, no. 1 (2017): 99-108.
Yahaya, Muhamad Hasif, and Khaliq Ahmad. "Factors Affecting the Acceptance of Financial Technology among Asnaf for the Distribution of Zakat in Selangor-a Study Using Utaut." Journal of Islamic Finance 8, no. S.I. (2019): 035-046.
Zainal, Hafizah, Azizi Abu Bakar, and Ram Al Jaffri Saad. "Reputation, Satisfaction of Zakat Distribution, and Service Quality as Determinant of Stakeholder Trust in Zakat Institutions." International Journal of Economics and Financial Issues 6, no. S7 (2016): 72-76.
Zulkifli, Muhammad Faris, Roshaiza Taha, Mohd Nazli Mohd Nor, and Azwadi Ali. "Combating Poverty in Malaysia: The Role of Zakat." The Journal of Asian Finance, Economics and Business 8, no. 5 (2021): 505-513.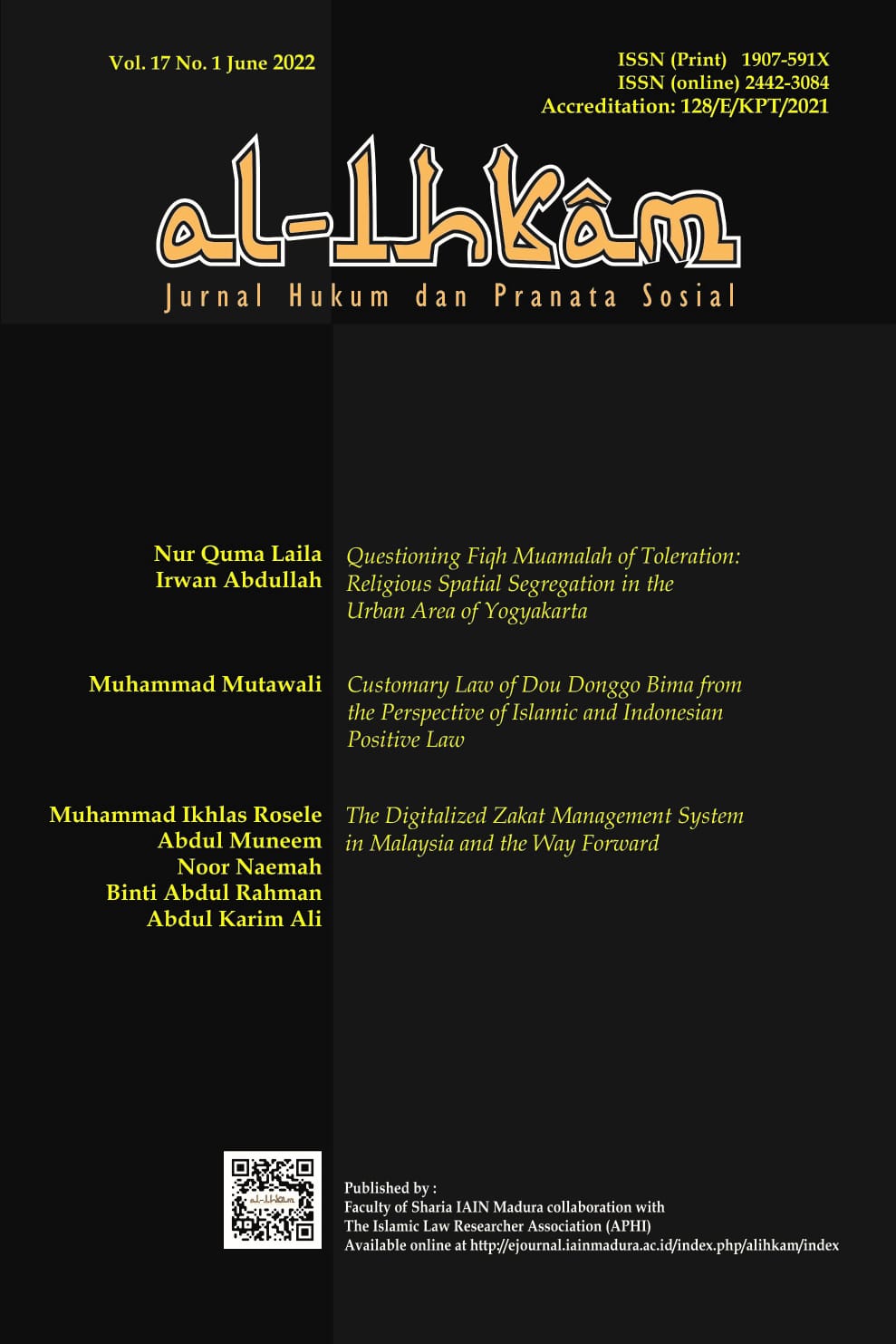 Copyright (c) 2022 AL-IHKAM: Jurnal Hukum & Pranata Sosial
This work is licensed under a Creative Commons Attribution-ShareAlike 4.0 International License.
Publishing your paper with Al Ihkam (Jurnal Hukum & Pranata Sosial/Journal of Law & Social Studies) means that the author or authors retain the copyright in the paper. Al Ihkam granted an exclusive non commercial reuse license by the author(s), but the author(s) are able to put the paper onto a website, distribute it to colleagues, give it to students, use it in your thesis etc, so long as the use is not directed at commercial advantage or toward private monetary gain. The author(s) can reuse the figures and tables and other information contained in their paper published by Al Ihkam in future papers or work without having to ask anyone for permission, provided that the figures, tables or other information that is included in the new paper or work properly references the published paper as the source of the figures, tables or other information, and the new paper or work is not direct at private monetary gain or commercial advantage.
Al Ihkam journal (Journal of Law & Social Studies) provides immediate open access to its content on the principle that making research freely available to the public supports a greater global exchange of knowledge. This journal is licensed under a Creative Commons Attribution-ShareAlike 4.0 International License.This license lets others remix, tweak, and build upon your work non-commercially, and although their new works must also acknowledge & be non-commercial, they don't have to license their derivative works on the same terms.

Al Ihkam journal Open Access articles are distributed under this Creative Commons Attribution-ShareAlike 4.0 International License (CC BY-SA). Articles can be read and shared for noncommercial purposes under the following conditions:
BY: Attribution must be given to the original source (Attribution)
NC: Works may not be used for commercial purposes (Noncommercial)