Judges' Legal Culture in Dealing with High Number of Applications for Child Marriage Dispensation during Covid-19 Pandemic at the Kudus Religious Court
Supriyadi

IAIN Kudus

Siti Suriyati

Lembaga Konsultasi dan Bantuan Hukum Justisia Kudus
Abstract views:
253
,
PDF downloads:
173
Abstract
This study aims to explore the judges' legal culture in the Kudus Religious Courts in dealing with the high number of applications for marriage dispensation during the Covid-19 pandemic. Making a decision on a case becomes problematic for judges because they have to make it on their personal considerations. This research was analyzed qualitatively using a constructivism paradigm with a socio-legal research approach based on primary data by interviewing 2 (two) judges, 3 (three) advocates, and 3 (three) applicants for a marriage dispensation. Moreover, it also employed secondary data, including the marriage law, marriage regulation and its implementation, relevant literature, and academic journals. The research findings are: First, the high number was caused by Kudus people's perception of the minimum legal age of marriage which is based on customary belief, which is maturity in social life, rather than legal regulation which is numerical age. Second, in making a decision about the case, the judges make considerations based on legal facts in the trial court and the values of justice living in the society while paying attention to the Supreme Court rules. Third, the legal culture of judges in deciding the application is making dialogue with some fellow judges while advising applicants to revoke their application.
Downloads
Download data is not yet available.
References
Abd. Rahman Ghazaly. "Fiqh Munakahat," 7. Jakarta: Prenada Media Group, 2006.
Abdul Manan. Aneka Masalah Hukum Perdata Islam di Indonesia. jakarta : Kencana, 2006.
Achmad Ali. "Menguak Teori Hukum (Legal Theory) Dan Teori Peradilan (Judicial Prudence) Termasuk Interpretasi Undang-Undang (Legis Prudence)," 225. Jakarta: Kencana Prenada Media Group, 2009.
Ade Maman Suherman Dan J. Satrio. "Penjelasan Hukum Tentang Batasan Umur," 2. Jakarta: Nasional Legal Reform Program, 2010.
Adi, Ni Nyoman Serma, Dewa Nyoman Oka, and Ni Made Serma Wati. "Dampak Positif Dan Negatif Pembelajaran Jarak Jauh Di Masa Pandemi COVID-19." Jurnal Imiah Pendidikan Dan Pembelajaran, 2021. https://doi.org/10.23887/jipp.v5i1.32803.
Andre Atta Ujan. "Filsafat Hukum, Membangun Hukum, Membela Keadilan," 126. Yogyakarta: Pustaka Filsafat. Kanisius, 2009.
Asep Deni Adnan Bumaeri, Hisam Ahyani, Ahmad Hapidin, Hendi Kusnandar. "Fenomena Pernikahan Dibawah Umum Oleh Masyarakat 5.0." Angewandte Chemie International Edition, 6(11), 951–952., 2021, 2013–15.
Baharudin, Erwan, and Universitas Esa Unggul. "Dalam Sistem Ketatanegaraan di Indonesia Ernawati , Erwan Baharudin Masyarakat Hukum Adat Merupakan Subyek Hukum Khusus Yang Keberadaannya Diakui Oleh Peraturan Perundang-Undangan Baik Oleh Undang- Undang Dasar Negara Republik Indonesia Tahun 1945 ( Selan" 6, no. September (2019): 53–67.
Barkatullah, Teguh Prasetyo dan Abdul Halim. "Ilmu Hukum Dan Filsafat Hukum: Studi Pemikiran Ahli Hukum Sepanjang Zaman," 52–46. Yogyakarta: Pustaka Pelajar, 2009.
Dewi Wulansari. "Hukum Adat Indonesia," 48. Bandung: Reflika Aditama, 2009.
Dwi Hadya Jayani. "Dispensasi Perkawinan Anak Meningkat 3 Kali Lipat Pada 2020." databoks.katadata.co.id, 2021.
Edi Riadi. "Dinamika Putusan Mahkamah Agung Dalam Bidang Perdata Islam," 1. Jakarta: Gramata Publishing, 2017.
Ellyne Dwi Poespasari. "Pemahaman Seputar Hukum Waris Adat Di Indonesia," 220. Jakarta: Prenadamedia Group, 2018.
Esmi Warrasih. "Penelitian Sosio Legal Research, Pemutahiran Data Metodologi," 7. Semarang: UNDIP, 2016.
FX. Adji Samekto. "Hukum Dalam Lintasan Sejarah," 48–49. Bandar Lampung: Indepth Publishing, 2013.
Gloria Styvani Putri. "Kilas Balik Setahun Covid-19 Di Indonesia, Pengumuman Hingga Vaksinasi." Kompas, 2021.
Harry C. Bredemeier. "La" as Integrative Mechanism, Dalam Vilhelm Aubert, (Ed) Sociology of Law," 3"–38. New York: The Free Press of Glenco, 1962.
———. "La" As Integrative Mechanism, Dalam Vilhelm Aubert, (Ed) Sociology Of Law," 6". New York: The Free Press of Glenco, 1962.
Helmi Supriyatno. "Pandemi Covid-19, Permohonan Dispensasi Nikah Meningkat Di Kabupaten Bondowoso." harianbhirawa.co.id, 2021.
Heryanti, Rini. "Implementasi Perubahan Kebijakan Batas Usia Perkawinan." Jurnal Ius Constituendum, 2021. https://doi.org/10.26623/jic.v6i1.3190.
Hilman Hadikusuma. "Hukum Perkawinan Adat," 22. Bandung: Mandar Maju, 1983.
Hutajulu, Marihot. "FILSAFAT HUKUM DALAM PUTUSAN PENGADILAN/HAKIM." Refleksi Hukum: Jurnal Ilmu Hukum 9, no. 1 SE-Articles (April 2015). https://doi.org/https://doi.org/10.24246/jrh.2015.v9.i1.p91-100.
Ilma, Mughniatul. "Regulasi Dispensasi Dalam Penguatan Aturan Batas Usia Kawin Bagi Anak Pasca Lahirnya UU No. 16 Tahun 2019." AL-MANHAJ: Jurnal Hukum Dan Pranata Sosial Islam, 2020. https://doi.org/10.37680/almanhaj.v2i2.478.
K. Bertens. "Etika," 102–4. Jakarta: Gramedia Pustaka Utama, 2000.
K. Wajik Saleh. "Hukum Perkawinan Indonesia," 4. Jakarta: Ghalia Indonesia, 1982.
Khoirudin. "Perkawinan Di Bawah Umur Di Masa Pandemic." Signifikansi Humaniora Vol. 2, no. 3 (2021): 3–5.
Kurniawati, Rani Dewi. "Efektifitas Perubahan UU No 16 Tahun 2019 Tentang Perubahan Atas UU No 1 Tahun 1974 Tentang Perkawinan Terhadap Penetapan Dispensasi Kawin (Studi Kasus Di Pengadilan Agama Majalengka Kelas IA)." Journal Presumption of Law, 2021. https://doi.org/10.31949/jpl.v3i2.1505.
Lenny Nurhayati Rosalina. "Mengawal Kedaulatan Bangsa," 46. Jakarta: Kementerian Pemberdayaan Perempuan dan Anak, 2020.
Lestari, Puji. "Ratio Decidendi Putusan Hakim Pengadilan Negeri Blitar Mengenai Perjanjian Jual Beli Tanah Yang Berkeadilan" 3, no. 2 (2020): 1–10.
Luhut M. P. Pangaribuan. Lay Judges Dan Hakim Ad Hoc Suatu Studi Teoritis Mengenai Sistem Peradilan Pidana Indonesia. Universitas Indonesia, Fakultas Hukum, Pascasarjana, 2009.
M. Syamsudin. "Konstruksi Baru Budaya Hukum Hakim Berbasis Hukum Progresif," 289–92. Jakarta: Kencana, 2012.
Made Oka Cahyadi Wiguna. "Pemikiran Hukum Progresif Untuk Perlindungan Hukum Dan Kesejahteraan Masyarakat Hukum Adat." Jurnal Konstitusi Vol. 18, no. 1 (2021): 114.
Mayangkara. "Permohonan Dispensasi Pernikahan Di Pengadilan Agama Tulungagung Meningkat 200%." MayangkaraNews.com, 2020.
Moh. Mahfud MD. "Membangun Politik Hukum, Menegakkan Konstitusi," 76. Jakarta: Pustaka LP3ES Indonesia, 2006.
Mulyadi. "Hukum Perkawinan Indonesia," 6. Semarang: Universitas Diponegoro, 2011.
Nonet, Philippe, and Philip Selznick. Law and Society in Transition: Toward Responsive Law. Law and Society in Transition: Toward Responsive Law, 2017. https://doi.org/10.4324/9780203787540.
Perkawinan, Dilema, Usia Dini, Antara Tradisi, and Regulasi M Mufid Syakhlani. "Dilema Perkawinan Usia Dini: Antara Tradisi Dan Regulasi." Jurnal Dakwah Dan Sosial 2, no. 2 (2019): 137–49. https://doi.org/https://doi.org/10.5281/zenodo.3544214.
Rahardjo, Satjipto. Hukum Dan Perilaku. penebit buku kompas, PT Kompas Media Nusantara, 2009.
Rahmatillah, Syarifah, and Nurlina. "Pencegahan Perkawinan Di Bawah Umur (Analisis Terhadap Lembaga Pelaksana Instrumen Hukum Di Kec. Blangkejeren Kab. Gayo Lues)." Samarah, 2018. https://doi.org/10.22373/sjhk.v2i2.4748.
Ruwiastuti, Maria Rita. "Sesat Pikir Politik Hukum Agraria Membongkar Alas Penguasaan Negara Atas Tanah-Tanah Adat," 110. Yogyakarta: Insist Press, KPA Dan Pustaka Pelajar, 2000.
Saraswati Rika. "Hukum Perlindungan Anak Di Indonesia," 50. Bandung: PT Citra Aditya Bakti, 2015.
Satjipto Rahardjo. "Membedah Hukum Progresif," 151. Jakarta: Buku Kompas, 2008.
———. "Penegakan Hukum Suatu Tinjauan Sosiologis," xiii. Yogyakarta: Genta Publishing, 2009.
Siti Hapsah Isfardiyana. "Hukum Adat," 80. Yogyakarta: UII Press, 2018.
Soetandyo Wignjosoebroto. Hukum Paradigma, Metode, Dan Dinamika Masalahnya. Elsam, 2002.
Soetandyo Wignyosubroto. "Hukum Paradigma, Metode Dan Dinamika Masalahnya," 148. Jakarta: Huma, 2012.
Sugiarti, Titing, and Kunthi Tridewiyanti. "Implikasi Dan Implementasi Pencegahan Perkawinan Anak ( Implication and Implementation Against of Child Marriage )." Jurnal LLegal Reasoning Fakultas Hukum Universitas Pancasila 4, no. 1 (2021): 81–95. https://doi.org/https://doi.org/10.35814/jlr.v4i1.2968.
Supriyadi, Supriyadi. "PERKAWINAN SIRRI DALAM PERSPEKTIF HUKUM DI INDONESIA." YUDISIA : Jurnal Pemikiran Hukum Dan Hukum Islam, 2018. https://doi.org/10.21043/yudisia.v8i1.3229.
———. "Rekonstruksi Hukum Kewarisan Anak Dari Perkawinan Sirri Di Pengadilan Agama." IJTIHAD Jurnal Wacana Hukum Islam Dan Kemanusiaan, 2016. https://doi.org/10.18326/ijtihad.v16i1.27-42.
Suseno, Frans Magnis dan. "Etika Dasar, Masalah-Masalah Pokok Dalam Filsafat Moral," 30. Yogyakarta: Penerbit Kanisius, 1985.
Susyanti, Andi Marlah, and Halim Halim. "Strategi Pencegahan Pernikahan Usia Dini Melalui Penerapan Pusat Informasi Dan Konseling Remaja (Pik-R) Di Smk Negeri 1 Bulukumba." Jurnal Administrasi Negara 26, no. 2 (2020): 114–37. https://doi.org/10.33509/jan.v26i2.1249.
Syahri, Akhmad, and Lailia Anis Afifah. "Fenomena Hamil Di Luar Nikah Di Kalangan Remaja Ditinjau Dalam Perspektif Pendidikan Islam." ATTARBIYAH, 2018. https://doi.org/10.18326/tarbiyah.v27i0.1-18.
Tamanaha, Brian Z. A General Jurisprudence of Law and Society. A General Jurisprudence of Law and Society, 2010. https://doi.org/10.1093/acprof:oso/9780199244676.001.0001.
Tim IT PA Praya. "Peningkatan Permohonan Dispensasi Nikah Di PA Praya Pasca Perubahan Undang-Undang Perkawinan." https://badilag.mahkamahagung.go.id/, 2021.
Titing Sugiarti, Putri Ayu Maharani, Chika Agishintya. "Penelitian Internal, Analisis Perkawinan Di Bawah Umur Tanpa Dispensasi (Studi Kasus Kawin Bawah Umur Yang Terjadi Di Desa Cipenjo, Kecamatan Cileungsi, Kabupaten Bogor)," 24. Jakarta: Fakultas Hukum Universitas Pancasila, n.d.
Warasih, Esmi. Pranata Hukum Sebuah Telaah Sosiologis. Malang: PT. Suryandaru Utama, 2005.
White, Julie. "Bo"k Review: The SAGE Handbook of Qualitative Research." E"aluation Journal of Australasia, 2011. https://doi.org/10.1177/1035719x1101100208.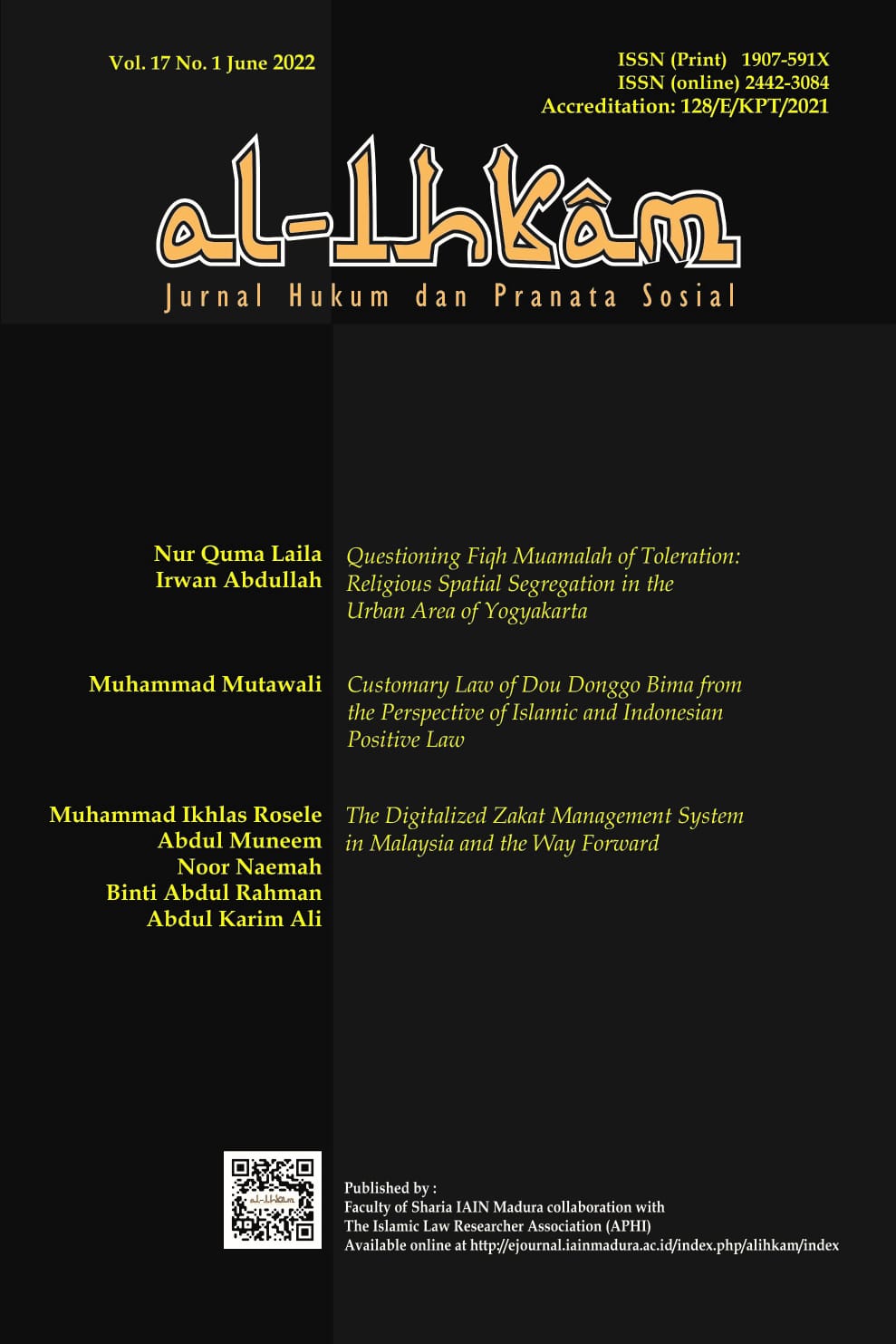 Copyright (c) 2022 AL-IHKAM: Jurnal Hukum & Pranata Sosial
This work is licensed under a Creative Commons Attribution-ShareAlike 4.0 International License.
Publishing your paper with Al Ihkam (Jurnal Hukum & Pranata Sosial/Journal of Law & Social Studies) means that the author or authors retain the copyright in the paper. Al Ihkam granted an exclusive non commercial reuse license by the author(s), but the author(s) are able to put the paper onto a website, distribute it to colleagues, give it to students, use it in your thesis etc, so long as the use is not directed at commercial advantage or toward private monetary gain. The author(s) can reuse the figures and tables and other information contained in their paper published by Al Ihkam in future papers or work without having to ask anyone for permission, provided that the figures, tables or other information that is included in the new paper or work properly references the published paper as the source of the figures, tables or other information, and the new paper or work is not direct at private monetary gain or commercial advantage.
Al Ihkam journal (Journal of Law & Social Studies) provides immediate open access to its content on the principle that making research freely available to the public supports a greater global exchange of knowledge. This journal is licensed under a Creative Commons Attribution-ShareAlike 4.0 International License.This license lets others remix, tweak, and build upon your work non-commercially, and although their new works must also acknowledge & be non-commercial, they don't have to license their derivative works on the same terms.

Al Ihkam journal Open Access articles are distributed under this Creative Commons Attribution-ShareAlike 4.0 International License (CC BY-SA). Articles can be read and shared for noncommercial purposes under the following conditions:
BY: Attribution must be given to the original source (Attribution)
NC: Works may not be used for commercial purposes (Noncommercial)