Al-Mubâdalah fî Mafhûmi Fiqhi al-Mar'ah al-Mu'âshirah bî Indûnîsiyâ
Siti Nurjanah

Institut Agama Islam Negeri Metro, Lampung

Agus Hermanto

Universitas Islam Negeri Raden Intan, Lampung

Lutfiana Dwi Mayasari

Institut Agama Islam Riyadlotul Mujahidin Ngabar, Ponorogo

Nety Hermawati

Institut Agama Islam Negeri Metro, Lampung
Abstract views:
507
,
PDF downloads:
218
Keywords:
The Concept of Exchange (Mubâdalah); Contemporer Fiqh; Rights; Obligations; Woman
Abstract
Man is a leader of the household, while the wife serves as the household manager. Generally, this paradigm is embedded in our society because men are always put as the main guard at the front while wives are always set in the limited area. Contextually, the problem is in the role of women which is no longer solely in the domestic sphere. Most of them also have a role outside the home to help husbands earn a living. The purpose of this study is to obtain a reconstruction of reciprocal fiqh (mubâdalah fiqh) principle in terms of rights and obligations of both husband and wife. This research is a literature review with a qualitative type using the reciprocal (mubâdalah) approach. The results of this study show that partners in realizing justice in the household, according to the mubadalah approach, are required to make mutual help through working together, such as mutual consultation, mutual democracy and mutual taking and giving in building harmonious relationship.
الرجل هو رب الأسرة والزوجة ربة المنزل. هذا النموذج جزء لا يتجزأ من مجتمعنا بشكل عام، لأن الرجل هو الحارس الرئيسي وكان دائمًا في المقدمة بينما تكون الزوجات دائمًا في المنطقة المحدودة. وتكون المشكلة في أن دور المرأة لم يعد في المجال المنزلي فقط، بل معظمهن أيضًا لهن دور خارجَ المنزل لمساعدة الأزواج في كسب لقمة العيش. والسؤال كيف تتم حقوق وواجبات الزوج والزوجة في هذا السياق؟ الغرض من هذه الدراسة هو إعادة بناء الحقوق والالتزامات الجديدة التي تعكس مبادئ فقه المبادلة من حيث حقوق والتزامات الزوج والزوجة. هذا البحث عبارة عن مراجعة أدبية، ونوعي بمنهج التبادل (المبادلة). نتائج هذه الدراسة أن الشركة بين الرجل والمرأة في تحقيق العدالة في الأسرة يجب أن تكون مساعدة متبادلة في العمل معا مثل التشاور، والديمقراطية، والإحسان لبعضهم البعض في المعاملة
Downloads
Download data is not yet available.
References
Agnia, Dina. "Kajian kritis budaya patriarkhisme dalam agama dan keadilan perempuan (studi ketentuan poligami dalam uu. No. 1 tahun 1974)." Fikri : Jurnal Kajian Agama, Sosial Dan Budaya 1, no. 1 (2016): 23–44. https://doi.org/10.25217/JF.V1I1.6.
Al-Najjār, ʿAbd al-Majīd. "Maqāṣid Al-Sharīʿah Bi Abʿād Jadīdah." Beirut: Dar el-Gharb al-Islami, 2008.
Anggoro, Taufan. "Konsep Kesetaraan Gender Dalam Islam." Afkaruna: Indonesian Interdisciplinary Journal of Islamic Studies 15, no. 1 (June 25, 2019): 129–34. https://doi.org/10.18196/AIIJIS.2019.0098.129-134.
Asnawi, Habib Shulton. "HAM Dalam Ruang Domestik: Studi Terhadap UU. No. 23 Tahun 2004 Tentang PKDRT." Al-Mawarid Journal of Islamic Law 11, no. 2 (2011): 26065.
Auda, Jasser. Fiqh Al-Maqâşid Inaţatu Al-Ahkâm Al-Syari'ah Bî Maqâşidihâ. Virgiana, USA: Internasional Institute of Islâmîc Thought, 2006.
———. Maqâşid Al-Syâriah as Philosophy of Islâmîc Law, A System Approach. London: Internasional Institute of Islâmîc Thought, 2008.
Bashin, Kamla. Persoalan Pokok Mengenai Feminisme Dan Relevansinya. Jakarta: Gramedia, 1995.
Engineer, Asghar Ali, Farid Wajidi, and Cici Farkha Assegaf. Hak-Hak Perempuan Dalam Islam. Lembaga Studi dan Pengembangan Perempuan dan Anak, 2000.
Fakih, Mansour. "Analisis Gender Dan Transformasi Sosial, Yogyakarta." Insist Press, 1996.
Hakim, Lukman. "Corak Feminisme Post-Modernis Dalam Penafsiran Faqihuddin Abdul Kodir." Jurnal Studi Ilmu-Ilmu Al-Qur'an Dan Hadis 21, no. 1 (2020): 237–59.
Hasyim, Syafiq. Hal-Hal Yang Tak Terpikirkan Tentang Isu-Isu Keperempuanan Dalam Islam. Bandung: Mizan, 2001.
Hermanto, Agus. "Islam, Perbedaan Dan Kesetaraan Gender." Nizham Journal of Islamic Studies 5, no. 1 (2017). https://e-journal.metrouniv.ac.id/index.php/nizham/article/view/928.
https://www.nu.or.id/post/read/101746/diskusi-buku-qiraah-mubâdalah-ungkap-pentingnya-peran-perempuan
https://referensi.mubaadalahnews.com/2016/09/deskripsi-singkat-perspektif-dan-metode-mubâdalah/
https://referensi.mubaadalahnews.com/2016/09/deskripsi-singkat-perspektif-dan-metodemubâdalah/
https://mubaadalahnews.com/buku/detail_buku/2019-06-06/3,
https://shopee.co.id/Qiraah-Mubâdalah-Tafsir-Progresif-untuk-Keadilan-Gender-dalam-Islam-i.355786 91.1849487112
https://fahmina.or.id/fahmina-institute-terapkan-prinsip-mubâdalah-dalam-organisasi/
https://referensi.mubaadalahnews.com/2016/09/deskripsi-singkat-perspektif-dan-metode-
Ibn Bayyah, ᶜAbdullāh. "Mashāhid Min Al-Maqāṣid," 2018.
Jalil, Abdul, and Muhammad Taufiq. "Al-Ȃtsȃr Al-Mutarattibah 'Ȃla PERPPU (Lawȃih Al-Hukûmiyyah Al-Badaliyyah) Min Al-Munazhzhamȃt Al-Mujtama'Iyyah Raqm 2 Li 'Ȃm 2017 Dlidda Wujûd Hizb Al-Tahrîr Indûnîsiyȃ Min Manzhûr Saddi Al-Dzarî'Ah." AL-IHKAM: Jurnal Hukum & Pranata Sosial 14, no. 1 (2019): 144. https://doi.org/10.19105/al-ihkam.v14i1.1982.
KAU, Sofyan A. P., and Zulkarnain Suleman. Fikih Feminis: Menghadirkan Teks Tandingan. Yogyakarta: Pustaka Pelajar, 2014.
Kodir, Faqihuddin Abdul. "Mafhum Mubâdalah: Ikhtiar Memahami Qur'an Dan Hadits Untuk Meneguhkan Keadilan Resiprokal Islam Dalam Isu-Isu Gender." Jurnal Islam Indonesia 6, no. 2 (2016).http://jurnal-islamindonesia.isif.ac.id/index.php/Jurnal-Islam Indonesia/article/view/28.
Muhammad, K H Husein. Fiqh Perempuan; Refleksi Kiai Atas Wacana Agama Dan Gender. LKIS PELANGI AKSARA, 2001.
Mulia, Siti Musdah. Islam Dan Hak Asasi Manusia, Konsep Dan Implementasinya. Jakarta: Naufan Pustaka, 2010.
Munti, Bantara. "Ratna." Posisi Perempuan Dalam Hukum Islam Di Indonesia. Yogyakarta: LKiS, 2005.
Qadir, Faqihuddin Abdul. "Qira'ah Mubâdalah: Tafsir Progresif Untuk Keadilan Gender Dalam Islam." Yogyakarta: IRCiSoD, 2019.
Rahman, Fazlur. "Status Wanita Dalam Islam, Sebuah Penafsiran Pemikiran Modernis." As-Syir'ah 35, no. II (2001).
Santoso, Lukman Budi. "Eksistensi Peran Perempuan Sebagai Kepala Keluaraga (Telaah Terhadap Counter Legal Draf-Kompilasi Hukum Islm Dan Qira'ah Mubâdalah)." Marwah: Jurnal Perempuan, Agama Dan Jender 18, no. 2 (January 21, 2020): 107–20. https://doi.org/10.24014/MARWAH.V18I2.8703.
Savitri, Niken. HAM Perempuan. Bandung: PT. Rafika Aditama, 2008.
Taufiq, Muhamad. "Nikah Sirri Perspektif Maqashid Syariah." Al-Manhaj: Journal of Indonesian Islamic Family Law 1, no. 2 (2019): 114. https://doi.org/10.19105/al-manhaj.v1i2.3138.
Taufiq, Muhammad. "A Critique against the Perspective of Al-Thufy on the Contradiction of Maslahat and the Holy Text." Millati: Journal of Islamic Studies and Humanities 5, no. 2 (2020): 121–28. https://doi.org/10.18326/mlt.v5i2.121-128.
———. Filsafat Hukum Islam; Dari Teori Ke Aplikasi. Edited by Abd. Jalil. I. Pamekasan: Duta Media, 2019.
Taufiq, Muhammad, and Masyithah Mardhatillah. "Polygamy in Indonesian Family Law: Analysis of Maqashid Syariah." Journal of Islam in Asia 17, no. 3 (2020).
Werdiningsih, Wilis. "PENERAPAN KONSEP MUBÂDALAH DALAM POLA PENGASUHAN ANAK." IJouGS: Indonesian Journal of Gender Studies 1, no. 1 (June 22, 2020): 1–16. https://doi.org/10.21154/IJOUGS.V1I1.2062.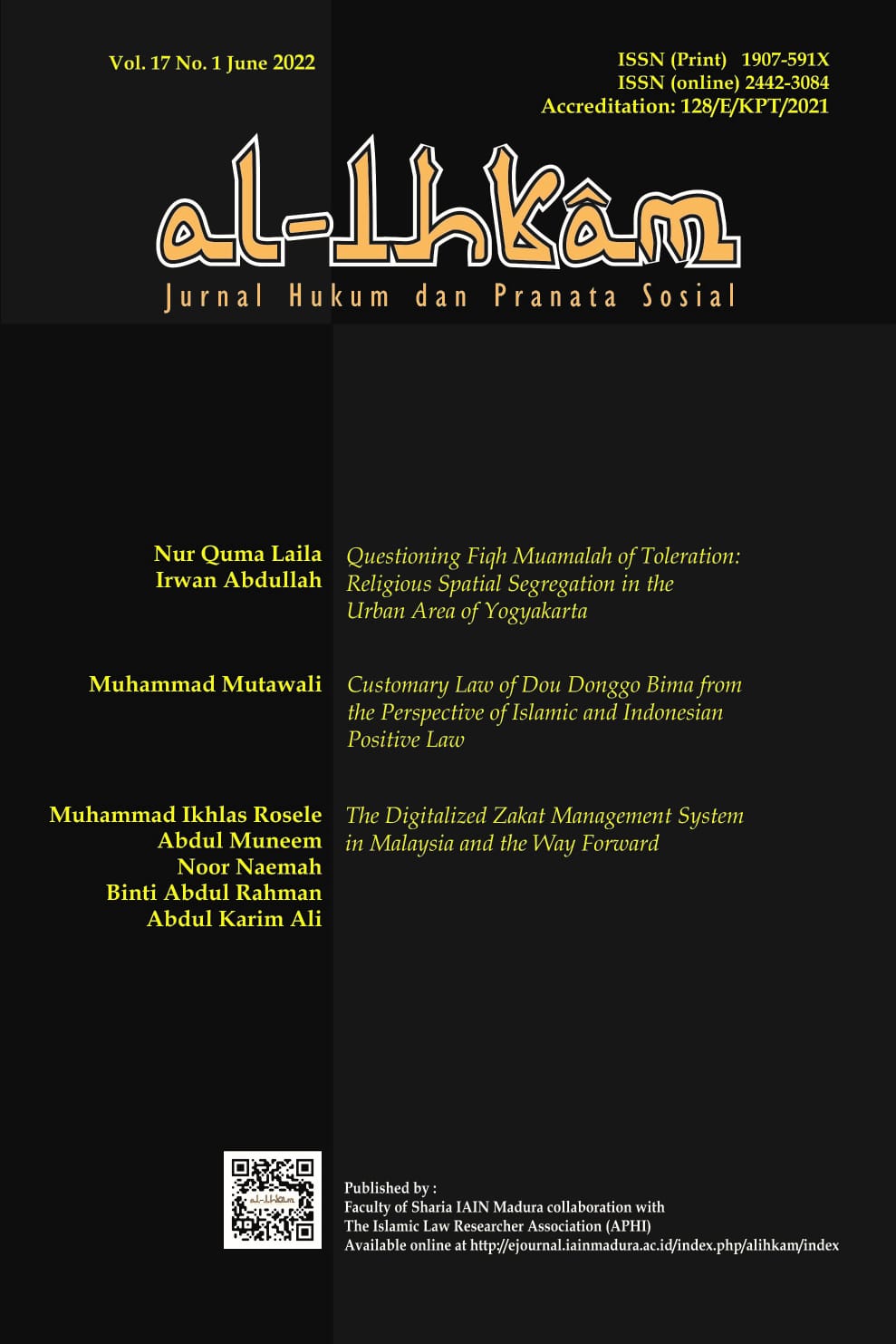 Copyright (c) 2022 AL-IHKAM: Jurnal Hukum & Pranata Sosial
This work is licensed under a Creative Commons Attribution-ShareAlike 4.0 International License.
Publishing your paper with Al Ihkam (Jurnal Hukum & Pranata Sosial/Journal of Law & Social Studies) means that the author or authors retain the copyright in the paper. Al Ihkam granted an exclusive non commercial reuse license by the author(s), but the author(s) are able to put the paper onto a website, distribute it to colleagues, give it to students, use it in your thesis etc, so long as the use is not directed at commercial advantage or toward private monetary gain. The author(s) can reuse the figures and tables and other information contained in their paper published by Al Ihkam in future papers or work without having to ask anyone for permission, provided that the figures, tables or other information that is included in the new paper or work properly references the published paper as the source of the figures, tables or other information, and the new paper or work is not direct at private monetary gain or commercial advantage.
Al Ihkam journal (Journal of Law & Social Studies) provides immediate open access to its content on the principle that making research freely available to the public supports a greater global exchange of knowledge. This journal is licensed under a Creative Commons Attribution-ShareAlike 4.0 International License.This license lets others remix, tweak, and build upon your work non-commercially, and although their new works must also acknowledge & be non-commercial, they don't have to license their derivative works on the same terms.

Al Ihkam journal Open Access articles are distributed under this Creative Commons Attribution-ShareAlike 4.0 International License (CC BY-SA). Articles can be read and shared for noncommercial purposes under the following conditions:
BY: Attribution must be given to the original source (Attribution)
NC: Works may not be used for commercial purposes (Noncommercial)