Al-'Unfu fî al-Tarbiyah min Mandzûr al-Tashrî' al-Indûnîsî wa al-Sharî'ah al-Islâmiyah
Mohammad Kosim

Institut Agama Islam Negeri Madura

Faqihul Muqoddam

Institut Agama Islam Negeri Madura

Faidol Mubarok

Universitas Islam Negeri Sunan Kalijaga Yogyakarta
Abstract views:
96
,
PDF downloads:
73
Keywords:
Violence; Education; Students; Law; Shariah
Abstract
Violence on children has become a big unsolvable problem in Indonesian education. In fact, the government has ratified some Laws to protect them from any form of violence. Likely, Islam as the mostly followed religion in the country does the same through its mission called rahmatan li al-alamin or blessing for all. This research relies on a question on how far the Indonesian rules and Islamic law concern on this issue by protecting children from any violence. Using qualitative method in the law research and documentary analysis, it is found that the Indonesian Laws have been sufficient for that purpose as they prohibit all forms of violence against students. Along with it, the perpetrators deserve for punishment due to the mistakes level while the victims deserve for recovery and trauma healing to grow their optimism. In line with that, Islamic law also prohibits any violence because it breaks the purpose of shariah, namely enforcing the goodness (maslahah) and avoiding the harm (mudarat). However, Islamic law still tolerates hitting a child for the sake of education and their goodness as long it is performed softly and becoming the very last option. Both laws, therefore, strengthen each other to protect children from any form of violence mainly at the education sphere.
لا يزال العنف نحو الأطفال في عالم التربية مشكلة كبيرة لم يتم حلها، وخاصة في إندونيسيا.  في الواقع، وضعت الحكومة عددا من القوانين واللوائح لحماية الأطفال من العنف. وبالمثل، فإن الإسلام – وهو دين غالبية سكان إندونيسيا - موجود ليكون رحمة للعالمين.  والسؤال الذي نركز عليه في هذا البحث هو، كيف تحمي القوانين واللوائح   الحالية الطلاب من أعمال العنف، وكيف تولي الشريعة الإسلامية اهتماما للحد من العنف على الأطفال؟  ومن خلال المنهج النوعي مع البحوث القانونية وتحليل الوثائق، تبين أن القوانين واللوائح الموجودة كافية لحماية الأطفال من العنف. فالأنظمة القائمة، تمنع جميع أشكال العنف ضد الطلاب، حيث يجب معاقبة الجناة وفقا لدرجة الخطأ والذنب، ويجب تقديم المساعدة للضحية للقضاء على الصدمة وتعزيز التفاؤل، ويجب التعاون من جميع الأطراف التصدي للعنف معا. من جهة أخرى، فإن الشريعة الإسلامية تمنع وتحظر العنف ضد الأطفال لأنه يتعارض مع الغرض من الشريعة الإسلامية، وهو تحقيق الصلاح ورفع الضرر.  ومع ذلك، فإن الشريعة الإسلامية تنص على السماح باستخدام العنف للأغراض التربوية من أجل مصلحة الطفل، ولكن يجب أن يتم ذلك بحذر بعناية وكملاذ أخير بعد استخدام جميع الأساليب الأخرى. إن القوانين واللوائح في إندونيسيا والشريعة الإسلامية تعزز بعضها البعض بشكل أساسي لحماية الأطفال من العنف، وخاصة في مجال التربية.
Downloads
Download data is not yet available.
References
(KP3A), Kementerian Pemberdayaan Perempuan dan Perlindungan Anak. "Peta Sebaran Kasus Kekerasan Anak," 2022.
Al-`Aini, Badruddin. 'Aun Al-Ma'Būd Sharh Sunan Abi Dawūd. Dār al-Ihyā' Turats, n.d.
Al-Abrāshī, Muhammad `Athiyah. Al-Tarbiyah Al-Islāmiyah Wa Falāsifatuhā. Beirut: Dār al-Fikr, 1969.
Al-Baihaqi, Imam. Sunan Al-Qubra. Juz 6. Beirut: Dār al-Kutub al-Ilmiyah, 2003.
Al-Bukhārī, Imām. Al-Adab Al-Mufrad. Kairo: Al-Matba`ah al-Salafiyah wa Maktabatuhā, 2011.
———. Sahīh Al-Bukhārī. Beirut: Dār ibn Katsīr, 2002.
Al-Ghazālī, Imam. Al-Mustashfā Min `Ilm Al-Usūl. Madinah: Dal al-Kutub al-Ilmiah, 1993.
———. Iḥyā' `Ulūm Al-Dīn. Juz 1. Semarang: Toha Putera, n.d.
Al-Jāwī, Muhammad Umar ibn Nawawī. Nihāyat Al-Zain Fī Irshād Al-Mubtadi'īn. Lebanon: Dār al-Kutub al-Islamiyah, 2002.
Al-Khallaf, Abd al-Wahhab. Ilmu Usūl Al-Fiqh. Kuwait: Dār al-Qalam, 1982.
Al-Naẖlāwī, Abd al-Raẖman. Usūl Al-Tarbiyah Al-Islāmīyah Wa Asālībuhā Fī Al-Bait Wa Al-Madrasah Wa Al-Mujtama'. Damaskus: Dār al-Fikr, 2010.
Al-Qāri, Mulla Ali. Mirqāt Al-Mafātih Sharh Mishkāt Al-Mashābih. Jilid 2. Beirut: Dār al-Kutub Ilmiyah, n.d.
Al-Shāthibī, Abū al-Ishāq. Al-Muwāfaqāt Fī Usūl Al-Sharī`ah. Juz II. Dār ibn `Affan, 1997.
Al-Suyūthi, Imam. Al-Dībāj `alā Sahīh Muslim Ibn Al-Hallāj. Jilid 4. Dār Ibn 'Affān li al-Nashr wa al-Tauzī', 1996.
Al-Syāthirī, Ahmad ibn Umar. Nail Al-Rajā' Bi Sharh Safīnat Al-Najā'. Lebanon: Dār al-Minhāj, 2007.
Al-Tirmidzī, Imam. Sunan Al-Tirmidzī. Riyadh: Maktabah al-Ma'arif, 1996.
Audah, Abdul Qadir. Al-Tashrī` Al-Jinā'ī Al-Islāmī. Beirut: Muassasah al-Risalah, 1992.
Bowen, Glenn A. "Document Analysis as A Qualitative Research Method." Qualitative Research Journal Vol 9 No 2 (2009): 27–48.
Dāud, Imam Abū. Sunan Abī Dāud. Riyadh: Maktabah al-Ma'arif, 2003.
Fahmi, Asma Hasan & Ibrahim Husein. Sejarah Dan Filsafat Pendidikan Islam. Jakarta: Bulan Bintang, 1979.
Firdaus. "Esensi Reward Dan Punishment Dalam Diskursus Pendidikan Agama Islam." Jurnal Pendidikan Agama Islam Al-Thariqah 5 (1) (2020): 19–29. https://doi.org/DOI: https://doi.org/10.25299/al-thariqah.2020.vol5(1).4882.
Guci, Alexander. "Ganjaran Dalam Pendidikan Perspektif Al-Qur'an." Institut PTIQ Jakarta, 2022.
HAM, Komnas. "Struktur Organisasi Komnas HAM," 2022.
Hanafi, A. Asas-Asas Hukum Pidana Islam. Jakarta: Bulan Bintang, 1989.
Kementerian P3A. Panduan Sekolah Ramah Anak. Jakarta: Deputi Tumbuh Kembang Anak KP3A, 2015.
Khaldūn, Ibn. Muqaddimah Ibn Khaldūn. 2nd ed. Damaskus: Maktabah al-Hidayah, 2004.
Khotimah, Khusnul. "Hukuman Dan Tujuannya Dalam Perspektif Hukum Islam." Jurnal Ilmiah Mizani; Wacana Hukum, Ekonomi, Dan Keagamaan 1 (2) (2014): 1–9. https://doi.org/http://dx.doi.org/10.29300/mzn.v1i2.57.
Komisi Perlindungan Anak Indonesia (KPAI). "Catatan Pelanggaran Hak Anak Tahun 2021 Dan Proyeksi Pengawasan Penyelenggaraan Perlindungan Anak Tahun 2022," 2022.
Kosim, Mohammad. Pengantar Ilmu Pendidikan. Jakarta: RajaGrafindo Persada, 2021.
KPAI. "Data Kasus Perlindungan Anak 2016-2020," 2021.
———. "Komisi Perlindungan Anak Daerah," 2022.
Maimun, and Mohammad Kosim. Moderasi Islam Di Indonesia. LKiS. Vol. 7, 2019. https://www.researchgate.net/publication/269107473_What_is_governance/link/548173090cf22525dcb61443/download%0Ahttp://www.econ.upf.edu/~reynal/Civil wars_12December2010.pdf%0Ahttps://think-asia.org/handle/11540/8282%0Ahttps://www.jstor.org/stable/41857625.
Muaja, Harly Stanly. "Dilema Hukuman Fisik Oleh Guru Terhadap Murid Di Sekolah." Lex et Societatis 9 (2) (2021): 1–13. https://doi.org/DOI: https://doi.org/10.35796/les.v9i2.35091.
Mubarok, Husni. "Demokrasi, Politik Identitas, Dan Kohesi Sosial." Jurnal Bimas Islam 11, no. 2 (June 30, 2018): 365–400. https://doi.org/10.37302/JBI.V11I2.57.
Muhadjir, Noeng. Metodologi Penelitian Kualitatif. Yogyakarta: Rake Sarasin, 2000.
Muslim, Imam. Sahih Muslim. Riyadh: Dār al-Taybah, 2006.
Nur, Iffatin, Syahrul Adam, and M. Ngizzul Muttaqien. "Maqāṣid Al-Sharī'at: The Main Reference and Ethical-Spiritual Foundation for the Dynamization Process of Islamic Law." Ahkam: Jurnal Ilmu Syariah 20, no. 2 (2020): 331–60. https://doi.org/10.15408/AJIS.V20I2.18333.
P3A, Kementerian. "Komisi Perlindungan Perempuan Dan Anak Daerah," 2022.
Prevention, Centers for Disease Control and. "Preventing Violence against Children and Youth Globally," 2022.
Robert Bogdan & S.K. Biklen. Qualitative Research for Education. Boston: MA Allyn and Bacon, 1992.
Sulistiani, Siska Lis. "The Legal Position of Waqf for Non-Muslims in Efforts to Increase Waqf Assets in Indonesia." Samarah, 2021. https://doi.org/10.22373/sjhk.v5i1.9161.
Susan Hillis, James Mercy, Adaugo Amobi & Howard Kress. "Global Prevalence of Past-Year Violence Against Children: A Systematic Review and Minimum Estimates." Pediatrics 137 (3) (2016). https://doi.org/https//doi.org/10.1542/peeds.2015-4079.
Taufiq, Muhammad. "A Critique against the Perspective of Al-Thufy on the Contradiction of Maslahat and the Holy Text." Millati: Journal of Islamic Studies and Humanities 5, no. 2 (2020): 121–28. https://doi.org/10.18326/mlt.v5i2.121-128.
———. "Istishhâb Sebagai Teori Hukum Islam Sebuah Tinjauan Historis." Ijlil 1, no. 1 (2019): 33–44. https://doi.org/10.35719/ijl.v1i01.74.
———. "Moderasi Dalam Jihad Perspektif Fikih Siyasah: Analisis Kritis Terhadap Terorisme Dan Radikalisasi Jihad." As-Shahifah: Journal of Constitutional Law and Governance 2, no. 1 (2022): 1–14. http://ejournal.iainmadura.ac.id/index.php/asshahifah/article/view/6294.
UNICEF. "Global Annual Results Report 2021: Every Child Is Protected from Violence and Exploitation," 2021.
Widiyono, Rizki Ailulia & Aan. "Studi Kasus: Penangan Masalah School Refusal Melalui Teknik Self Instruction Pada Anak Sekolah Dasar." JKI (Jurnal Konseling Indonesia) 7 (1) (2022): 29–38. https://doi.org/https://doi.org/10.21067/jki.v7i1.5728.
Women, International Center for Research on. "Are Schools Safe and Gender Equal Spaces? Finding of a Baseline Study of School Related Gender-Based Violence in Five Countries in Asia," 2015.
Yahidin. "Teks Dan Konteks Perang Dalam Al-Qur'an; Sebuah Pendekatan Sirah Nabawiyah Dan Hadis." El-Afkar Jurnal Pemikiran Islam Dan Tafsir Hadis 4 (2) (2015): 127–40.
Zuhairini. Filsafat Pendidikan Islam. Jakarta: Bumi Aksara, 1995.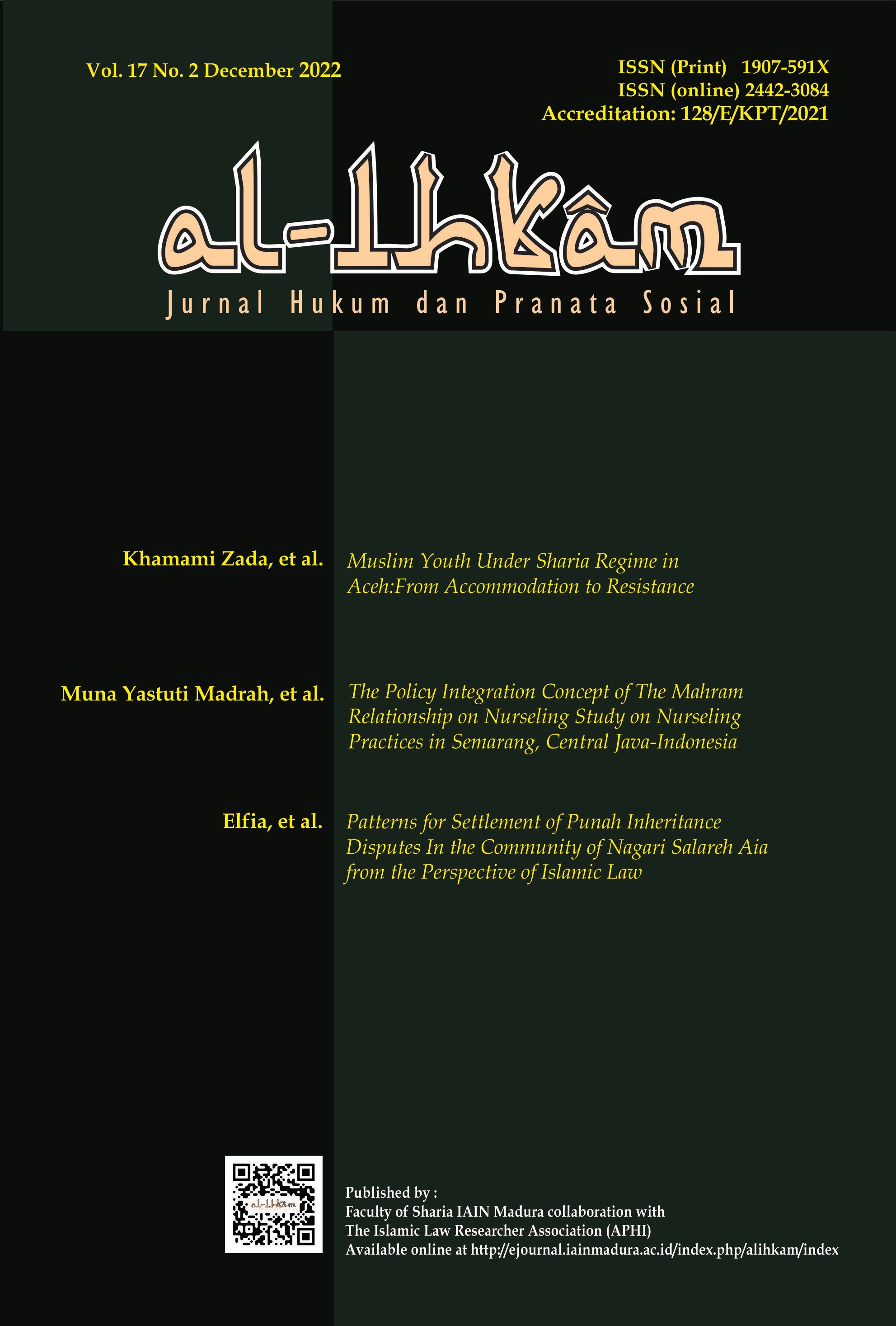 Copyright (c) 2023 AL-IHKAM: Jurnal Hukum & Pranata Sosial
This work is licensed under a Creative Commons Attribution-ShareAlike 4.0 International License.
Publishing your paper with Al Ihkam (Jurnal Hukum & Pranata Sosial/Journal of Law & Social Studies) means that the author or authors retain the copyright in the paper. Al Ihkam granted an exclusive non commercial reuse license by the author(s), but the author(s) are able to put the paper onto a website, distribute it to colleagues, give it to students, use it in your thesis etc, so long as the use is not directed at commercial advantage or toward private monetary gain. The author(s) can reuse the figures and tables and other information contained in their paper published by Al Ihkam in future papers or work without having to ask anyone for permission, provided that the figures, tables or other information that is included in the new paper or work properly references the published paper as the source of the figures, tables or other information, and the new paper or work is not direct at private monetary gain or commercial advantage.
Al Ihkam journal (Journal of Law & Social Studies) provides immediate open access to its content on the principle that making research freely available to the public supports a greater global exchange of knowledge. This journal is licensed under a Creative Commons Attribution-ShareAlike 4.0 International License.This license lets others remix, tweak, and build upon your work non-commercially, and although their new works must also acknowledge & be non-commercial, they don't have to license their derivative works on the same terms.

Al Ihkam journal Open Access articles are distributed under this Creative Commons Attribution-ShareAlike 4.0 International License (CC BY-SA). Articles can be read and shared for noncommercial purposes under the following conditions:
BY: Attribution must be given to the original source (Attribution)
NC: Works may not be used for commercial purposes (Noncommercial)