Patterns for Settlement of Punah Inheritance Disputes In the Community of Nagari Salareh Aia from the Perspective of Islamic Law
Elfia

Uiversitas Islam Negeri Imam Bonjol Padang

Sandria Milka Ratna Sari

Universitas Islam Negeri Imam Bonjol Padang

Ikhwan

Universitas Islam Negeri Imam Bonjol Padang

Muchlis Bahar

Universitas Islam Negeri Imam Bonjol Padang

Nurus Shalihin

Universitas Islam Negeri Imam Bonjol Padang
Abstract views:
459
,
PDF downloads:
85
Keywords:
Islamic Inheritance, Minangkabau, Dispute Settlement, Punah
Abstract
This research aims to investigate the settlement pattern of inheritance disputes in Nagari Salareh Aia as well as the impact of this settlement pattern. This is a field study using customary law and Islamic law approaches. Data were obtained through interviews and document studies. To analyze data, the Creswell approach was used, which includes data reduction, data verification, and drawing conclusion. This research reveals three significant findings. First, the customary settlement pattern, for heirs who control punah inheritance, is done by selling it to other. If there are one or more heirs, the remaining sale of the assets is divided among the heirs after the Mamak's rights are excluded. Second, the settlement of punah inheritance disputes in Salareh Aia fosters close family ties. It also clarifies the heirs' position regarding inheritance and property status, whether it is a high inheritance or low inheritance. Third, based on the pattern of settlement and the resulting impact, it can be concluded that the mechanism for resolving disputes over the Punah inheritance in the Nagari Salareh Aia has fulfilled sharia principles, namely to maintain the property and the honor of the people.
Downloads
Download data is not yet available.
References
Abu Bakar, Al Yasa'. Rekonstruksi Fikih Kewarisan. Banda Aceh: LKAS, 2012.
Agustar, Ria. "Pelaksanaan Pembagian Warisan Atas Harta Pencarian Dalam Lingkungan Adat Minangkabau Di Kecamatan Lubuk Kilangan Kota Padang." Program Pascasarjana Universiats Diponegoro, 2008.
Amralis Angku Rajo Endah. "Wawancara," 2021.
Anshori, Abdul Ghofur, and Yulkarnain Harahab. Hukum Islam Dinamika Dan Perkembangannya Di Indonesia. Yogyakarta: Kreasi Total Media, 2008.
Anwar, CHairul. HUkum Adat Indonesia Meninjau HUkum Adat Minangkabau. Jakarta: PT.Rineka Cipta, 1997.
Arman Dt. Tan Mangindo, Pucuk Adat Nan 15. "Wawancara," 2021.
Asril Dt. Rangkayo Mulia. "Wawancara," 2021.
Atmaji, Endah Dwi. Hukum Waris Dalam Islam. Klaten: Cempaka Putih, 2019.
Bachtiar, Maryati. "Hukum Waris Islam Dipandang Dari Perspektif Hukum Keadilan Gender" 3, no. 1 (n.d.).
Deyan, Rama, Teuku Yudi Afrizal, Fakultas Hukum, and Universitas Malikussaleh. "PENYELESAIAN SENGKETA WARIS ( MENURUT HUKUM ADAT MINANGKABAU DAN HUKUM ISLAM )" IV, no. Oktober (2021): 436–46.
Edi. "Wawancara," 2021.
Edi, Iron Maria. Langgam: Struktur Politik Lokal Minangkabau Yang Tergerus, (Kasus Langgam Nagari Salareh Aia, Kecamatan Palembayan, Kabupaten Agam, 2019.
Eric, Eric. "Hubungan Antara Hukum Islam Dan Hukum Adat Dalam Pembagian Warisan Di Dalam Masyarakat Minangkabau." Jurnal Muara Ilmu Sosial, Humaniora, Dan Seni 3, no. 1 (2019): 61. https://doi.org/10.24912/jmishumsen.v3i1.3532.
Ernawati, and Baharudd. "Akulturasi Kewarisan: Penyelesaian Sengketa Pusaka Tinggi Di Minangkabau," 2017.
Farahdillah, Puspita, Devi Siti, Hamzah Marpaung, and Universitas Singaperbangsa Karawang. "Mediasi Tentang Penyelesaian Sengketa Waris: Studi Putusan No. 181/PDT.G/2013/PA.YK" 9, no. 1 (2022): 381–95.
Firdaus. Ushul Fiqih: Metode Mengkaji Dan Memahami Hukum Islam. Depok: Rajawali Pers, 2017.
Ilham, Rini Fahriyani, and Ermi Suhasti. "MEDIASI DALAM PENYELESAIAN SENGKETA WARIS : STUDI PUTUSAN NO . 181 / PDT . G / 2013 / PA . YK" 9, no. 181 (2016): 67–86.
Iska, Syukri, David David, Elsy Renie, and Ifelda Nengsih. "Implications of the Pagang Gadai Contract on Disharmony Social Actors in Minangkabau Community." JURIS (Jurnal Ilmiah Syariah) 21, no. 1 (June 9, 2022): 27–37. https://doi.org/10.31958/JURIS.V21I1.5647.
Islamiyati. "Analisis Keadilan Pada Pembagian Harta Warisan Menurut Hukum Islam," n.d.
Jelo, Rabuman Dt. "Wawancara," 2021.
Kamaluddin, Safrudin Halimy. Adat Minangkabau Dalam Perspektif Hukum Islam. Padang: Hayfa Press, 2005.
Karjoko, Lego, Abdul Kadir Jaelani, Hilaire Tegnan, Henning Glaser, and Muhammad Jihadul Hayat. "Islamic Court's Approach to Land Dispute in Inheritance Cases." Ahkam: Jurnal Ilmu Syariah 21, no. 2 (2021): 213–38. https://doi.org/10.15408/AJIS.V21I2.21864.
Kasiman Dt. Marajo Nan Tinggi. "Wawancara," 2021.
Lazuardi, Danial Abdillah, and Endang Pandamdaro. "Harta Pusaka Tinggi Menurut Hukum Waris Adat Minangkabau," 2015, 1–13.
M. Ansar Israr, Hirdayadi. "Tehnik Pembagian Warisan Terhadap Anak Bungsu Perempuan Dalam Masyarakat Kemukiman Lamblang Kec. Kuta Baro Kab. Aceh Besar Menurut Hukum Islam." Samarah 1, no. 2 (2018).
Maimun. "The Women's Rights in Divorce and Gender Equality Discourse in The Dynamics of Divorce in Madura." Samarah: Jurnal Hukum Keluarga Dan Hukum Islam 6, no. 1 (June 27, 2022): 468–92. https://doi.org/10.22373/SJHK.V6I1.12804.
MIftahul Huda, Niswatul Hidayati, Khairil Umami. "Fiqh and Custom Negotiation in Avoiding Inheritance Dispute Tradition among Mataraman Society East Java." Al Ihkam : Jurnal Hukum Dan Pranata Sosial 15, no. 2 (2020). https://doi.org/https://doi.org/10.19105/al-lhkam.v15i2.3787.
Muhammadi, Qasim. "Distribution of Heritage Association of Harta Pusaka Tinggi And Harta Pusaka Rendah in Padang Pariaman The Theme in This Study Is the Distribution of Inheritance from a Mixture of Pusaka Tinggi and Pusaka Rendah Which Is Located in Nagari Lurah Ampalu Dis" 30, no. 1 (2020): 39–60.
Poespasari, Ellyne Dwi. Pemahaman Seputar Hukum Waris Adat Di Indonesia. Jakarta Timur: Kencana, 2018.
Prayogi, M Guntur Ageng. "(IAIN) Metro Lampung," 2018.
Rahmat, Indra. "( Studi Di Kecamatan Batipuh Kabupaten Tanah Datar ) Sumber Diterbitkan Oleh : Indra Rahmat : Laboratorium Program Studi Pendidikan Sejarah Sekolah Pengelolaan Harta Pusaka Tinggi Dalam Masyarakat Adat Minangkabau ( Studi Di Kecamatan Batipuh Kabupaten Ta" 8 (2019): 15–24.
Ratmiyati. "Wawancara," 2021.
Rizeka Aprilia. Penyelesaian Sengketa Waris Di Luar Pengadilan Agama Di Kota Banjarmasin'. Universitas Islam Negeri Antasari Banjarmasin, n.d.
Sesha, Laras, Oloan Muda Hasim Harahap, and Elimartati. "Eksistensi Hukum Islam Dan Sistem Waris Adat Yang Dipengaruhi Oleh Sistem Kekerabatan Melalui Penyelesaian Al-Takharruj" 6, no. 1 (2021): 145–64.
Suganda, Ahmad, and Nabi Muhammad. "Konsep Kalalah Dalam Fiqh Waris The Concept of Kalalah in Inheritance Jurisprudence" 04 (n.d.): 1–17.
Supriadi, Lalu, and Bin Mujib. "Revitalisasi Hukum Waris Islam Dalam Penyelesaian Kasus Sengketa Tanah Waris Pada Masyarakat Sasak" 19, no. 1 (2019): 67–87. https://doi.org/10.18326/ijtihad.v19i1.67-87.
Syarifuddin, Amir. Hukum Kewarisan Islam. 2nd ed. Jakarta: Kencana, 2005.
———. Pelaksanaan HukumKewarisan Islam Dalam Lingkungan Adat Minangkabau. Jakarta: PT Gunung Agung, 1984.
Wahidah, and Faridah. "Praktik Penyelesaian Harta Warisan Pada Masyarakat Banjar." Universitas Islam Negeri Antasari Banjarmasin, 2018.
Wahyuni, Hesty, Dian Aries Mujiburohman, Sri Kistiyah, Sumatera Barat, Sekolah Tinggi, and Pertanahan Nasional. "Penanganan Sengketa Penguasaan Tanah Hak Adat Melalui Peradilan Adat Sumatera Barat" 4, no. 3 (2021).
Yerman. "Wawancara," 2021.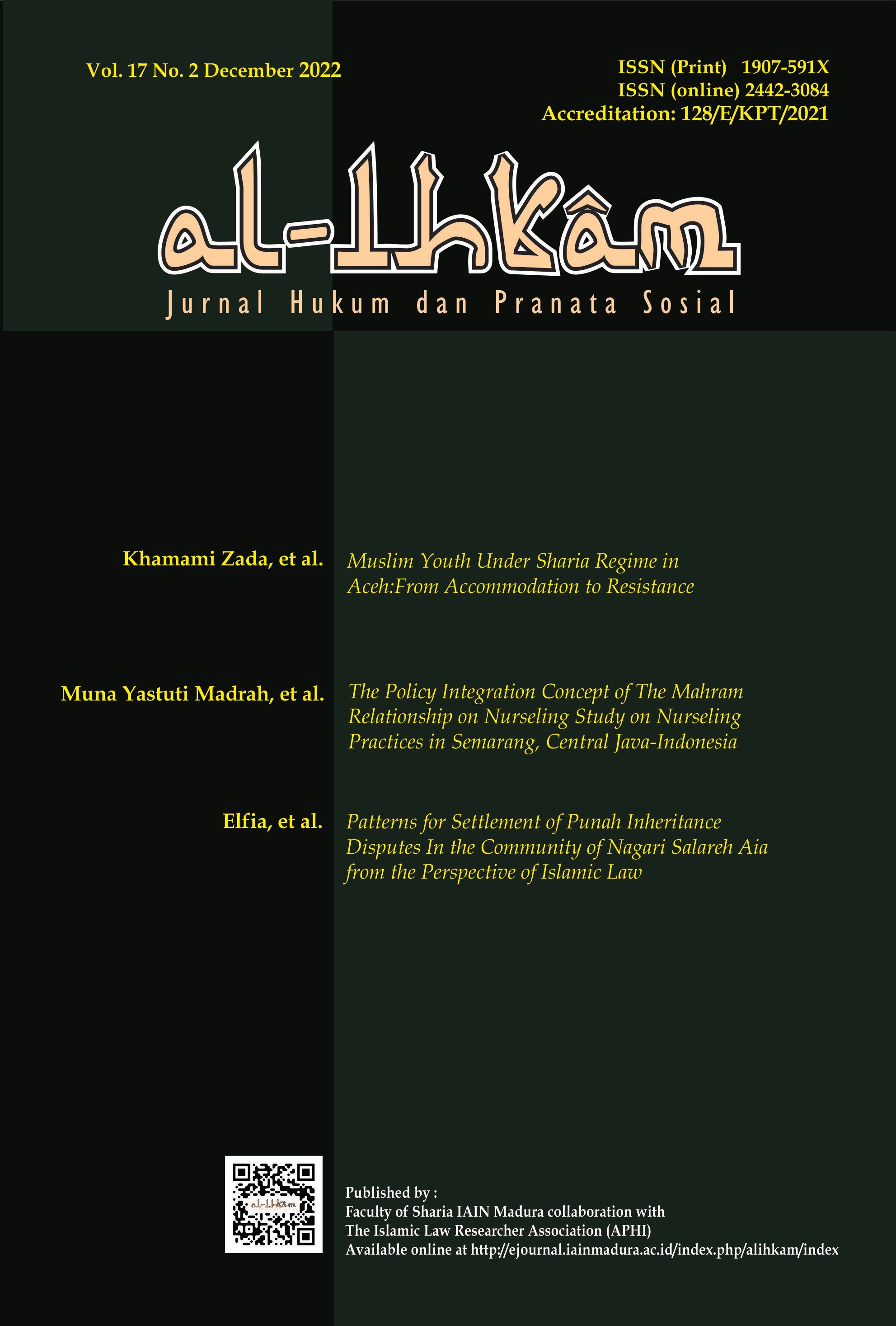 Copyright (c) 2022 AL-IHKAM: Jurnal Hukum & Pranata Sosial
This work is licensed under a Creative Commons Attribution-ShareAlike 4.0 International License.
Publishing your paper with Al Ihkam (Jurnal Hukum & Pranata Sosial/Journal of Law & Social Studies) means that the author or authors retain the copyright in the paper. Al Ihkam granted an exclusive non commercial reuse license by the author(s), but the author(s) are able to put the paper onto a website, distribute it to colleagues, give it to students, use it in your thesis etc, so long as the use is not directed at commercial advantage or toward private monetary gain. The author(s) can reuse the figures and tables and other information contained in their paper published by Al Ihkam in future papers or work without having to ask anyone for permission, provided that the figures, tables or other information that is included in the new paper or work properly references the published paper as the source of the figures, tables or other information, and the new paper or work is not direct at private monetary gain or commercial advantage.
Al Ihkam journal (Journal of Law & Social Studies) provides immediate open access to its content on the principle that making research freely available to the public supports a greater global exchange of knowledge. This journal is licensed under a Creative Commons Attribution-ShareAlike 4.0 International License.This license lets others remix, tweak, and build upon your work non-commercially, and although their new works must also acknowledge & be non-commercial, they don't have to license their derivative works on the same terms.

Al Ihkam journal Open Access articles are distributed under this Creative Commons Attribution-ShareAlike 4.0 International License (CC BY-SA). Articles can be read and shared for noncommercial purposes under the following conditions:
BY: Attribution must be given to the original source (Attribution)
NC: Works may not be used for commercial purposes (Noncommercial)