Gender Equity in Inheritance System: The Collaboration of Islamic and Bugis Luwu Customary Law
Andi Sukmawati Assaad

Institut Agama Islam Negeri Palopo

Saifuddin Zuhri Qudsy

Universitas Islam Negeri Sunan Kalijaga Yogyakarta

Baso Hasyim

Institut Agama Islam Negeri Palopo

Muhammad Taufan Badollahi

Universitas Islam Negeri Palu

Abdul Wahid Haddade

Universitas Islam Negeri Makassar
Abstract views:
134
,
PDF downloads:
97
Keywords:
Gender equity, Legal Collaboration, Inheritance Systems, Customary Communities (Bugis)
Abstract
This article is the result of research on the cultural heritage of the Bugis people of Luwu, South Sulawesi. The research questions that were raised were: how is inheritance practiced among the indigenous people of Bugis Luo, what is the meeting point of inheritance between Islamic law and customary law, and how do Islamic law and customary law combine to create gender. Primary data was collected through in-depth and structured interviews, as well as on-site observation. The analysis was performed using interpretive methods. The study was conducted by analyzing the regulations related to the legal issues discussed by analyzing the laws and comparing the decisions of the Luwu and Bugis courts with the perspective of customary law and Islamic law. The analysis used in this study resulted in women and men being equal. Bugis Luwu Sulawesi has a pluralistic hereditary system with both Islamic and traditional elements. Equal rights and rules are general ideas. This research is based on the proposed mixed inheritance model: masssideppungeng that links the heirs to family, government, and religious customary authorities, the distribution of assets to field conditions, and proportionally identifies the needs, wants, and goals of the inheritors.
Downloads
Download data is not yet available.
References
Ahmad, Mahtab, Moazma Batool, and Sophia F Dziegielewski. "State of Inheritance Rights: Women in a Rural District in Pakistan." Journal of Social Service Research 42, no. 5 (October 2016): 622–29. https://doi.org/10.1080/01488376.2016.1177633.
Bericat, Eduardo. "The European Gender Equality Index: Conceptual and Analytical Issues." Social Indicators Research 108, no. 1 (2012): 1–28.
Carter, Michael. "Gender Socialization and Identity Theory." Social Sciences 3, no. 2 (May 2014): 242–63. https://doi.org/10.3390/socsci3020242.
Cooper, Elizabeth. "Inheritance and the Intergenerational Transmission of Poverty in Sub-Saharan Africa: Policy Considerations." Chronic Poverty Research Centre Working Paper, no. 159 (2010).
Doss, Cheryl, Mai Truong, Gorrettie Nabanoga, and Justine Namaalwa. "Women, Marriage and Asset Inheritance in Uganda." Development Policy Review 30, no. 5 (September 2012): 597–616. https://doi.org/10.1111/j.1467-7679.2012.00590.x.
Ezeilo, Joy Ngozi. "Rethinking Women and Customary Inheritance in Nigeria." Commonwealth Law Bulletin 47, no. 4 (October 2021): 706–18. https://doi.org/10.1080/03050718.2020.1818596.
Fahmi, Muhammad, Irwan Abdullah, Hasanah Hasanah, Imam Mujahid, and Misbah Zulfa Elizabeth. "MEDIA REPRESENTATIONS OF GENDER: THE MARGINALIZATION OF FEMALE MUSLIM SCHOLARS IN INDONESIA." Journal of Critical Reviews 7, no. 05 (March 2020). https://doi.org/10.31838/jcr.07.05.44.
Febriawanti, Dinta, and Intan Apriyanti Mansur. "Dinamika Hukum Waris Adat Di Masyarakat Bali Pada Masa Sekarang." Media Iuris 3, no. 2 (July 2020): 119. https://doi.org/10.20473/mi.v3i2.18754.
Fikri, Fikri. "(Peer Review) Konsepsi Hukum Waris Islam Dan Hukum Waris Adat: Analisis Kontekstualisasi Dalam Masyarakat Bugis," 2022.
Groce, Nora Ellen, Jillian London, and Michael Ashley Stein. "Inheritance, Poverty, and Disability." Disability & Society 29, no. 10 (2014): 1554–68.
Gultom, Elfrida R. "DEVELOPMENT OF WOMEN POSITION IN THE PATRILINEAL INHERITANCE OF INDONESIAN SOCIETY." Jurnal Dinamika Hukum 17, no. 2 (May 2017): 194. https://doi.org/10.20884/1.jdh.2017.17.2.886.
Haniru, Rahmat. "Hukum Waris Di Indonesia Perspektif Hukum Islam Dan Hukum Adat." Al-Hukama': The Indonesian Journal of Islamic Family Law 4, no. 2 (2014): 456–74.
Haque, Muhammad Faizul, Sohirin Mohammad Solihin, Nadzrah Ahmad, and Mohd Shah Jani. "Women Rights to Inheritance in Muslim Family Law: An Analytical Study." International Journal of Islamic Business & Management 4, no. 1 (April 2020): 15–26. https://doi.org/10.46281/ijibm.v4i1.543.
Jackson, Sue. "Young Feminists, Feminism and Digital Media." Feminism & Psychology 28, no. 1 (February 2018): 32–49. https://doi.org/10.1177/0959353517716952.
Jafar, Usman, Mawardi Djalaluddin, and Nur Taufiq Sanusi. "EKSISTENSI HUKUM WARIS ADAT DALAM MASYARAKAT MUSLIM DI KOTA GORONTALO DALAM PERSPEKTIF SEJARAH." Jurnal Diskursus Islam 6, no. 2 (August 2018): 361–401. https://doi.org/10.24252/jdi.v6i2.6866.
Lilik Andar Yuni, Murjani. "Gender Sensitivity at Judge's Verdicts in Samarinda and Magelang Religious Courts; The Implementation of PERMA Number 03 of 2017." Al Ihkam : Jurnal Hukum Dan Pranata Sosial 15, no. 2 (2020). https://doi.org/https://doi.org/10.19105/al-lhkam.v15i2.2714.
Maimun, Ainul Haq Nawawi, Abdul Haq Syawqi. "The Development of Fiqh Munākaḥah (Marriage Jurisprudence) Material Course in Madurese Islamic Universities and Its Relation with Gender Equality and Divorce Prevention." Al Ihkam : Jurnal Hukum Dan Pranata Sosial 15, no. 2 (2020). https://doi.org/https://doi.org/10.19105/al-lhkam.v15i2.2734.
Mernissi, Fatima. "Beyond the Veil, Revised Edition: Male-Female Dynamics in Modern Muslim Society." Saqi Books, 2011.
Mostofa, Md. "Rules and Practices of Women's Inheritance Rights in Islam: Bangladesh Perspective." International Journal of Islamic Business & Management 3, no. 1 (April 2019): 14–20. https://doi.org/10.46281/ijibm.v3i1.245.
Mulyadi, Mohammad. "Pemberdayaan Masyarakat Adat Dalam Pembangunan Kehutanan." Jurnal Penelitian Sosial Dan Ekonomi Kehutanan 10, no. 4 (2013): 224–34.
Nasution, Khoiruddin. "PERAN KURSUS NIKAH MEMBANGUN KELUARGA SEJAHTERA." AHKAM:Jurnal Ilmu Syariah 15, no. 2 (March 2016). https://doi.org/10.15408/ajis.v15i2.2862.
Nurhayanto, Puji, and Dadan Wildan. "Transformasi Nilai-Nilai Kearifan Lokal Masyarakat Adat Cireundeu." SOSIETAS 6, no. 1 (2016).
Rahardjo, Turnomo, Hapsari D Sulistyani, and Taufik Suprihatini. "Digital Media Literacy in Samin Indigeneous People." Edited by Hadiyanto, Maryono, and Budi Warsito. E3S Web of Conferences 73 (December 2018): 14018. https://doi.org/10.1051/e3sconf/20187314018.
Reo, Nicholas James, and Kyle Powys Whyte. "Hunting and Morality as Elements of Traditional Ecological Knowledge." Human Ecology 40, no. 1 (2012): 15–27.
Ruzycki, Shannon M, Georgina Freeman, Aleem Bharwani, and Allison Brown. "Association of Physician Characteristics With Perceptions and Experiences of Gender Equity in an Academic Internal Medicine Department." JAMA Network Open 2, no. 11 (November 2019): e1915165. https://doi.org/10.1001/jamanetworkopen.2019.15165.
Saputra, Asbudi Dwi. "PEMBAGIAN HARTA WARIS MENURUT SISTEM KEWARISAN HUKUM ADAT RONGKONG STUDI MASYARAKAT ADAT DESA MARAMPA KECAMATAN RONGKONG KABUPATEN LUWU UTARA." Journal I La Galigo : Public Administration Journal 3, no. 1 (July 2020): 24–31. https://doi.org/10.35914/ILAGALIGO.394.
Sharma, Radha R, and Neha P Sharma. "Opening the Gender Diversity Black Box: Causality of Perceived Gender Equity and Locus of Control and Mediation of Work Engagement in Employee Well-Being." Frontiers in Psychology 6 (2015): 1371.
Sihombing, Deo Andika Putra. "Pembagian Waris Adat Masyarakat Suku Bugis Di Kecamatan Enok, Kabupaten Indragiri Hilir, Provinsi Riau." PREMISE LAW JURNAL 1 (2017).
Siska, Eti, Firman Firman, and Rusdinal Rusdinal. "Pergeseran Hukum Waris Adat Di Minangkabau (Studi Kasus: Hukum Warisan Tanah Ulayat Di Nagari Ladang Panjang Kecamatan Tigo Nagari, Kabupaten Pasaman, Sumatera Barat)." Culture & Society: Journal Of Anthropological Research 1, no. 2 (December 2019): 157–63. https://doi.org/10.24036/csjar.v1i2.26.
Sulong, Jasni. "Kedudukan Mazhab Syafi'i Dalam Amalan Pembahagian Pusaka Dan Wasiat Islam Di Malaysia." Jurnal Syariah 16, no. 1 (2008): 163–83.
Syarifuddin, Amir. "Hukum Kewarisan Islam." Kencana, 2011.
Whyte, Kyle. "What Do Indigenous Knowledges Do for Indigenous Peoples?" In Traditional Ecological Knowledge, 57–82. Cambridge University Press, 2017. https://doi.org/10.1017/9781108552998.005.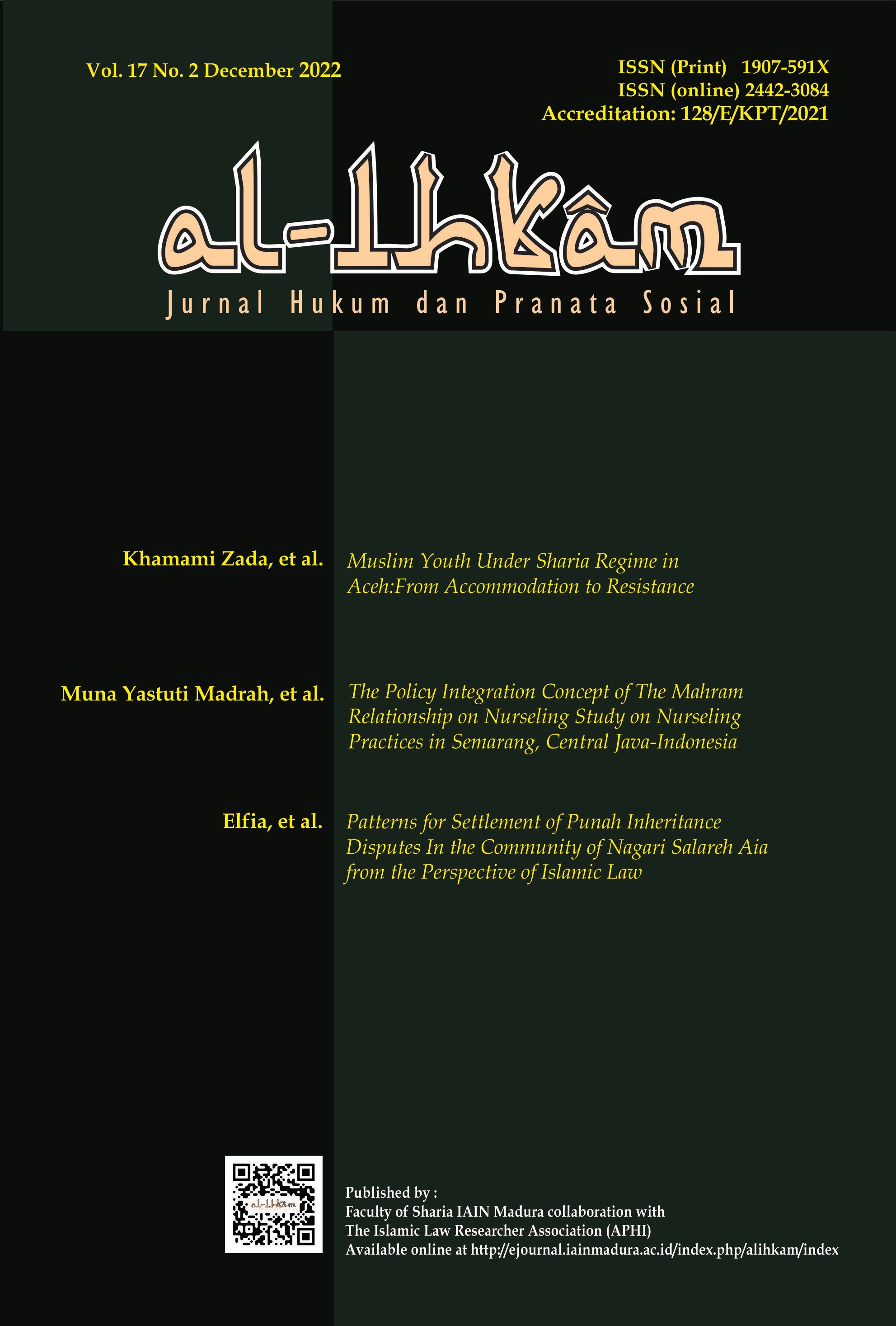 Copyright (c) 2022 AL-IHKAM: Jurnal Hukum & Pranata Sosial
This work is licensed under a Creative Commons Attribution-ShareAlike 4.0 International License.
Publishing your paper with Al Ihkam (Jurnal Hukum & Pranata Sosial/Journal of Law & Social Studies) means that the author or authors retain the copyright in the paper. Al Ihkam granted an exclusive non commercial reuse license by the author(s), but the author(s) are able to put the paper onto a website, distribute it to colleagues, give it to students, use it in your thesis etc, so long as the use is not directed at commercial advantage or toward private monetary gain. The author(s) can reuse the figures and tables and other information contained in their paper published by Al Ihkam in future papers or work without having to ask anyone for permission, provided that the figures, tables or other information that is included in the new paper or work properly references the published paper as the source of the figures, tables or other information, and the new paper or work is not direct at private monetary gain or commercial advantage.
Al Ihkam journal (Journal of Law & Social Studies) provides immediate open access to its content on the principle that making research freely available to the public supports a greater global exchange of knowledge. This journal is licensed under a Creative Commons Attribution-ShareAlike 4.0 International License.This license lets others remix, tweak, and build upon your work non-commercially, and although their new works must also acknowledge & be non-commercial, they don't have to license their derivative works on the same terms.

Al Ihkam journal Open Access articles are distributed under this Creative Commons Attribution-ShareAlike 4.0 International License (CC BY-SA). Articles can be read and shared for noncommercial purposes under the following conditions:
BY: Attribution must be given to the original source (Attribution)
NC: Works may not be used for commercial purposes (Noncommercial)