The Role Of Zakat Institutions In The Era Of The Covid-19 Outbreak: Philanthropy Movement Studies At The Kitabisa.Com Platform
Siswoyo Aris Munandar

Sekolah Tinggi Agama Islam Sadra Jakarta
Abstract views:
46
,
PDF downloads:
23
Abstract
Abstract
The presence of the COVID-19 pandemic has brought changes to the world with various challenges that were never imagined before. In Indonesia, COVID-19 has infected more than 3.8 million people since the first case was announced in March 2020, however, efforts to slow the spread of the COVID-19 virus have hampered economic activity and its impact on the level of social welfare is increasingly felt by the community. As this research is very interesting, namely with the spirit of cooperation as a form of Pancasila and increased solidarity in society during the COVID-19 pandemic, philanthropy has a major role in complementing the presence of government programs. As done by the Kitabisa.com website, it has played a role in dealing with Covid-19 in Indonesia. This research is a research with qualitative method. Researchers also utilize secondary data sources or data obtained from graphic documents (tables, notes, minutes, meetings, etc.), photographs, films, video recordings, objects, and others. The results of this research From its inception until 2019, during that time we can record that we have collected donations of up to IDR 502,375,254,938 from a total of 18,402 social campaigns and presented 1,352,169 digital philanthropists. In a short period and is expected to increase every year. On 27 June 2019, the Kitabisa.com platform has raised Rp700 billion in funds, since it was founded in 201. In the role of dealing with COVID-19, we can collaborate with various institutions, one of which is Gusdurian cares, and has the #OrangBaik Movement, #IndonesiaLawanCovid-19.
Keywords: Covid-19 Pandemic, Mutual Cooperation, Philanthropy, Kitabisa.com
Abstrak
Hadirnya pandemi COVID-19 telah membawa perubahan terhadap dunia dengan berbagai tantangan yang tidak pernah terbayangkan sebelumnya. Di Indonesia, COVID-19 telah menjangkiti lebih dari 3,8 juta orang sejak kasus pertama diumumkan pada bulan Maret 2020, namun, upaya untuk menghambat penyebaran virus COVID-19 telah menghambat kegiatan perekonomian dan dampaknya terhadap tingkat kesejahteraan sosial semakin dirasakan masyarakat. Sebagaimana penelitian ini sangat menarik yakni dengan semangat gotong-royong sebagai wujud Pancasila dan solidaritas yang meningkat di masyarakat pada masa pandemi COVID-19, filantropi memiliki peran besar dalam melengkapi kehadiran program pemerintah. Sebagaimana yang dilakukan oleh Website Kitabisa.com turut berperan dalam menghadapi Covid-19 di Indonesia. Penelitian ini adalah penelitian dengan metode kualitatif. Peneliti juga memanfaatkan sumber data sekunder atau data yang didapatkan dari dokumen-dokumen grafis (tabel, catatan, notulen, rapat, dll),foto-foto, film, rekaman video, benda-benda, dan lain-lain. Hasil penelitian ini Dari awal berdirinya sampai 2019, dalam kurun waktu tersebut kitabisa tercatat telah mengumpulkan dana donasi hingga Rp 502.375.254.938 dari total kampanye social sebanyak 18.402 serta menghadirkan 1.352.169 filantropis digital. Dalam kurun waktu yang singkat dan dipekirakan akan semakin meningkat setiap tahunnya.  Pada 27 Juni 2019, Platform Kitabisa.com sudah mengumpulkan dana Rp700 miliar, sejak didirikan pada 201. Dalam peran menghadapi covid-19 kitabisa berkerjasama dari berbagai Lembaga salah satunya Gusdurian peduli, dan mempunyai Gerakan #OrangBaik, #IndonesiaLawanCovid-19.
Kata kunci: Pademi Covid-19, Gotong-royong, Filantropi, Kitabisa.com
Downloads
Download data is not yet available.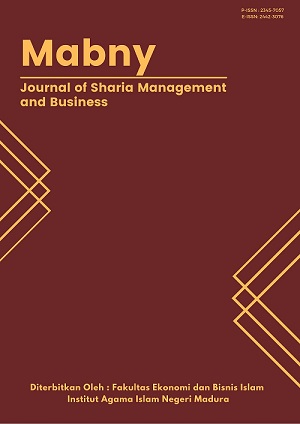 The copyright of the article fully belongs to the Mabny : Journal of Management and Sharia Business
 and publishing rights belong entirely to IAIN Madura Press