Communicative Cultural Dakwah of Abdurrahman Wahid in Pluralistic Society
Muhammad Ridho Syabibi

Institut Agama Islam Negeri Bengkulu

Abdul Karim

Universitas Muhammadiyah Cirebon

Shirin Kulkarni

Council for Creative Education

Azharuddin Sahil

Universiti Utara Malaysia
Abstract views:
161
,
PDF downloads:
180
Keywords:
Communictive, Dakwah, Plural society, Gusdur
Abstract
The purpose of this study was to examine the background of the life and thoughts of Abdurrahman Wahid or known as Gus Dur in the context of dakwah and communication using a social hermeneutic approach. Critical thinking, history, context of religious issues and Gus Dur's missionary movement are identified in his various works and socio-religious roles. This type of research is qualitative factual history and literature study, namely research that uses library materials as the main data source. The research approach used is a hermeneutic and historical-sociological approach. The research methods are historical descriptive methods and biographical reconstructions. The data collected from the two approaches were analyzed by descriptive analysis presented inductively based on the framework of Habermas' communication theory. The results of this study shows: Gus Dur emphasized that Islam is as social ethics based on historical-critical, and normative-theological, that reality epistemologically is plural, and the dialogue is necessary.
Downloads
Download data is not yet available.
References
Abdullah, Amin. Falsafah Kalam di Era Postmodernisme. Yogyakarta: Pustaka Pelajar, 2004.
Abdurrahman, M. Islam Yang Memihak. Yogyakarta: LKIS Pelangi Aksara, 2005.
An-Na'im, A.A. Islam dan Negara Sekular: Menegosiasikan Masa Depan Syariah. Edited by Terj. Sri Murniati. Bandung: Mizan, 2007.
An-Nabiry, F.B. Meniti Jalan Dakwah. Jakarta: Amzah, 2017.
Arif, Syaiful. "Gus Dur Adalah 'Kebudayaan': Sebuah Filsafat Politik." in Pesantren Ciganjur. Ciganjur, Jawa Barat, 2010. https://www. scribd.com/doc/112433910/Gus-Dur-Dan-Kebudayaan.
Azra, Azyumardi. Menggapai Solidaritas: Tensi Antara Demokrasi, Fundamentalisme, dan Humanisme. Jakarta: Pustaka Panjimas, 2002.
Bakker, Anton. and Achmad Charris Zubair. Metodologi Penelitian Filsafat. Yogyakarta: Kanisius, 1994.
Bakti, Andi Faisal. "Kita Harus Menghormati Local Value," Khazanah Islam Nusantara: Rekam Jejak Dialektika Islam dan Local Value. Jurnal Bimas Islam Departemen Agama RI 2, no. 2 (2009): 30-55.
Bakti, Andi Faisal. "Raising Public Consciousness About the Impor-tance of Freedom of Expression In Democratic Society and On Enhancing the Quality of Life of the Ordinary Citizen: the Case of Indonesia." The Journal of Development Communication 24, no. 1 (2013): 1–14. http://jdc.journals.unisel.edu.my/ojs/index.php/ jdc/article/view/115.
Baso, Ahmad. Islam Liberal Sebagai Ideologi: Nurcholish Madjid Dan Abdurrahman Wahid. Jakarta: Gerbang, 2000.
Bimantara, Pandu, Abdul Karim, Yusuf Sapari, Syamsul Arif Billah, and Titih Nurhaipah. "Lengser Character Communication in Mapag Panganten Ceremony: A Comparative Study." Elementary Education Online 20, no. 4 (2021): 529–39.https://doi.org/10. 17051/ilkonline.2021.04.57.
Dijk, Kees van. "Dakwah and Indigenous Culture; The Dissemination of Islam." Bijdragen Tot de Taal-, Land-En Volkenkunde/Journal of the Humanities and Social Sciences of Southeast Asia 154, no.2 (1998): 218–35. https://brill.com/view/journals/bki/154/2/article-p218_3.xml?language=en.
Effendi, D. Pembaruan Tanpa Membongkar Tradisi: Wacana Keagamaan di Kalangan Generasi Muda NU Masa Kepemimpinan Gus Dur. Jakarta: Kompas, 2010.
Effendy, Bahtiar. and Fahri Ali. Merambah Jalan Baru Islam. Bandung: Mizan, 1986.
Farhan, F. "Bahasa Dakwah Struktural dan Kultural Da'i dalam Perspektif Dramaturgi." At-Turas: Jurnal Studi Keislaman 1, no. 2 (2014): 1–15. https://ejournal.unuja.ac.id/index.php/atturas/ article/view/162.
Foss, Karen A., and Stephen W. Littlejohn. Encyclopedia of Communi-cation Theory. London: SAGE Publications, Inc., 2009.
Gábrišová, Radka. "Ecosophy and the New Age Movement in the Transmodern Society." Studia Philosophiae Christianae 50, no. 3 (2014): 145–57. https://bazhum.muzhp.pl/media//files/Studia_ Philosophiae_Christianae/Studia_Philosophiae_Christianae-r2014-t50-n3/Studia_Philosophiae_Christianae-r2014-t50-n3-s145-157/Studia_Philosophiae_Christianae-r2014-t50-n3-s145-157.pdf.
Griffin, David Ray. Visi-Visi Postmodern: Spiritualitas Dan Masyarakat. Yogyakarta: Kanisius, 2005.
Habermas, Jurgen. Ruang Publik: Sebuah Kajian Tentang Kategori Masyarakat Borjuis. Yogyakarta: Kreasi Wacana, 1989.
Hadirman, F. Budi. Seni Memahami: Hermeneutic Dari Schleiermacher Sampai Derida. Yogyakarta: Kanisius, 2015.
Hadiz, Vedi R., and Daniel Dhakidae. Social Science and Power in Indonesia. Jakarta, Indonesia: Equinox Publishing, 2005.
Hanafi, H. "The Revolution of The Transcendence." Kanz Philosophia: A Journal for Islamic Philosophy and Mysticism 1, no. 2 (2011): 23–49.https://journal.sadra.ac.id/ojs/index.php/kanz/article/view/ 122/101.
Hanafi, Hassan, Agama, Ideologi dan Pembangunan.Translated by Shanhaji Shaleh. Jakarta: Perhimpunan Pengembangan Pesantren dan Masyarakat (P3M), 1991.
Hardiman, F. Budi. Menuju Masyarakat Komunikatif: Ilmu, Masyarakat, Politik, & Postmodernisme Menurut Jürgen Habermas. edited by F.K. Sitorus. Yogyakarta: Kanisius, 2009.
Haryatmoko. Etika Publik Untuk Integritas Pejabat Publik dan Politisi. Jakarta: Gramedia Pustaka Utama, 2011.
Haryatmoko. Pemikiran Kritis Post-Strukturalis. Yogyakarta: Kanisius, 2016.
Heitink, Gerben. Practical Theology: History, Theory, Action Domains: Manual for Practical Theology. Jakarta: Wm. B. Eerdmans Publishing, 1999.
Hoch, Charles. J. "Pragmatic Communicative Action Theory." Journal of Planning Education and Research 26, no. 3 (2007): 272–83. https://doi.org/10.1177/ 0739456X06295029.
Karim, Abdul. "Pembaharuan Pendidikan Islam Multikulturalis." Ta'lim: Jurnal Pendidikan Agama Islam 14, no. 1 (2016): 19–35. http://jurnal.upi.edu/taklim/view/3880/pembaharuan-pendidikan-islam-multikulturalis-.html.
Karim, Abdul, Nur Fitri Mardhotillah, and Muhammad Iqbal Samadi. "Ethical Leadership Transforms into Ethnic: Exploring New Leader's Style of Indonesia." Journal of Leadership in Organizations 1, no. 2 (2019): 146–57. https://jurnal.ugm.ac.id/ leadership/article/view/10/pdf.
Karim, Abdul, and Firdaus Wajdi. "Propaganda and Dakwah in Digital Era (A Case of Hoax Cyber-Bullying against Ulama)." KARSA: Jurnal Sosial dan Budaya Keislaman 27, no. 1 (2019): 171–202. https://doi.org/10.19105/karsa.v27i1.1921.
Kellner, Douglas. Media Culture: Cultural Studies, Identity and Politics between the Modern and the Post-Modern. USA: Routledge, 2003.
Kersten, Carool. Berebut Wacana: Pergulatan Wacana Umat Islam Indonesia Era Reformasi. Bandung: Mizan, 2018.
Kimball, Charles. When Religion Becomes Evil. New York: HarperOne, 2008.
Kitiarsa, Pattana ed. Religious Commodifications in Asia: Marketing Gods. London and New York: Routledge, 2008.
Maarif, Ahmad Syafii. Islam dalam Bingkai Keindonesiaan dan Kemanusiaan: Refleksi Sejarah. Bandung: Mizan, 2015.
Suseno, Frans Magnis. Etika Dasar; Masalah-Masalah Pokok Filsafat Moral. Yogyakarta: Kanisius, 1987.
Menoh, Gusti A.B. Agama dalam Ruang Publik: Hubungan Antara Agama dan Negara dalam Masyarakat Postsekuler Menurut Jurgen Habermas. Yogyakarta: Kanisius, 2015.
Miles, Matthew B., and A. Michael Huberman. Analisis Data Kualitatif. Translated by Tjetjep Rohendi. Jakarta: UI Press, 2007.
Mufid A.R., Achmad. Ada Apa Dengan Gus Dur. Yogyakarta: Kutub, 2005.
Muhammad, K.H. Samudra Kezuhudan Gus Dur: Sang Guru Bangsa, Sang Sufi Dalam Kesehariannya. Yogyakarta: Diva Press, 2019.
Muhammadiyah, P.P. Dakwah Kultural Muhammadiyah. Yogyakarta, Indonesia: Suara Muhammadiyah, 2004.
Nazir, Moh. Metode Penelitian. Jakarta: Ghalia Indonesia, 1999.
Parera, Frans M. and T. Jakob Koekerits ed. Gus Dur Menjawab Perubahan Zaman: Warisan Pemikiran KH Abdurrahman Wahid. Jakarta: Kompas, 2010.
Parinduri, Muhammad Abrar, Abdul Karim, and Hana Lestari. "Main Values of Toba Muslim Batak Culture in Moral Education Perspective." Karsa: Journal of Social and Islamic Culture 28, no. 1 (2020): 121–40. https://doi.org/10.19105/karsa. v27i1.2567.
Qomar, Mujamil. Fajar Baru Islam Indonesia?: Kajian Komprehensif Atas Arah Sejarah Dan Dinamika Intelektual Islam Nusantara. Bandung: Mizan, 2012.
Rachman, Budi Munawar. Sekularisme, Liberalisme, dan Pluralisme. Jakarta: Grasindo, 2010.
Rumadi. Post-Tradisionalisme Islam: Wacana Intelektualisme Dalam Komunitas NU. Cirebon: Fahmina Institut, 2008.
Rumadi. Post Tradisionalisme Islam: Wacana Intelektualisme Dalam Komunitas NU. Jakarta: Ditjen Diktis, 2007.
Sahin, Abdullah. "The Future of Islamic Education : A Case for Reform." Markfield, UK: Islamic Studies and Education, 2014.
Salehuddin, A. Abdurrahman Wahid: Keislaman, Kemanusiaan, Dan Kebangsaan. Yogyakarta: BasaBasi, 2019.
Santoso, Listiyono. Teologi Politik Gus Dur. Yogyakarta: Ar-Ruzz, 2004.
Shihab, M. Quraish. Logika Agama. Jakarta: Lentera Hati, 2007.
Sobary, M. Kesalehan Sosial. Yogyakarta: LKIS Pelangi Aksara, 2007.
Stroud, Scott R. "Toward a Deweyan Theory of Communicative Mindfulness." Imagination, Cognition and Personality 30, no. 1 (2010): 57–75. https://doi.org/10.2190/IC.30.1.d.
Suaedy, Ahmad. Gus Dur: Islam Nusantara & Kewarganegaraan Bineka. Jakarta: Gramedia Pustaka Utama, 2018.
Sukardi, Metodologi Penelitian Pendidikan: Kompetensi dan Praktiknya. Jakarta: Bumi Aksara, 2003.
Sumaryono, E. Hermeneutik: Sebuah Metode Filsafat. Yogyakarta: Kanisius, 2015.
Wahid, Abdurrahman. Dialog, Kritik dan Identitas Agama. 1st ed. Yogyakarta: Dian/Interfidei, 1993.
Wahid, Abdurahman. Melawan Melalui Lelucon. Jakarta: Tempo Publishing, 2000.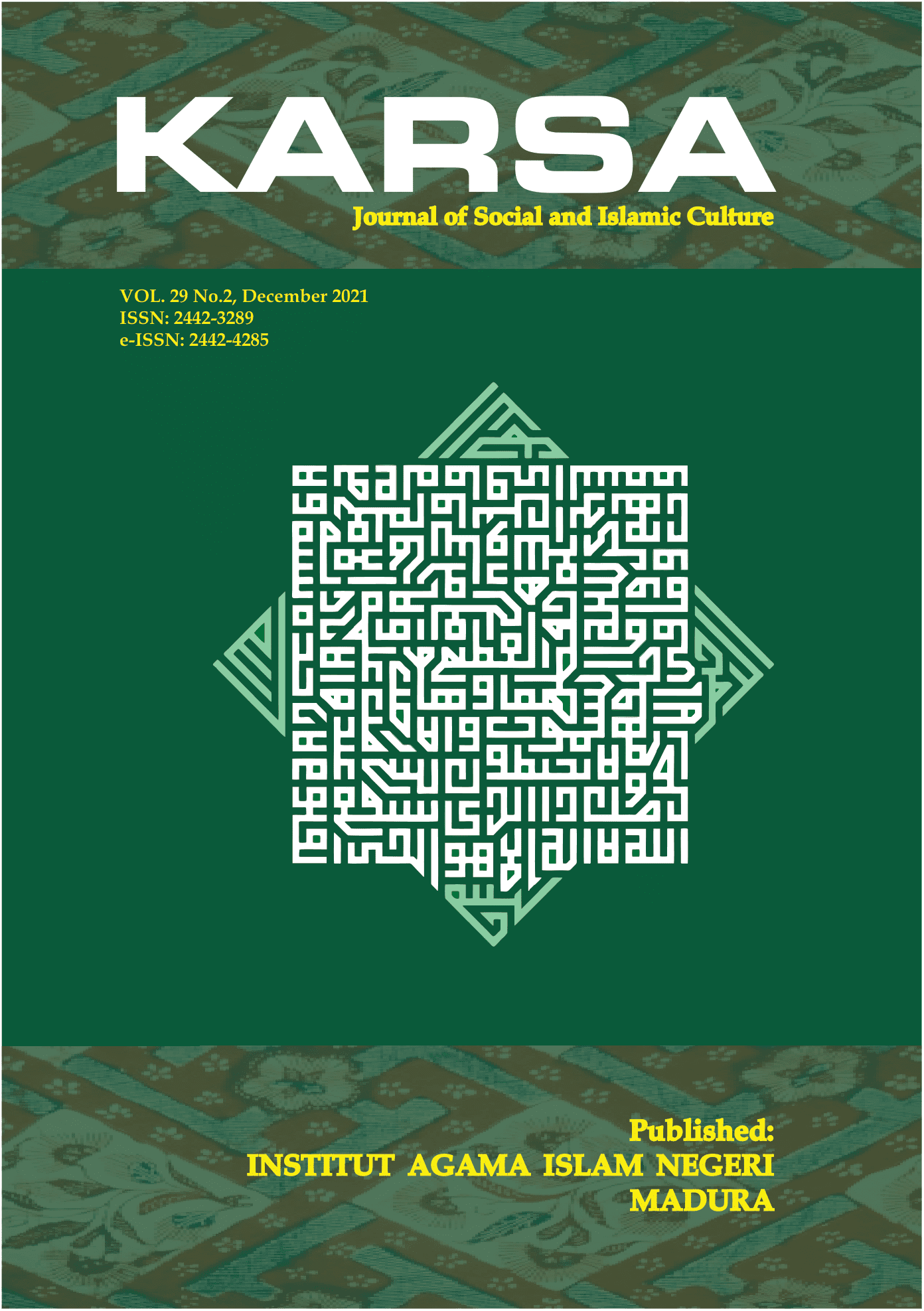 How to Cite
Syabibi, Muhammad Ridho, Abdul Karim, Shirin Kulkarni, and Azharuddin Sahil. 2021. "Communicative Cultural Dakwah of Abdurrahman Wahid in Pluralistic Society". Karsa: Journal of Social and Islamic Culture 29 (2), 255-87. https://doi.org/10.19105/karsa.v29i2.5220.
The journal operates an Open Access policy under a Creative Commons Non-Commercial Share-Alike license. Authors who publish with this journal agree to the following terms:
Authors retain copyright and grant the journal right of first publication with the work simultaneously licensed under a Creative Commons Attribution License that allows others to share the work with an acknowledgement of the work's authorship and initial publication in this journal.
Authors are able to enter into separate, additional contractual arrangements for the non-exclusive distribution of the journal's published version of the work (e.g., post it to an institutional repository or publish it in a book), with an acknowledgement of its initial publication in this journal.
Authors are permitted and encouraged to post their work online (e.g., in institutional repositories or on their website) prior to and during the submission process, as it can lead to productive exchanges, as well as earlier and greater citation of published work.