DEVELOPING AUTHENTIC MATERIAL OF LISTENING ON HIGHER EDUCATION BASED ON CONSTRUCTIVE LEARNING OF JEAN PIAGET AND VYGOTSKY THEORY
Erna Nurkholida

State Islamic Institute of Kediri
Abstract views:
2211
,
PDF downloads:
902
Keywords:
Authentic material, Constructive Theory, Higher Education
Abstract
Developing authentic material for students is a vital point. Teachers need to design material which meets the students' potential needs. The purpose of this study is to design and to develop authentic listening materials for second-semester students of IAIN Kediri based on constructive theory of Jean Piaget and Vygotsky. The method used is the Research and Development. The result is a product of listening materials under those programs. This product was tried to the 35 students as samples, as well as the revision of the product. The results obtained the validity of teaching materials that cover the content, construct, and technical validity worth 3.80 at the stage of the testing expert with valid criteria. Data regarding the practicality has a value of 4.33 with the criteria "very practical". While the results of research on the effectiveness of teaching materials shown positive response obtained from teachers and students as users of the product. After revision, the value of the effectiveness of teaching materials in the test phase to Master 4.25 and 4.39 with the criteria to students "very effective". The average effectiveness of teaching materials was 4.32 with "very effective" criteria. Teachers and students concluded that the program is effective.
Downloads
Download data is not yet available.
References
Arikunto, Suharsimi, and Cepi Safrudin Abdul Jabar. Evaluasi Program Pendidikan Pedoman. Jakarta: Bumi Aksara, 2009.
Buck, Gary. Assessing Listening. Cambridge: CUP. Central Bureau of Statistics, 2001.
Canale, Michael, and Merrill Swain. Theoretical Bases of Communicative Approaches to Second Language Teaching and Testing. Ontario Institute for Studies in Education, 1980.
Gardner, David, and Lindsay Miller. Establishing Self-Access: From Theory to Practice. Cambridge: Cambridge University Press, 1999.
Gebhard, Jerry G. Teaching English as a Foreign Or Second Language, Second Edition: A Teacher Self-Development and Methodology Guide. Ann Arbor: University of Michigan Press, 1996.
Graham, Suzanne. "Listening Comprehension: The Learners' Perspective." System 34, no. 2 (June 2006): 165–82. https://doi.org/10.1016/j.system.2005.11.001.
Harmer, Jeremy. The Practice of English Language Teaching. London: Pearson Education, 1983.
Lyons, John. Introduction to Theoretical Linguistics. Cambridge: Cambridge University Press, 1996.
Morrow, K. Authentic Texts in ESP. In S. Holden (Ed.), English for Specific Purposes. London: Modern English Publications, 1977.
Nunan, David. Designing Tasks for the Communicative Classroom. Cambridge: Cambridge University Press, 1989.
Putra, Nusa. Research and Development: An Introduction. Jakarta: PT. Raja Grafindo, 2012.
Sugiyono. Metode Penelitian Kuantitatif dan Kualitatif dan R & D. Bandung: Alfabeta, 2009.
Underwood, Mary. Teaching Listening. London: Longman, 1989.
Vygotsky, L. S. Interaction Between Learning and Development. From Mind and Society. Cambridge: Harvard University Press, 1978.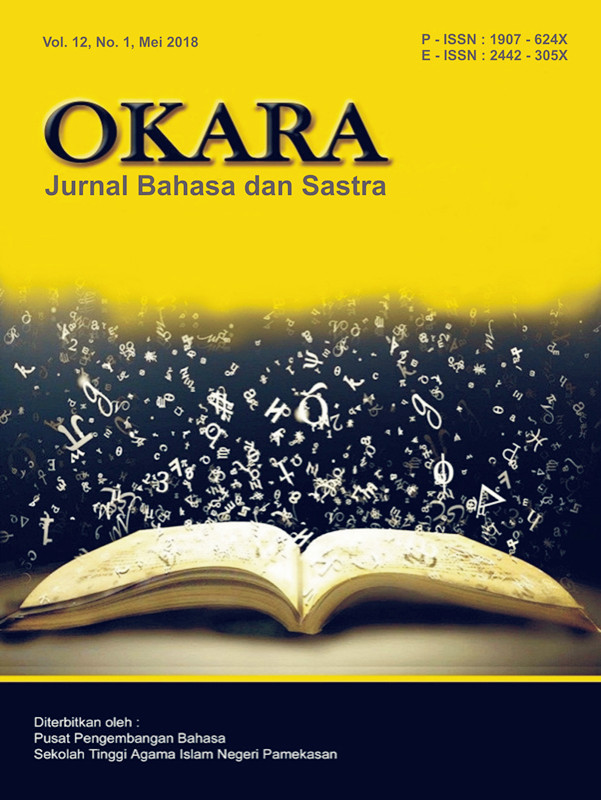 The journal operates an Open Access policy under a Creative Commons Attribution-NonCommercial 4.0 International License. Authors who publish with this journal agree to the following terms:
Authors retain copyright and grant the journal right of first publication with the work simultaneously licensed under a Creative Commons Attribution License that allows others to share the work with an acknowledgement of the work's authorship and initial publication in this journal.
Authors are able to enter into separate, additional contractual arrangements for the non-exclusive distribution of the journal's published version of the work (e.g., post it to an institutional repository or publish it in a book), with an acknowledgement of its initial publication in this journal.
Authors are permitted and encouraged to post their work online (e.g., in institutional repositories or on their website) prior to and during the submission process, as it can lead to productive exchanges, as well as earlier and greater citation of published work.
---