Intensive English Instruction in Pesantren (Study on Pondok Pesantren Puncak Darus Salam, Potoan Daja Palengaan Pamekasan)
Mohammad Muchlis Solichin

IAIN Madura
Abstract views:
133
,
PDF downloads:
134
Keywords:
English, Teaching, Learning, Pesantren Education
Abstract
Various pesantren response to the challenge of moderation. One of which is Puncak Darus Salam Pesantren that implement and perform formal education coupled with the establishment of English learning. This paper aims to find 1) the reason of the leader of Pesantren Puncak Darus Salam in organizing the English teaching-learning, and 2) English teaching-learning process in Pondok Pesantren Puncak Darus Salam, Potoan Daja, Palengaan, Pamekasan. This study is qualitative and descriptive. In collecting data, the researcher use observation with non-participant, data were also collected through in-depth interviews and the documentation. Data analysis was used involves 1) data reduction, 2) data display, and 3) conclusions and verification. The research results are 1) The rational reason for the development of learning English is religious reason, that English is seen as a language that can be used for propaganda/ Da'wah of Islam, because of its position as an international language. 2) Development of English learning organized by a specialized organization namely Darwis to use traditional and student-centered learning approach, active learning methods in a regular time each day. 3) Learning English emphasizes the mastery of writing and speaking competence.
Downloads
Download data is not yet available.
References
Aceh, Abu Bakar, Sejarah Hidup K.H. A Wahid Hasyim dan Karangan Tersiar, Jakarta Dharma Bhakti, 1982.
Arifin, Imron, Kepemimpinan Kiai, Kasus Pondok Pesantren Tebuireng, Malang: Kalimashada Press, 1993.
Bogdan, Robert C.and S. Knoop Biklen, Qualitative Research for Education: An Introduction to Theory and Method. Boston: Allyn and Bacon, n.d.
Chirzin, M. Habib, "Ilmu dan Agama dalam Pesantren" dalam Pesantren dan Pembaharuan, ed. M. Rahardjo, Dawam Jakarta: LP3ES, Cet. V, 1995.
Dhofier, Zamakhsyari Tradisi Pesantren: Studi tentang Pandangan Hidup Kyai .Jakarta: LP3ES, 1987.
I, Djumhur dan Danasaputra, Sejarah Pendidikan, Bandung: C.V. Ilmu 1979.
Kimble, G. A. N. Garmezy & E. Zigler, Principles of General Psychology New York: John Wiley & Sons, Inc, 1974.
Kuntowijoyo, Paradigma Islam Interpretasi Untuk Aksi, Bandung: Mizan, 1990.
Lukens, Ronald Alan. Jihad ala Pesantren d Mata Antropolog Amerika, terj. Abdrurrahman Mas'ud. Yogyakarta: Gema Media, 2004.
Madjid, Nurcholish, Bilik-Bilik Pesantren: Sebuah Potret Perjalanan , Jakarta: Paramadina, 1997.
Moleong, Lexy J. Metodologi Penelitian Kualitatif, (Bandung: Remaja Rosdakarya, 1998.
Nafi, M. Dian et. al., Praksis Pembelajaran Pesantren, Yogyakarta: LKiS Pelangi Aksara, 2007.
Sardiman, A. M. Interaksi dan Motivasi Belajar Mengajar. Jakarta: PT Raja Grafindo Persada, 2010.
Schunk, Dale H. Teori-Teori Pembelajaran: Perspektif Pendidikan, terj. Eva Hamdiah dan Rahmat Fajar, Yogyakarta: Pustaka Pelajar, 2012.
Slavin, Robert E. Educational Psychology: Theory and Practice, Terj. Marianto Samosir Edisi Kedelapan. Jakarta: PT Indeks, 2008.
Steenbrink, Karel A Pesantren, Madrasah dan Sekolah: Pendidikan Islam dalam Kurun Modern. Jakarta: LP3ES, 1994.
Sukamto, Kepemimpinan Kiai dalam Pesantren. Jakarta: LP3ES, 1999.
Sukmadinata, Nana Syaodih Hamzah, Landasan Psikologi Proses Pendidikan. Bandung: PT Rosda Karya, 2011.
Suyono, Belajar dan Pembelajaran. Bandung: PT. Remaja Roskadarya, 2014.
Syah, Muhibbin. Psikologi Belajar, 5th edition, Jakarta: PT Raja Grafindo Persada, 2006.
Uno, Hamzah. Orientasi Baru dalam Psikolgi Pembelajaran. Jakarta: PT Bumi Aksara, 2012.
Woolfolk, Anita. Educational Psychologi Active Learning Edition, Terj. Helly Prajitno Soetjipto and Sri Mulyani Soetjipto. Yogyakarta: Pustaka Pelajar, 2009.
Yasmadi. Modernisasi Pesantren: Kritikaan Nurcholish Madjid Terhadap Pendidikan Islam Tradisonal. Jakarta: Ciputat Press, 2002.
Ziemik, Manfred. Pesantren dalam Perubahan Sosial ter. Butche B Soendjoyo. Jakarta: P3M, Cet. I. 1986.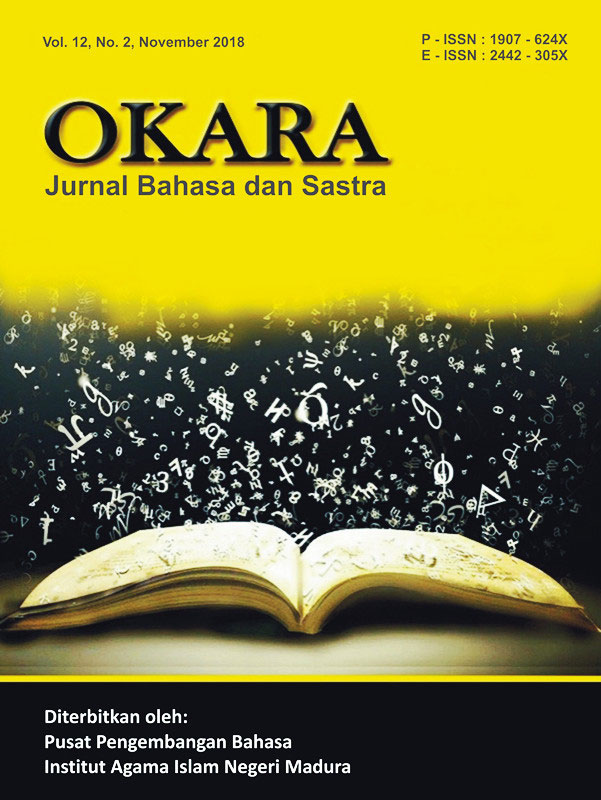 How to Cite
Solichin, M. M. (2018). Intensive English Instruction in Pesantren (Study on Pondok Pesantren Puncak Darus Salam, Potoan Daja Palengaan Pamekasan). OKARA: Jurnal Bahasa Dan Sastra, 12(2), 259-270. https://doi.org/10.19105/ojbs.v12i2.1991
The journal operates an Open Access policy under a Creative Commons Attribution-NonCommercial 4.0 International License. Authors who publish with this journal agree to the following terms:
Authors retain copyright and grant the journal right of first publication with the work simultaneously licensed under a Creative Commons Attribution License that allows others to share the work with an acknowledgement of the work's authorship and initial publication in this journal.
Authors are able to enter into separate, additional contractual arrangements for the non-exclusive distribution of the journal's published version of the work (e.g., post it to an institutional repository or publish it in a book), with an acknowledgement of its initial publication in this journal.
Authors are permitted and encouraged to post their work online (e.g., in institutional repositories or on their website) prior to and during the submission process, as it can lead to productive exchanges, as well as earlier and greater citation of published work.
---