Bilingualism of Indonesian-English in Article Titles: A Case Study in Indonesian Mechanical Engineering Articles
Yashinta Farahsani

Department of Mechanical Engineering, Faculty of Engineering, Universitas Muhammadiyah Yogyakarta, Jl. Brawijaya, Tamantirto, Kasihan, Bantul, Yogyakarta 55183, Indonesia

Margaretha Dharmayanti Harmanto

Department of Mechanical Engineering, Faculty of Engineering, Universitas Muhammadiyah Yogyakarta, Jl. Brawijaya, Tamantirto, Kasihan, Bantul, Yogyakarta 55183, Indonesia
Abstract views:
217
,
PDF downloads:
117
Keywords:
Bilingualism, Equivalence, Mechanical engineering articles, Untranslability
Abstract
Bilingualism happens not only orally but also in written Indonesian articles. Usually, the articles use Indonesian and English terms. Bilingualism even can be seen in the articles' titles. One of the fields that often use bilingual terms is found in Mechanical Engineering's articles. It happens because mechanical engineering has specialized terminology that sometimes untranslated into Indonesian terms. Many Indonesian experts have translated many English books with many variations of translation results. Therefore, the translation results are still questioned whether they are acceptable or not in Indonesian. This study aims to examine the factors of bilingualisms by observing titles of articles and finding the translation methods to translate the terminology from English to Indonesian. This study was qualitative research; by using questionnaires and observation, the research reveals that the main factor is untranslatability, where the English terminology cannot find its equivalent meaning in Indonesian. By using Molina and Albir's translation techniques, researchers reveal that the English terminologies can be translated in Indonesian using (1) amplification, (2) borrowing, (3) established equivalence, (4) calque, and (5) literal translation. This study concludes that the untranslatability problem can be solved when the experts try to use the accepted translation results rather than using English terms.
Downloads
Download data is not yet available.
References
Arsana, Made, Fathurrahman Malik, Wahyudi Priyono, Ali Alway, and Zuhdi Ma'sum. "Analisis Perpindahan Panas dengan Konveksi Bebas dan Radiasi pada Penukar Panas Jenis Pipa dan Kawat." Jurnal Teknik Kimia 7, no. 1 (2013): 1–7. https://doi.org/10.33005/jurnal_tekkim.v7i1.444.
Baker, Colin. Bilingualism: Definitions and Distinctions. Foundation of Bilingual Education and Bilingualism. 5th ed. Bristol: Multilingual Matters, 2011.
Bell, Roger T. Translation and Translating: Theory and Practice. London: Longman, 1997.
Birner, Betty. "FAQ: Bilingualism | Linguistic Society of America," 2011. https://www.linguisticsociety.org/resource/faq-what-bilingualism.
Catford, J. C. A Linguistik Theory of Translation. New York: Oxford University Press, 1974.
Chaer, Abdul, and Leonie Agustina. Sosiolinguistik Perkenalan Awal. Jakarta: Rineka Cipta, 2004.
Crystal, David. English as a Global Language. Cambridge: Cambridge University Press, 2012.
Cui, Jingjing. "Untranslatability and the Method of Compensation." Theory and Practice in Language Studies 2, no. 4 (2012): 826–30. https://doi.org/10.4304/tpls.2.4.826-830.
DeCapua, Andrea, and Ann Wintergerst. "Second-Generation Language Maintenance and Identity: A Case Study." Bilingual Research Journal 32, no. 1 (2009): 5–24. https://doi.org/10.1080/15235880902965672.
Fachrudin, Arif Rochman. "Unjuk Kerja Thermosyphon dengan Variasi Fluida Kerja." Jurnal INTEKNA : Informasi Teknik dan Niaga 18, no. 2 (2018): 67–71.
Handayani, Sri. "Analisis Ideologi Penerjemahan dan Penilaian Kualitas Terjemahan Istilah Kedokteran dalam Buku 'Lecture Notes on Clinical Medicine.'" Master Thesis, Universitas Sebelas Maret, 2009.
Harsokoesnoemo, Darmawan, and Warsowiwoho Nastopo. Daftar Istilah Teknik Mesin: Inggris-Indonesia. Bandung: Lab Elemen Mesin, Departemen Mesin ITB, 2004.
Hermawan, Rudi, Eko Prasetyo, Damora Rhakasiwi, Agung Hartanto, and Erlanda Pane. "Analisa Perancangan Ruang Bakar pada Pembangkit Listrik Mikro Turbin Gas Bahan Bakar LPG." Prosiding Semnastek, 2017, 1–12. https://jurnal.umj.ac.id/index.php/semnastek/article/view/1966.
Hirata, Andrea. The Rainbow Troops. Translated by Angie Kilbane. New York: Sarah Crichton Book, 2009.
Husodo, Nur. "Penerapan Teknologi Las Gesek (Friction Welding) dalam Rangka Penyambungan Dua Buah Logam Baja Karbon St41 Pada Produk Back Spring Pin." Jurnal Energi dan Manufaktur 6, no. 1 (2013): 43–52.
Javier, Rafael Art. The Bilingual Mind: Thinking, Feeling and Speaking in Two Languages. New York: Springer Science & Business Media, 2007.
Joko Suroto, Bambang. "Pengaruh Nilai Wettability pada Pool Boiling Heat Transfer Studi Kasus Hydrophobic, Hydrophilic dan Superhydrophilic." Jurnal Ilmu dan Inovasi Fisika 1, no. 1 (2017): 65–69. https://doi.org/10.24198/jiif.v1i01.10907.
Kashgary, Amira D. "The Paradox of Translating the Untranslatable: Equivalence vs. Non-Equivalence in Translating from Arabic into English." Journal of King Saud University - Languages and Translation 23, no. 1 (2011): 47–57. https://doi.org/10.1016/j.jksult.2010.03.001.
Kiswoyo, Eko, and Anwar Ilmar Ramadhan. "Perancangan dan Validasi Desain Alat Penukar Kalor Tipe Shell and Tube Menggunakan Computational Fluid Dynamics." Dinamika : Jurnal Ilmiah Teknik Mesin 8, no. 2 (2017): 39–46. https://doi.org/10.33772/djitm.v8i2.2407.
Manzella, Pietro. "Professionalità in International and Comparative Research: An Untranslatable Concept?" Translation Journal, 2019. https://www.translationjournal.net/January-2019/professionalita-in-international-and-comparative-research-an-untranslatable-concept.html.
Moeller, Aleidine J., and Theresa Catalano. "Foreign Language Teaching and Learning." In International Encyclopedia of the Social & Behavioral Sciences, 327–32. Elsevier, 2015. https://doi.org/10.1016/B978-0-08-097086-8.92082-8.
Molina, Lucía, and Amparo Albir. "Translation Techniques Revisited: A Dynamic and Functionalist Approach." Meta: Journal Des Traducteurs 47, no. 4 (2002): 498–512. https://doi.org/10.7202/008033ar.
Moran, Michael J., and Howard N. Shapiro. Fundamentals of Engineering Thermodynamics. New York: John Wiley & Sons, 1988.
Moran, Michael J., and Howard N. Shapiro. Termodinamika Teknik. Translated by Yulianto Sulistyo Nugroho and Adi Surjosusatyo. 2nd ed. Jakarta: Erlangga, 2004.
Mudia, Halim, and Marhama Jelita. "Perpindahan Kalor Memanfaatkan Fluida Nano dalam Kurungan Jajaran Genjang." Jurnal Sains, Teknologi dan Industri 15, no. 2 (2018): 94–97. https://doi.org/10.24014/sitekin.v15i2.4590.
Nababan, Herianto, Mangatur Rudolf Nababan, and Riyadi Santosa. "Translation Techniques and Their Impact on the Readability of Translated Bible Stories for Children." Humanus 17, no. 2 (2019): 212–22. https://doi.org/10.24036/humanus.v17i2.102729.
Nafisah, Nuharani Dyah, Rudi Hartono, and Issy Yuliasri. "Translation Methods and Degree of Equivalence in English-Indonesian Translation of Leo Tolstoy's "God Sees the Truth But Waits"." Rainbow : Journal of Literature, Linguistics and Culture Studies 7, no. 2 (2018): 1–10. https://doi.org/10.15294/rainbow.v7i2.29435.
Newmark, Peter. A Textbook of Translation. Hertfordshire: Prentice-Hall International, 1988.
Nida, Eugene Albert, Toward a Science of Translating. Leiden: E.J. Brill, 1964.
Nida, Eugene Albert, and Charles Russell Taber. The Theory and Practice of Translation. Leiden: E. J. Brill, 2003.
Nugroho, Marcellinus Christian Adi, Abdul Syakur, and Agung Warsito. "Perancangan Chamber Variasi Bahan Elektroda untuk Pengukuran Ionisasi dari Sumber Tegangan Tinggi AC dan DC." Transient: Jurnal Ilmiah Teknik Elektro 8, no. 1 (2019): 32–39. https://doi.org/10.14710/transient.7.4.1113-1120.
Nurhadi, Taufik, Cahyo Budiyantoro, and Harini Sosiati. "Identifikasi Mechanical Properties dari Bahan Daur Ulang Polystyrene." JMPM (Jurnal Material dan Proses Manufaktur) 1, no. 1 (2017): 36–40. https://doi.org/10.18196/jmpm.v1i1.2758.
Pamuji, Rochman Ikhsan, Deddy Chrismianto, and Kiryanto Kiryanto. "Analisa Stabilitas dan Equilibrium Kapal Selam Midget 150 untuk Perairan Indonesia." Jurnal Teknik Perkapalan 2, no. 3 (2014). https://ejournal3.undip.ac.id/index.php/naval/article/view/5889.
Pantouw, Lidya Anita Afni, Maya Pinkan Warouw, and Adriyani Marentek. "Penerjemahan Teks Medis Bahasa Inggris ke Bahasa Indonesia oleh Mahasiswa." Kajian Linguistik 6, no. 3 (2019): 1–15. https://doi.org/10.35796/kaling.6.3.2019.23631.
Prihatnadi, Hendra, and Budi Santoso. "Analisa Kekuatan Flange pada Sistem Pemipaan Primer Reaktor Triga 2000 Bandung." Jurnal Perangkat Nuklir 5, no. 1 (2013): 36–41.
Putra, Raja'amar Firdaus Prayogo. "Perancangan Kopling Flens pada Mesin Rebuild Ball Joint." Digital Library of UPT Perpustakaan Sebelas Maret, 2018. https://digilib.uns.ac.id/dokumen/61079/Perancangan-Kopling-Flens-pada-Mesin-Rebuild-Ball-Joint.
Rahman, Mulia, and Budianto Lanya. "Rancang Bangun Alat Pengumpul Panas Energi Matahari dengan Sistem Termosifon." Jurnal Teknik Pertanian Lampung 2, no. 2 (2013): 95–104.
Rahman, Reza Taufikur, Aris Widyo Nugroho, and Totok Suwanda. "Disain dan Pembuatan Alat Preheat Induksi pada Pengelasan Gesek Logam Dissimilar." JMPM (Jurnal Material dan Proses Manufaktur) 3, no. 2 (2019): 75–82. https://doi.org/10.18196/jmpm.3240.
Richards, Jack C., and Richard W. Schmidt. Longman Dictionary of Language Teaching and Applied Linguistics. London: Routledge, 2013.
Rosyadi, Imron, Agung Sudrajad, Dhimas Satria, Yusvardi Yusuf, and Kurnia Tri Wijaya. "Analisa Laju Aliran Fluida pada Mesin Pengering Konveyor Pneumatik dengan Menggunakan Simulasi CFD." FLYWHEEL : Jurnal Teknik Mesin Untirta 2, no. 1 (2017): 48–51. https://doi.org/10.36055/fwl.v2i1.2587.
Sari, Rensy Aula, M. Lutfi Firdaus, and Rina Elvia. "Penentuan Kesetimbangan, Termodinamika dan Kinetika Adsorpsi Arang Aktif Tempurung Kelapa Sawit pada Zat Warna Reactive Red dan Direct Blue." Alotrop 1, no. 1 (2017): 10–14.
Setiawan, Rubono, Henny Ekana Chrisnawati, and Yemi Kuswardi. "Penggunaan Ekuilibrium Nash dalam Penentuan Solusi Optimal Variabel Keputusan (Economic Order Quantity) dari Model Matematika Inventori." Jurnal Pendidikan Matematika dan Matematika SOLUSI 2, no. 4 (2019): 322–26. https://doi.org/10.20961/jpmm.
Subroto, and Shodiqin Shodiqin. "Pengaruh Volume Tabung Tekan Terhadap Unjuk Kerja Pompa Hidram." Media Mesin: Majalah Teknik Mesin 16, no. 2 (2015): 20–26. https://doi.org/10.23917/mesin.v16i2.1512.
Surusa, Frengki Eka Putra, Hadi Suyono, and Wijono Wijono. "Analisis Steady State dan Dinamik pada Perencanaan Pengembangan Pembangkit Sistem Gorontalo." Jurnal Arus Elektro Indonesia 2, no. 1 (2016): 9–14. https://jurnal.unej.ac.id/index.php/E-JAEI/article/view/2319.
Umurani, K, and Habiburrahman Habiburrahman. "Studi Karakteristik Variasi Jumlah Sudu Impeler pada Unjuk Kerja Blower Sentrifugal." Jurnal Rekayasa Material, Manufaktur dan Energi 2, no. 2 (2019): 123–30. https://doi.org/10.30596/rmme.v2i2.3665.
Utami SK, Nur. "Cultural Untranslatability: A Study on the Rainbow Troops." Celt: A Journal of Culture, English Language Teaching & Literature 14, no. 1 (2014): 48–62. https://doi.org/10.24167/celt.v14i1.56.
Verplaetse, L. S., and E. Schmitt. "Bilingualism and Learning." In International Encyclopedia of Education (Third Edition), edited by Penelope Peterson, Eva Baker, and Barry McGaw, 355–60. Oxford: Elsevier, 2010. https://doi.org/10.1016/B978-0-08-044894-7.00508-X.
Widarsono, Bambang. "Perubahan Sifat Kebasahan Fluida dan Sifat Kelistrikan Batuan Reservoir: Isu Lama, Persoalan Aktual." Lembaran Publikasi Minyak dan Gas Bumi 42, no. 1 (2008): 20–28.
Yaqin, Rizqi Ilmal. "Pengaruh Durasi Shot Peening terhadap Struktur Mikro dan Kekerasan Permukaaan pada AISI 316." Conference SENATIK STT Adisutjipto Yogyakarta 3 (2017): 16–20. https://doi.org/10.28989/senatik.v3i0.120.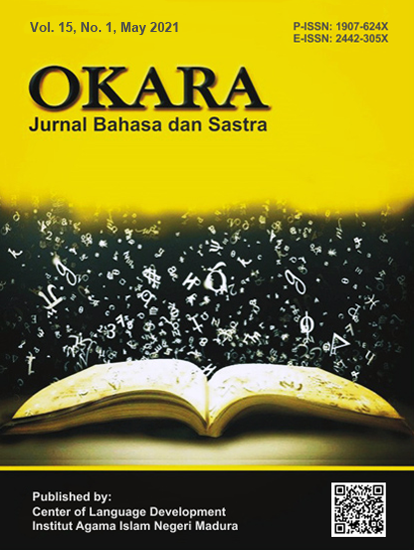 The journal operates an Open Access policy under a Creative Commons Attribution-NonCommercial 4.0 International License. Authors who publish with this journal agree to the following terms:
Authors retain copyright and grant the journal right of first publication with the work simultaneously licensed under a Creative Commons Attribution License that allows others to share the work with an acknowledgement of the work's authorship and initial publication in this journal.
Authors are able to enter into separate, additional contractual arrangements for the non-exclusive distribution of the journal's published version of the work (e.g., post it to an institutional repository or publish it in a book), with an acknowledgement of its initial publication in this journal.
Authors are permitted and encouraged to post their work online (e.g., in institutional repositories or on their website) prior to and during the submission process, as it can lead to productive exchanges, as well as earlier and greater citation of published work.
---