STRATEGI PEMERINTAH KABUPATEN PAMEKASAN DALAM PEMELIHARAAN BAHASA MADURA
Mulyadi Mulyadi

STAIN Pamekasan East Java
Abstract views:
136
,
Untitled downloads:
195
Keywords:
Government of Pamekasan, Madurese Language
Abstract
This article is about to describe a research result on the study of language maintenance efforts planned by Pamekasan (a district in Madura island). This study is considered urgent due to a fact that Madurese (language spoken by Madura people) have been gradually left by the speakers. Three questions are purposed as the research focus, they are 1) how local government of Pamekasan use instructional field to maintain Madurese language; 2) how local government of Pamekasan use media to maintain Madurese language; and 3) how local government of Pamekasan use linguists to maintain Madurese language. This research is qualitative in design. The results show that the local government of Pamekasan put Madurese language as a subject in local schools that is mandatorily taught; it is also exclusively discussed in any formal forums about curriculum development; the local government also conducts in-house training programs for the Madurese language teachers.
Downloads
Download data is not yet available.
References
Arps, Bernard., "Terwujudnya Bahasa Using di Banyuwangi dan Peranan Media Elektronik di dalamnya (selayang Pandang 1970-2009)", dalam Mikihiro Moriyama dan Manneke Budiman eds., Geliat Bahasa Selaras Zaman, (Jakarta: KGP, 2010).
Bogdan R.C., dan S.J. Taylor, Introduction to Qualitative Research Methods: A Phenomenological Approach to the Social Sciences ( New York: John Wiley and Sons, Inc. 1985).
Chaer, Abdul., dan Leonie Agustina, Sosiolinguistik Perkenalan Awal,(Jakarta: Penerbit Rineka Cipta, 2004).
Crystal, David., The Cambridge Encyclopedia Language, (Cambridge: Cambridge University Press, 1987).
Garvin, P. dan Mathiot, M. "The Urbanization of the Guarani Langauge" dalam J.A. Fishman, Readings in the Sociology of Language. (Mouton:The Hague).
Mulyadi, Pemakaian Bahasa Madura di Kalangan Remaja, (Pamekasan: STAIN Pamekasan, unpublished, 2014).
Nasution, S., Metode Penelitian Naturalistik-Kualitatif (Bandung: Tarsito, 1992).
Nawawi, Hadari., Penelitian Terapan, (Yogyakarta: Gadjah Mada University Press,1994).
Sudjana, Nana., dan Ibrahim, Penelitian dan Penilaian Pendidikan (Bandung: Sinar Baru Algesindo, 2009).
Sukmadinata, Nana Syaodih., Metode Penelitian Pendidikan (Bandung: Remaja Rosdakarya, 2007).
Tim Penyusun, Ensiklopedi Pamekasan; Alam, Masyarakat dan Budaya, (Yogyakarta: Pemerintah Kabupaten Pamekasan & Fakultas Ilmu Budaya Universitas Gadjah Mada, 2010).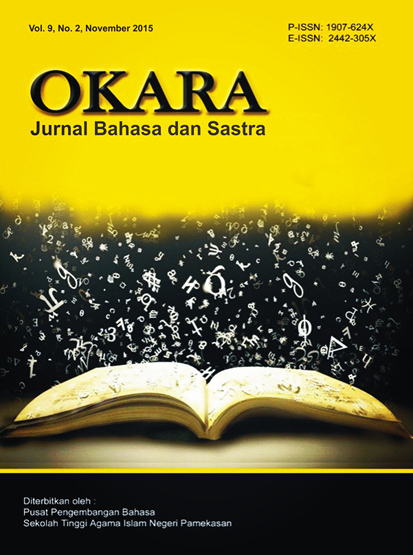 The journal operates an Open Access policy under a Creative Commons Attribution-NonCommercial 4.0 International License. Authors who publish with this journal agree to the following terms:
Authors retain copyright and grant the journal right of first publication with the work simultaneously licensed under a Creative Commons Attribution License that allows others to share the work with an acknowledgement of the work's authorship and initial publication in this journal.
Authors are able to enter into separate, additional contractual arrangements for the non-exclusive distribution of the journal's published version of the work (e.g., post it to an institutional repository or publish it in a book), with an acknowledgement of its initial publication in this journal.
Authors are permitted and encouraged to post their work online (e.g., in institutional repositories or on their website) prior to and during the submission process, as it can lead to productive exchanges, as well as earlier and greater citation of published work.
---