REKONTRUKSI DAN REORIENTASI JIHAD DI ERA KONTEMPORER; KAJIAN TEMATIK ATAS AYAT-AYAT JIHAD
Ainol Yaqin

STAIN Pamekasan
Abstract views:
485
,
PDF downloads:
501
Keywords:
Al-Qur'an, Tafsir Tematik, Rekontruksi, Reorientasi dan Jihad Kontemporer
Abstract
Jihad adalah spirit utama dalam membangun perkembangan dan kemajuan Islam. Tanpa semangat jihad, misi agung Islam itu hanya melayang dalam impian. Untuk itu, spirit jihad mesti selalu menyala dalam dada umat Islam dalam situasi dan kondisi apa pun disepanjang masa. Namun penting digarisbawahi bahwa jihad dalam Islam tidaklah diidentikkan dengan peperangan, pertempuran dan ekspedisi militer, tapi jihad memiliki pengertian yang komprehensif. Jihad dalam pengertian spesifik (peperangan) dapat diimplementasikan jika pihak lawan telah menggoncang stabilitas umat Islam dan sebagai alternatif terakhir. Sebaliknya, dalam kondisi kondusif, aman dan tenteram, jihad semacam itu sama sekali tidak dibenarkan Islam. Bahkan Islam mengecam pelaku tindakan anarkis, kekerasan, penganiyaan, teror, pengeboman dan sebagainya sebagai bentuk kejahatan. Karena itu, pemaknaan atas jihad dan implementasinya bisa berubah dan berkembang dengan memperhatikan konteks, tempat dan waktu. Dalam hal ini, jihad yang relevan dengan konteks Indonesia adalah berjihad dalam bentuk menegakkan keadilan, mengentaskan kemiskinan, menghilangkan kebodohan, menumpas kedhaliman, memberantas KKN dan segala bentuk amar ma'ruf nahi munkar. Inilah upaya jihad yang mesti senantiasa diperjuangkan umat Islam Indonesia dalam rangka menjunjung tinggi agama Islam sepanjang masa.
Downloads
Download data is not yet available.
References
'Âbidîn, Ibnu. Radd al-Mukhtâr, Juz VI. Beirut: Dar al-Kutub al-Ilmiyah, 2003.
'Umar, Sulaimân Ibn. al-Futûhât al-Ilâhiyah, Jld. III. Beirut: Dâr al-Fikr, 1994.
Agama, Kementerian Wakaf dan Urusan. al-Mausû'ah al-Fiqhiyah, Juz XVI. Kuwait: al-Salâsil, 1983.
Al-Biqâ'î, Ibrahîm bin 'Umr. Nazdmu al-Durar fî Tanâsub al-Âyât wa as-Suwar, Juz III, XIII, XIV, XVIII. Kairo: Dâr al-Kitab al-Islami, t.t.
Al-Busûwî, Muhammad Haqqî. Tafsîr Ruh al-Bayân, Jld, II, VI. Beirut: Dâr Ihya` al-Turâst al-'Arabi, 1989.
Al-Marâghî, Ahmad Mushthafâ. Tafsîr al-Marâghî, Juz II, VII, X, XVII, XX, XXI, XXVI, XXVIII. Beirut: Dâr Ihyâ` al-Turâts al-'Arabî, t.t.
Al-Qâsî, Muhammad Jamâluddîn. Mahâsin al-Ta`wîl, Jld VII. Beirut: Dâr al-Kutub al-Ilmiah, 1997.
Al-Thaba`thaba'î, Muhammad Husain. al-Mîzan fî Tafsîr al-Qur'ân, Jld V. Beirut: Mu`assis al-'Alamî, 1991.
Al-Zuhaily, Wahbah. al-Fiqh al-Islâmî wa Adillatuhu, Juz VI. Beirut: Dâr al-Fikr, 1985.
Ar-Râzî, Muhammad bin 'Umar. al-Tafsîr al-Kabîr aw Mafâtif al-Ghaib, Jld XIII, XV. Beirut: Dar al-Kutub al-Ilmiah, 2004.
As-Suyûthi, Jalâluddin. ad-Durru al-Mantsûr fî at-Tafsîr bi al-Ma`tsûr, Jld. V, X. Kairo: Markaz Hajr li al-Buhûts wa ad-Dirâsah al-Islâmiah, t.t.
Hawwa, Sa'îd. al-`Asâs fî al-Tafsîr, Jld. VII. Kairo: Dâr al-Salâm, 2003.
Katsîr, Isma`îl ibn 'Umr ibn. Tafsîr al-Qur'ân al-'Adhîm, Jld III, IV, VI. Riyadh: Dâr Thayyibah, 1999.
Mandhûr, Ibnu. Lisân al-'Arab, Jld. III. Beirut: Dâr al-Kutub al-Ilmiyah, 2003.
Ridhâ, Muhammad Rasyîd. Tafsîr al-Manâr, Juz, II, VI, X. Beirut: Dâr al-Kutub al-Ilmiah, 1999.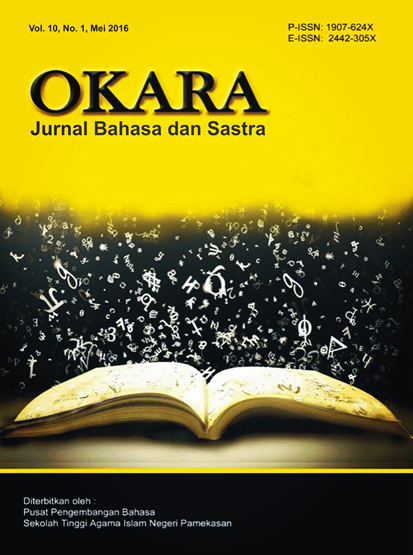 How to Cite
Yaqin, A. (2016). REKONTRUKSI DAN REORIENTASI JIHAD DI ERA KONTEMPORER; KAJIAN TEMATIK ATAS AYAT-AYAT JIHAD. OKARA: Jurnal Bahasa Dan Sastra, 10(1), 10-28. https://doi.org/10.19105/ojbs.v10i1.807
The journal operates an Open Access policy under a Creative Commons Attribution-NonCommercial 4.0 International License. Authors who publish with this journal agree to the following terms:
Authors retain copyright and grant the journal right of first publication with the work simultaneously licensed under a Creative Commons Attribution License that allows others to share the work with an acknowledgement of the work's authorship and initial publication in this journal.
Authors are able to enter into separate, additional contractual arrangements for the non-exclusive distribution of the journal's published version of the work (e.g., post it to an institutional repository or publish it in a book), with an acknowledgement of its initial publication in this journal.
Authors are permitted and encouraged to post their work online (e.g., in institutional repositories or on their website) prior to and during the submission process, as it can lead to productive exchanges, as well as earlier and greater citation of published work.
---