Representasi Nilai-Nilai Karakter Sebagai Role Model dalam Film "Arbain" : Sebuah Analisis Semiotik
Fathor Rozi

Universitas Nurul Jadid Paiton Probolinggo

Hasan Baharun

Universitas Nurul Jadid Paiton Probolinggo

Nurul Badriyah

Universitas Nurul Jadid Paiton Probolinggo
Abstract views:
896
,
PDF downloads:
583
Keywords:
Character building; moral values; role model.
Abstract
This study aims to determine and analyze the representation of moral values ​​as role models. This research is included in the qualitative approach research using the Semiotics Analysis technique which was initiated by Roland Barthes. Arbain's film as an object of research with content analysis techniques that focus on its moral values ​​combined with the religious values ​​contained in it, both of which are one unit. From this research, the results obtained include religious values ​​contained examples in studying the history of the Prophet, the obligation to seek knowledge, taking ablution, praying in congregation and the power of a prayer. While the social values ​​that we can learn are always alert in helping, smiling as a noble personality, greeting early, loving Muslim brothers and practicing wise leadership values. This Arbain film is very worthy to be used as an example and watched by a wide audience with the hope that the values ​​of the teachings of the role model of the Prophet Muhammad can be conveyed in a simple way and can be well received by our children and the wider community in general
Downloads
Download data is not yet available.
References
Angdreani, Vebri, Idi Warsah, and Asri Karolina. "Implementasi Metode Pembiasaan : Upaya Penanaman Nilai-Nilai Islami Siswa SDN 08 Rejang Lebong." At-Ta'lim ; Media Informasi Pendidikan Islam 19, no. 1 (2020): 1–21.
Delvia, Sugesti. "Mengulas Tolong Menolong Dalam Perspektif Islam." PPKn Dan Hukum 14, no. 2 (2019): 113.
Faishol, Lutfi. "Kepemimpinan Profetik Dalam Pendidikan Islam." Eduprof : Islamic Education Journal 2, no. 1 (2020): 39–53. https://doi.org/10.47453/eduprof.v2i1.30.
Hariandi, Ahmad, Wiga Rahmayanti, Nopia Wati, Yeyen Manila Syafia, Upin Ipin, and Sebagai Tontonan. "Al-Ishlah : Jurnal Pendidikan Moral Analysis in the Animated Films of Nusa" 12, no. 2 (2020). https://doi.org/10.35445/alishlah.v12.i2.220.
Ifadah, ayunda Sayyidatul. "Penanaman Nilai – Nilai Agama Islam Melalui Metode Karyawisata Pada Anak Usia Dini." Jurnal of Islamic Education Fo Early Childhood, 2019, 1–6.
Ilmu, Jurnal, Humaniora Vol, Abstrak Penanaman Nilai, Nilai-nilai Pendidikan Agama Islam, Mawar Putih Mardhotillah, Mawar Putih Mardhotillah, Panti Asuhan, Mawar Putih, and Mawar Putih Mardhotillah. "MODEL PENANAMAN NILAI-NILAI AGAMA ISLAM PADA ANAK-ANAK PANTI ASUHAN MAWAR PUTIH MARDHOTILLAH DI INDRALAYA Investment Model Ff Islamic Religious Values in Children Orphanage Mawar Putih Mardhotillah in Indralaya Abdul Gafur Universitas Sriwijaya PENDAHULUA" 04, no. 1 (2020).
Islam, Universitas, Negeri Sumatera, Utara Medan, Shofiah Nurul Huda, and Fira Afrina. "Rasulullah Sebagai Role Model Bagi Pendidik" 1, no. 1 (2020).
Ismail. "Jurnal Peurawi" 1, no. 1 (2017): 1–20.
Istianah. "Pentingnya Pendidikan Karakter Dalam Keluarga." Kantor Kementerian Agama Kabupaten Batang 3, no. 1 (2018): 1–31.
Lalujan, Tommy Freibert. "Do'a Sumber Kekuatan." Http://Www.Jurnal.Stiks-Tarakanita.Ac.Id/Index.Php/Forum/Article/ViewFile/332/201, n.d.
Manik, Wagiman. "Kewajiban Menuntut Ilmu." WARAQAT : Jurnal Ilmu-Ilmu Keislaman 2, no. 2 (2020): 17. https://doi.org/10.51590/waraqat.v2i2.63.
Maulana, Agam Hyansantang, Imron Arifin, and Raden Bambang Sumarsono. "Kepemimpinan Profetik Islam Oleh Kepala Madrasah." Jurnal Administrasi Dan Manajemen Pendidikan 2, no. 1 (2019): 026–031. https://doi.org/10.17977/um027v2i22019p26.
Mundiri, Akmal, and Musdalifatul Makkiyah. "Konstruksi Pendidikan Moral Dalam Film Bilal Bin Rabah a New Breed of Hero Karya Ayman Jamal." Al-Tadzkiyyah: Jurnal Pendidikan Islam 10, no. I (2019): 31–49.
Mursalim. "A Sociological Approach Of Literature In Short Story Senyum Yang Kekal By Korrie Layun Rampan." Proccedings Of The 28th, 2019, 270–76. https://doi.org/10.24815/.v1i1.14439.
Nasrah, and Muafiah. "Jurnal Riset Pendidikan Dasar." Jurnal Riset Pendidikan Dasar 03, no. 2 (2020): 207–13.
Nurhalisah, Siti. "Persaudaraan (Brotherhood)." Https://Osf.Io/Wncyg, 2020, 283.
Oktaviyanti, Ranti. "Journal of Primary Education." Implementasi Nilai-Nilai Sosial Dalam Membentuk Perilaku Sosial Siswa Sd 5, no. 2 (2016): 77–84.
Payuyasa, I Nyoman, and Kadek Hengki Primayana. "Meningkatkan Mutu Pendidikan Karakter Melalui Film 'Sokola Rimba.'" Jurnal Penjaminan Mutu 6, no. 2 (2020): 189–200.
Rozi, Fathor, and Innani Kholidatur Jannah. "REVITALISASI PEMBERDAYAAN BUDAYA KARAKTER NUANSA RELIGIUSTIK DALAM MEMBENTUK PERILAKU PEKERTI SANTRI." Murobbi; Jurnal Ilmu Pendidikan 5, no. 1 (2021): 17–34.
Suyudi, Muhamad, and Nasrul Wathon. "Peran Guru Akidah Akhlak Dalam Menanamkan Karakter Siswa." QALAMUNA: Jurnal Pendidikan, Sosial, Dan Agama 12, no. 2 (2020): 195–205. https://doi.org/10.37680/qalamuna.v12i2.563.
Theosofi, Jurnal, and Peradaban Islam. "RITUAL WUDHU : UPAYA MENJAGA KESEHATAN TUBUH DENGAN PERAWATAN SPIRITUAL." AL-HIKMAHJurnal Theosofi Dan Peradaban Islam 02 (2020).
Thi, S. "MAKNA UKHUWAH DALAM AL- QUR ' AN PERSPEKTIF M . QURAISH SHIHAB ( Analisis Tafsir Tematik ) Diajukan Kepada : Lembaga Penelitian Dan Pengabdian Masyarakat ( LP2M ) SEKOLAH TINGGI ILMU AL- QUR ' AN NURUL ISLAM ( STIQNIS ) KARANGCEMPAKA BLUTO SUMENEP," 2021.
Upe, Ambo. "EKSISTENSI KEBUDAYAAN TOLONG MENOLONG (KASEISE) SEBAGAI BENTUK SOLIDARITAS SOSIAL PADA MASYARAKAT MUNA (Studi Di Desa Mataindaha Kecamatan Pasikolaga)" 3, no. 2 (2019): 476–83. https://doi.org/10.31227/osf.io/vnucx.
Weisarkurnai, Bagus Fahmi. "Representasi Pesan Moral Dalam Film Rudy Habibie Karya Hanung Bramantyo (Analisis Semiotika Roland Barthes)." Jom Fisip 4, no. 1 (2017): 1–14.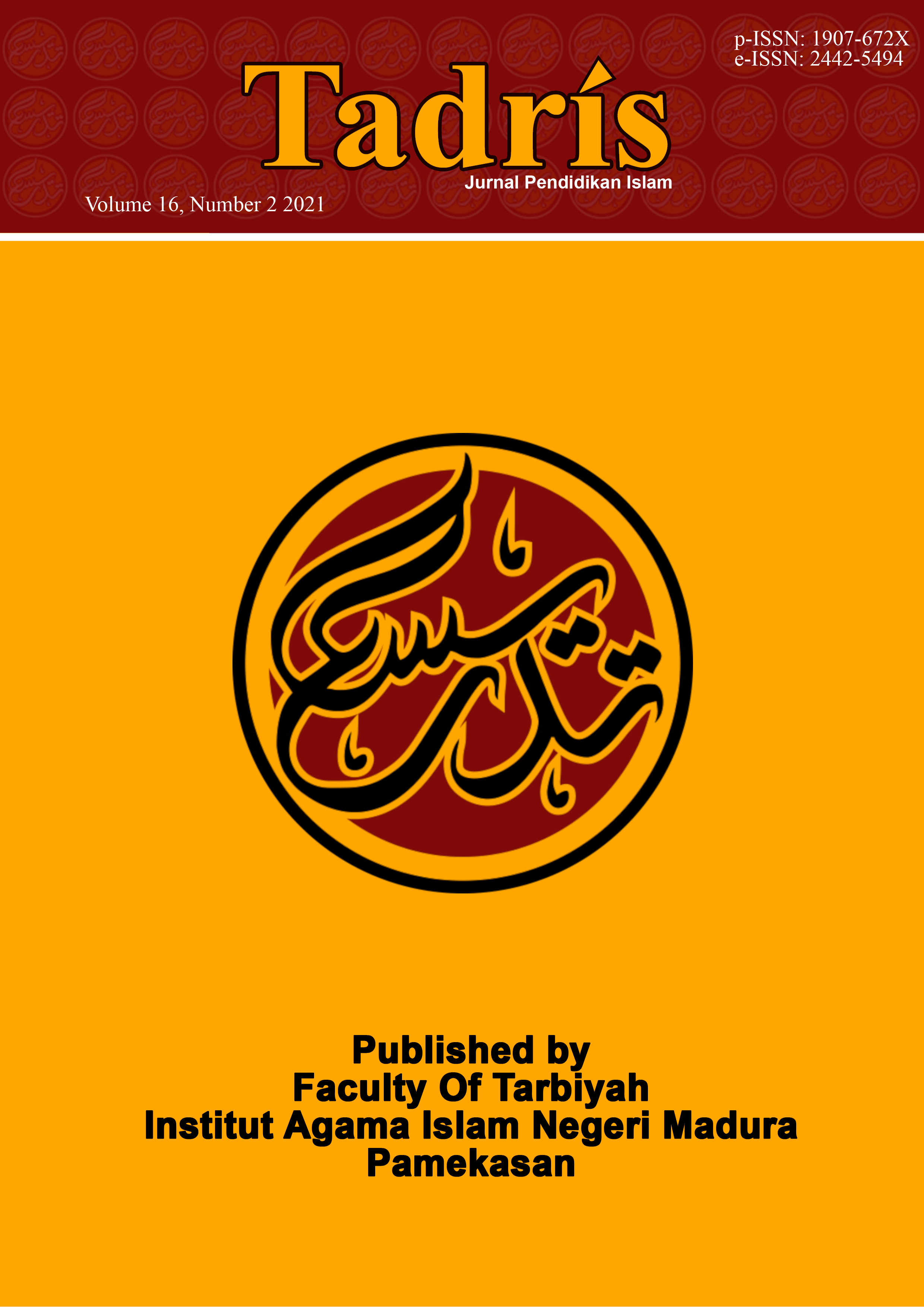 How to Cite
Fathor Rozi, Hasan Baharun, and Nurul Badriyah. 2021. "Representasi Nilai-Nilai Karakter Sebagai Role Model Dalam Film 'Arbain' : Sebuah Analisis Semiotik". TADRIS: Jurnal Pendidikan Islam 16 (2), 436 -52. https://doi.org/10.19105/tjpi.v16i2.4842.
Copyright (c) 2021 TADRIS: Jurnal Pendidikan Islam
This work is licensed under a Creative Commons Attribution-NonCommercial 4.0 International License.
The journal operates an Open Access policy under a Creative Commons Non-Commercial 4.0 International license. Authors who publish with this journal agree to the following terms:
Authors retain copyright and grant the journal right of first publication with the work simultaneously licensed under a

Commons Attribution-NonCommercial 4.0 International License

that allows others to share — copy and redistribute the material in any medium or format, and adapt — remix, transform, and build upon the material.

Authors are able to enter into separate, additional contractual arrangements for the non-exclusive distribution of the journal's published version of the work (e.g., post it to an institutional repository or publish it in a book), with an acknowledgement of its initial publication in this journal.
Authors are permitted and encouraged to post their work online (e.g., in institutional repositories or on their website) prior to and during the submission process, as it can lead to productive exchanges, as well as earlier and greater citation of published work (see The Effect of Open Access).