LAYANAN CYBERCOUNSELING PADA MASA PANDEMI COVID-19
Abstract views:
1926
,
PDF downloads:
793
Abstract
Kondisi pandemi COVID-19 memaksa peralihan konseling tatap muka menjadi konseling daring (dalam jaringan) atau dalam istilah bimbingan dan konseling disebut cybercounseling. Terlebih lagi dengan adanya Pembatasan Sosial Berskala Besar (PSBB) dari pemerintah membuat kebutuhan konseling secara daring menjadi bertambah besar. Hal ini tentunya menjadi solusi saat permasalahan psikologis memerlukan penyelesaian dengan segera. Hanya saja sejauhmana layanan cybercounseling ini bisa diterapkan oleh konselor pendidikan pada masa pandemi COVID-19 menjadi hal yang perlu diperhatikan. Penelitian ini dilakukan untuk mengetahui bagaimana penerapan cybercounseling pada masa pandemi, serta bagaimana proses dan media yang dapat digunakan oleh konselor. Metode penelitian yang digunakan berupa studi kepustakaan, terutama pada beberapa buku dan artikel yang secara khusus membahas cybercounseling. Hasil penelitian menunjukan bahwa proses  cybercounseling kurang lebih sama dengan proses konseling secara tatap muka namun yang perlu dipehatikan yakni pada tahap persiapan mencakup tersedianya perangkattkerast (hardware) tdan tperangkat lunakt (software) tyangtmendukung dan memadai. Sedangkan media cybercounseling dapat berbentuktwebsite/situs, telephone/handphone, temail, tchat, tinstanttmessaging, tjejaring sosial dantvideo conferencing. Kelebihan dari cybercounseling ialah dapat diakses di mana saja pada waktu yang sesuai, konselortdapat mengjangkau paratkonseli secara lebih luas, Konselor dan konseli dapat melaksanakan konseling kapan dan dimana saja atas dasar kesepakatan bersama, Walaupun tanpa teramati isyarat verbal dan fisik, tetapi kebanyakan konseli lebih mudah dalam mencurahkan pikiran dan perasaan yang mereka rasakan. sedangkan kelemahannya adalah diagnosis yang dilakukan menjadi tidak akurat dan pemberian intervensi menjadi tidak efektif karena petunjuk dan arahan yang diberikan menjadi kurang spesifik dan informasi non verbal menjadi sulit untuk diberikan.
Downloads
Download data is not yet available.
References
Bloom, J.W., 7 Walz, G.R. (2004). Cybercounseling & Cyberlearning. An Encore, US:
CAPS Press.
Gladding, S. T. (2012). Konseling; Profesi yang Menyeluruh (Edisi Keenam) (Alih
Bahasa: Winarno dan Lilian Yuwono). Jakarta: PT Indeks
Koutsonika, Helen (2009) E-Counseling: the new modality. Online Career Counseling
– a challenging opportunity for greek tertiary education. In: Proceedings of the WebSci'09: Society On-Line, 18-20 March 2009, Athens, Greece. (In Press)
Mallen, M. J., & Vogel, D. L. (2005). Introduction to the major contribution:
Counseling psychology and online counseling. The Counseling Psychologist, 33, 761-775
Muhadjir,Noeng.(1996). Metode Penelitian Kualitatif. Yogyakarta: Rake Sarasin.
National Board for Certified Counselors, Inc. and Center for Credentialing and
Education, Inc., (tt) The Practice of Internet Counseling.
Prasetiawan, H. (2016). Cyber Counseling Assisted With Facebook To Reduce Online
Game Addiction. Guidena: Jurnal Ilmu Pendidikan, Psikologi, Bimbingan dan Konseling, 6(1), 28-32.
Prasetyo, Y.R. & Djuniadi. (2015). Implementasi E-konseling pada Social Learning
Network. Edu komputika Juornal. 2 (2) http:/ /journal.unnes.ac.id/sju/indeks.php/edukom.
Prayitno. (2004). Konseling Pancawaskita. Padang: FIP Universitas Negeri Padang
Surya, M. (2003). Psikologi Konseling. Bandung: Pustaka Bani Quraisy
Ulfiah. (2008). Penanganan perilaku bullying siswa melalui konseling model pengembangan komitmen beragama. Psympathic: Jurnal Ilmiah Psikologi Pendidikan dan Perkembangan, 1(1), 67-74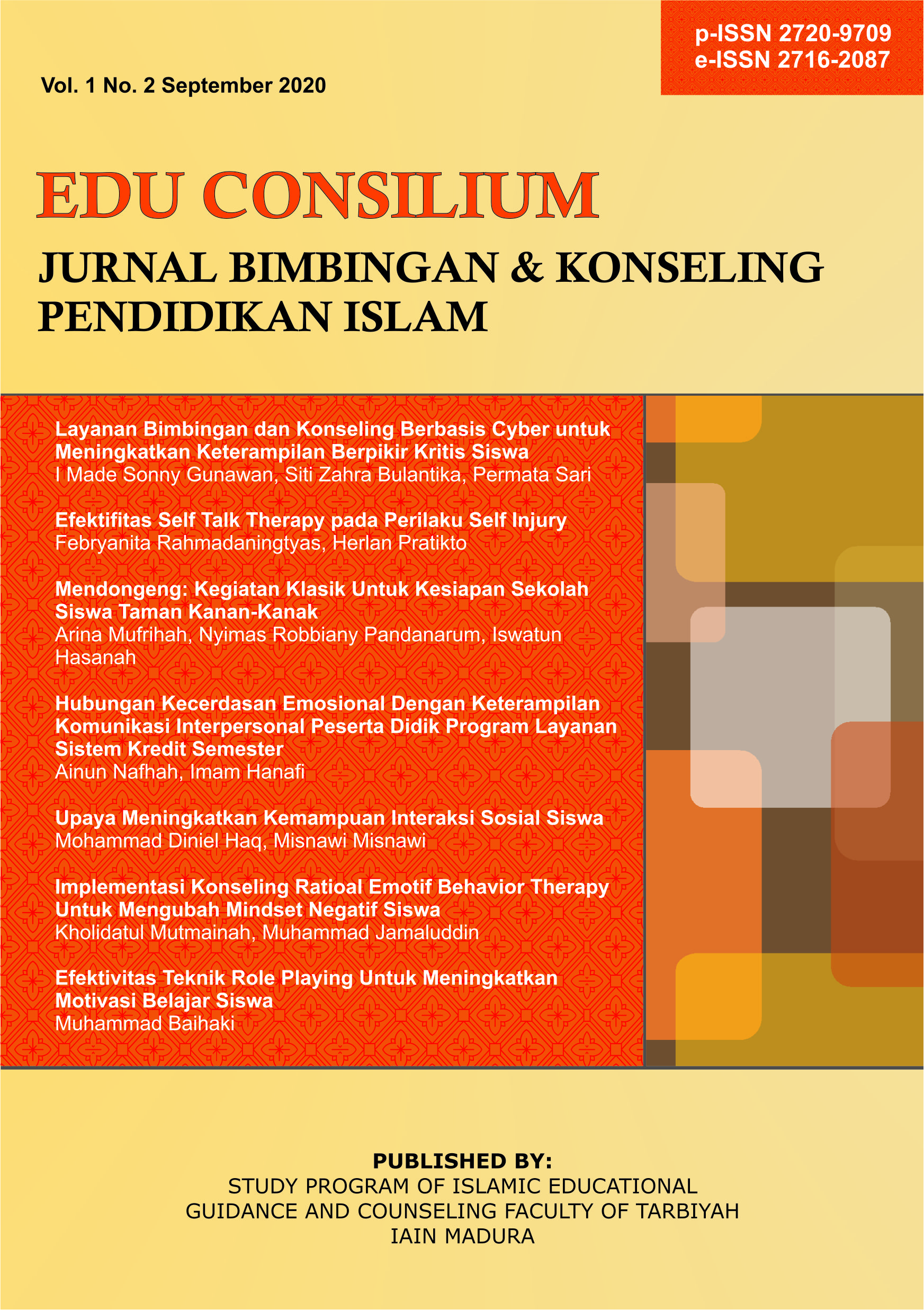 The journal operates an Open Access policy under a Creative Commons Non-Commercial 4.0 International license. Authors who publish with this journal agree to the following terms:
Authors retain copyright and grant the journal right of first publication with the work simultaneously licensed under a

Commons Attribution-NonCommercial 4.0 International License

that allows others to share — copy and redistribute the material in any medium or format, and adapt — remix, transform, and build upon the material.

Authors are able to enter into separate, additional contractual arrangements for the non-exclusive distribution of the journal's published version of the work (e.g., post it to an institutional repository or publish it in a book), with an acknowledgement of its initial publication in this journal.
Authors are permitted and encouraged to post their work online (e.g., in institutional repositories or on their website) prior to and during the submission process, as it can lead to productive exchanges, as well as earlier and greater citation of published work (see The Effect of Open Access).