THE STUDENTS' PERCEPTIONS OF AUTHENTIC TEXTS-BASED TRANSLATION
Rusiana .

Universitas Muria Kudus
Abstract views:
58
,
PDF downloads:
11
Keywords:
Students' Perceptions, Authentic Texts, Translation
Abstract
Translation requires lots of practice. As it is generally known, authentic texts provide fruitful experience for students to translate either Indonesian-English or vice versa. Authentic texts give many real uses of language in varied meaningful contexts The texts used were advertisement, abstract, local stories, tourist attraction, community service and project for money. This research is aimed at investigating whether the use of authentic texts benefits the students and describing the students' perceptions toward the use of authentic texts in Translation class. It is a qualitative research. Questionnaires were used to obtain the students' perceptions on the use of authentic texts in translation. The findings show that authentic texts-based translation benefits students in experiencing better translation. Advertisement was considered to be the most relevant text. On the contrary, they find it difficult to cope with authentic texts particularly dealing with words/terms/vocabulary, meanings, culture, and grammar. The recommendations are that the students have to be exposed to many authentic texts of varied topics in both English and Indonesian in order that they understand both the SL and TL well. For further researchers, it would be possible to research on the influence of authentic texts based translation on the students' translation skill.
Downloads
Download data is not yet available.
References
Galán-Mañas, Anabel. "Translating Authentic Technical Documents in Specialised Translation Classes." Jostrans. The Journal of Specialised Translation 16 (2011): 109–125.
Guerra, Ana Fernandez. "The Useful of Translation in Foreign Language Learning: Students' Attitudes," 2014. http://www.researchgate.net/publication/261641087.
Huessien, Ashwaq Abd Al-mahde. "Difficulties Faced by Iraqi Teachers of English in UsingAuthentic Materials in the Foreign Language Classrooms." Al-Fatih Journal 50 (2012): 22–39.
Khanmohammad, Hajar, and Maryam Osanloo. "Moving Toward Objective Scoring: A Rubric for Translation Assessment." Journal of English Language Studies 1, no. 1 (2009): 131–153.
Kuşçu, Seda, and Sezer Ünlü. "Teaching Translation: A Suggested Lesson Plan on Translation of Advertising through the Use of Authentic Materials." Procedia - Social and Behavioral Sciences 199 (August 2015): 407–14. https://doi.org/10.1016/j.sbspro.2015.07.526.
Mogahed, Mogahed M. "Use of Translation in Language Teaching." Accessed October 30, 2017. http://translationjournal.net/journal/58education.htm.
Murdoch, Yvette. "Using Authentic Texts in the Language Classroom." Unpublished Master's Thesis). Centre for English Language Studies. University of Birmingham, UK, 1999.
Nadstoga. Translation teaching in the Context of Foreign Language Pedagogy: Some Considerations. Retrieved from ifa.amu.edu.pl/psicl/files/31/09Nadstoga.pdf on October 18, 2017.
Suryawan, I Nengah. (2013). Methods of Translation Used in Translating Authentic Text of Obyek Wisata Panelokan Into Panelokan Tourist Resort. Retrieved from udayana.academia.edu/NengahSuryawan/Papers on October 10, 2016.
Tisgam, Khalida H. "Is It Possible to Teach Translation in the Classroom." Journal of College of Education For Women 20, no. 2 (2009): 528–551.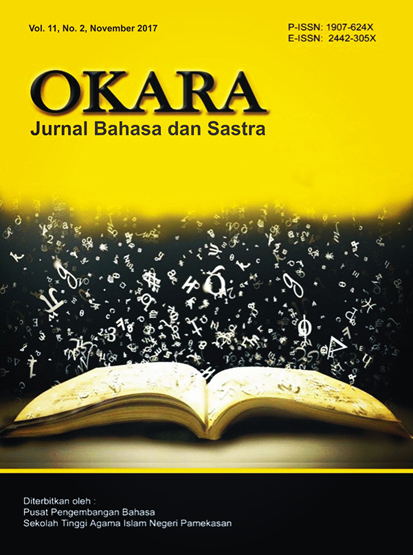 The journal operates an Open Access policy under a Creative Commons Attribution-NonCommercial 4.0 International License. Authors who publish with this journal agree to the following terms:
Authors retain copyright and grant the journal right of first publication with the work simultaneously licensed under a Creative Commons Attribution License that allows others to share the work with an acknowledgement of the work's authorship and initial publication in this journal.
Authors are able to enter into separate, additional contractual arrangements for the non-exclusive distribution of the journal's published version of the work (e.g., post it to an institutional repository or publish it in a book), with an acknowledgement of its initial publication in this journal.
Authors are permitted and encouraged to post their work online (e.g., in institutional repositories or on their website) prior to and during the submission process, as it can lead to productive exchanges, as well as earlier and greater citation of published work.