OKARA: Jurnal Bahasa dan Sastra or Journal of Languages and Literature (P-ISSN: 1907-624X and E-ISSN: 2442-305X) is a peer-reviewed journal published biannually by Pusat Pengembangan Bahasa [Center of Language development] of Institut Agama Islam Negeri (IAIN) Madura, in collaboration with ELITE Association Indonesia.
The journal publishes research paper in the field of linguistics, literature, and language teaching, such as fundamental of ELT, the sound of word of language, structure, meaning, language and gender, sociolinguistic, language philosophy, history of linguistic, origin/evolution, experimental linguistics, phonology, syntax, endangered minority language, language and nature, the communicative strategy of teaching, linguistic anthropology, the psychology of language, field methods in linguistic, interactive of language teaching.
This journal is an open-access journal which means that all content is freely available without any charge to the user(s) or his/her institution. Users are allowed to read, download, copy, distribute, print, search, or link to the full texts of the articles, or use them for any other lawful purpose, without asking prior permission from the publisher or the author.
OKARA has become a Crossref Member since 2015, therefore all articles published by OKARA will have unique DOI numbers. OKARA is already evaluated in Arjuna and it has been nationally accredited (Sinta 3) by the Ministry of Research Technology and Higher Education of Republic Indonesia based on SK No. 10/E/KTP/2019. OKARA has also been reviewed by ACI (ASEAN Citation Index) steering committee, and it has been advised to be accepted for ACI inclusion on November 1, 2018.

Current Issue
Vol. 15 No. 1 (2021): OKARA: Jurnal Bahasa dan Sastra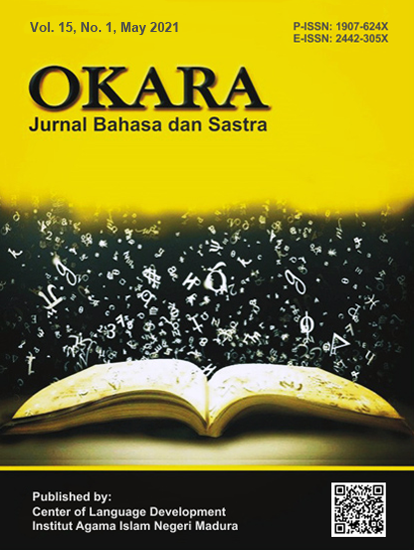 OKARA: Jurnal Bahasa dan Sastra received many submissions in this issue, after rigorous reviews and selection processes we decided to accept 12 articles. All articles include 25 Authors from 2 countries of origin (Indonesia and Philippines). 10 Articles are affiliated from 9 Indonesian institutions (Universitas Negeri Makassar, Universitas Indonesia, Universitas Brawijaya, UIN Syarif Hidayatullah Jakarta, Universitas Muhammadiyah Yogyakarta, Vocational High School of Wisudha Karya Kudus, UIN Maulana Malik Ibrahim Malang, Universitas Negeri Malang, and IAIN Madura), and two articles are affiliated from 2 Philippines institutions (Mountain Province State Polytechnic College and Ateneo de Manila University).
Articles
https://doi.org/10.19105/ojbs.v15i1.4166

Abstract views:

341

,

PDF downloads:

177

https://doi.org/10.19105/ojbs.v15i1.4522

Abstract views:

161

,

PDF downloads:

123

https://doi.org/10.19105/ojbs.v15i1.3877

Abstract views:

120

,

PDF downloads:

93

https://doi.org/10.19105/ojbs.v15i1.4146

Abstract views:

187

,

PDF downloads:

153

https://doi.org/10.19105/ojbs.v15i1.3933

Abstract views:

157

,

PDF downloads:

90

https://doi.org/10.19105/ojbs.v15i1.4509

Abstract views:

325

,

PDF downloads:

142

https://doi.org/10.19105/ojbs.v15i1.3828

Abstract views:

184

,

PDF downloads:

200

https://doi.org/10.19105/ojbs.v15i1.3778

Abstract views:

155

,

PDF downloads:

126

https://doi.org/10.19105/ojbs.v15i1.4512

Abstract views:

103

,

PDF downloads:

114

https://doi.org/10.19105/ojbs.v15i1.3810

Abstract views:

104

,

PDF downloads:

90
View All Issues