THE NEED TO USE CONTRASTIVE ANALYSIS FOR ELT IN ISLAMIC HIGHER EDUCATION INSTITUTIONS
Shahibul Muttaqien Al-Manduriy

IAI Al-Khairat Pamekasan
Abstract views:
58
,
PDF downloads:
14
Keywords:
Contrastive Analysis, ELT, Islamic Higher Education Institutions
Abstract
The teaching of English in Islamic Higher Education Institutions must be integrated by Islamic values. Since, it is very important for every teacher and lecturer in Islamic Educational Institutions from very early beginning to integrate Islamic values in terms of internalizing those values in the materials taught in the process of teaching and learning. Contrastive analysis is an approach to determine the similarities and differences between two languages. This approach is appropriate to be used in Islamic Higher Education Institutions, since the majority of the students in these Institutions are from Islamic Boarding Schools who had already learned Arabic as their basis of L2. This will help the lecturers to use contrastive analysis between Arabic and English in their English teaching. Considering that their consciousness about Language will help them to learn another language. It is also as one of the integration of Islamic values in English Language Teaching in Islamic Higher Education Institutions, because Arabic is one of cultural values of Islam.
Downloads
Download data is not yet available.
References
Aldosari, Hamaad S. "Integrating Culture Learning into Foreign Language Education." Journal of Languages and Literature 11, no. 11 (2003).
Al-Saleemi, Elham. "A Contrastive Study of the Verb Systems of English and Arabic." Durham University, 1987. http://etheses.dur.ac.uk/7065/.
Al-Shaikhli, May F., and Ibrahim Abdel-Latif Shalabi. "English–Arabic Contrastive Analysis Redefinition of Goals." Journal of Language Teaching and Research 2, no. 6 (November 1, 2011). https://doi.org/10.4304/jltr.2.6.1337-1345.
Alwasilah, A. Chaedar. Islam, Culture, and Education: Essays on Contemporary Indonesia. Bandung: Remaja Rosdakarya, 2014.
Alwasilah, Adeng Chaedar. Politik Bahasa dan Pendidikan. Bandung: Remaja Rosdakarya, 1997.
Biduri, Febi Nur. "The Effect of Teacher's Creativity on Native Indonesian Students' Success in Learning Chinese Language." OKARA: Jurnal Bahasa Dan Sastra 11, no. 2 (2017): 243–52. https://doi.org/10.19105/ojbs.v11i2.1492.
Brown, Gillian. "Cultural Values: The Interpretation of Discourse." ELT Journal 44, no. 1 (January 1990): 11–17. https://doi.org/10.1093/elt/44.1.11.
Ellis, Rod. Second Language Acquisition. New York: Oxford University Press, 2008.
Faizi, Waqar-un-Nisa, Anila Fatima Shakil, Sajjad Hayat Akhtar, and Farida Azim Lodhi. "The Role of Different Factors in the Promotion of Islamic Values among the Students of Secondary Level In Karachi, Pakistan." International Journal of Academic Research in Business and Social Sciences 1, no. 3 (2011): 13. https://doi.org/10.6007/ijarbss.v1i2.34.
Frank, Marcella. Modern English: Exercises for Non-Native Speakers - Parts of Speech. New Jersey: Prentice-Hall, 1972.
Hashim, Che Noraini, and Hasan Langgulung. "Islamic Religious Curriculum in Muslim Countries: The Experiences of Indonesia and Malaysia." Bulletin of Education & Research 30, no. 1 (2008): 1–19.
Huthaily, Khaled. "Contrastive Phonological Analysis of Arabic and English." Graduate Theses, The University of Montana, 2003. https://scholarworks.umt.edu/etd/8110?utm_source=scholarworks.umt.edu%2Fetd%2F8110&utm_medium=PDF&utm_campaign=PDFCoverPages.
Inc, Merriam-Webster. Merriam-Webster's Dictionary of Synonyms. Merriam-Webster, 1984.
Khan, Arshad. Islam, Muslims, and America: Understanding the Basis of Their Conflict. New York: Algora Publishing, 2003.
Mahvelati, Elaheh Hamed. "EFL Learners' Writing Progress through Collocation Awareness-Raising Approach: An Analytic Assessment." International Journal of Foreign Language Teaching & Research 4, no. 16 (2016): 69–84.
Mayer, Richard E. Learning and Instruction. New Jersey: Pearson Education Inc, 2003.
Memon, Nadeem. "What Islamic School Teachers Want: Towards Developing an Islamic Teacher Education Programme." British Journal of Religious Education 33, no. 2 (2011): 285–98. https://doi.org/10.1080/01416200.2011.595912.
Momani, Dr Mowafaq Mohhamad, and Abeer Muneeer Altaher. "A Contrastive Analysis of English and Arabic from a Syntactical Perspective." International Journal of English Literature and Culture 3, no. 11 (2015): 280–84. https://doi.org/10.14662/IJELC2015.093.
Rohmah, Zuliati. "English as a Global Language: Its Historical Past and Its Future." Jurnal Bahasa & Seni 33, no. 1 (2005): 106–17.
———. "Incorporating Islamic Messages in the English Teaching in the Indonesian Context." International J. Soc. Sci. & Education 2, no. 2 (2012): 9.
Saville-Troike, Muriel. Introducing Second Language Acquisition. Cambridge: Cambridge University Press, 2006.
Woodward, Tessa. Planning Lessons and Courses: Designing Sequences of Work for the Language Classroom. New York: Cambridge University Press, 2009.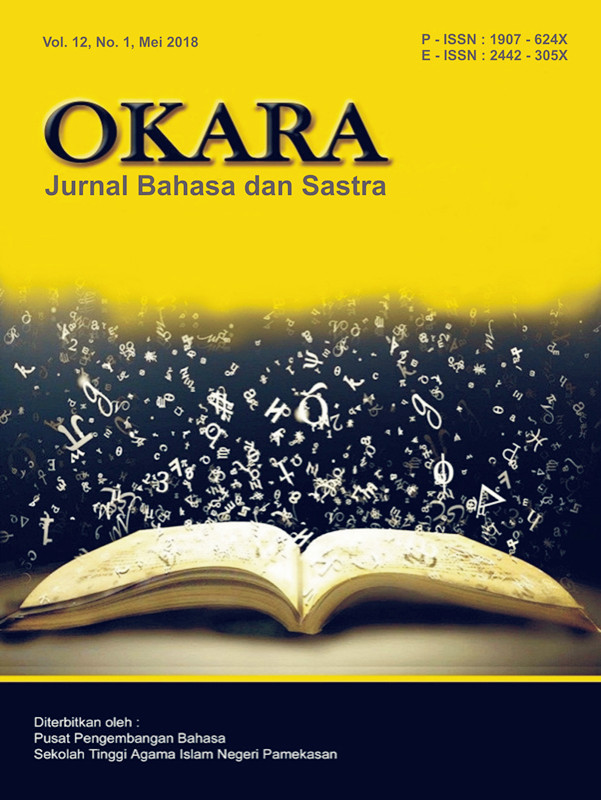 The journal operates an Open Access policy under a Creative Commons Attribution-NonCommercial 4.0 International License. Authors who publish with this journal agree to the following terms:
Authors retain copyright and grant the journal right of first publication with the work simultaneously licensed under a Creative Commons Attribution License that allows others to share the work with an acknowledgement of the work's authorship and initial publication in this journal.
Authors are able to enter into separate, additional contractual arrangements for the non-exclusive distribution of the journal's published version of the work (e.g., post it to an institutional repository or publish it in a book), with an acknowledgement of its initial publication in this journal.
Authors are permitted and encouraged to post their work online (e.g., in institutional repositories or on their website) prior to and during the submission process, as it can lead to productive exchanges, as well as earlier and greater citation of published work.