Pembelajaran Bahasa Inggris pada Anak Usia Dini di Sekolah Alam Exelentia Pamekasan Madura
Abstract views:
340
,
PDF downloads:
415
Keywords:
Pembelajaran Bahasa Inggris, Pendidikan Anak Usia Dini, Sekolah Alam
Abstract
Abstrak:
Penelitian ini ingin mengetahui pola pembelajaran Bahasa Inggris Pada Usia
Dini di Sekolah Alam Excelentia Pamekasan Madura, termasuk kelebihan,
dan kelemahannya. Hasilnya menunjukkan bahwa proses pembelajaran bahasa
inggris di PAUD SAE Pamekasan menggunakan dua pola pembelajaran yaitu:
1) Bahasa Inggris sebagai media/materi pembelajaran dengan menggunakan
aktivitas Indoor maupun outdoor, seperti: songs, story tellings, project, question
and answer, games, brainstorming, group discussion, dengan pendekatan
natural approach, total physical response, audio lingual method. Aktivitas
pembelajaran tersebut dibantu dengan media flashcards, realia, audio visual,
worksheet dan lain lain. 2) Bahasa Inggris sebagai media instruksi dalam
semua mata pelajaran dan aktivitas yang dilakukan sehari-hari di SAE
Pamekasan. Kelebihan Pembelajaran Bahasa Inggris di PAUD SAE
Pamekasan adalah: a) Situasi dan lingkungan belajar yang menyenangkan, b)
Fasilitator yang memiliki keterampilan cukup baik, c) Jumlah peserta didik
yang terbatas/kelas kecil, d) Lengkapnya sarana dan prasarana yang
mendukung pembelajaran, e) Materi yang menyenangkan dan mudah
dipahami, f) Tidak ada pekerjaan rumah, g) Peran serta orang tua dalam
proses pembelajaran bahasa Inggris yang cukup baik. Kelemahannya adalah: a)
Penggunaan Bahasa Ibu (bahasa Indonesia) sebagai bahasa pengantar dalam
proses pembelajaran, b) Pronunciation fasilitator yang terkadang tidak sesuai
dengan ejaan dan pelafalan yang benar, c) Pencampuran jenjang pendidikan
dalam satu lokasi pembelajaran yang membuat sesama siswa saling
mengganggu konsentrasi.
Downloads
Download data is not yet available.
References
Ahmad Susanto. 2012. Perkembangan
anak Usia Dini. Jakarta: Prenada
Media Grup
Best, J.W. 1981. Research in Education.
Fourth Edition. Englewood-Cliff,
New Jersey: Prentice- Hall Inc.
Brown, H.D. 2001. Teaching by
Principles: an Interactive
Approach to Language
Pedagogy. Second Edition. White
Plains, NY: Pearson Education.
Ellis, R. 1994. The Study of Second
Language Acquisition. Walton
Street, Oxford: Oxford University
Press.
Hermawan Warsito. 1993. Pengantar
Metodologi Penelitian. Jakarta:
Gramedia Pustaka Utama
H.E Mulyasa. 2013. Pengembangan dan
Implementasi Kurikulum 2013.
Bandung: PT Remaja
Rosdakarya.
Jayne Moon. -. Children Learning
English. The Teacher
Developtment Series: MacMillain
Judie Haynes. 2007. Getting Started
with English Language Learners.
USA: ASCD
Kasihani e Suyanto. 2010. English For
Young Learners. Jakarta: Bumi
Aksara
Lexy j. Moleong. 2011. Metodologi
Penelitian Kualitatif (edisi Revisi).
Bandung: PT Remaja
Rosdakarya.
Lightbown, D.M. & Spada, N. 1999. How
Language Are Learned. Oxford:
University Press.
Muhammad Fadlillah. 2012. Desain
Pembelajaran PAUD. Jogjakarta:
Ar Ruzz Media
Novan Ardy Wiyani & Barnawi. 2012.
Format PAUD. Jogjakarta: ArRuzz
Media
Nunan, D. 1991. Language Teaching
Methodology. A textbook for
Teachers. Maryland Avenue:
Prentice Hall International Ltd.
Nunan, D. 1999. Second Language
Teaching & Learning. Boston,
Mass: Heinle & Heinle
Publishers.
Pica, T., Barnes, G.A., & Finger,
A.G.1990. Teaching Matters:
Skills and Strategies for
International Teaching
Assistants. New York: Harper &
Row, Inc.
Richards, J.C. & Rodgers, T.S. 1986.
Approaches Methods in
Language Teaching: A
Description and Analysis.
Cambridge: Cambridge
University Press.
Richards, J.C. & Renandya, W. A. 2002.
Methodology in Language
Teaching. An Anthology of
Current Practice. Cambridge:
Cambridge University Press.
Richards, J. C. 2001. Curriculum
Development In Language
Teaching. Cambridge:
Cambridge University Press.
Ryan, K & Cooper, J.M. 1984. Those
Who Can, Teach Boston:
Houghton Mifflin Company.
R. Semiawan. 2008. Belajar dan
Pembelajaran Pra sekolah dan
Sekolah Dasar. Jakarta: Indeks.
Suharsimi Arikunto. 2005. Manajemen
Penelitian. Jakarta: PT Rineka
Cipta
Suharsimi Arikunto. 2006. Prosedur
Penelitian suatu pendekatan
praktik. Jakarta: PT Rineka Cipta
Wendy A Scott & Lisbeth H Yterberg.-.
Teaching Englis to Children. New
York: Longman.
http://lifesupportalchemist.wordpress.co
m/pengertian-pendidikan-danbelajar/fenomena-sekolah-alamdan-teori-paulo-freire/
http://perpustakaan.uns.ac.id/digilib.uns.
ac.id/ konsep Perencanaan dan
Perancangan Sekolah Alam/ita
Liana Sari/
http://tentangsekolahalam.wordpress.co
m/category/system-belajarmengajar-di-sekolah-alam/
http://tentangsekolahalam.wordpress.co
m/category/keunggulan-dankekurangan-sekolah-alam/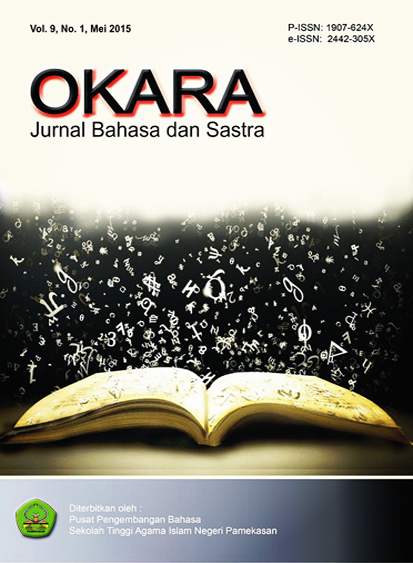 How to Cite
Rabbiyanti, E. N. (2015). Pembelajaran Bahasa Inggris pada Anak Usia Dini di Sekolah Alam Exelentia Pamekasan Madura. OKARA: Jurnal Bahasa Dan Sastra, 9(1), 83-102. https://doi.org/10.19105/ojbs.v9i1.582
The journal operates an Open Access policy under a Creative Commons Attribution-NonCommercial 4.0 International License. Authors who publish with this journal agree to the following terms:
Authors retain copyright and grant the journal right of first publication with the work simultaneously licensed under a Creative Commons Attribution License that allows others to share the work with an acknowledgement of the work's authorship and initial publication in this journal.
Authors are able to enter into separate, additional contractual arrangements for the non-exclusive distribution of the journal's published version of the work (e.g., post it to an institutional repository or publish it in a book), with an acknowledgement of its initial publication in this journal.
Authors are permitted and encouraged to post their work online (e.g., in institutional repositories or on their website) prior to and during the submission process, as it can lead to productive exchanges, as well as earlier and greater citation of published work.
---