STORY GRAMMAR STRATEGY: AN APPROACH TO TEACH READING NARRATIVE TEXT
Nuriyatul Hamidah

Universitas Negeri Malang
Abstract views:
299
,
PDF downloads:
204
Keywords:
Discourse, Narrative Text, Story Grammar
Abstract
Teaching English as Foreign Language emphasizes on teaching discourse in the classroom. This paper is presented focusing on conceptual paper in teaching reading. Specifically, this study focuses on written discourse discussing on the use of narrative text to teach students' reading skill. In foreign language teaching, teaching reading is one of important goal that students want to achieve. This paper focuses on one of English text type that is narrative text. It covers the theoretical basis dealing with the method of teaching reading, the use of narrative text that applies the text discourse analysis and the use of story grammar strategy. Furthermore, it also covers the teaching procedure (pre-teaching, whilst-teaching, post-teaching), reflection, and conclusion. Finally, it presents the reflection and conclusion of this analysis. The result shows that students' comprehension can be enhance through story grammar in the teaching of reading narrative text along with appropriate assessment for them.
Downloads
Download data is not yet available.
References
Alberti, Y. Improving Students' Reading Comprehension on Narrative Texts by Using Story Grammar Strategy at Grade VIIID of SMPN 1 Pondok Kelapa Bengkulu Tengah. Unpublished Thesis: Bengkulu University. 2014.
Alderson, J.C. Assessing Reading. Cambridge: Cambridge University Press, 2000.
Brown, D. H. Teaching by Principles. An Interactive Approach to Language Pedagogy. San Francisco: Addison Wesly Longman, Inc, 2007.
Day, Richard. New Ways in Teaching Reading. Illinois: Pantagraph Printing, 1993.
Dimino, J., Gersten, R., Carnine, D., & Blake, G. (1990). Story grammar: An approach for promoting at-risk secondary students' comprehension of literature. The Elementary School Journal, 91(1), 19-32.
McCarthy, M. Discourse Analysis for Language Teachers. Cambridge: Cambridge University Press, 2000.
Pearson, David and Fielding, Linda. Comprehension Instruction. Handbook of Reading Research. New York: Longman, 1991.
Richek, M., Caldwell, J., Jennings, J And & Lerner, J. Reading Problems: Assessment and Teaching Strategies. Boston: Allyn & Bacon, 1996.
Richards, J. C and Renandya, W. A. Methodology in Language Teaching. an Anthology of Current Practice. Cambridge: Cambridge University Press, 2002.
Schmitt, M.C., & O'Brien, D.G. "Story grammars: Some cautions about the translation of research into practice. Reading Research and Instruction," 1986. 26, 1–8.
Slavin, R.E and N.A. Madden. Two Million Children: Success for All, Thousand Oaks, CA: Corwin, 2009.
Stevens, R.J. and S. Durkin. Using Student Team Reading and Student Team Writing in Middle Schools: Two Evaluations. Baltimore, MD: Johns Hopkins University, Centre for Research on Effective Schooling for Disadvantaged Students. Report No. 36, 1992.
Stevens, R.J. and R.E. Slavin, "Effects of a Co-operative Learning Approach in Reading and Writing on Handicapped and Nonhandicapped Students' Achievement, Attitudes, and Metacognition in Reading and Writing", Elementary School Journal,1995. Vol. 95, No. 3.
. "The Co-operative Elementary School: Effects on Students' Achievement, Attitudes, and Social Relations." American Educational Research Journal, 1995. 32, 321-351.
Stevens, R. J., et al. "Co-operative Integrated Reading and Composition: Two Field Experiments", Reading Research Quarterly, 1987. Vol. 22, No. 4, pp. 433–454.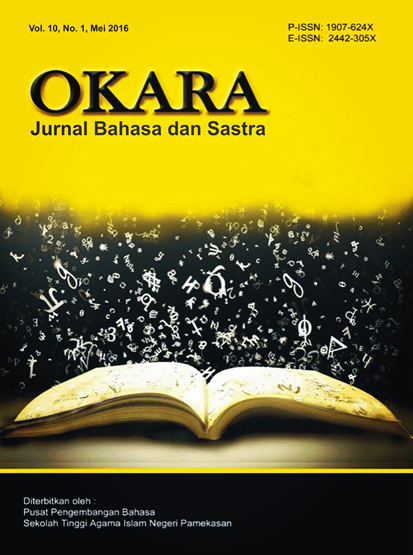 How to Cite
Hamidah, N. (2016). STORY GRAMMAR STRATEGY: AN APPROACH TO TEACH READING NARRATIVE TEXT. OKARA: Jurnal Bahasa Dan Sastra, 10(1), 45-53. https://doi.org/10.19105/ojbs.v10i1.810
The journal operates an Open Access policy under a Creative Commons Attribution-NonCommercial 4.0 International License. Authors who publish with this journal agree to the following terms:
Authors retain copyright and grant the journal right of first publication with the work simultaneously licensed under a Creative Commons Attribution License that allows others to share the work with an acknowledgement of the work's authorship and initial publication in this journal.
Authors are able to enter into separate, additional contractual arrangements for the non-exclusive distribution of the journal's published version of the work (e.g., post it to an institutional repository or publish it in a book), with an acknowledgement of its initial publication in this journal.
Authors are permitted and encouraged to post their work online (e.g., in institutional repositories or on their website) prior to and during the submission process, as it can lead to productive exchanges, as well as earlier and greater citation of published work.
---