THE CORRELATION AMONG ATTITUDE, MOTIVATION AND SPEAKING ACHIEVEMENT OF COLLEGE STUDENTS ACROSS PERSONALITY FACTORS
Siti Lailatul Khoiriyah

Universitas Negeri Malang
Abstract views:
488
,
PDF downloads:
314
Keywords:
Attitude, Motivation, Speaking Achievement, Personality Factors
Abstract
Considering the important of understanding about the attitude, motivation and the personality of the students in the English learning process, this research is aimed at finding the relationship between attitude and motivation which are acknowledged as influential factors in speaking achievement across their personality factors. Sixty Non-EFL students of Maulana Malik Ibrahim State Islamic University of Malang who take English as their compulsory subject were participated as the research sample. They were the fourth semester undergraduate taking TOEFL and Speaking Course. Attitude and Motivation Test Battery (AMTB), The Myers-Briggs Type Indicator (MBTI), speaking test and TOEFL-like test were administered. The results of this research revealed that there was significant correlation among attitude, motivation and speaking achievement of extrovert and Introvert students.
Downloads
Download data is not yet available.
References
Brown, H.D. (2007). Teaching by Principles: an interactive approach to language pedagogy.(3rd ed). Longman.
Brown, H.D. (2004). Language Assessment Principles and Classroom Practices. Longman.
Creswell, J.W. (2012). Educational Research: Planning, Conducting, and Evaluating Quantitative and Qualitative Research. Boston: Pearson Education.
Ellis, R. (1997). Second Language Acquisition. Oxford: Oxford University
Ellis, R. (1994). The Study of Second Language Acquisition. Oxford: Oxford University.
Feng. R. & Chen, H. (2009). An Analysis on the Importance of Motivation and Strategy in Postgraduates English Acquisition. English Language Teaching. 2, 93-97.
Gardner, R. (1985). Social Psychology and Second Language Learning: The Role of Attitudes and Motivation. London: Edward Arnold.
Hogg, M. & Vaughan, G. (2005). Social Psychology (4th ed). London: Prentice-Hall.
Kara, A. (2009). The Effect of a 'Learning Theories' Unit on Students' Attitudes towards Learning. Australian Journal of Teacher Education, 34(3), 100-113.
Langroudi,J. & Amiri, N. (2013). On the Relationship among Language Learning Attitude, Academic Motivation and Language Proficiency on Iranian EFL Learners. Iranian EFL Journal, (Online), available: http://iranian-efl-journal.com/61/2013/2014/01/on-the-relationship-among-language-learning-attitude-academic-motivation-and-language-proficiency-of-iranian-efl-learners/ , (April 14th, 2016).
Latief, M.A. (2013). Research Methods on Language Learning An Introduction. Malang: UM Press.
Nemati, M. & Syahini, A. (2011). The Relationship between Extroversion and Introversion and the Oral Proficiency of Iranian EFL Learners. Iranian EFL Journal, 7 (1). (Online), available: http://iranian-efl-journal.com/394/2011/2014/02/the-relationship-between-extroversion-and-introversion-and-the-oral-proficiency-of-iranian-efl-learners/, (April 14th, 2016)
Soozandehfar, S.M.A. (2010). Is Oral Performance Affected by Motivation?. Journal of Pan-Pacific Association of Applied Linguistics, (Online), 14 (2): 105-119, available: http://files.eric.ed.gov/fulltext/EJ920528.pdf, (December 24th, 2015).
Stern, H.H. (1983). Fundamental Concepts of Language Teaching. Oxford: Oxford University.
Ushida, E. (2005). The Role of Students' Attitudes and Motivation in Second Language Learning in Online Language Courses. San Diego: University of California.
Williams, M. & Burden, R.L. (1997). Psychology For Language Teachers: a Social Constructivist Approach. Cambridge: Cambridge University.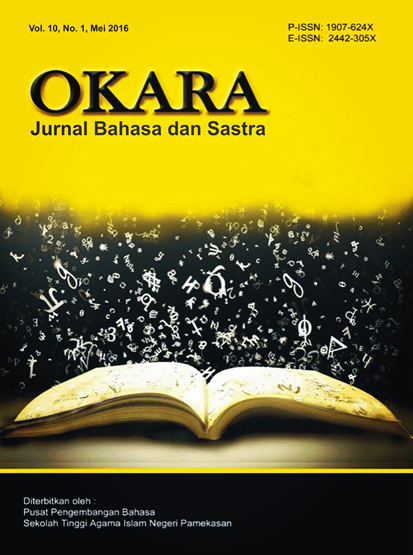 How to Cite
Khoiriyah, S. L. (2016). THE CORRELATION AMONG ATTITUDE, MOTIVATION AND SPEAKING ACHIEVEMENT OF COLLEGE STUDENTS ACROSS PERSONALITY FACTORS. OKARA: Jurnal Bahasa Dan Sastra, 10(1), 78-92. https://doi.org/10.19105/ojbs.v10i1.813
The journal operates an Open Access policy under a Creative Commons Attribution-NonCommercial 4.0 International License. Authors who publish with this journal agree to the following terms:
Authors retain copyright and grant the journal right of first publication with the work simultaneously licensed under a Creative Commons Attribution License that allows others to share the work with an acknowledgement of the work's authorship and initial publication in this journal.
Authors are able to enter into separate, additional contractual arrangements for the non-exclusive distribution of the journal's published version of the work (e.g., post it to an institutional repository or publish it in a book), with an acknowledgement of its initial publication in this journal.
Authors are permitted and encouraged to post their work online (e.g., in institutional repositories or on their website) prior to and during the submission process, as it can lead to productive exchanges, as well as earlier and greater citation of published work.
---