Taṭbīq al-Madkhal al-Ittiṣālī fī Ta'līmi Tafsīr al-Qur'ān bima'had al-Jihād li al-Banāt Surabaya
تطبيق المدخل الاتصالي في تعليم تفسير القرآن بمعهد الجهاد للبنات سورابايا
Kunti Nadiyah Salma

Institut Agama Islam Sunan Giri Ponorogo

Laili Mas Ulliyah Hasan

UIN Maulana Malik Ibrahim Malang

Khowarizmi Abdul Karim

UIN Maulana Malik Ibrahim Malang

Abdul Wahab Rosyidi

UIN Maulana Malik Ibrahim Malang

Uril Bahruddin

UIN Maulana Malik Ibrahim Malang
Abstract views:
222
,
PDF downloads:
79
Keywords:
Communicative Approach, Learning Interpretation, Holy Qur'an
Abstract
Learning the interpretation of the Qur'an more precisely on thematic interpretation material, still faces obstacles in the field, including not being able to produce output that can use interpretation well. The purpose of this research is to understand: (1) the application of a communicative approach in learning interpretation of Qur'an at Al Jihad Islamic Boarding School Surabaya for female, (2) the obstacles faced by teachers in applying a communicative approach in learning interpretation of Qur'an at Al Jihad Islamic Boarding School Surabaya fro female. This research uses a qualitative approach with a descriptive type of research. Research data were collected through interviews, observation, and documentation. Data analysis was carried out using Miles and Huberman's model, are: (1) data collection, (2) data reduction, (3) data presentation, (4) concluding. The results showed that the application of the communicative approach through several steps, there are: short dialogues, exercises, questions, communicative expressions, analysis and concluding, then evaluation. And also there several obstacles in the application of the communicative approach, it is: the lack of confidence in students in expressing the results of thematic interpretations orally in Arabic, there are difficulties in developing the delivery of some material into a communicative approach, and the last is the lack of time available for learning interpretation of holy Qur'an. The conclusion of this study shows that a communicative approach is needed in learning interpretation of holy Qur'an on thematic interpretation material to be more effective.
Downloads
Download data is not yet available.
References
Afifullah. "Metode Pembelajaran Tafsir Perspektif Sivitas Pesantren (Studi Pada Pesantren Di Sumenep)." Universitas Islam Negeri Sunan Ampel Surabaya, 2019.
Ainin, Mohammad dkk. Evaluasi Dalam Pelajaran Bahasa Arab. Malang: Misykat, 2016.
Badri, Kamal Ibrahim. Thuruq Ta'lîm Al-Lughah Al-Ajnabiyyah. Al-Thuruq Al- Ammah Fi Tadr Al-Lughah. Jakarta: LIPIA, n.d.
Bungin, Burhan. Penelitian Kualitatif:Komunikasi, Ekonomi, Kebijakan Publik, Dan Ilmu Sosial Lainnya. Jakarta: Kencana, 2011.
Darmadji. "Tafsir Al-Qur'an Tentang Teori Pendidikan Islam: Persepektif Pendidikan Islam Di Indonesia." Hermeneutik 7, no. 1 (2013): 80–87.
Effendy, Onong Uchana. Ilmu Komunikasi Teori Dan Praktek. Bandung, 2012.
Huberman, Milles dan. Analisis Data Kualitatif. Jakarta: Universitas Indonesia Press, 2012.
Kusroni. "Mengenal Ragam Pendekatan, Metode, Dan Corak Dalam Penafsiran Al-Qur'an." Jurnal Kaca Jurusan Ushuluddin STAI Al Fithrah 9 (2019): 87–104.
Mardhiah, Ainal. "Reorientasi Metodologi Pembelajaran Tafsir Di Madrasah Dan Pesantren." Jurnal Ilmiah Didaktika 13, no. 2 (2013): 283–95. doi:10.22373/jid.v13i2.479.
Nashibah, Aulia. "Pendekatan Komunikatif DalamPengajaran TAmrin Lughah Kelas VII C MTs Ibnul Qoyyim Putri Yogyakarta." Universitas Islam Negeri Sunan Kalijaga Yogyakarta, 2018.
Nasution, S. Metode Penelitian Naturalistik Kualitatif. Bandung: Tarsito, 2012.
Nawawi, Mukhson. "Landasan Teoritis Filosof Metode Pengajaran Bahasa." In Muktamar Internasional ADIA Di Fakultas Humaniora Dan Budaya UIN Maliki Malang. Malang, 2010.
Nur Taufiq, Hadi. "Pembelajaran Al-Qur'an Melalui Pendekatan Metode Tafsir Tematik Bagi Guru Tpq Di Kota Malang." Progresiva : Jurnal Pemikiran Dan Pendidikan Islam 5, no. 1 (2014): 123–30. doi:10.22219/progresiva.v5i1.2058.
Rahardjo, Mudjia. Metodologi Penelitian Kualitatif. Malang: Republik Media, 2020.
Rosyada, Dede. Paradigma Pendidikan Demokratis. Jakarta: Kencana Pernada Media Group, 2013.
Salim, H. Abd Muin. Mardan, dan Achmad Abu Bakar. Metodologi Penelitian Tafsir Maudhu'i. Yogyakarta: Pustaka al-Zikra, 2011.
Sutrisna, Oka Putu. "Implementasi Pendekatan Komunikatif Dan Pembelajaran Bahasa Inggris Di SMK Negeri 2 Tabanan." Universitas Pendidikan Ganesha, 2010.
Sya'i, Imam. Kompetensi Kebahasaan Dan Kompetensi Komunikatif Dalam Pengajaran Bahasa. Malang: IKIP, 2011.
Thoha, Chabib. Kapita Selekta Pendidikan Islam. Yogyakarta: Pustaka Pelajar, 2016.
Tolla, Ahmad. "Kajian Pendekatan Komunikatif Dalam Pengajaran Bahasa Indonesia Di SMU Di Kotamadya Ujung Pandang." IKIP Malang, 2014.
Yusufa, Uun. "Tafsir Alquran Akademik Di Indonesia: Kajian Metode Tafsir Tematik Disertasi Di UIN Yogyakarta Dan UIN Jakarta." UIN Sunan Kalijaga, 2015.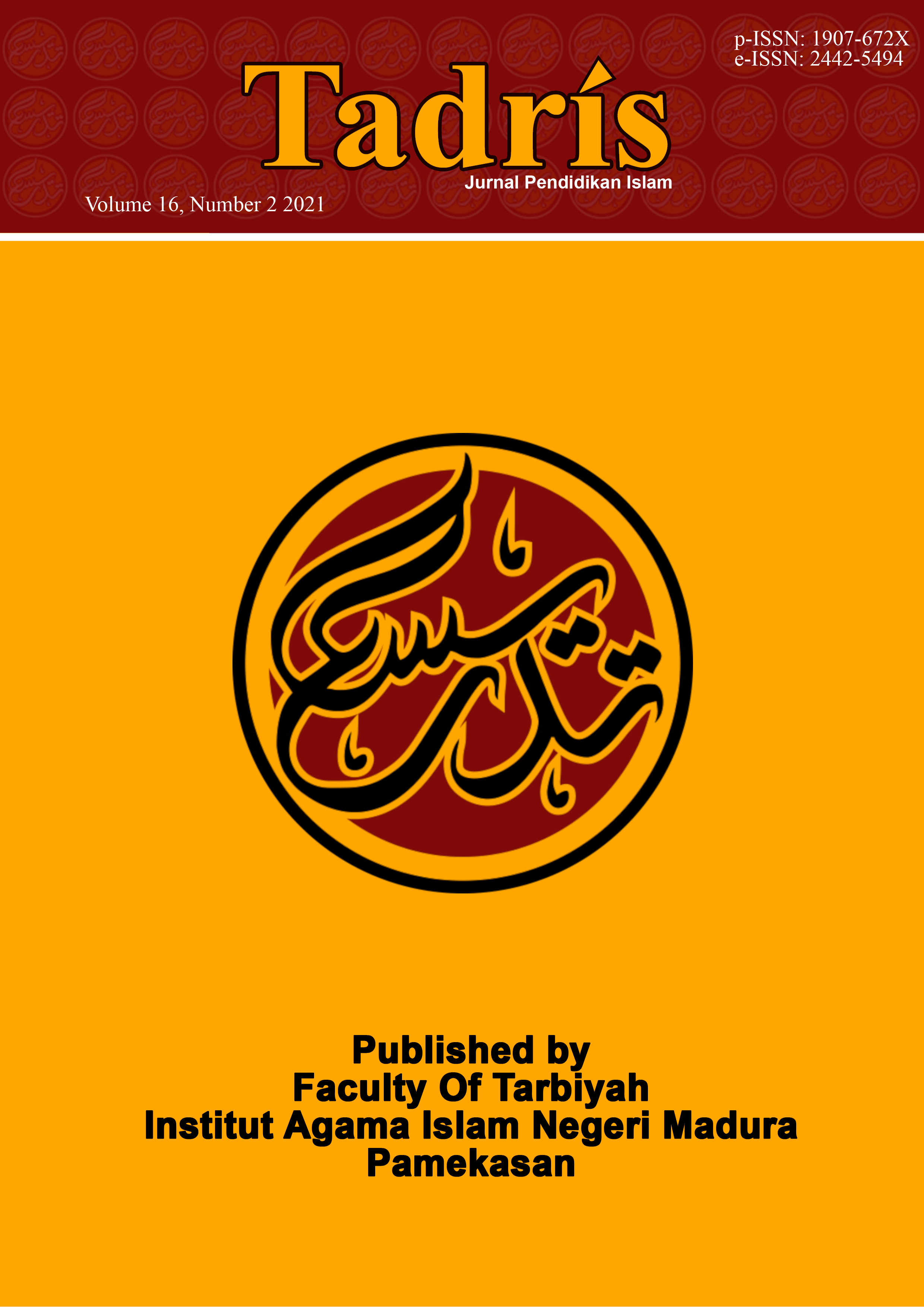 How to Cite
Salma, Kunti Nadiyah, Laili Mas Ulliyah Hasan, Khowarizmi Abdul Karim, Abdul Wahab Rosyidi, and Uril Bahruddin. 2021. "Taṭbīq Al-Madkhal Al-Ittiṣālī Fī Ta'līmi Tafsīr Al-Qur'ān bima'had Al-Jihād Li Al-Banāt Surabaya: تطبيق المدخل الاتصالي في تعليم تفسير القرآن بمعهد الجهاد للبنات سورابايا". TADRIS: Jurnal Pendidikan Islam 16 (2), 301-16. https://doi.org/10.19105/tjpi.v16i2.4846.
Copyright (c) 2021 TADRIS: Jurnal Pendidikan Islam
This work is licensed under a Creative Commons Attribution-NonCommercial 4.0 International License.
The journal operates an Open Access policy under a Creative Commons Non-Commercial 4.0 International license. Authors who publish with this journal agree to the following terms:
Authors retain copyright and grant the journal right of first publication with the work simultaneously licensed under a

Commons Attribution-NonCommercial 4.0 International License

that allows others to share — copy and redistribute the material in any medium or format, and adapt — remix, transform, and build upon the material.

Authors are able to enter into separate, additional contractual arrangements for the non-exclusive distribution of the journal's published version of the work (e.g., post it to an institutional repository or publish it in a book), with an acknowledgement of its initial publication in this journal.
Authors are permitted and encouraged to post their work online (e.g., in institutional repositories or on their website) prior to and during the submission process, as it can lead to productive exchanges, as well as earlier and greater citation of published work (see The Effect of Open Access).