Manajemen Pembelajaran Di Pesantren Miftahul Ulum Bettet Pamekasan Pada Masa Pandemi Covid-19
Moh. Subhan

Universitas Islam Madura

Ahmad

Universitas Islam Madura
Abstract views:
318
,
PDF downloads:
269
Keywords:
Management; Learning; Covid-19 Pandemic
Abstract
Abstract:
The Covid-19 pandemic has an impact on all aspects of human life, including education. All educational units generally carry out online learning to avoid the spread of the virus. However, the Miftahul Ulum Bettet Pamekasan Islamic Boarding School still conducts offline learning but still enforces strict health protocols. This study seeks to reveal the learning management applied by the cottage during the Covid-19 pandemic. The research method used is a qualitative approach with the type of case study. The results of this study indicate that the management carried out includes 3 things; 1) planning related to the fulfillment of health protocols and planning related to the mechanism of the learning process contained in the lesson plans and syllabus; 2) the implementation of learning is carried out face-to-face while still paying attention to the health protocol. The implementation of learning includes three stages, namely introduction, core activity, and closing; 3) evaluation is carried out continuously at the end of the lesson in order to see the level of learning effectiveness. In addition, the evaluation of learning is also carried out with a summative and formative evaluation model.
Downloads
Download data is not yet available.
References
Ambarita, A. Manajemen Pembelajaran. Jakarta: Departemen Pendidikan Nasional. 2006.
Badriyah, Isna Ruhamaul. "Analisis Model Pembelajaran Daring dan Luring pada Masa Pandemi Covid-19 di Sekolah Dasar", Jurnal Basicedu, Vol. 5, No. 5, (2021).
Djamarah, Syaiful Bahri & Aswan Zain. Strategi Belajar Mengajar. Jakarta: Rineka Cipta. 2010.
Ediyanto, "Penilaian Formatif Dan Penilaian Sumatif", Universitas Yudharta Pasuruan diakses pada 30 Oktober 2021 di https://yudharta.ac.id/2016/11/penilaian-formatif-dan-penilaian-sumatif/
Hasibuan, J.J. & Moedjiono. Proses Belajar Mengajar. Bandung: PT. Remaja Rosdakarya. 2000.
Hernawan, H A, dkk. Belajar dan Pembelajaran. Bandung: UPI Press. 2007.
Husaini & Happy Fitria, "Manajemen Kepemimpinan Pada Lembaga Pendidikan Islam", JURNAL JMKSP: Jurnal Manajemen, Kepemimpinan, dan Supervisi Pendidikan, Vol. 4, No. 1, (Januari-Juni 2019).
L, Idrus. "Evaluasi Dalam Proses Pembelajaran", Adaara: Jurnal Manajemen Pendidikan Islam, Vol. 9, No. 2, (Agustus, 2019).
Madeanto, Danis Sunu I. "Evaluasi Pembelajaran Pendidikan Jasmani, Olahraga dan Kesehatan Menggunakan Model Formatif dan Sumatif", Jurnal Prosiding Seminar Nasional Profesionalisme Tenaga Profesi Pjok: Pendidikan Olahraga Pascasarjana Um, 458, diakses pada 30 Oktober 2021 di https://core.ac.uk/download/pdf/267024075.pdf
Maharani, Deviana Ika, dkk. "Manajemen Pembelajaran Pondok Pesantren", Jurnal Manajemen dan Supervisi Pendidikan, Vol. 1, No. 1, (November, 2016).
Majid, Abdul. Perencanaan Pembelajaran; Mengembangkan Standar Kompetensi Guru. Bandung: Remaja Rosdakarya. 2005.
Mardiah & Syarifuddin, "Model-Model Evaluasi Pendidikan", Mitra Ash-Shibyan, Jurnal Pendidikan dan Konseling, Vol. 02, No. 01.
Mauludi, Ahmad Roufiq & M. Arif Khoirudin, "Manajemen Pembelajaran di Madrasah Diniyah Pondok Pesantren", Al Izzah: Jurnal Hasil-Hasil Penelitian, Vol. 14, No. 2, (November, 2019).
Moleong, Lexy J. Metodologi Penelitian Kualitatif. Bandung: Remaja Rosdakarya. 2004.
Mulyasa, E. Kurikulum Tingkat Satuan Pendidikan: Suatu Panduan Praktis. Bandung: Remaja Rosdakarya. 2007.
Mustafa, Sulihin, dkk. Pembelajaran Tatap Muka (PTM) Pada Masa Pandemi Covid-19. Jakarta: Direktorat Pendidikan Menengah Atas. 2021.
Sanjaya, Wina. Strategi Pembelajaran Berorientasi Standar Proses Pendidikan. Jakarta: Kencana. 2006.
Setemen, Komang. "Pengembangan Evaluasi Pembelajaran Online", Jurnal Penddikan dan Pengajaran, Jilid 43, No. 3, (Oktober, 2010).
Solong, Najamuddin Petta. "Manajemen Pembelajaran Luring dan Daring dalam Pencapaian Kompetensi", Tadbir: Jurnal Manajemen Pendidikan Islam, Vol. 9, No. 1, (Februari, 2021).
Surat Edaran Mendikbud Nomor 4 Tahun 2020, diakses pada 25 Oktober 2021 di https://pusdiklat.kemdikbud.go.id/surat-edaran-mendikbud-no-4-tahun-2020.
Wakhidah, Noor, dkk. "Kreatifitas Guru Dalam Mengembangkan Rencana Pelaksanaan Pembelajaran Pendidikan Agama Islam di MTs Nu Khoiriyah Bae", Jurnal Tarbawi, Vol. 16. No. 2. Juli-Desember 2019.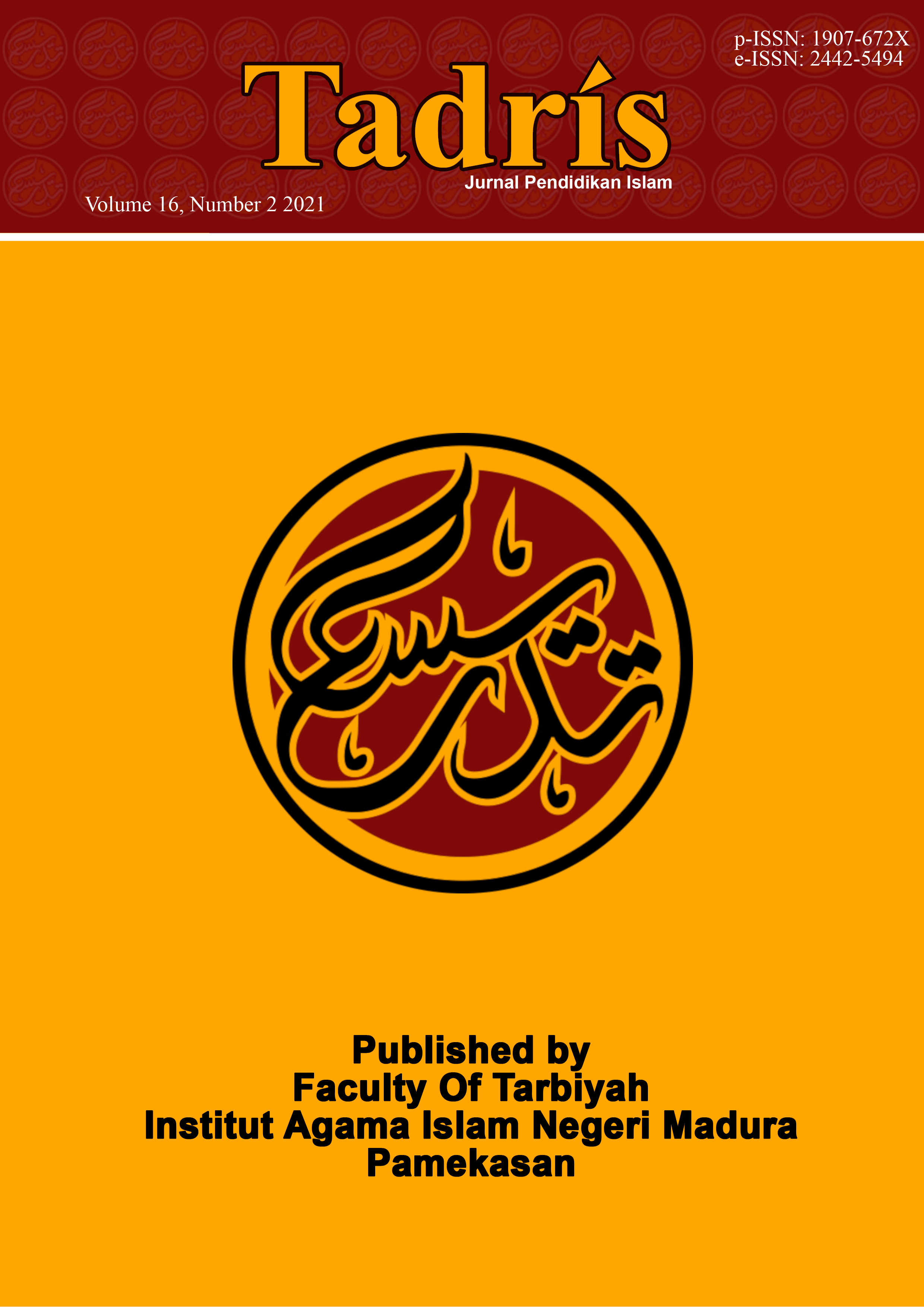 How to Cite
Subhan, Moh., and Ahmad. 2021. "Manajemen Pembelajaran Di Pesantren Miftahul Ulum Bettet Pamekasan Pada Masa Pandemi Covid-19". TADRIS: Jurnal Pendidikan Islam 16 (2), 257-70. https://doi.org/10.19105/tjpi.v16i2.5362.
Copyright (c) 2021 TADRIS: Jurnal Pendidikan Islam
This work is licensed under a Creative Commons Attribution-NonCommercial 4.0 International License.
The journal operates an Open Access policy under a Creative Commons Non-Commercial 4.0 International license. Authors who publish with this journal agree to the following terms:
Authors retain copyright and grant the journal right of first publication with the work simultaneously licensed under a

Commons Attribution-NonCommercial 4.0 International License

that allows others to share — copy and redistribute the material in any medium or format, and adapt — remix, transform, and build upon the material.

Authors are able to enter into separate, additional contractual arrangements for the non-exclusive distribution of the journal's published version of the work (e.g., post it to an institutional repository or publish it in a book), with an acknowledgement of its initial publication in this journal.
Authors are permitted and encouraged to post their work online (e.g., in institutional repositories or on their website) prior to and during the submission process, as it can lead to productive exchanges, as well as earlier and greater citation of published work (see The Effect of Open Access).