Construct of The Environmental Education on The Quranic Paradigm: a Literature Review
Siswanto

Madura State Islamic Institute, Pamekasan
Abstract views:
216
,
PDF downloads:
300
Keywords:
Environment, Education, Quranic Paradigm
Abstract
The rise of environment crisis are caused by human activities. The effect of destructive behavior, threat of human life substainabilities is felt.  The center of enviroment problems philosophically is lack of relation equilibrium between human being and enviroment. This research focused on environmental education concept, Qur'anic view of environment, and environment education construct of Qur'an paradigm. The kind of this research is library one. The data collection is documentation technique. The results of this research are environmental education is an effort to change behavior and attitude made by various parties or elements of society that aims to increase knowledge, skill and communities' awareness of environmental values that ultimately can drive environmental safety for the benefit of future generation. The Qur'an becomes moral code governing human relationship with their environment. environment structure becomes human's responsibility as God's servant on earth. The Qur'an very firmly says that the main role of human is as sevant ('abd Allâh) whose their primary mission is serving his Lord as well as the manager (khalîfah) who are able to utilize and prosper this universe. The environment education based the Quranic paradigm is directed to programme and education activities that aim at consiousness and wisdom to environment based on the Quranic values. The environmental education motivate the students to belong to the Quranic character in protecting the environment from damages and quarenting its conservation.
Downloads
Download data is not yet available.
References
Alexandar, R., & Poyyamoli, G. (2014). The effectiveness of environmental education for sustainable development based on active teaching and learning at high school level-a case study from Puducherry and Cuddalore regions, India. 7, 20.
Arifin, M. (2008). Ilmu Pendidikan Islam, Tinjauan Teoretis dan Praktis Berdasarkan Pendekatan Interdisiplinier. Jakarta: Bumi Aksara.
Barizi, A. (2011). Pendidikan Integratif, Akar Tradisi dan Keilmuan Pendidikan Islam. Malang: UIN Maliki Press.
Deni, B. (2014). Politik Hukum Pengelolaan Lingkungan Hidup. Malang: Setara Press.
Fata, A. K. (2014). Teologi Lingkungan Hidup dalam Perspektif Islam. 15, 17.
Hamzah, S. (2013). Pendidikan Lingkungan. Bandung: Refika Aditama.
Hitami, M. (2004). Mengonsep Kembali Pendidikan Islam. Pekanbaru: Infinite.
Kementerian Lingkungan Hidup. (2009). Undang-Undang No. 32 Tahun 2009 tentang Perlindungan dan Pengelolaan Lingkungan Hidup Pasal 67.
Kulsum, U. (2011). Implementasi Pendidikan Karakter Berbasis PAIKEM (Sebuah Paradigma Baru Pendidikan di Indonesia). Surabaya: Gena Pratama Pustaka.
Mestika, Z. (2008). Metode Penelitian Kepustakaan. Jakarta: Yayasan Obor.
Moleong, L. J. (2009). Metodologi Penelitian Kualitatif. Bandung: Remaja Rosdakarya.
Muhaimin. (2009a). Pengembangan Kurikulum Pendidikan Agama Islam di Sekolah, Sekolah, dan Perguruan Tinggi. Jakarta: RajaGrafindo Persada.
Muhaimin. (2009b). Rekonstruksi Pendidikan Islam Dari Paradigma Pengembangan, Manajemen Kelembagaan, Kurikulum hingga Strategi Pembelajaran. Jakarta: RajaGrafindo Persada.
Muhaimin. (2011). Pemikiran dan Aktualisasi Pengembangan Pendidikan Islam. Jakarta: RajaGrafindo Persada.
Muhtarom. (2005). Reproduksi Ulama di Era Globalisasi, Resistansi Tradisional Islam. Yogyakarta: Pustaka Pelajar.
Mujtahid. (2011). Reformulasi Pendidikan Islam, Meretas Mindset Baru, Meraih Peradaban Unggul. Malang: UIN Maliki Press.
Mukti, A. (2001). Pendidikan Agama dalam Masyarakat Teknokratik. In Paradigma Pendidikan Islam. Yogyakarta: Pustaka Pelajar.
Nizar, S. (2001). Pengantar Dasar-dasar Pemikiran Pendidikan Islam. Jakarta: Gaya Media Pratama.
Parker, L., & Prabawa-Sear, K. (2019). Environmental Education in Indonesia: Creating Responsible Citizens in the Global South? (1st ed.). London: Routledge. doi: 10.4324/9780429397981
Rahardjo, M. (2006). Agama dan Moralitas, Reaktulisasi Pendidikan Agama di Masa Transisi. In Qou Vadis Pendidikan Islam, Pembacaan Realitas Pendidikan Islam, Sosial dan Keagamaan. Malang: UIN MalangPress.
Sanaky, H. A. (2003). Paradigma Pendidikan Islam, Membangun Masyarakat Madani Indonesia. Yogyakarta: Safiria Insania Press - Magister Studi Islam Universitas Islam Indonesia.
Shihab, M. Q. (1998). Membumikan Al-Qur'an. Bandung: Mizan.
Shihab, M. Q. (2003). Tafsir al-Misbah: Pesan Kesan dan Keserasian al-Quran (Vol. 11). Jakarta: Lentera Hati.
Siswanto, S., Karimullah, K., Prasetyawati, R., & Nurhayati, N. (2019). Environmental Cultured Education And Its Implication On The Student's Competencies In An Adiwiyata School. Jurnal Cakrawala Pendidikan, 38(3), 552–564. doi: 10.21831/cp.v38i3.23154
Soemarwoto, O. (2005). Menyinergikan Pembangunan dan Lingkungan, Telaah Kritis Begawan Lingkungan. Yogyakarta: PD. Anindya.
Sugandhy, A., & Hakim, R. (2009). Prinsip Dasar Kebijakan Pembangunan Berkelanjutan Berwawasan Lingkungan. Jakarta: Bumi Aksara.
Suprayogo, I. (2004). Pendidikan Berparadigma al-Quran, Pergulatan Membangun Tradisi dan Aksi Pendidikan Islam. Malang: UIN MalangPress.
Susilo, R. K. D. (2012). Sosiologi Lingkungan dan Sumber Daya Alam. Yogyakarta: ar-Ruzz Media.
Umar. (2013). Pendidikan Lingkungan Hidup Berbasis Pendidikan Islam Sebuah Paradigma Integratif. Jurnal Studi Islam, 5(1), 1–17.
Usman, R. (1993). Pokok-pokok Hukum Lingkungan Nasional. Jakarta: Akademika Pressindo.
Wahjoetomo. (2006). Hidup Islami dalam Hukum Keseimbangan Allah. In Qou Vadis Pendidikan Islam, Pembacaan Realitas Pendidikan Islam, Sosial dan Keagamaan. Malang: UIN MalangPress.
Wahyudin, D., & Malik, R. S. (2019). Teaching Environmental Education for Sustainable Development: Strategies and Challenges. Ournal of Sustainable Development Education and Research (JSDER), 3(1), 51–70. doi: https://doi.org/10.17509/jsder.v3i1.17172
Wijaya, A. (2009). Arah Baru Studi Ulum Al-Quran, Memburu Pesan Tuhan Di Balik Fenomena Budaya. Yogyakarta: Pustaka Pelajar.
Yusrie, C. S., Ernawati, E., Suherman, D., & Barlian, U. C. (2021). Pengembangan Kurikulum dan Proses Pembelajaran Pendidikan Tinggi: Reslaj : Religion Education Social Laa Roiba Journal, 3(1), 52–69. doi: 10.47467/reslaj.v3i1.276
Zainuddin. (2008). Paradigma Pendidikan Terpadu. Malang: UIN Malang Press.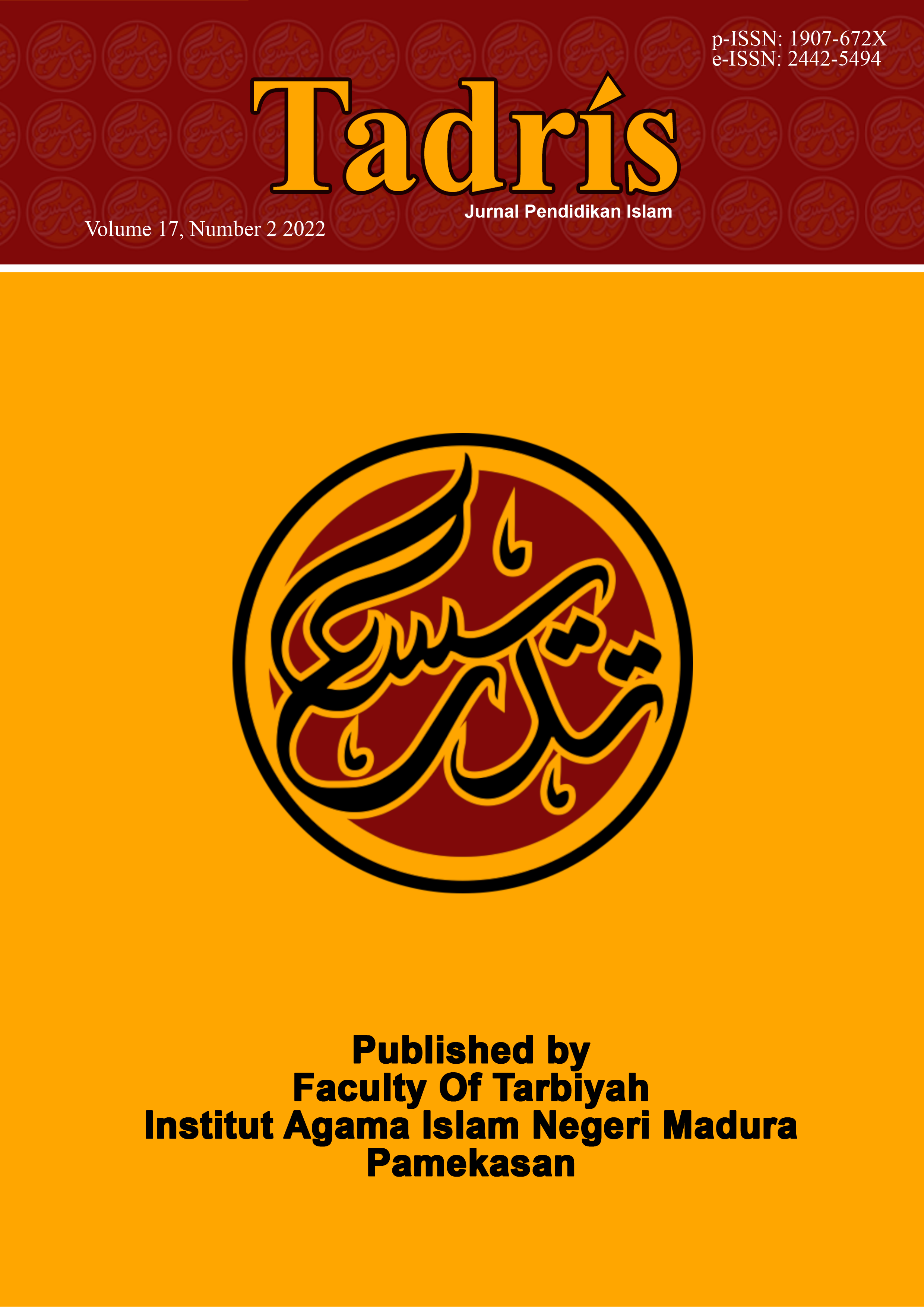 How to Cite
Siswanto. 2022. "Construct of The Environmental Education on The Quranic Paradigm: A Literature Review". TADRIS: Jurnal Pendidikan Islam 17 (2), 247-59. https://doi.org/10.19105/tjpi.v17i2.7032.
Copyright (c) 2022 TADRIS: Jurnal Pendidikan Islam
This work is licensed under a Creative Commons Attribution-NonCommercial 4.0 International License.
The journal operates an Open Access policy under a Creative Commons Non-Commercial 4.0 International license. Authors who publish with this journal agree to the following terms:
Authors retain copyright and grant the journal right of first publication with the work simultaneously licensed under a

Commons Attribution-NonCommercial 4.0 International License

that allows others to share — copy and redistribute the material in any medium or format, and adapt — remix, transform, and build upon the material.

Authors are able to enter into separate, additional contractual arrangements for the non-exclusive distribution of the journal's published version of the work (e.g., post it to an institutional repository or publish it in a book), with an acknowledgement of its initial publication in this journal.
Authors are permitted and encouraged to post their work online (e.g., in institutional repositories or on their website) prior to and during the submission process, as it can lead to productive exchanges, as well as earlier and greater citation of published work (see The Effect of Open Access).