Geneologi Keilmuan Ponpes Darussalam Gontor dengan Universitas Al-Azhar Cairo
Muh. Luqman Arifin

Universitas Peradaban

Fauzi

UIN Prof. K.H. Saifuddin Zuhri

Muh. Gitosaroso

IAIN Pontianak

Muhamad Basitur Rijal

UIN Prof. K.H. Saifuddin Zuhri

Mahmudin

MTsN 4 Kebumen
Abstract views:
401
,
PDF downloads:
297
Keywords:
Geneologi Keilmuan; Ponpes Darussalam Gontor; Universitas Al-Azhar
Abstract
Tujuan penelitian adalah menemukan geneologi keterhubungan keilmuan Ponpes Darussalam Gontor dengan Universitas Al-Azhar, Mesir. Jenis penilitian yang digunakan adalah studi pustaka dengan analisis kualitatif-deskriptif dengan pendekatan sosiologi-historis. Aspek sosiologis digunakan untuk menelusuri gejala maupun kausalitas sosial yang mengiringi tranmisi keilmuan yang terjadi antara dua lembaga, sedangkan pendekatan historis digunakan untuk menelusuri sumber-sumber pada masa lampau, yang berupa arsip atau dokumen-dokumen. Metode penelitian dilakukan dengan mengumpulkan data-data yang diambil dari artikel dan buku yang membicarakan tentang subjek yang dibahas. Hasil penelitian menunjukkan, geneologi terjadi melalui, pertama, Al-Azhar dipilih dan dijadikan role model dalam pengembanan keilmuan dalam merintis lembaga pendidikan model pesantren. Kedua, pola duta belajar ke Universitas Al-Azhar dengan cara mengirimkan para santri untuk melanjutkan studi dengan skema kemitraan strategis sehingga para santri mendapatkn beasiswa dari Al-Azhar atau mandiri. Ketiga, pengembangan kurikulum dan bahan ajar dengan mengacu beberapa karya dan literatur klasik dari Al-Azhar.
Downloads
Download data is not yet available.
References
Ahmed, A. Chanfi. "Islamic Mission in Sub-Saharan Africa. The Perspectives of Some 'Ulamā' Associated with the Al-Azhar University (1960-1970)." Die Welt Des Islams 41, no. 3 (2001): 348–78. https://doi.org/10.1163/1570060011164864.
Aishima, Hatsuki. "Shaping Global Islamic Discourses: The Role of al-Azhar, al-Medina and al-Mustafa, Edited by Masooda Bano and Keiko Sakurai, 2015." Die Welt Des Islams 58, no. 4 (October 16, 2018): 510–11. https://doi.org/10.1163/15700607-00584P05.
Aiyar, Pallavi. "In Indonesia, Madrassas of Moderation." Nytimes.Com, 2015. https://www.nytimes.com/2015/02/11/opinion/in-indonesia-madrassas-of-moderation.html.
Anisah, Inayatul. "Alternatif Pendidikan Masa Depan." In Sintesis Pendidikan Islam Asia-Afrika, xvvi–xxv. Yogyakarta: Paradigma, 2002.
Arini, Aida. "INTERRELASI INTELEKTUAL ANTARA UNIVERSITAS AL-AZHAR KAIRO DENGAN PONDOK MODERN GONTOR," n.d., 25.
Bano, Masooda, and Keiko Sakurai. "Volume 7: Shaping Global Islamic Discourses : The Role of al-Azhar, al-Medina and al-Mustafa," n.d., 243.
Bistara, Raha. "JEJARING ULAMA NUSANTARA DENGAN TIMUR TENGAH ABAD XVII DAN XVIII (Studi Pemikiran Azyumardi Azra)." Al-Munqidz : Jurnal Kajian Keislaman 8, no. 3 (September 7, 2020): 309–25. https://ejournal.iaiig.ac.id/index.php/amk/article/view/263.
Fatihah, Imroatul. "Kepemimpinan KH. Imam Zarkasyi Di Pondok Modern Darussalam Gontor." JIEM (Journal of Islamic Education Management) 2, no. 2 (December 5, 2018): 26–43. https://doi.org/10.24235/jiem.v2i2.3407.
Idris, Muhammad. "UNIVERSITAS AL-AZHAR SEJAK ABAD KE-20." Studi Multidisipliner: Jurnal Kajian Keislaman 5, no. 2 (December 31, 2018): 1–22. https://doi.org/10.24952/multidisipliner.v5i2.1115.
Khafäji, Muhammad Abd al-Mun'im. Al-Azharf i A Lf Amm. Vol. 3. Beirut: 'Alam al-Kutub, 1987.
Murtadlo, Muhamad. "HUBUNGAN MESIR-INDONESIA DALAM MODERNISASI PENDIDIKAN ISLAM." Al-Qalam 24, no. 2 (December 15, 2018): 297–306. https://doi.org/10.31969/alq.v24i2.530.
Mustapha, Mustapha, and Ibrahim Mustapha. "دور الجامعات الإسلامية في نشر العلوم الشرعية والعربية، جامعة الأزهر الشريف كنموذج" Vol. 3 (January 1, 2015).
Pranowo, Yogie. "Genealogi Moral Menurut Foucault Dan Nietzsche: Beberapa Catatan." MELINTAS 33, no. 1 (2017): 52–69. https://doi.org/10.26593/mel.v33i1.2954.52-69.
Sukarto, D. A. Biografi K.H. Imam Zarkasyi: Dari Gontor Merintis Pesantren Modern. Ponorogo: Gontor Press, 1996.
Umar, Bukhori. "KH. Imam Zarkasyi Dan Genre Baru Pondok Pesantren." Journal of Islamic Studies 1, no. 2 (2017): 259–72. https://doi.org/10.28944/dirosat.v1i2.21.
Usuluddin, Win. Sintesis Pendidikan Islam Asia-Afrika: Perspektif Pemikiran Pembaharuan Pendidikan Menurut KH. Imam Zarkasyi – Gontor. Yogyakarta: Paradigma, 2002.
Zarkasyi, Hamid Fahmy. "Imam Zarkasyi's Modernization of Pesantren in Indonesia (A Case Study of Darussalam Gontor)." QIJIS (Qudus International Journal of Islamic Studies) 8, no. 1 (June 30, 2020): 161–200. https://doi.org/10.21043/qijis.v8i1.5760.
Zarkasyi, Nashrulloh ZM. "Lembaga Pembudayaan Manusia: Darussalam Gontor." In Sintesis Pendidikan Islam Asia-Afrika, v–xvi. Yogyakarta: Paradigma, 2002.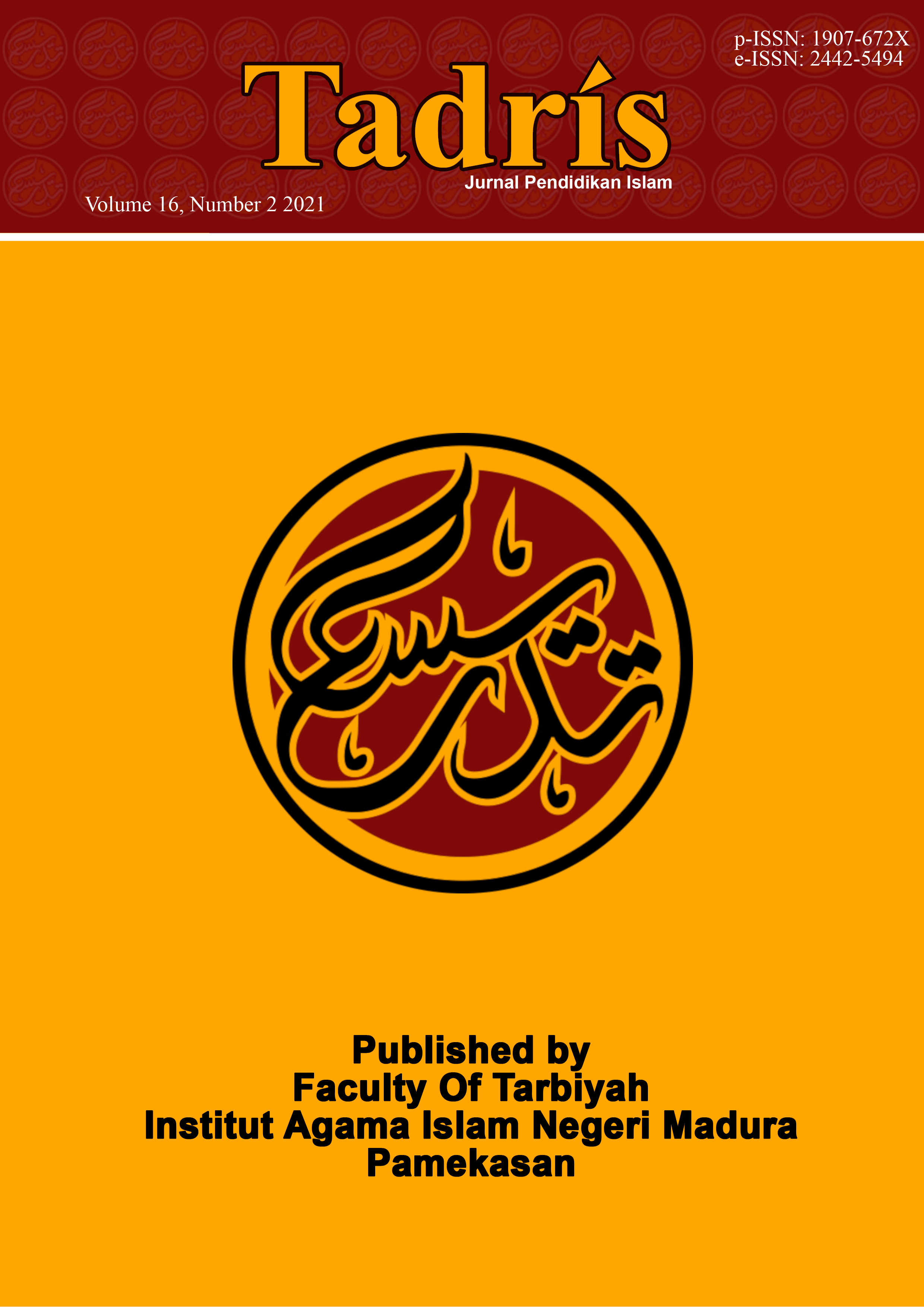 How to Cite
Arifin, Muh. Luqman, Fauzi, Muh. Gitosaroso, Muhamad Basitur Rijal, and Mahmudin. 2021. "Geneologi Keilmuan Ponpes Darussalam Gontor Dengan Universitas Al-Azhar Cairo ". TADRIS: Jurnal Pendidikan Islam 16 (2), 351-63. https://doi.org/10.19105/tjpi.v16i2.4836.
Copyright (c) 2021 TADRIS: Jurnal Pendidikan Islam
This work is licensed under a Creative Commons Attribution-NonCommercial 4.0 International License.
The journal operates an Open Access policy under a Creative Commons Non-Commercial 4.0 International license. Authors who publish with this journal agree to the following terms:
Authors retain copyright and grant the journal right of first publication with the work simultaneously licensed under a

Commons Attribution-NonCommercial 4.0 International License

that allows others to share — copy and redistribute the material in any medium or format, and adapt — remix, transform, and build upon the material.

Authors are able to enter into separate, additional contractual arrangements for the non-exclusive distribution of the journal's published version of the work (e.g., post it to an institutional repository or publish it in a book), with an acknowledgement of its initial publication in this journal.
Authors are permitted and encouraged to post their work online (e.g., in institutional repositories or on their website) prior to and during the submission process, as it can lead to productive exchanges, as well as earlier and greater citation of published work (see The Effect of Open Access).