Civic Education Pesantren Salaf di Madura : Sinergi Pendidikan Karakter dan Upaya Deradikalisasi
Maimun Maimun

University of Muhammadiyah Malang

Abdul Haris

University of Muhammadiyah Malang
Abstract views:
170
,
PDF downloads:
137
Keywords:
education, citizenship, salaf boarding school
Abstract
This study aims to describe the internalization of civic education, especially in the effort to foster the spirit of nationalism and love the country from two salaf Islamic boarding schools in Madura between the al-Mubarok Lanbulan Tambelangan Islamic Boarding School in Sampang and the Islamic Boarding School of Al-Is'af Kalabaan Guluk-Guluk Sumenep. The research subjects who became the information center consisted of caregivers, asatidz and administrators with data collection techniques including interviews, observation and documentation. For data analysis, the researcher used Miles and Huberman's interactive analysis technique. To test the validity of the data, it is used triangulation technique. The results showed that the internalization of civic education in these pesantrens was conveyed in three ways; First, through learning. The students are taught the morals of the state and love the country through the clasical book of 'Idhatun Nasyi'in and through civics education learning in the equality education system applied at the al-Mubarok Islamic boarding school. Meanwhile, for pesantren al-Is'af, it is applied through additional explanations in book recitation conditionally. Second, through the extra activities, including; organizing, bahsul masail, flag ceremony on 17 of August and the commemoration of the national santri day at al-Mubarok, as well as through bahsul masail and muhadara activities at the al-Is'af boarding school. Third, through social activities of students in the internal boarding school.
Downloads
Download data is not yet available.
References
Amin, Muhammad Ikhsanul, Tiyas Nur Haryani, Nur Hidayatul Arifah, and Arina Mardhiyana Husna. "Islamic Education in Supporting De-Radicalization: A Review of Islamic Education in Pondok Pesantren." Nadwa; Jurnal Pendidikan Islam. Vol. 12. No. 2. 2018
Amzad, Moh. Harirul. M. Ansor Anwar, Agus Mahfudin. Pengaruh peringaan hari sanri nasional erhadap sikap nasionalisme sanri. Jurnal pendidikan Islam. Vol. 4. No. 2. 2020
Andrian. "Pengembangan Karakter Siswa Melalui Pendidikan Kewarganegaraan (Studi Kasus Pada SD Islam Al-Azhar 30 Bandung)." Untirta Civic Education Journal. Vol. 2. No. 1. 2017
Asy'ari, Hasyim. Al-Tibyān fi al-Nāhī 'an Muqātha'ati al-Arhām wa al-Aqārib wal-Ikhwān. Jombang. Maktabah al-Turāts al-Islāmī. 1945
Dalmeri. "Pendidikan Untuk Pengembangan Karakter (Telaah Terhadap Gagasan Thomas Lickona Dalam Educating for Character)." Al Ulum. Vol. 14. No. 1. 2014.
Davidson, Matthew, Vladimir Khmelkov, Kyle Baker, and Thomas Lickona. "Values Education: The Power2Achieve Approach for Building Sustainability and Enduring Impact." International Journal of Educational Research. Vol. 50. No. 3. 2011
Dhofier, Zamakhsyari. Tradisi Pesantren : Studi Pandangan Hidup Kyai Dan Visinya Mengenai Masa Depan Indonesia. Jakarta: LP3ES. 2011
Francis, Leslie J., Mark A. Pike, Thomas Lickona, David W. Lankshear, and Victoria Nesfield. "Evaluating the Pilot Narnian Virtues Character Education English Curriculum Project: A Study among 11- to 13-Year-Old Students." Journal of Beliefs and Values. Vol. 39. No. 2. 2018.
Fusnika. "Pembinaan Civic Disposition Berbasis Nilai-Nilai Kemanusiaan Pada Pembelajaran Pendidikan Kewarganegaraan Di Sekolah Tinggi Ilmu Kesehatan Kota Sukabumi." Jurnal Pendidikan Ilmu Sosial. Vol. 23. No.1. 2014.
Husni, Rahmatul dan Efrita Norman. "Deliberalisasi Pendidikan Karakter 'Respect And Responsibility' Thomas Lickona." Tawazun: Jurnal Pendidikan Islam. Vol. 8. No. 2. 2015.
Rustam Ibrahim, Eksistensi Pesantren Salaf di Tengah Arus Pendidikan Modern. Jurnal Analisa. Vol. 21. No. 2. 2014

Ibrahim, Rustam. "Pesantren dan Pendidikan Kebangsaan: Studi Tentang Buku al-Difâ' 'ani Al-Wathân Min Ahammi al-Wâjibât 'ala Kulli Wâhidin Minnâ Karya Kiai Muhammad Said." MIQOT: Jurnal Ilmu-Ilmu Keislaman. Vol. 42. No. 1. 2018.
Idris, Muh. "Pendidikan Karakter : Perspektif Islam dan Thomas Lickona." Ta'dibi : Jurnal Manajemen Pendidikan Islam. Vol. VII. No. 1. 2018.
Irfani, Amalia. "Nasionalisme Bangsa Dan Melunturnya Semangat Bela Negara." Al-Hikmah. Vol. 10. No. 2. 2016.
Isbah, M. Falikul. Pesantren in the Changing Indonesian Context: History and Current Development. QIJIS, Vol. 8. No. 1. 2020
Izma, Tri, and Vira Yolanda Kesuma. "Peran Pendidikan Kewarganegaraan Dalam Membangun Karakter Bangsa." Wahana Didaktika : Jurnal Ilmu Kependidikan. Vol. 17. No. 1. 2019
Izzati, Umi Anugerah, Bachtiar Syaiful Bachri, M. Sahid, and Dian Eka Indriani. "Character Education: Gender Differences in Moral Knowing, Moral Feeling, and Moral Action in Elementary Schools in Indonesia." Journal for the Education of Gifted Young Scientists. Vol. 7. No. 3. 2019
Julia, J., Encep Supriatna, I. Isrokatun, Iis Aisyah, Reni Nuryani, and Adeola Aminat Odebode. "Moral Education (2010-2019): A Bibliometric Study (Part 2)." Universal Journal of Educational Research. Vol. 8. No. 7 .2020
Kadi. "Kesinambungan Dan Perubahan Tradisi Salaf Dalam Sistem Pendidikan Pondok Pesantren Lirboyo Kediri." ISLAMICA: Jurnal Studi Keislaman. Vol. 12. No. 1. 2017
Komalasari, Kokom, Didin Saripudin, and Iim Siti Masyitoh. "Living Values Education Model in Learning and Extracurricular Activities to Construct the Students ' Character." Journal of Education and Practice. Vol. 5. No. 7. 2014
Lickona, Thomas. "Character Education: The Heart of School Reform." Religion and Education. Vol. 27. No. 1 .2014
Maimun. "Pesantren Sebagai Prototipe Pendidikan Nusantara." Islamuna; Jurnal Studi Islam. Vol. 5. No. 1. 2018
Maksum, Ali. "Model Pendidikan Toleransi Di Pesantren Modern Dan Salaf." Jurnal Pendidikan Agama Islam (Journal of Islamic Education Studies). Vol. 3. No. 1. 2015
Margaret Stimmann Branson, Charles N.Quigley. The Role of Civic Education. Washington: U.S. Department of Education, Nationd Center for Education. 1998.
Mo'tasim. "Pendidikan Pesantren dan Pembangunan Bangsa dalam Pandangan K.H. Hasyim 'Asy'ari". Al-Ibrah. Vol. 5. No. 2. 2020
Mulyono, Budi. "Reorientasi Civic Disposition Dalam Kurikulum Pendidikan Kewarganegaraan Sebagai Upaya Membentuk Warga Negara Yang Ideal." Jurnal Civics: Media Kajian Kewarganegaraan. Vol. 14. No. 2. 2017
Nugroho, Taufiq. Ideologi Pendidikan Pondok Pesantren al-Islam Tenggulun Solokuro Lamongan. Ulumuddin; Jurnal Ilmu-Ilmu Keislaman. Vol. 9. No. 2. 2019

Nurwardani, Paristiyanti. Dkk. Pendidikan Kewarganegaraan Untuk Perguruan Tinggi, Jakarta: Ristekdikti. Jakarta: Ristekdikti. 2016
Rahman, Arief. "Extracurricular Activities as a Contribution to the Development of Civic Disposition." Educational Research International. Vol. 4. No. 6. 2015
Ridlwan, Mujib. "Dialektika Pesantren Dan Radikalisme Di Pesisir Utara Lamongan." Jurnal Darussalam: Jurnal Pendidikan, Komunikasi Dan Pemikiran Hukum Islam. Vol. 11. No. 1. 2019
Rinardi, Haryono. "Proklamasi 17 Agustus 1945: Revolusi Politik Bangsa Indonesia." Jurnal Sejarah Citra Lekha. Vol. 2. No. 2. 2017
Rochadi, AF Sigit. Multikulturalisme dan Kekerasan Primordial di Indonesia Dua Dekade Terakhir. Jurnal Sosiologika. Vol. 1. No. 1. 2018
Santoso, Tri, Sujianto, Dodi Afianto, Duwi Saputro, Atiqa Sabardila, Endang Fauziati, and Markhamah. "Character Education Values in Revised Edition of the Indonesian Language Learning Curriculum for Year 10." Universal Journal of Educational Research. Vol. 8. No. 2. 2020
Shalihin, Muhammad Muchlis. "Pendidikan Akhlak Perspektif Syeikh Musthafa Al-Ghalayaini Dalam Kitab ' Idhatun Nasyi' in." Jurnal Tadris. Vol. 7. No. 1. 2012
Salim, Nur Zaidi. Djam'annuri Djam'annuri, and Aminullah Aminullah. "Studi Komparasi Konsep Pendidikan Karakter Anakmenurut Al-Ghazali Dan Thomas Lickona." Manarul Qur'an: Jurnal Ilmiah Studi Islam. Vol. 18. No. 2. 2018
Samsuri dan Galih Puji Mulyoto. "Pengaruh Model Project Citizen Dengan Pendekatan Saintifik Terhadap Penguasaan Kompetensi Kewarganegaraan Dalam Pembelajaran Pendidikan Pancasila Dan Kewarganegaraan." Civics. Vol. 14. No. 1. 2017
Sulistyarini. "Pengembangan Karakter Berbasis Pancasila Melalui Pendidikan Kewarganegaraan." Jurnal Bhineka Tunggal Ika. Vol. 2. No. 1. 2015.
Sumardjoko, Bambang dan Muhammad Musyiam, Model of Civic Education Learning Based on the Local Wisdom for Revitalizing Values of Pancasila. Cakrawala Pendidikan, Juni. No. 2. 2018
Thohir, Kholis. Kurikulum dan Sistem Pembelajaran Pondok Pesantren Salafi di Kecamatan Kresek Kabupaten Tangerang Provinsi Banten. Analitca Islamica. Vol. 6 No.1. 2017
Veugelers, Weil. Education For Democratic Intercultural Citizenship. 15th ed. edited by W. Veugelers. Leiden Boston: Brill Sense. 2019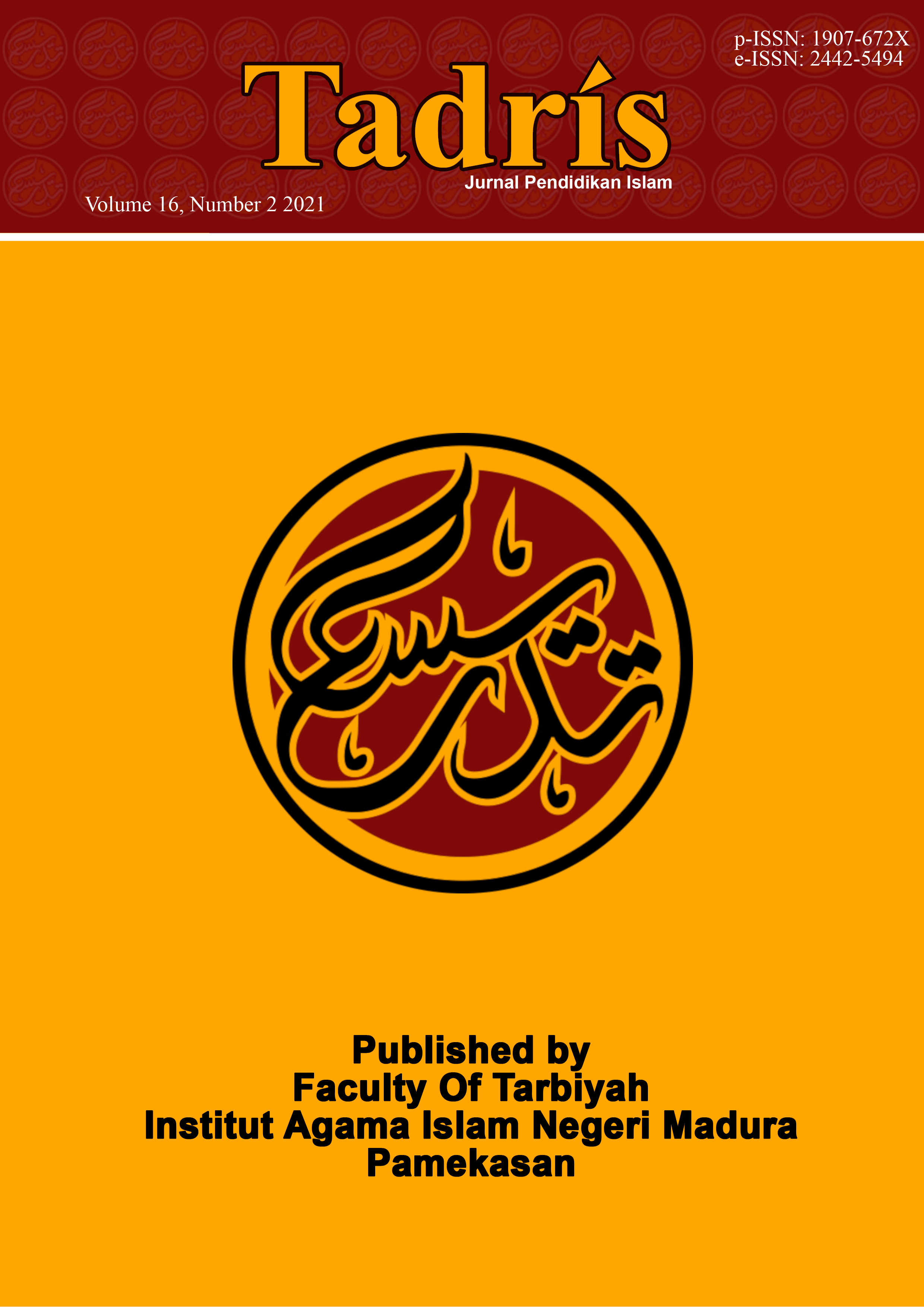 How to Cite
Maimun, Maimun, and Abdul Haris. 2021. "Civic Education Pesantren Salaf Di Madura : Sinergi Pendidikan Karakter Dan Upaya Deradikalisasi". TADRIS: Jurnal Pendidikan Islam 16 (2), 411 -24. https://doi.org/10.19105/tjpi.v16i2.5137.
Copyright (c) 2021 TADRIS: Jurnal Pendidikan Islam
This work is licensed under a Creative Commons Attribution-NonCommercial 4.0 International License.
The journal operates an Open Access policy under a Creative Commons Non-Commercial 4.0 International license. Authors who publish with this journal agree to the following terms:
Authors retain copyright and grant the journal right of first publication with the work simultaneously licensed under a

Commons Attribution-NonCommercial 4.0 International License

that allows others to share — copy and redistribute the material in any medium or format, and adapt — remix, transform, and build upon the material.

Authors are able to enter into separate, additional contractual arrangements for the non-exclusive distribution of the journal's published version of the work (e.g., post it to an institutional repository or publish it in a book), with an acknowledgement of its initial publication in this journal.
Authors are permitted and encouraged to post their work online (e.g., in institutional repositories or on their website) prior to and during the submission process, as it can lead to productive exchanges, as well as earlier and greater citation of published work (see The Effect of Open Access).