Accommodation of "Merdeka Belajar" Spirit in Islamic Boarding School Nurul Huda Pakandangan Sumenep
Muh. Rusli

Universitas Muhammadiyah Makasar

AH Mansur

Institut Agama Islam Al-Azhaar Lubuk Linggau

Ali Ridho

Institut Agama Islam Al-Khairat Pamekasan

Ahmad Hanif Fahruddin

4Universitas Islam Lamongan
Abstract views:
294
,
PDF downloads:
87
Keywords:
Islamic boarding school; Merdeka belajar; Islamic studies.
Abstract
Merdeka Belajar gives freedom to develop the students' talent without the obstacles of formal rules that shackle the creativity of students. The study of independent learning in the context of an empirical boarding school is very rarely done. Even though pesantren are considered to be independent in learning. This study aims to describe clearly how Islamic boarding schools accommodate the free spirit of learning in their education system. This study uses a qualitative approach with in-depth interview data networks, observations and documentation. The results of this study indicate that there is accommodation of an independent spirit of learning at the Nurul huda Pakandangan Islamic boarding school with three main things, firstly accommodation of an educational vision that leads to an independent spirit of learning by integrating religious and scientific knowledge. Facilitating the development of the potential of students as a whole with skills. empowerment of knowledge, skills, experience, attitudes and assessments based on national and global standards. Secondly, Students can freely determine their competence while remaining teacher-minded. Third is the accommodation of educational innovation in the service program in accordance with the educational goals of the pesantren which requires them to return to the community. Fourth Islamic boarding schools are gender responsive by accommodating equality education.
Downloads
Download data is not yet available.
References
Alfian, Abdul. "Merdeka Belajar Pesantren dan Kemandirian Santri AL-Amien Prenduan", Dirosat; Jurnal of Islamic Studies, Vol. 5. No. 1 (Januari-Juni, 2020).
Ambarwati, Ambawati & Aida Husna, "Manajemen Pesantren Responsif Gender: Studi Analisis di Kepemimpinan Nyai Pesantren di Kabupaten Pati", Palastren: Jurnal Studi Gender, Vol. 7, No. 2, (Desember, 2014).
Anisa, Citra Ayu & Rahmatullah, "Visi Dan Misi Menurut Fred R. David dalam Perpektif Pendidikan Islam", Evaluasi: Jurnal Manajemen Pendidikan Islam, Vol. 4, No. 1, (Maret, 2020).
Bakri, Masykuri. Metode Penelitian Kualitatif Tinjauan Teoritis dan Praktis. Surabaya: Visi Press Media, 2013.
Castellia, Luciana. Serena Ragazzia & Alberto Crescentinia, International Conference on Education and Educational Psychology (ICEEPSY 2012) Equity In Education: A General Overview (Procedia-Social and Behavioral Sciences 69 (2012).
Donny. Fenomenologi dan Hermeneutika: Sebuah Perbandingan (Dipublikasi oleh kalamenau 2005).
Hasan, Mohammad. "Perkembangan Pesantren di Indonesa", Tadris: Jurnal Pendidikan Islam, Vol. 10, No. 1, (Juni, 2015).
Maksum, Ali. "Model Pendidikan Toleransi di Pesantren Modern dan Salaf", Jurnal Pendidikan Agama Islam, Vol. 3, No. 1, (Mei, 2015).
Morrisan & Andy Corry Wardhany, Teori Komunikasi. Jakarta: Ghalia Indonesia, 2009.
Mulyasa, E. Standar Kompetensi dan Sertifikasi Guru (Bandung: Rosdakarya, 2008.
Mustaghfiroh, Siti. "Konsep Merdeka Belajar Perspektif Aliran Progresivisme John Dewey", Jurnal Studi Guru dan Pembelajaran, Vol. 3, No. 1, (Maret, 2020).
Noor, Muslichan. "Gaya Kepemimpinan Kyai", Jurnal Kependidikan, Vol. 7, No. 1, (Mei, 2019).
Nurbani, Dhini Fatmi, dkk. Buku Saku Merdeka Belajar; Prinsip dan Implementasi Pada Jenjang Pendidikan SMA. Kementrian Pendidikan dan Kebudayaan, tt, tp.
Observasi pada tanggal 11 Desember 2021 di Pesantren Nurulhuda Pakandangan Kabupaten Sumenep
OECD (Organization For Economic Co-Operation And Development), Ten Step To Equity In Education. OECD: 2008.
Pasal 1 ayat 2 UU RI No. 20 Tahun 2003
Peraturan Menteri Agama Republik Indonesia Nomor 18 tahun 2014 tentang Satuan Pendidikan Mu'adalah Pada Pondok Pesantren.
Peraturan Mentri Agama Nomor 18 Tahun 2014 Tentang Satuan Pendidikan Mu'adalah
Prastowo, Agung Ilham. The Independent Learning Curriculum Concept Of Imam Zarksyi's Perspective In Pesantren For Facing The Era Of Society 5.0 (The 4th ICLIQE 2020 Septmeber Surakarta Indonesia), 15.
Rahman, Mufiqur, dkk, "Eksplorasi Nilai-Nilai Kesetaraan Dalam Pendidkan Pesantren Mu'adalah", Jurnal Pendidikan Agama Islam, Vol. 8, No.1, (2020).
Romdoni, Lisda Nurul & Eli Malihah, "Membangun Pendidikan Karakter Santri Melalui Panca Jiwa Pondok Pesantren", Jurnal Pendidikan Agama Islam Al-Thariqoh, Vol. 5. No. 2, (Desember, 2020).
Simarmata, Henry Thomas, dkk. Indonesia Zamrud Toleransi. Jakarta: PsiK-Indonesia, 2012.
Sutopo, Metode Penelitian Kualitatif Tinjauan Teoritis dan Praktis. Surabaya: Visi Press Media, 2013.
Tim Penyusun, Profil Pesantren Nurulhuda Pakandangan Bluto Sumenep. Sumenep: tt, tp.
Undang-Undang Nomor 18 tahun 2019 tentang Pesantren
Undang-undang Pesantren Nomor 18 Tahun 2019 Tentang Pesantren Dan Aturan Turunan Yang Dikeluarkan Oleh Pemerintah
UNESCO, A guide for Ensuring Inclusionand Equity In Education. France: UNESCO, 2017.
West, Richard & Liynn H. Turner, Pengantar Teori Komunikasi, Analisis dan Aplikasi. Jakarta: Salemba Humnaika, 2007.
Zahara, Vikri, dkk, "Implementasi Pendidikan Adil Gender di Pondok Pesantren Al-Muayyad Surakarta", Sosialitas: Jurnal Ilmiyah Pend. Sos Ant, Vol. 5, No. 2, (2015), 15.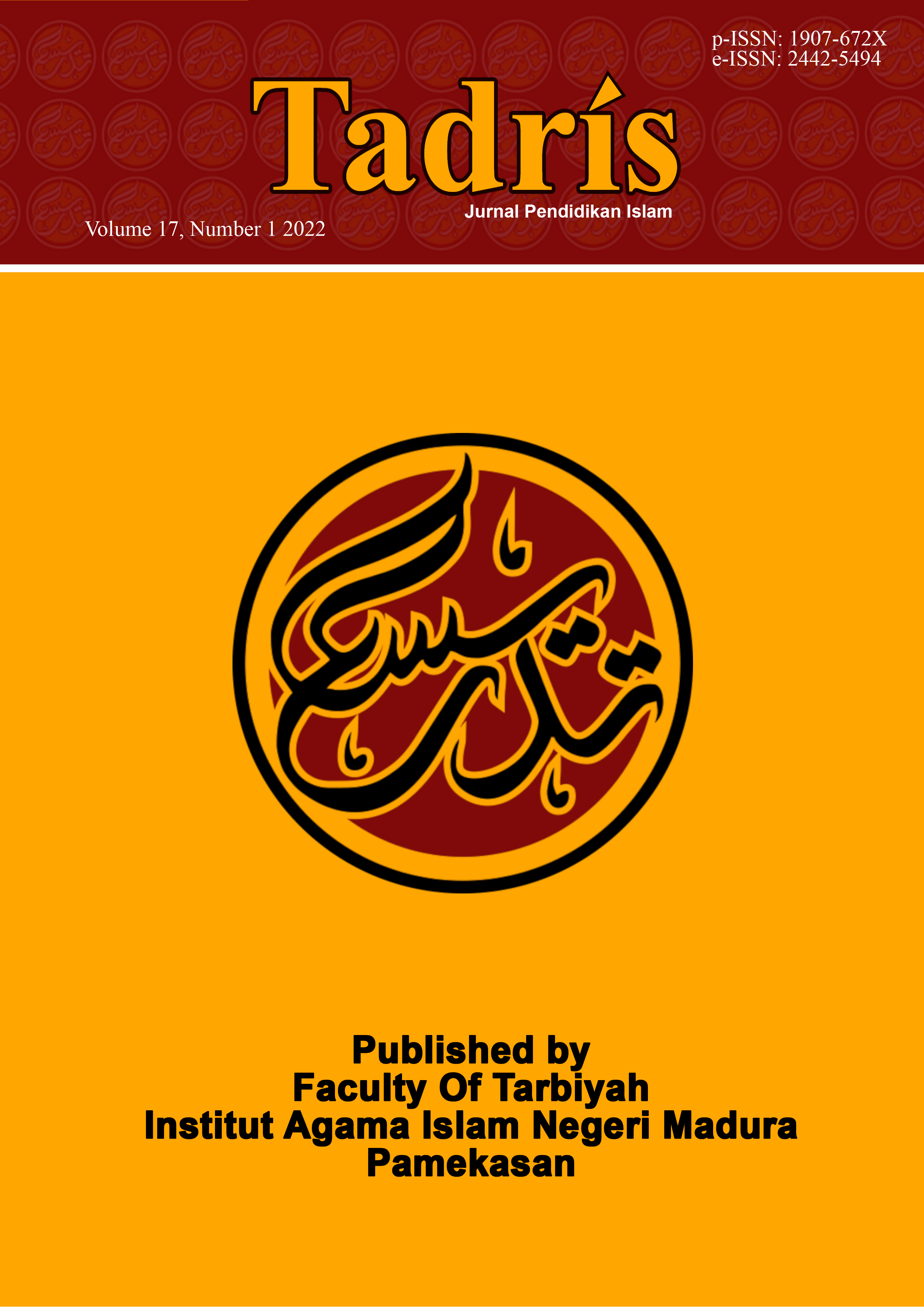 How to Cite
Rusli, Muh., AH Mansur, Ali Ridho, and Ahmad Hanif Fahruddin. 2022. "Accommodation of "Merdeka Belajar" Spirit in Islamic Boarding School Nurul Huda Pakandangan Sumenep ". TADRIS: Jurnal Pendidikan Islam 17 (1), 170 -83. https://doi.org/10.19105/tjpi.v17i1.5842.
Copyright (c) 2022 TADRIS: Jurnal Pendidikan Islam
This work is licensed under a Creative Commons Attribution-NonCommercial 4.0 International License.
The journal operates an Open Access policy under a Creative Commons Non-Commercial 4.0 International license. Authors who publish with this journal agree to the following terms:
Authors retain copyright and grant the journal right of first publication with the work simultaneously licensed under a

Commons Attribution-NonCommercial 4.0 International License

that allows others to share — copy and redistribute the material in any medium or format, and adapt — remix, transform, and build upon the material.

Authors are able to enter into separate, additional contractual arrangements for the non-exclusive distribution of the journal's published version of the work (e.g., post it to an institutional repository or publish it in a book), with an acknowledgement of its initial publication in this journal.
Authors are permitted and encouraged to post their work online (e.g., in institutional repositories or on their website) prior to and during the submission process, as it can lead to productive exchanges, as well as earlier and greater citation of published work (see The Effect of Open Access).