Developing Children's Sprituality Education
Hepni

Universitas Islam Negeri KH. Ahmad Shiddiq Jember

Riayatul Husnan

Universitas Islam Negeri KH. Ahmad Shiddiq Jember

Ahmad Khuza'i Faruq

Universitas Islam Negeri KH. Ahmad Shiddiq Jember
Abstract views:
296
,
PDF downloads:
216
Keywords:
Education; spirituality; children's education.
Abstract
A smart, intelligent, and skilled child is the desire of every parent. Therefore, not a few parents make various efforts so that their children can be smart in accordance with their expectations. This paper aims to reveal how great the desire of parents to make their children as desired, often experience some fundamental errors of orientation that actually destroy the future of their own children. The research method used is a qualitative approach with the type of library research. The results of the discussion show that the potential of children who are only focused on the Intelligence Quotient aspect will give birth to the child's personality which in fact becomes a Split Personality, Intelligence Quotient, therefore all three aspects must be developed equally.
Downloads
Download data is not yet available.
References
Agustian, Ary Ginanjar, ESQ (Emotional Spiritual Quuetient, Jakarta: Arga, 2001.
Al-asqolani, Al-Hafidz Ibnu Hajar, Buluqhul Marom, Terj. Irfan Maulana Hakim, Bandung: Mizan Pustaka, 2007.
Chatib, Munir, Sekolah Anak-Anak Juara Berbasis Pendidikan Jama' Dan Pendidikan Berkeadilan, Bandung: Kaifa, 2012.
Emmons, Robert A., The Psychology of Ultimate Concern, New York: The Guilfrod Prees, 1999.
Golman, Daniel, Kecerdasan Spiritual : Eksistensi Dan Vitalitasnya, Jogjakarta: CV. Hidayat Putra, 1997.
Lubis, Rahmat Rifai, 'Optimalisasi Kecerdasan Spiritual Anak', Jurnal Al-Fatih I, I (2018), 1–18
Maragustam, 'Strategi Pembentukan Karakter Spiritualitas Keagamaan Dan Cinta Tanah Air Dalam Perspektif Filsafat Pendidikan Islam Strategies for Character Building of Religious Spirituality and the Love of the Homeland in Islamic Education Philosophy Perspective', DAYAH: Journal of Islamic Education 4, 1 (2021), 1–22 <https://doi.org/10.22373/jie.v4i1.7122>
Marshall, Ian, and Danah Zohar, SQ, Spiritual Quetient, Bandung: Mizan, 2007.
Masrur, Imam, 'Pendidikan Islam Dalam Upaya Meningkatkan Spiritualitas Anak: Kajian Surat Luqman', Epistemé, 8, No. 2
Mohadjir, Noeng, Metode Penelitian Kualitatif Edisi IV, Yogyakarta: Rake Sarasin, 2000.
Nnggermanto, Agus, Quantum Questient, Kecerdasan Quantum: Cara Praktis Melejitkan IQ, EQ Dan SQ Yang Harmonis, Bandung: Nuansa Cendikia, 2001.
Rahmawati, Ulfah, and Jawa Tengah, 'Pengembangan Kecerdasan Spiritual Santri: Studi Terhadap Kegiatan Keagamaan Di Rumah Tahfiz Qur'an Deresan Putri Yogyakarta', Jurnal Penelitian 10,1 (2016)
RIJAL, Akh Syaiful, et al. Etika Tasawuf Guru: Studi Pemikiran Imam al-Ghazali dan Syekh Muhammad Amin al-Kurdi. TADRIS: Jurnal Pendidikan Islam, 2021, 16.1: 127-140.
Riyanto, Paradigma Baru Pembelajaran Sebagai Referensi Bagi Pendidik Dalam Implementasi Pembelajaran Yang Efektif Dan Berkualitas, Surabaya: Pranada Media, 2014.
Sakti, M.Nawa Syarif Fajar Sakti, 'Urgensi Kecerdasan Spiritual Terhadap Agresivitas', Psikoislamedia: Jurnal Psikologi 4, 1 (2020), 175–84
Sina, Peter Garlans, and Andris Noya, 'Pengaruh Kecerdasan Spiritual Terhadap Pengelolaan Keuangan Pribadi', Jurnal Manajemen Maranatha 11, 2 (2012), 171–88
Sinetar, Marsha, Spiritual Intelligence. What We Can Lern From The Early Awakening Child, Orbis Book's, 2000.
Sukidi, Rahasia Sukses Hidup Bahagia, Kecerdasan Spiritual: Mengapa SQ Lebih Penting Dari IQ Dan EQ, Jakarta: PT. Gramedia Pustaka utama, 2002.
Ulwan, Abdullah Nasih, Rarbiyatul Aulad : Pedoman Pendidikan Anak Dalam Islam, Semarang: As-Syifa', 1981.
Wibowo, Devi Vionitta, 'Kualifikasi Guru PAUD Terhadap Edukasi Spiritualitas Keagamaan Anak Usia Dini', Aulad : Journal on Early Childhood, 3, 2 (2020), 69–84 <https://doi.org/10.31004/aulad.v3i2.57>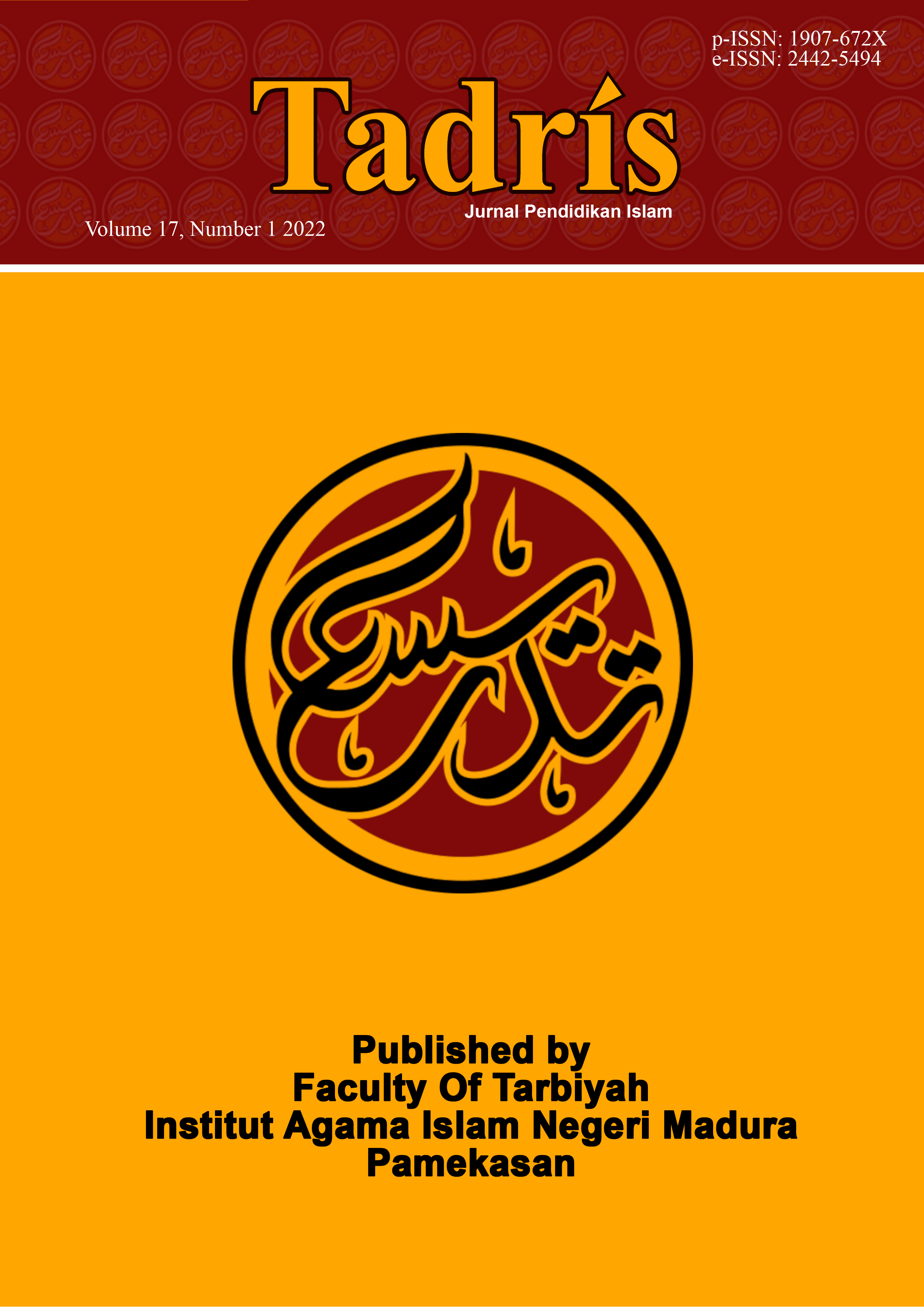 How to Cite
Hepni, Riayatul Husnan, and Ahmad Khuza'i Faruq. 2022. "Developing Children's Sprituality Education". TADRIS: Jurnal Pendidikan Islam 17 (1), 21-31. https://doi.org/10.19105/tjpi.v17i1.5900.
Copyright (c) 2022 TADRIS: Jurnal Pendidikan Islam
This work is licensed under a Creative Commons Attribution-NonCommercial 4.0 International License.
The journal operates an Open Access policy under a Creative Commons Non-Commercial 4.0 International license. Authors who publish with this journal agree to the following terms:
Authors retain copyright and grant the journal right of first publication with the work simultaneously licensed under a

Commons Attribution-NonCommercial 4.0 International License

that allows others to share — copy and redistribute the material in any medium or format, and adapt — remix, transform, and build upon the material.

Authors are able to enter into separate, additional contractual arrangements for the non-exclusive distribution of the journal's published version of the work (e.g., post it to an institutional repository or publish it in a book), with an acknowledgement of its initial publication in this journal.
Authors are permitted and encouraged to post their work online (e.g., in institutional repositories or on their website) prior to and during the submission process, as it can lead to productive exchanges, as well as earlier and greater citation of published work (see The Effect of Open Access).